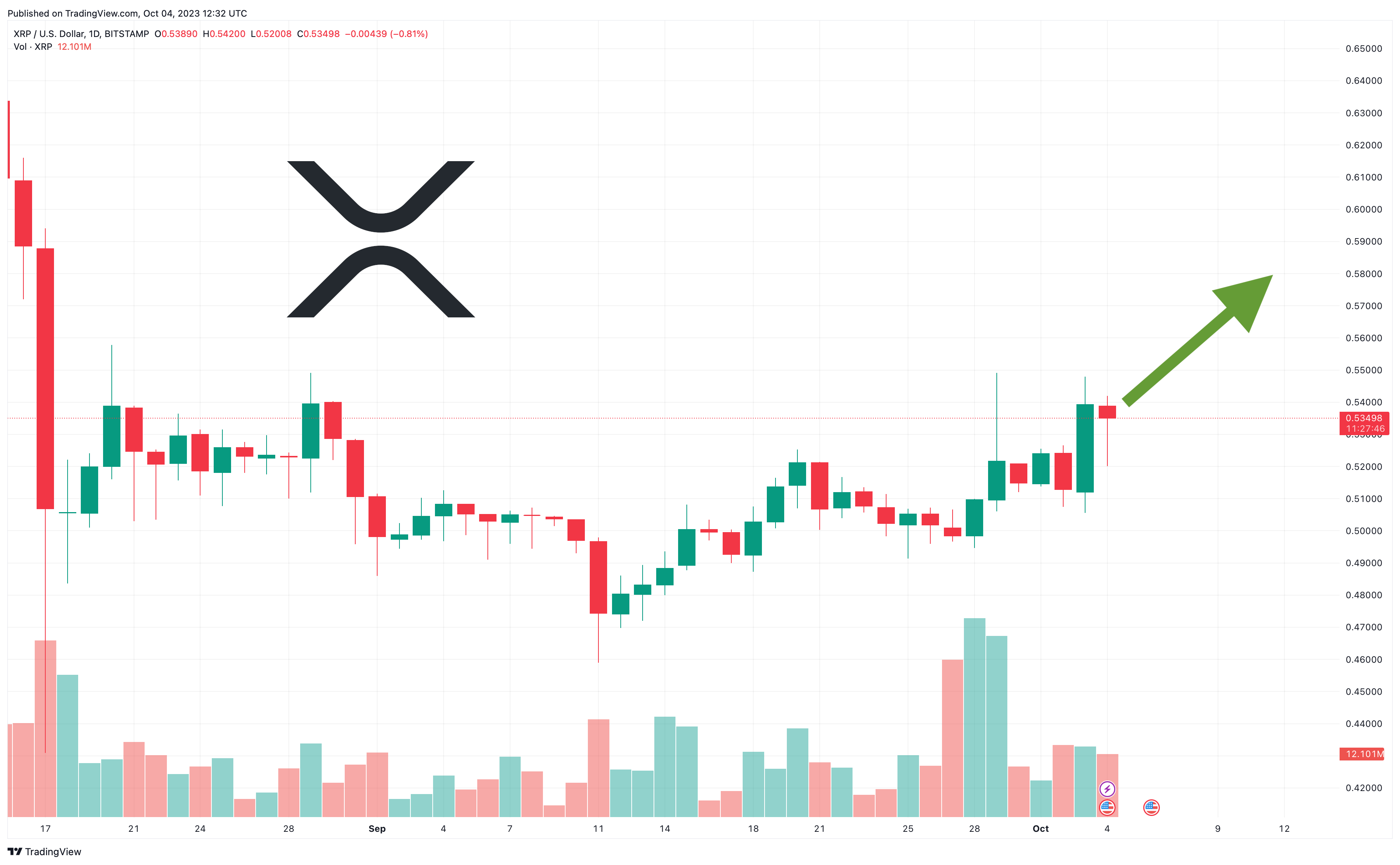 The XRP price has gained strongly today, rising by as much as 6% after the SEC was denied its motion for an interlocutory appeal in its high-profile case with Ripple.
The coin has settled (for now) at a price of $0.533736, representing a 4.5% gain in 24 hours and a 6% jump in a week and a month, with the token also having risen by 57% since the beginning of the year.
Such increases put it in a good position to make further gains in the coming weeks, with the recent recovery enjoyed by the market at the start of the week potentially being the beginning of more positive conditions.
XRP Price Prediction as XRP Spikes Up 6% Suddenly – $1 Incoming?
XRP's chart and indicators reflect its strength today, with its RSI (purple) rising to 60 in the past few houurs, indicating growing momentum but also leaving space for further gains.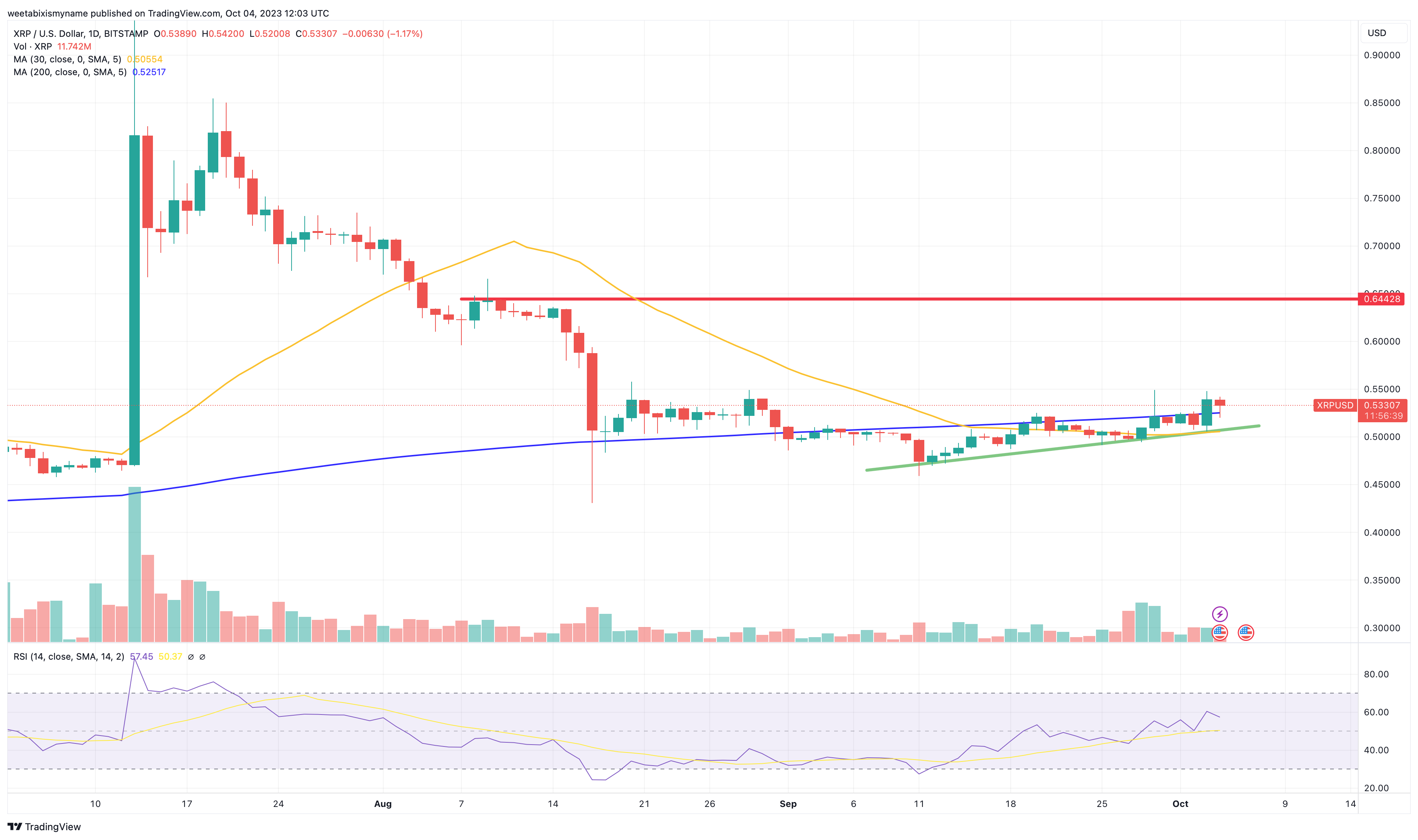 Encouragingly, XRP's 30-day moving average (yellow) has stopped sliding and looks as though it could begin rising above its 200-day average (blue), a move which would indicate a possible breakout.
It's also positive to observe that the coin's support level (green) has held tightly even after Monday's market-wide rally fizzled out, with its long-term support of around $0.50 likely to hold for the near and more distant future.
As noted above, XRP has rallied for one simple reason: Judge Analisa Torres has denied the SEC's motion for an interlocutory appeal against her ruling from July in its case against Ripple.
The request for an appeal took issue with Torres' earlier ruling that programmatic sales of XRP on exchanges did not amount to sales of securities.
However, Torres has firmly stood by her earlier ruling, meaning that the SEC could be forced to drop its objections to the ruling entirely.
This is clearly a big win for Ripple and for XRP, which is perhaps now in a position to resuscitate the momentum it quickly accumulated in July, when the ruling's appearance enabled it to climb above $0.80.
The motion's denial also potentially makes it easier for Ripple itself to resume expanding its business, with the company already having opened a couple of important new partnerships in the weeks following the July decision.
Another interesting piece of possibly pro-XRP news is the fact that Representative Patrick McHenry of North Carolina has become the House Speaker on pro tempore basis, possibly paving the way for favorable cryptocurrency legislation in Congress.
As such, XRP could return to $0.60 in the next few weeks, before potentially reaching $0.70 or $0.80 by the close of the year.
New High-Potential Altcoins
While XRP does look good at the moment, it isn't the only promising altcoin in the market, with a range of presale tokens also offering the possibility of above-average gains.
One of the newest such coins in the market is Meme Kombat (MK), a new gaming platform that will enable users to bet against each other on the outcome of AI-generated battles between memes.
Opened a couple of weeks ago, Meme Kombat's presale has impressively raised over $250,000, providing a foretaste of its ability to attract supporters and investors going forwards. 
It's likely that its current investors have been attracted by its novel features, which will enable users to win rewards (in the form of MK tokens) if they correctly predict the outcomes of meme-versus-meme battles.
Given that 2023 has been a year that has seen strong meme-led market rallies, now is a good time to be launching a meme-related gaming platform.
What's also interesting about Meme Kombat is that it will have a hard cap of 12 million MK, meaning that it's likely to be deflationary over time.
Its presale has been allocated 50% of its overall supply, with another 30% going towards battle and staking rewards.
The ability to stake MK will provide another source of income for holders, who may also reap strong profits if they sit on the token for long enough.
The coin will cost $1.667 for its entire sale, which investors can join by visiting the official Meme Kombat website and connecting their software wallets.
Visit Meme Kombat Now
Disclaimer: Crypto is a high-risk asset class. This article is provided for informational purposes and does not constitute investment advice. You could lose all of your capital.