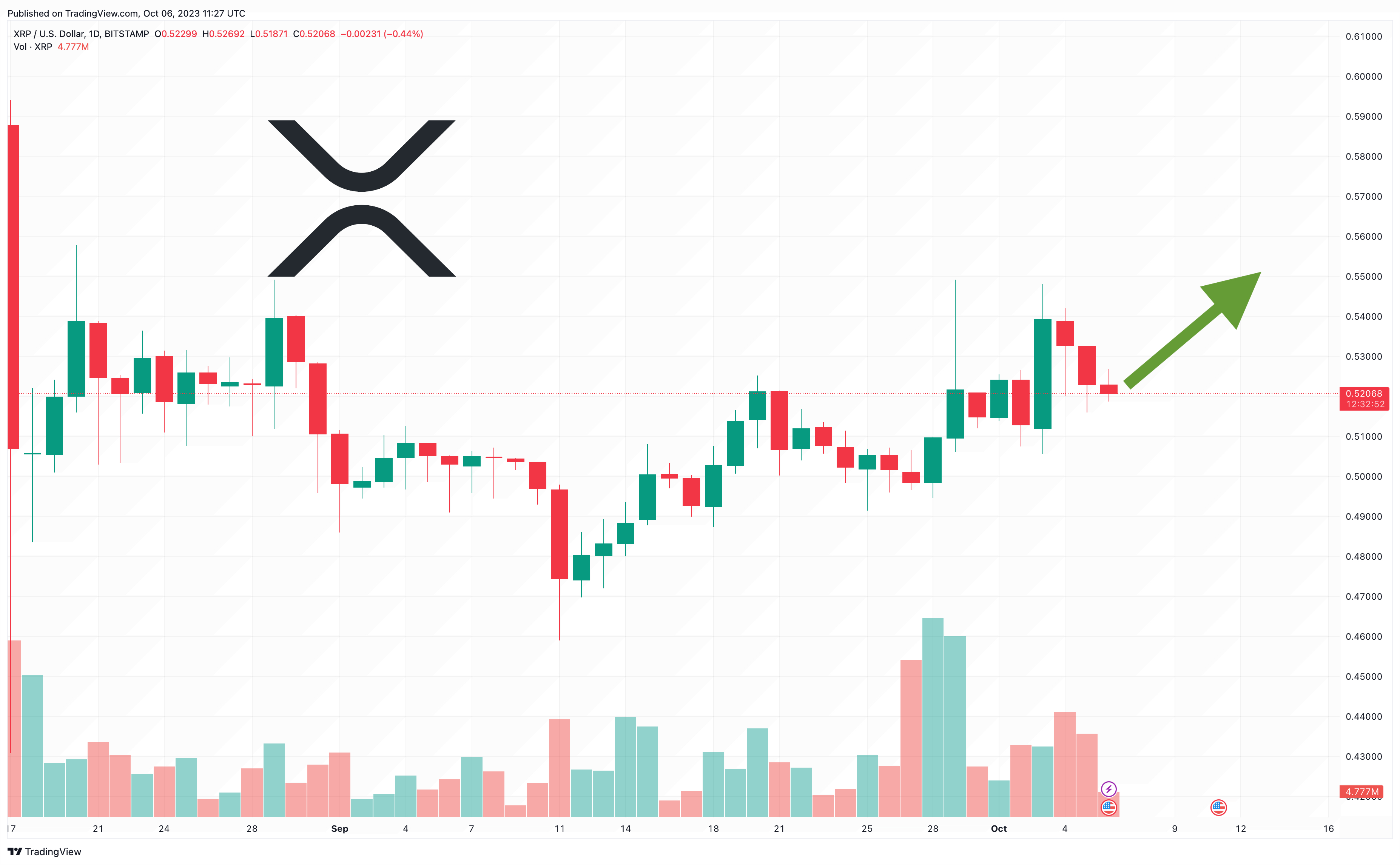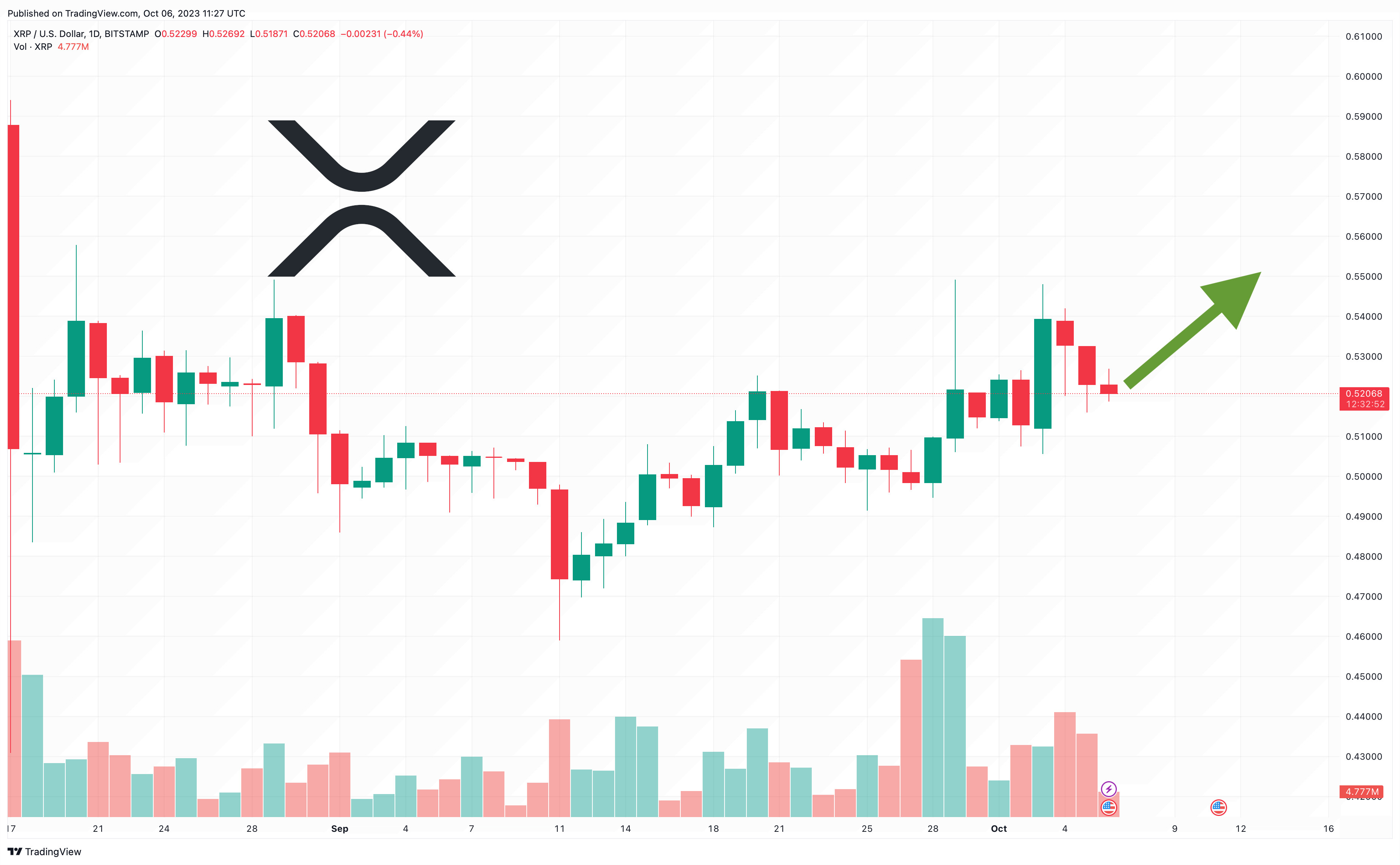 The XRP price has dipped by 0.5% in the past 24 hours, as cryptocurrency and financial markets continue to be undermined by rising bond yields and wider economic instability.
XRP remains up by 2% in the past week, however, as well as by 4% in the last 30 days, following this week's good news that Judge Analisa Torres has denied the SEC's bid to appeal against her July ruling in the regulator's case against Ripple.
As such, XRP remains up by 53% since the beginning of the year, with the coin's ongoing medium-term momentum likely to help it rally again in the coming days and weeks.
XRP Price Prediction as XRP Seeks to Breach $0.55 Level – Is the Path to $1 by End of 2023 Clear?
XRP's relative strength index (purple) has stabilized around the 50 mark, meaning that it has stopped falling and could be about to bounce back up again towards 70 or higher, meaning more price rises.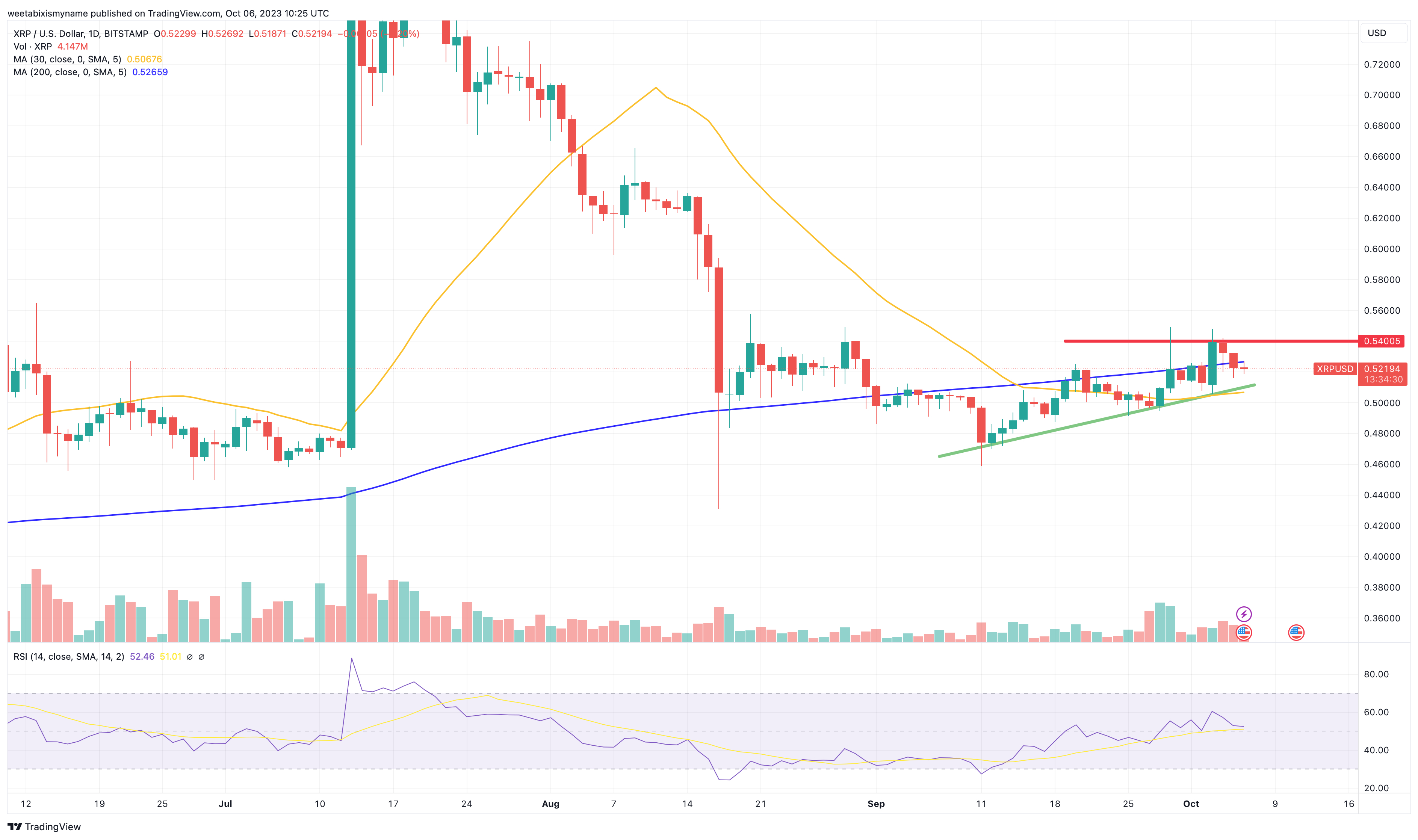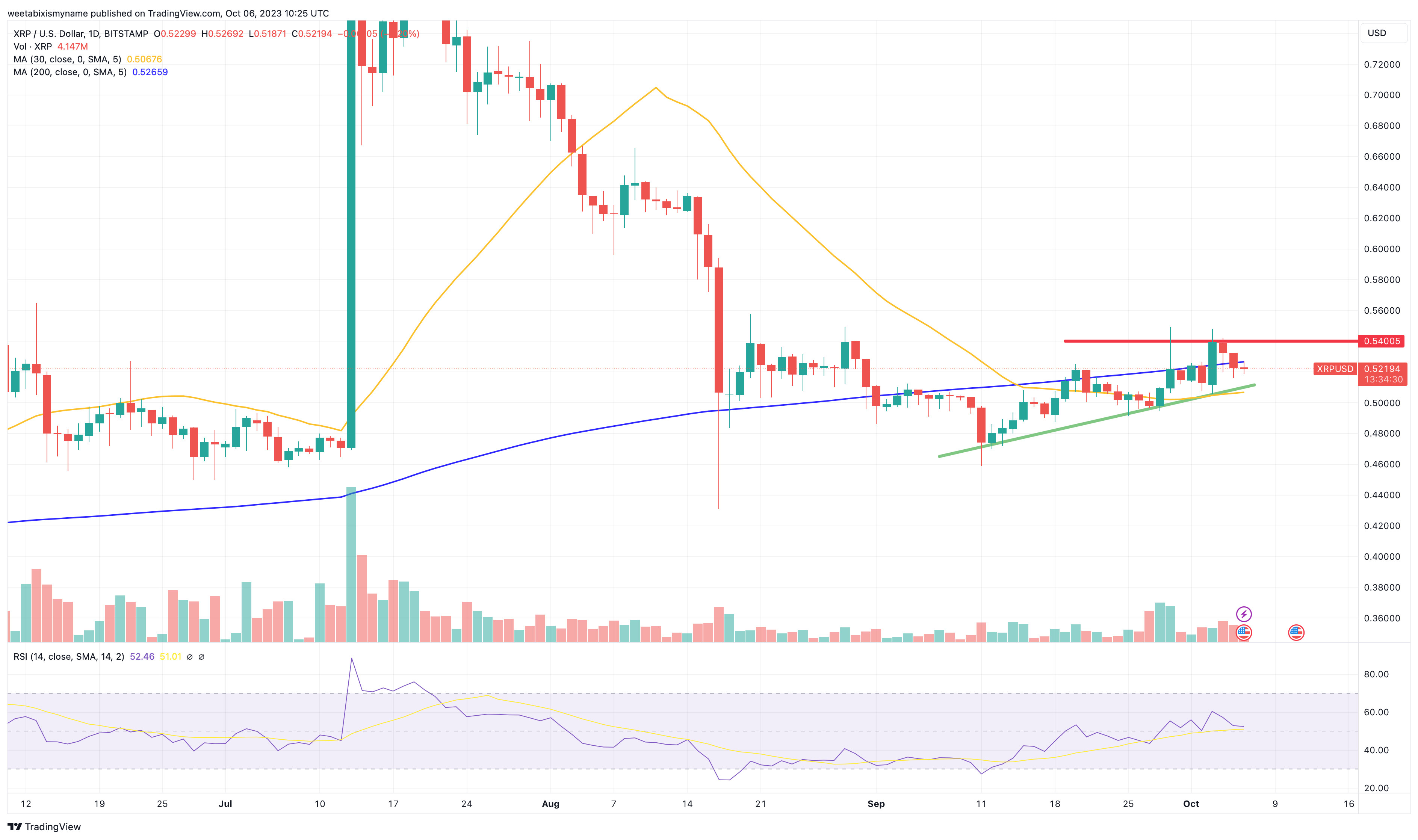 At the same time, XRP's 30-day moving average (yellow) has begun climbing very gently towards its 200-day average (blue), a move which suggests that the altcoin is due to rebound very soon.
As with many other major tokens, XRP's support level (green) has risen consistently since early September, creating the impression that it has mostly done falling for the year and should begin rising as 2023 draws to a close.
How far XRP will rise will depend on its ability to crack the $0.55 resistance level, although the coin's undervaluation right now should mean that it achieves this soon enough.
Such an analysis is also supported by recent happenings related to XRP, with this week's decision from Judge Analisa Torres providing a big win for Ripple and big setback for the SEC.
Specifically, Torres dismissed the SEC's request to appeal her ruling that Ripple's programmatic sales of XRP were not securities.
The federal judge said in her latest decision that there's no basis for a material difference of opinion from her previous ruling, meaning that an appeal is unnecessary and unwarranted.
It's not clear what the securities regulator will do next, yet its inability to appeal means that it will have to wait for the full trial on certain remaining issues (e.g. whether Ripple execs Garlinghouse and Larsen knowingly violated securities law), which is not due until April 2024.
And given the SEC's failures so far in the Ripple, there's certainly no guarantee that will success in next year's trial, or any appeal that may come afterwards.
As such, XRP remains in a good position fundamentally, with Ripple continuing to grow its cross-border transfer business, and with the company also in the process of signing new partnerships.
For this reason, XRP can be expected to rise to $0.60 in the next few weeks, and to reach $0.75 or higher by the New Year.
New-Altcoin Rallies
XRP remains in a good position, but for traders looking for above-average returns in a shorter space of time, newer altcoins may be the way to go.
The best new altcoins can often outperform the market by a big margin, particularly if they haven't yet had their initial growth spurts.
This is especially the case with presale tokens, with one of the most interesting new sales happening right now coming from TG.Casino (TGC), a decentralized casino platform that is harnessing the social power of popular messaging app Telegram.
Its presale was launched only a couple of weeks ago and has already raised just over $450,000, providing a clear signal that investors are already eager to jump on the project's bandwagon.
Aside from offering an exhaustively wide selection of games and gambling experiences, TG.Casino will have a big presence on Telegram, which it will use to tap into pre-existing communities of investors and gamers.
This harnessing of Telegram should help TG.Casino to grow quickly in terms of its userbase, with the project already having launched its platform a few weeks ago.
That native token TGC will be necessary to play TG.Casino's games will provide the coin with real utility, while demand for the token will also be increased by the fact that it can be used for staking.
It will have a hard cap of 100 million, with 40 million set aside for its presale, 20 million going to staking rewards and 10 million to gaming rewards, making the token highly decentralized.
Investors can join TG.Casino's presale by visiting its official  website and connecting their software wallets.
1 TGC will cost $0.125 for the whole sale, yet the platform's fundamentals could mean that its price rises much higher once it lists on exchanges.
Visit TG.Casino Now
Disclaimer: Crypto is a high-risk asset class. This article is provided for informational purposes and does not constitute investment advice. You could lose all of your capital.