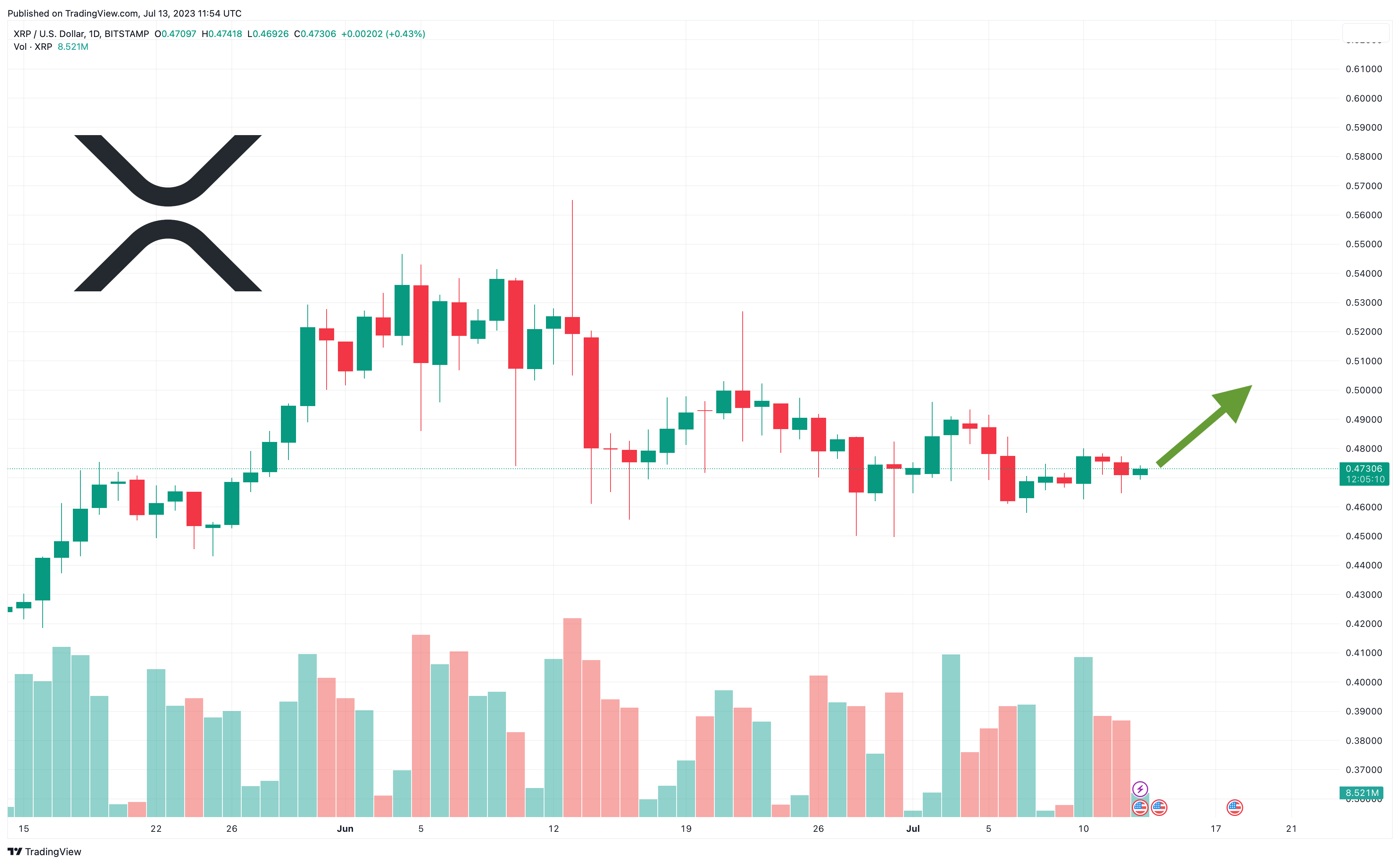 He XRP price it has been flat over the past 24 hours, with its current level of $0.47323 representing a small 1% drop over the past seven days.
This slight drop comes after a final ruling in the LBRY case with the SEC, in which the presiding judge did not rule on whether secondary LBC token sales amount to the security offering.
While not an especially positive result for LBRY, this ruling doesn't necessarily have much to do with Ripple's case with the SEC, which relies on different arguments and defenses.
And with observers suspecting that Ripple still has a good chance of a favorable outcome, XRP's current price may offer a significant discount to its future level.
XRP Price Prediction As $600M Trading Volume Holds XRP Above $0.47 – Are The Whales Accumulating?
The XRP chart suggests that it could be about to rally again, with all of its indicators starting to head higher.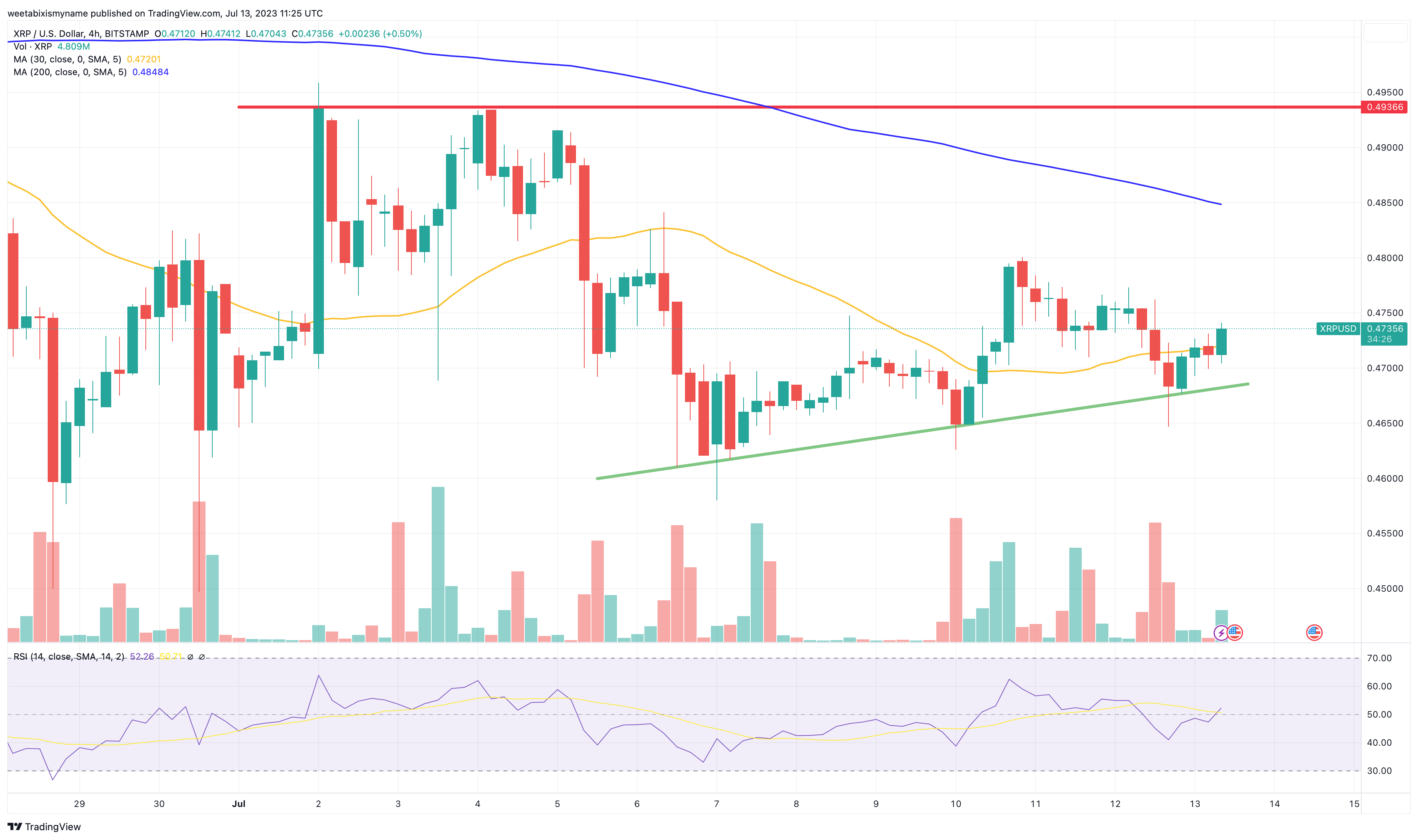 For one thing, its Relative Strength Index (purple) has risen above 50 today after spending much of the day falling, a sign it may be picking up momentum.
Added to this is XRP's 30-day moving average (yellow), which after a week of declines is now sloping upwards and looks set to break above its 200-day average (blue) in the next week or two. .
Supporting this positive view is the altcoin's support level (green), which has seen a series of rises in the past week, suggesting that XRP may have fallen as low as it can by now.
Also keeping XRP afloat is its trading volume, which has once again exceeded $600 million, after spending much of the weekend below $400 million.
Again, this indicates gradual recovery momentum, and XRP is likely to be boosted in the medium term by positive news on the Ripple-SEC case.
Regarding this case, it is interesting to note that the XRP price has not really been affected by the aforementioned ruling in LBRY's battle with the SEC, a ruling that came on Tuesday.
As lawyer Jeremy Hogan explained in the above tweet, the LBRY decision has little to do with Ripple's legal battle, and Hogan suggests that, in contrast to winning the LBRY case, it would be considerably more difficult for the SEC to prove that the XRP sales have been (and are) investment contracts.
Such a view weighs heavily in Ripple's favor, adding to the feeling that the cryptocurrency company will witness the kind of decision that will allow it to continue business as before.
This would be a big boost for XRP, which is likely to rally beyond $1 in the weeks after any positive judgments.
Even now, the growing anticipation around an incoming decision could see XRP surge above $0.50 any time soon.
Faster earnings with high potential meme tokens
Because XRP is almost completely dependent on a decision in the Ripple-SEC case, traders looking for more immediate gains may prefer to consider other altcoins in the meantime.
A particularly good source of profit is pre-sale, with some of the best pre-sale tokens seeing huge increases after listing on exchanges for the first time.
One of the most hyped pre-sales right now is for the Thug Life Token (THUG), an ERC-20 meme coin that has been aligned with the gangsta rap and hip-hop communities.
THUG has already raised over $1.3 million in its pre-sale, which will end in just under four days.
The fact that THUG has raised so much money so quickly is a clear sign that it has already done a good job of building its own community of investors and holders, which are necessary for the meme token to have a longer lifespan.
And while the pre-sale takes place for a short period of time, you've actually been allocated 70% of THUG's total max supply of 4.20 billion.
This makes THUG a very decentralized meme token, something that has also helped it attract investors, who may feel more confident that the coin will not be subject to a large dump after it appears (something that has happened with many coins). of lower quality meme). this year).
Interested retail investors can participate in the pre-sale by visiting the official Thug Life Token website, with 1 THUG costing $0.0007.
yrGiven its rapid success, there is a good chance THUG will top this price when it lists on exchanges in the next week or so.c
Visit Thug Life Token now
Disclaimer: Crypto is a high-risk asset class. This article is provided for informational purposes and does not constitute investment advice. You could lose all your capital.