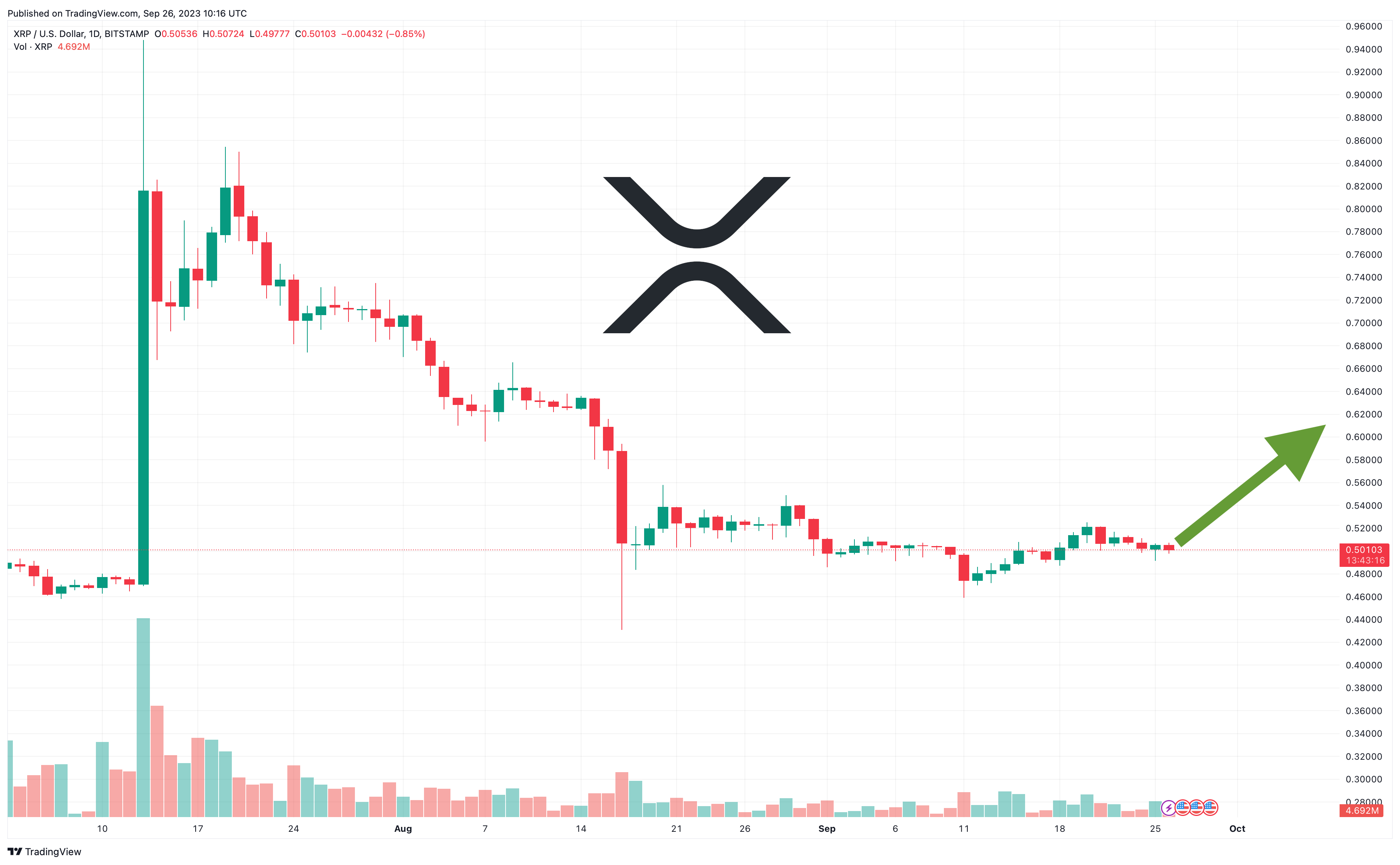 The XRP price has climbed back above the all-important $0.50 level today, with its rise to $0.501776 representing a 1.5% gain in 24 hours and a 6% increase in the past fortnight.
Despite these increases, XRP remains down by 5% in a month, although the altcoin sits on a 47.5% gain since the beginning of the year.
This gain has resulted from the fact that Ripple secured a largely positive outcome in its long-running case with the SEC, with the presiding judge essentially finding that XRP is not, in itself, a security.
As such, XRP can expect to return to growth once overall market conditions become more favorable.
Ripple Price Prediction: XRP Climbs 1% – Is This a New Rally Beginning?
There's little doubt that XRP is due a new rally, with the coin having been oversold for a couple of months now.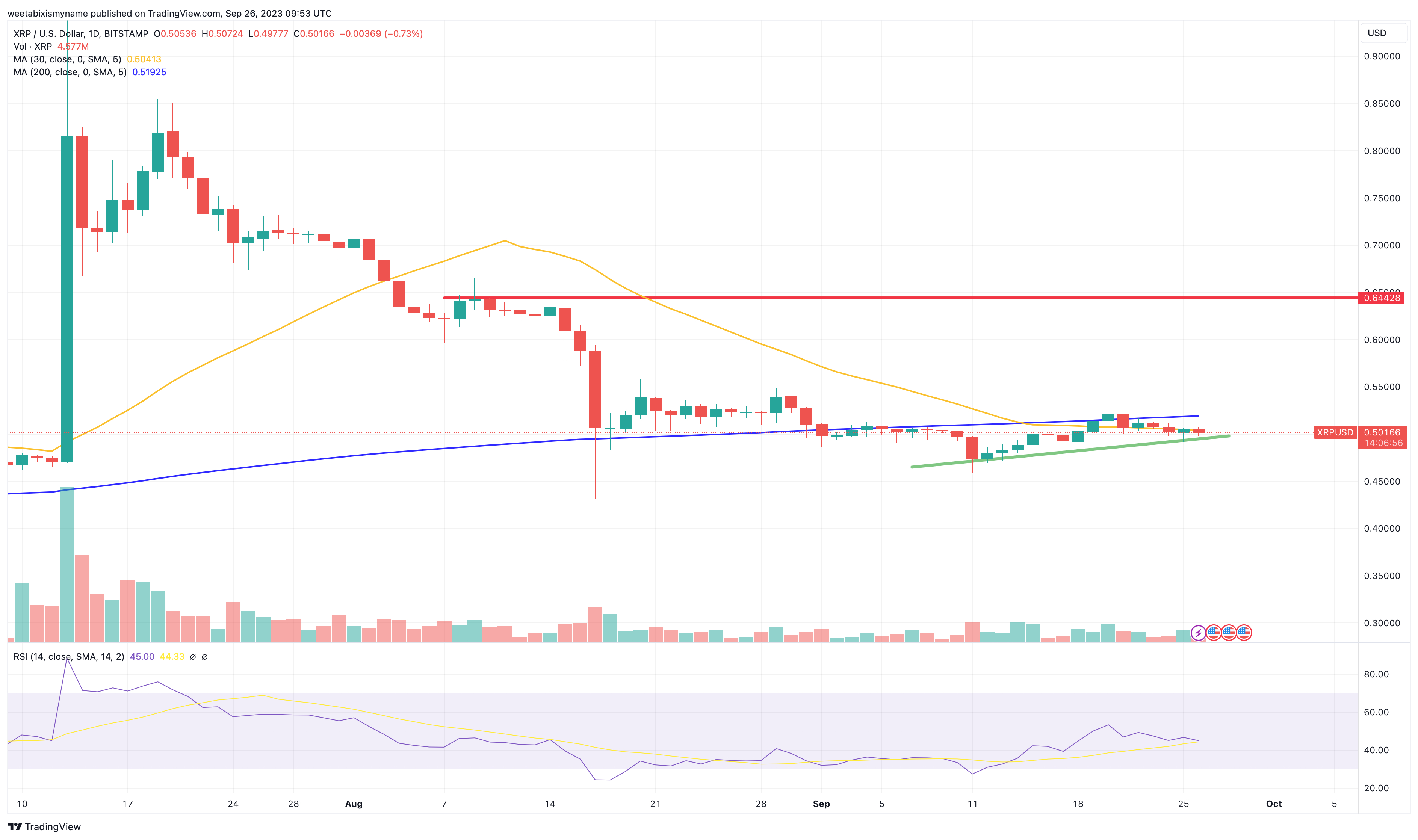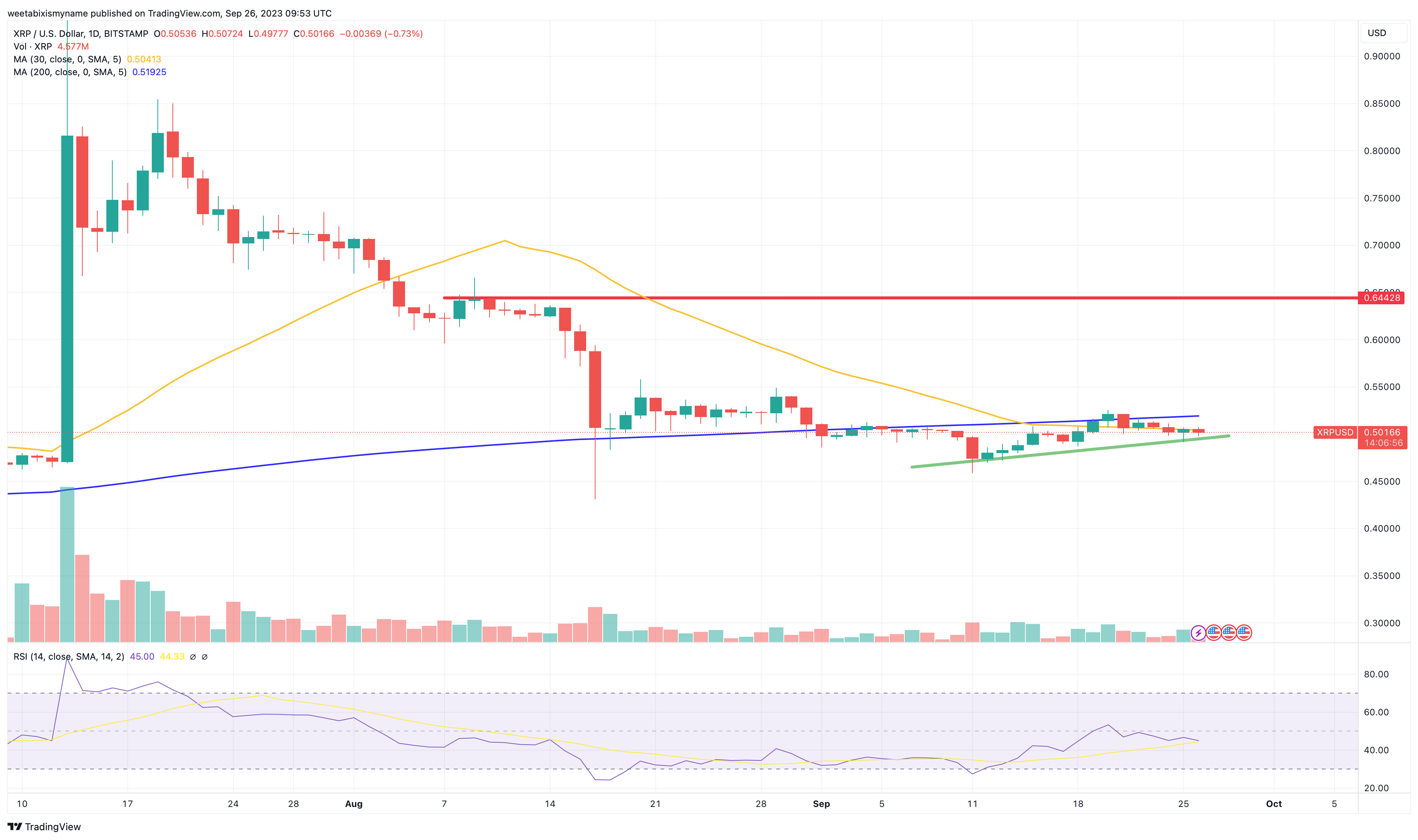 Indeed, XRP's relative strength index (purple) remains below 50, and has actually hovered around (or below) the 30 level since the middle of August.
This indicates heavy overselling, and it now seems that XRP may be on the brink of a rebound, given that its 30-day moving average (yellow) has fallen below its 200-day average (blue).
Such a fall can indicate further drops, yet it can also indicate the bottom of a selloff, with XRP now looking like it's in a position to recover.
This view is backed up by the coin's support level (green), whch has been rising over the past couple of weeks, meaning that the previous downturn has indeed bottomed.
Having said that, the market remains in a precarious position, with investor sentiment being dampened by a mix of US government shutdown fears and macroeconomic issues (e.g. China's slowdown, still-high interest rates).
For this reason, investors may still be inclined to sell, with the above tweet making it clear that large transfers are still being made to exchanges, possibly as a prelude to sales.
However, XRP's position remains fundamentally strong, so it's likely that it will recover healthily once the time is right.
As we've noted before, XRP was boosted in mid-July when Judge Analisa Torres issued her ruling in the Ripple-SEC case, finding that sales of XRP on exchanges did not constitute the offering of securities.
This enabled exchanges to relist XRP, and exchanges have continued to list the token, even with the ongoing threat of an interlocutory appeal from the SEC (which may not even be granted, let alone successful).
On top of this, Ripple has continued to expand its business in the past couple of months, with the company most notably partnering with the Republic of Palau on a stablecoin trial that uses XRPLedger.
In light of this, investors should generally remain confident in XRP, which should return to $0.60 in the next few weeks, before making it back to $0.70 (if not higher) by the end of the year.
New Presale Tokens For Quicker Market-Beating Gains
Traders impatient for XRP to make real headway may be inclined to diversify into newer altcoins, with certain presale coins proving a good source of profit this year, particularly when they list on exchanges for the first time.
Of course, not all presale tokens are equal, yet one of the fundamentally strongest presale coins right now is TG.Casino (TGC), a new Ethereum-based casino that uses Telegram and cryptocurrency to offer a unique take on online gambling.
It launched its presale only a few days ago, yet it has encouragingly raised more than $200,000, representing 20% of its sale's soft cap.
Its clear that investors have already been won over by TG.Casino's overall design and architecture, with the online casino tapping into the pre-existing userbase of Telegram.
Not only will it have a ready-made userbase in existing Telegram communities, but it will also provide a seamless casino experience, with its platform including a wide variety of games.
Another encouraging feature is that TG.Casino will harness smart contracts in order to ensure the fairness and transparency of bets and games, meaning that users can rest assured that they will be paid instantly whenever they win a bet.
Its presale will make available 40% of TGC's overall supply (of 100 million TGC), with 20% going to staking rewards, 20% going to DEX liquidity, and 10% to rewards (another 10% will go to marketing and affiliates).
Investors can participate in TGC's sale by going to the official TG.Casino website and connecting their wallets, with 1 TGC selling for $0.125.
The sale will have only one stage, at which point the coin will list on exchanges, potentially making its early investors a big profit.
Visit TG.Casino Now
Disclaimer: Crypto is a high-risk asset class. This article is provided for informational purposes and does not constitute investment advice. You could lose all of your capital.