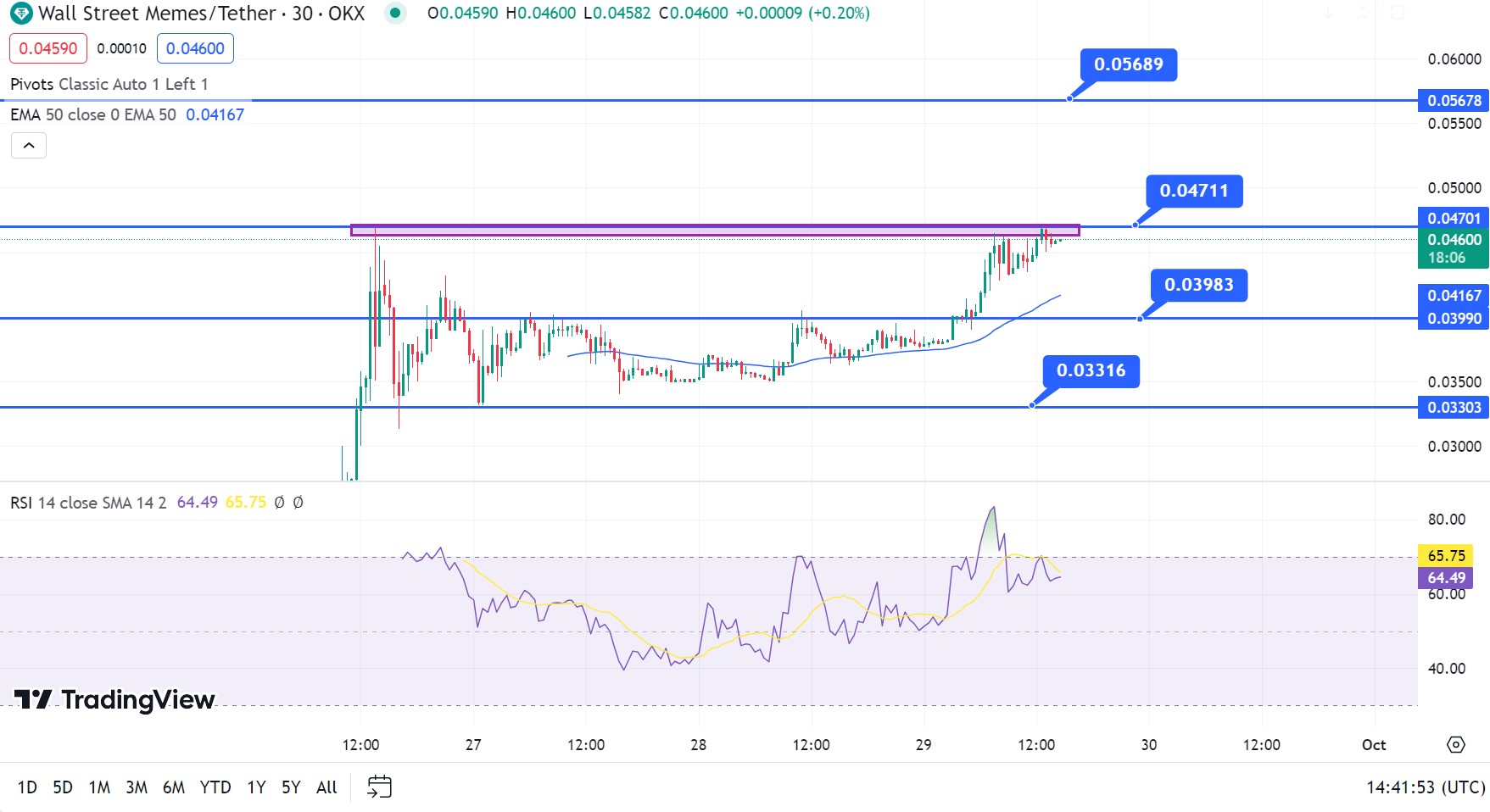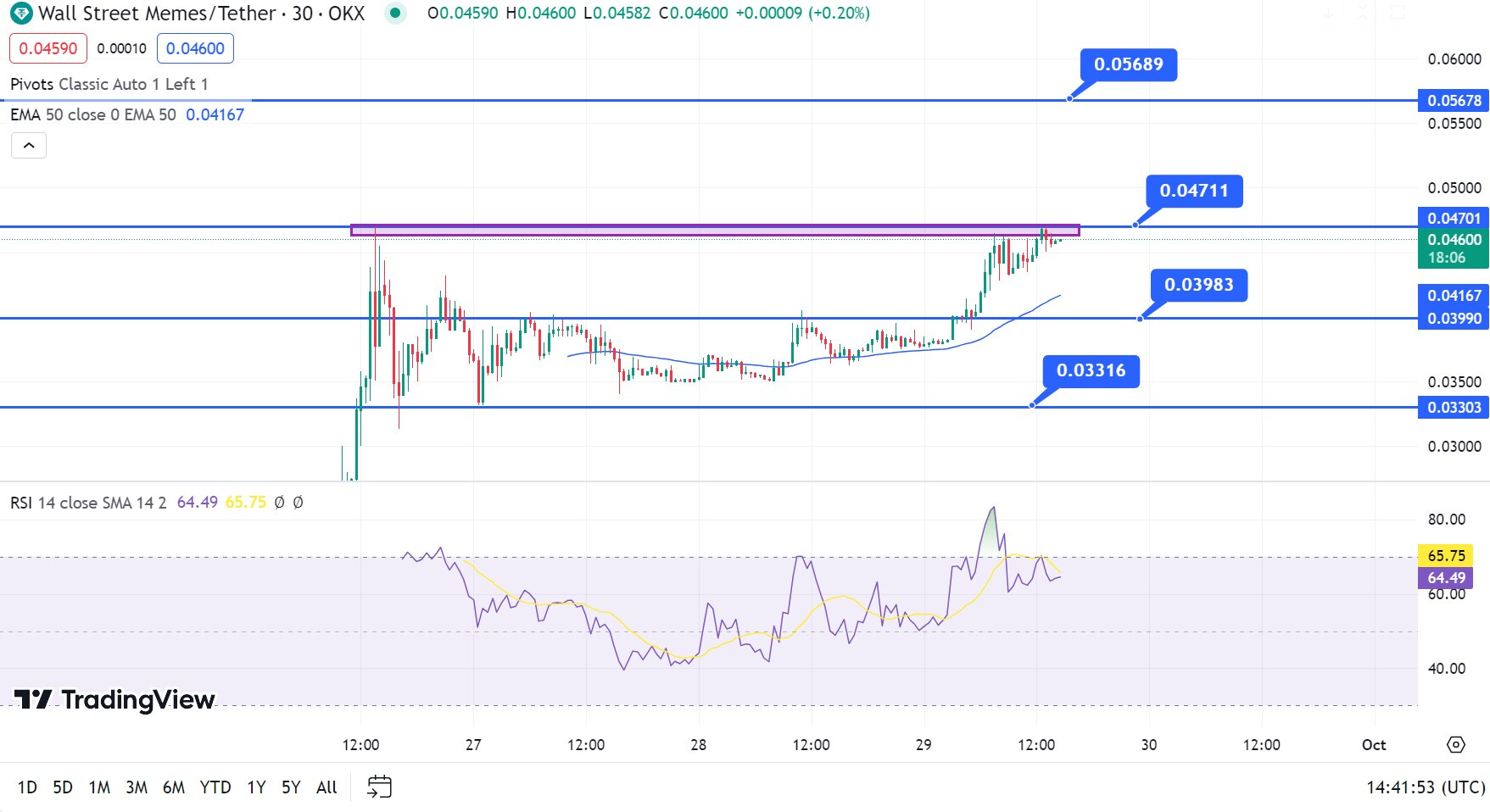 In the dynamic world of cryptocurrencies, Wall Street Memes (WSM) have emerged as a topic of discussion among traders and enthusiasts. After a commendable launch, its valuation surged by an impressive 30% on Dextools. 
As of September 29, Wall Street Memes is priced at $0.045620, with its 24-hour trading volume reaching a staggering $1.7 million. Within the last day, the token experienced a nearly 30% upward trend. Despite its recent buzz, the crypto's CoinMarketCap ranking currently sits at #2135. 


Detailed market capitalization figures remain elusive, but what's clear is that its maximum supply caps at 2,000,000,000 WSM coins, while the circulating supply is yet to be confirmed.
OKX Now Offers Spot Trading for Wall Street Memes (WSM)
Wall Street Memes (WSM) has been added to the spot trading markets of OKX, which is the world's leading crypto exchange. This listing has been highly anticipated since WSM raised nearly $30 million to make finance more accessible and challenge traditional Wall Street practices in favor of everyday individuals. 
OKX is the first major exchange to facilitate the trading of WSM against the USDT (Tether) pair, which is a significant milestone in the coin's journey toward wider adoption and trading availability. Let's take a quick technical look. 
Wall Street Memes Price Prediction
On a technical front, the chosen chart timeframe for analysis is a 4-hour window. Key price levels to watch include a pivot point at $0.0399. Potential resistance points are at $0.04701, $0.05678, and $0.07221. On the flip side, immediate support is found at $0.03303, followed by $0.02478 and $0.01997. 
Delving deeper into technical indicators, the Relative Strength Index (RSI) is presently at 71. This suggests the asset is in overbought territory, given that any RSI value above 70 typically indicates such a condition. 
The asset's current price is slightly above its 50-Day Exponential Moving Average (50 EMA) of $0.04166, indicating a short-term bullish trend.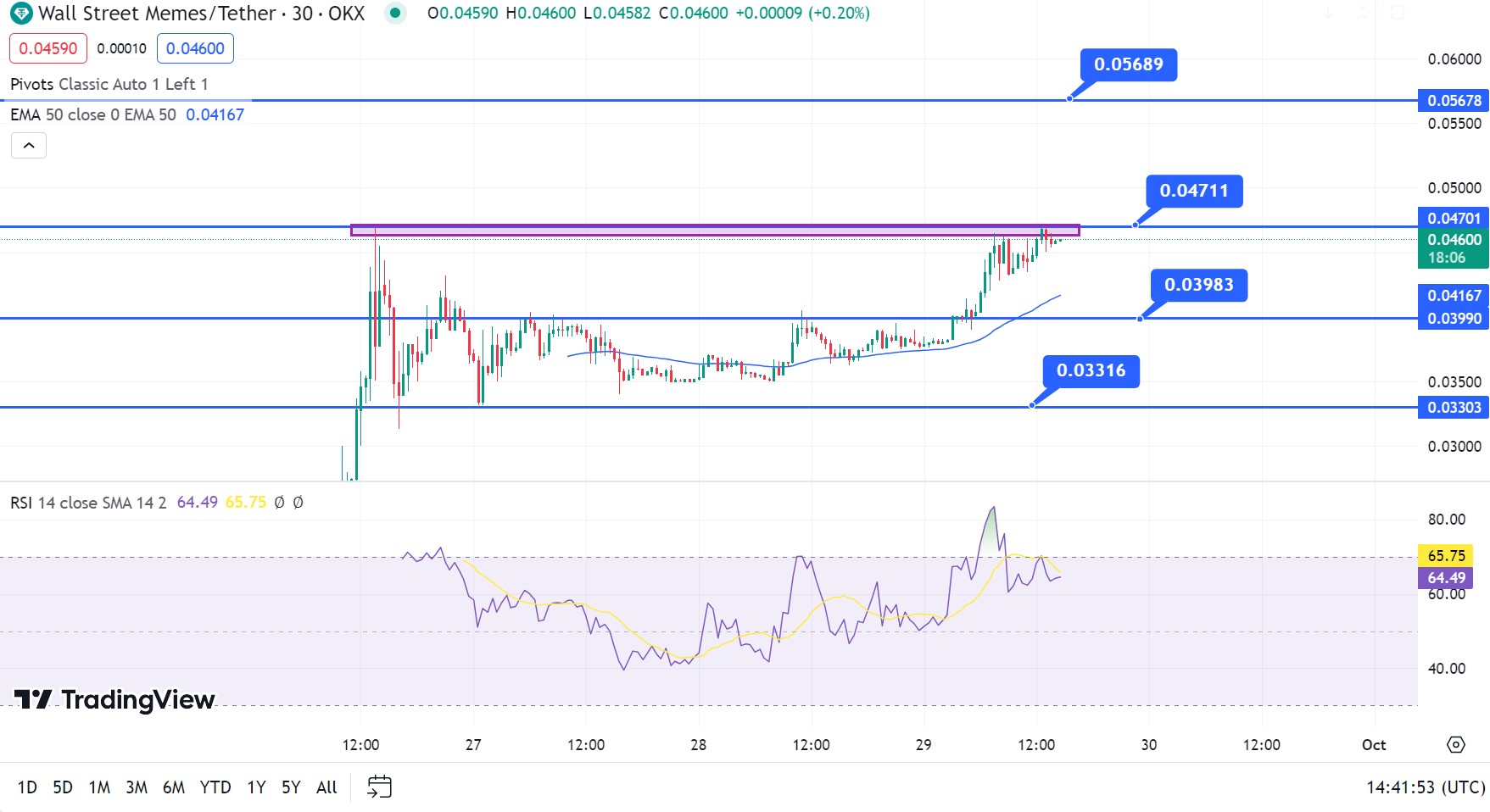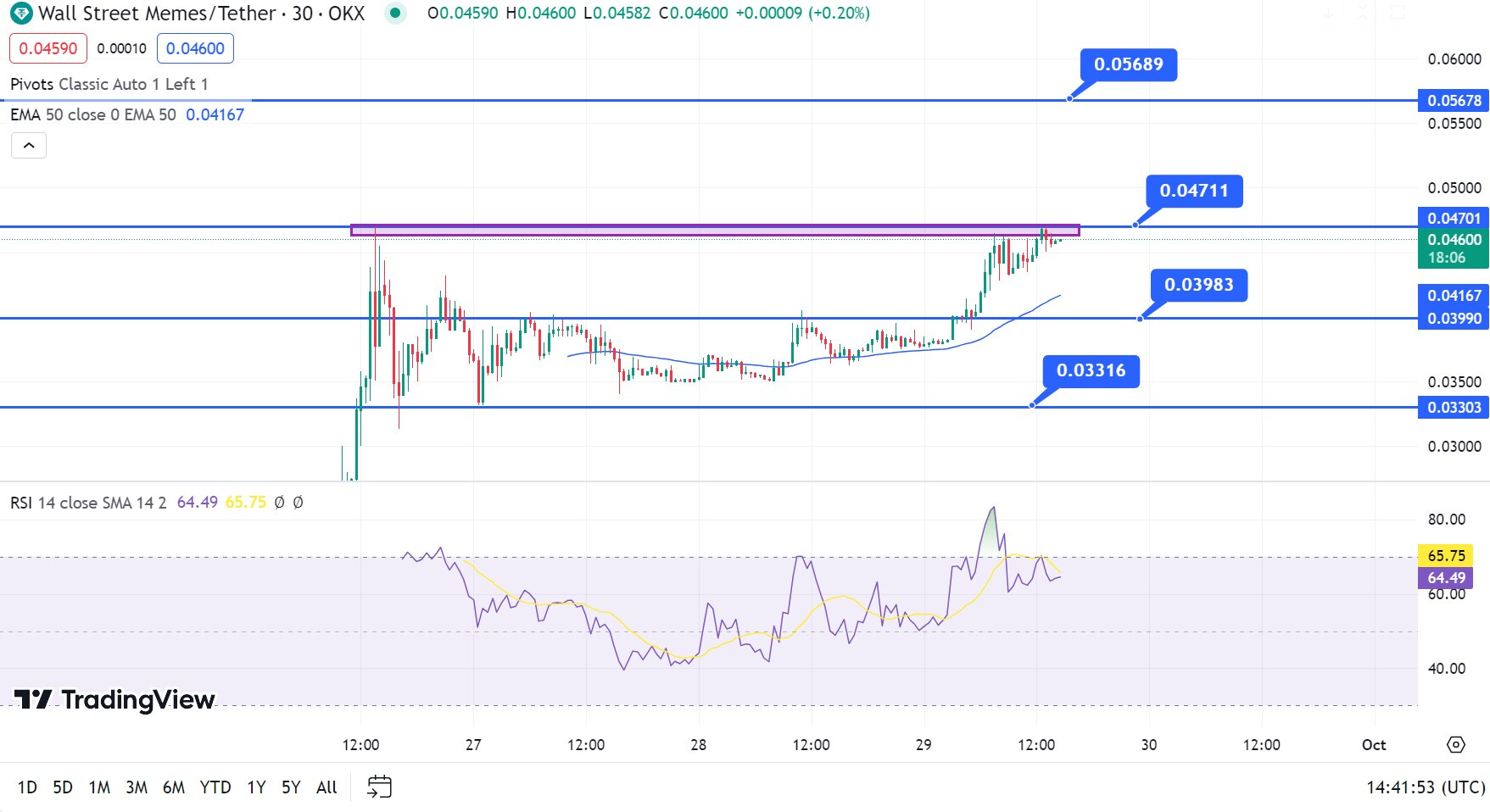 Chart patterns further highlight a double top pattern at $0.0470. The implications of this pattern are pivotal. If Wall Street Memes break above this level, it could signify bullish momentum. Conversely, dipping below might hint at bearish tendencies. 
The overall trend is anchored to the double-top pattern at $0.0470. Prices above this are bullish, while those below lean bearish. As with all crypto ventures, investors should remain vigilant, especially with the unpredictable nature of meme coins.
Visit Wall Street Memes
Meme Kombat: Crypto Alternatives 
Recently introduced, Meme Kombat merges meme concepts with combat gaming and assures players two sources of earnings—active and residual. The token presently provides a staking APY of 112%. The project's whitepaper emphasizes the Meme Kombat Token ($MK) as the central element of its financial framework. 
One of the main features of the Meme Kombat platform is staking, providing crypto aficionados a steady passive income through APY. Users can securely link their crypto wallets to the platform and stake their $MK tokens.
30% of the total token supply is set aside for staking and in-game rewards. This allocation approach encourages users to hold onto their tokens, promoting stability.
Once the first 14 days of staking are over, users can opt to withdraw their tokens or continue staking to consistently reap the APY benefits.
Crypto Presales and Betting Tactics
Meme Kombat offers a variety of wagering options, including Player-vs-Player and Player-vs-Game, providing alternate avenues for cryptocurrency investments. Additionally, the platform's crypto presale has already attracted more than $60,000 in just one day.
The overall fundraising target for the presale is set at $10 million, with each token priced at $1.667. Early joiners of this presale enjoy the advantage of automatic token staking.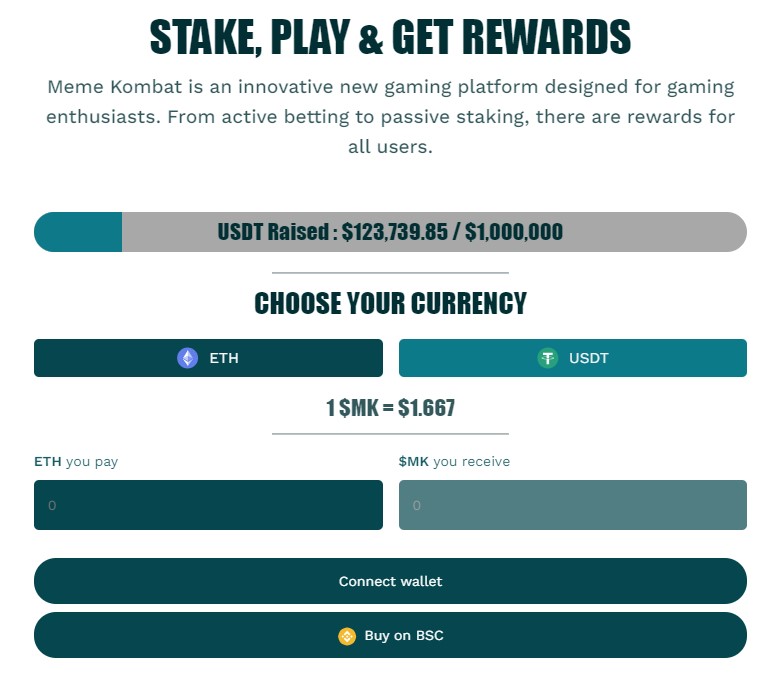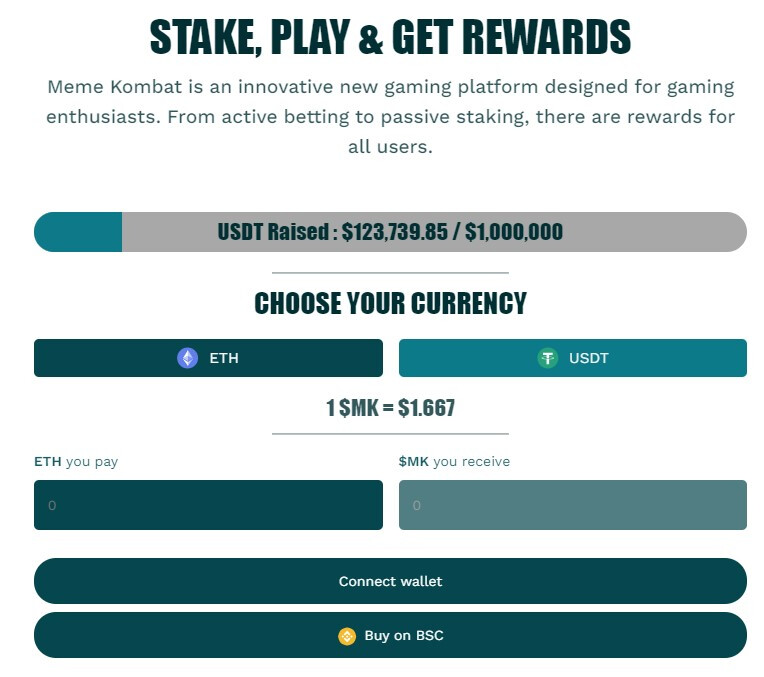 The platform expects to roll out multiple features between October and November 2023, highlighted by the premiere of Meme Kombat Season 1, aimed at retaining player engagement. By the close of 2023, enthusiasts can anticipate the release of Meme Kombat 2, which will offer enhanced gameplay features.
Visit Meme Kombat Here
Disclaimer: Crypto is a high-risk asset class. This article is provided for informational purposes and does not constitute investment advice. You could lose all of your capital.