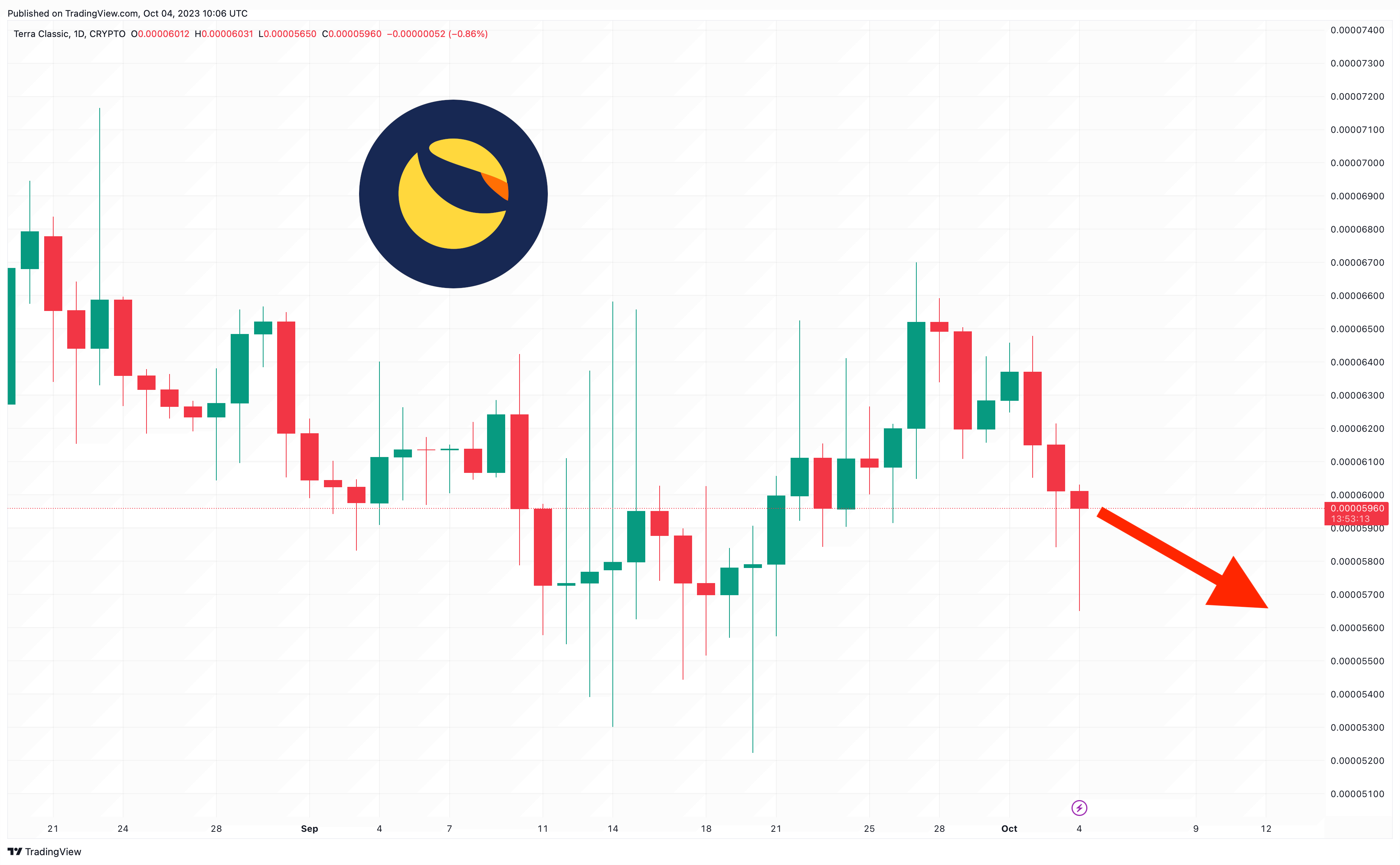 The Terra Luna Classic price has dropped by 3% in the past 24 hours, with its fall to $0.00005928 leaving the altcoin in 100th place in terms of cryptocurrency market cap rankings.
LUNC is also down by 3.5% in the past week, and while it's actually up by 3% in the last 14 days, it remains down by 1% in a month and by 81% in the last year.
Such falls point to a longer term decline which has taken hold of LUNC in 2023, with the coin's community struggling to make progress in boosting its price and that of its related stablecoin, USTC.
This likely means that LUNC will continue dropping from here on out, yet if a serious course of action can be taken to boost its ecosystem and price, then it could potentially rally once again.
Terra Luna Classic Price Prediction as LUNC Falls to 100th Place in Coin Rankings – Is It All Over?
After riding the market's recovery on Monday, LUNC is declining once again, with its technical indicators responding accordingly.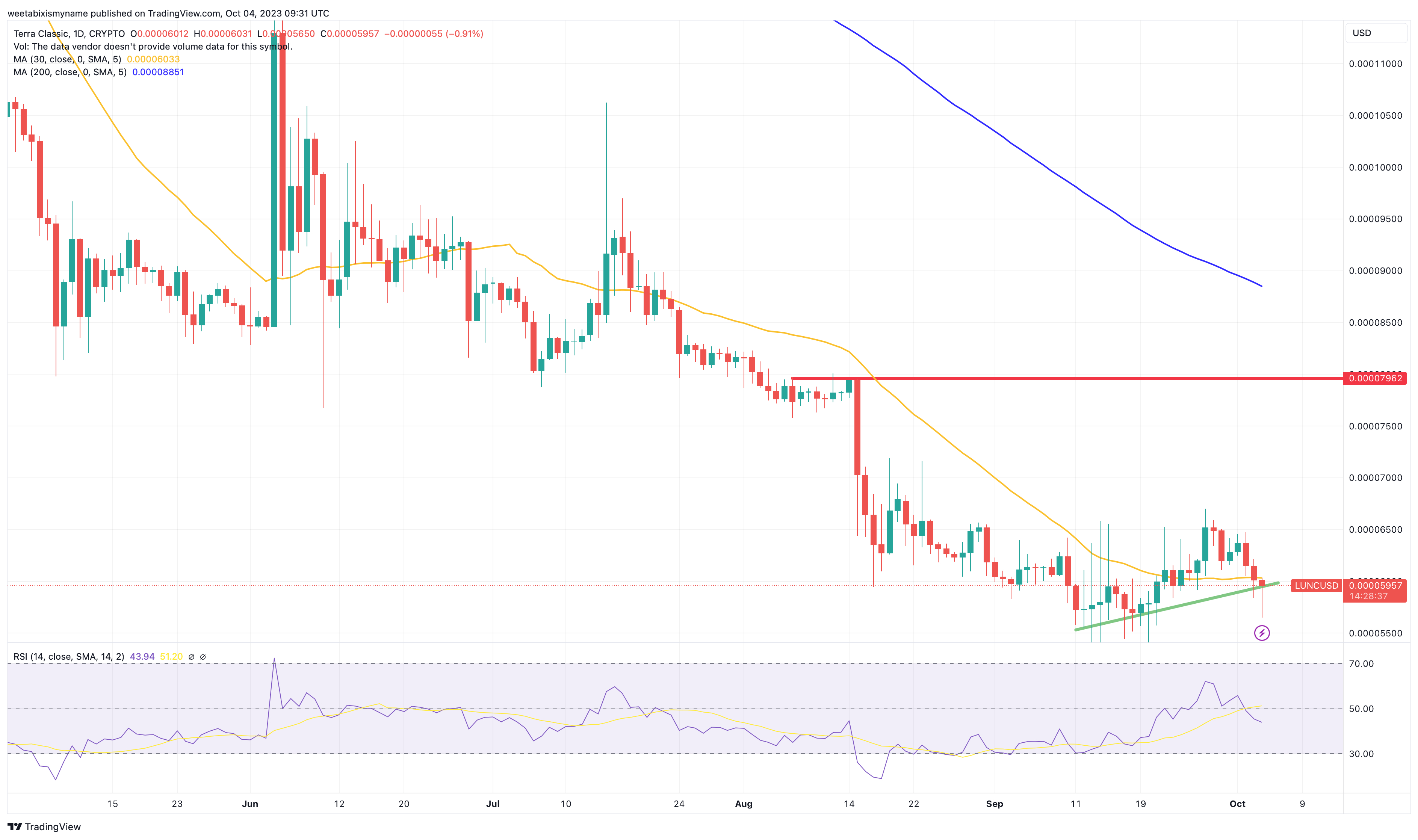 Its relative strength index (purple) has dropped from 60 a few days to nearly 40 today, and it could continue dropping before the coin becomes oversold in comparison to recent price movements.
Also showing signs of weakness is LUNC's 30-day moving average (yellow), which is struggling to rise again despite seemingly flatenning out in the past week, with the average also still well below the coin's longer term 200-day average (blue).
Such signals should be concerning, and it will therefore be interesting to see whether LUNC's current short-term support level (green) can resist a fall below $0.0000590.
If it does drop below this level, then further falls are likely to be incoming, something already suggested by the fact that LUNC's longer term support level has been declining consistently over the entire year.
It really does seem that the wider market has lost interest in LUNC, which has seen a number of accepted governance proposals fail to make a big impact on its price in recent weeks and months.
The latest Terra Luna Classic proposal up for voting relates to a plan to fund an experienced team of developers, who would aim to implement a detailed roadmap of improvements and bring "value to the Terra Classic blockchain so that we can help push this chain where it deserves to go."
However, it seems that many important validators and community members are voting against it, with some arguing that it's not a realistic plan.
This is telling, because if active members of the community don't believe such plans are realistically achievable, then an outside could ask: what hope for Terra Luna Classic and LUNC going forward?
A pessimist's answer would be: none.
Of course, it's arguably encouraging to see that people are still seriously debating how to reboot Terra Luna Classic, so it may be premature to suggest it can never recover.
But for now, it may continue falling for the next few months, unless a real plan can be put into action.
New High-Potential Altcoins
Given LUNC's problems at the moment, most traders are likely to be better off buying into other altcoins, with several new presale coins looking like they're in a good position to rally when they list.
One clear example of such a coin is Bitcoin Minetrix (BTCMTX), a tokenized cloud mining platform that will enable ordinary investors to mine Bitcoin simply by staking its native token.
Bitcoin Minetrix has impressively raised just over $400,000 in barely a couple of weeks, providing a clear sign of just how enthusiastic investors are for the new project.
And the reason they're becoming increasingly enthusiastic is that Bitcoin Minetrix's platform will enable users to stake their Ethereum-based BTCMTX tokens in order to receive tokenized mining credits, which can then be used to buy hashpower for Bitcoin mining.
By doing this, holders and stakers will be able to receive actual BTC as a reward for their contributions, with Bitcoin Minetrix's platform set to make Bitcoin mining much more accessible to much more people.
This is why people are already going for its presale in a big way, with the sale being allocated 1.4 billion BTCMTX tokens, out of a total maximum supply.
New buyers can join the token's presale by going to the official Bitcoin Minetrix website, where 1 BTCMTX currently sets you back only $0.011. 
This price will rise with each successive stage of the sale, and will eventually reach $0.01190000 by the time the sale closes, although it could easily rise much higher once the coin lists.
Disclaimer: Crypto is a high-risk asset class. This article is provided for informational purposes and does not constitute investment advice. You could lose all of your capital.