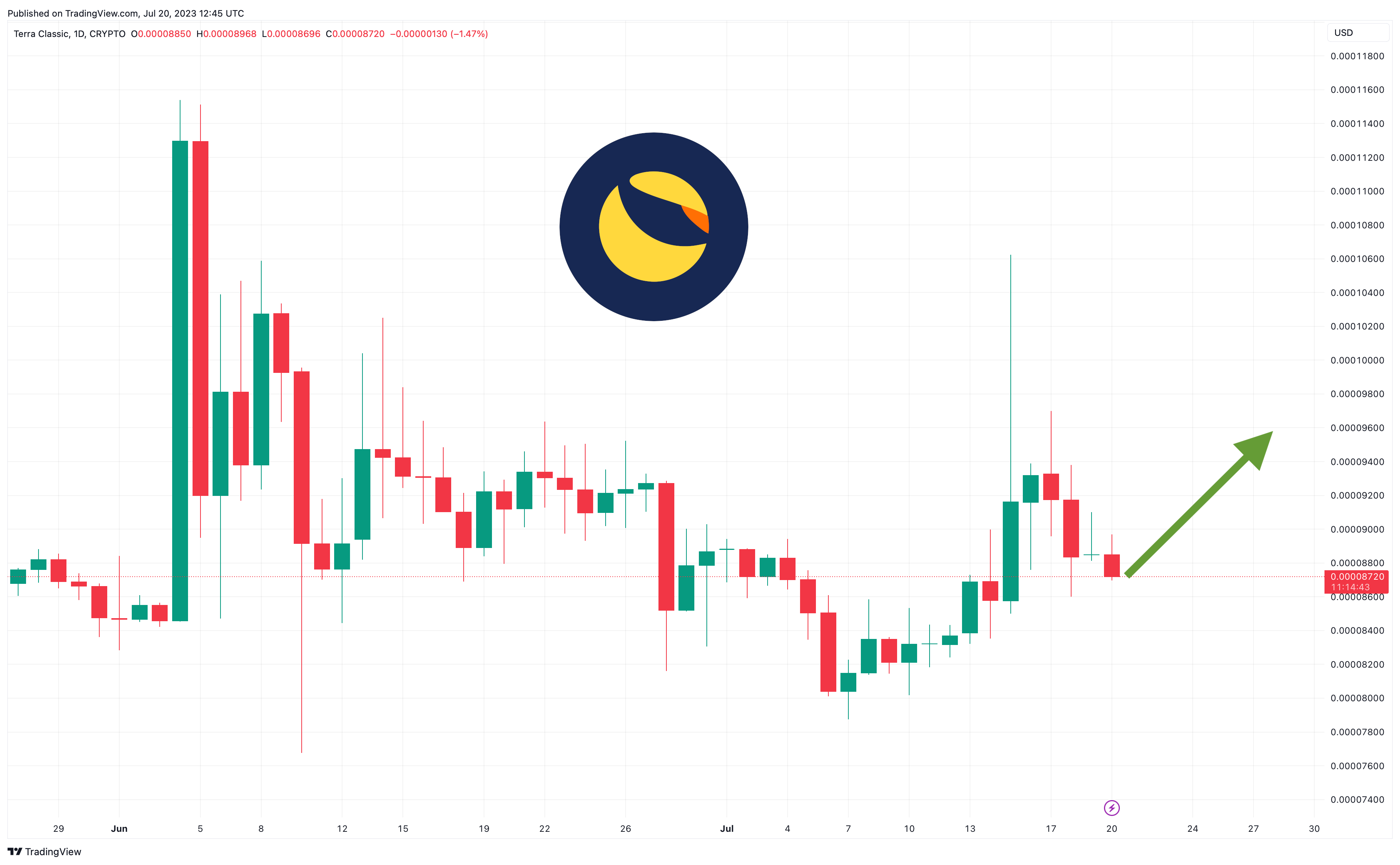 He price of Terra Luna Classic (LUNC) it is down 1.5% in the last 24 hours, with LUNC falling to $0.0000873 as the cryptocurrency market as a whole rises 1%.
LUNC is now up 3.5% in the last seven days but down 2% in the last 30, while the altcoin is down 39% since early January, in contrast to most other major cryptocurrencies (which have rallied substantially).
Much of this disappointing performance can be attributed to the failure of the Terra Luna Classic community to do anything significant to support LUNC's price and boost its ecosystem, and there continues to be considerable disagreement over the type of proposals that need to be put in place to do so.
However, some new proposals have managed to attract majority agreement, and it seems that a new plan to develop the Terra Luna Classic wallet infrastructure will be accepted.
Terra Luna Classic Price Prediction As Bears Send LUNC Towards $0.000085 Support – What Happens Next?
The LUNC chart suggests that the altcoin may have to suffer a few more losses before it can rally again, and its indicators reveal a lack of momentum.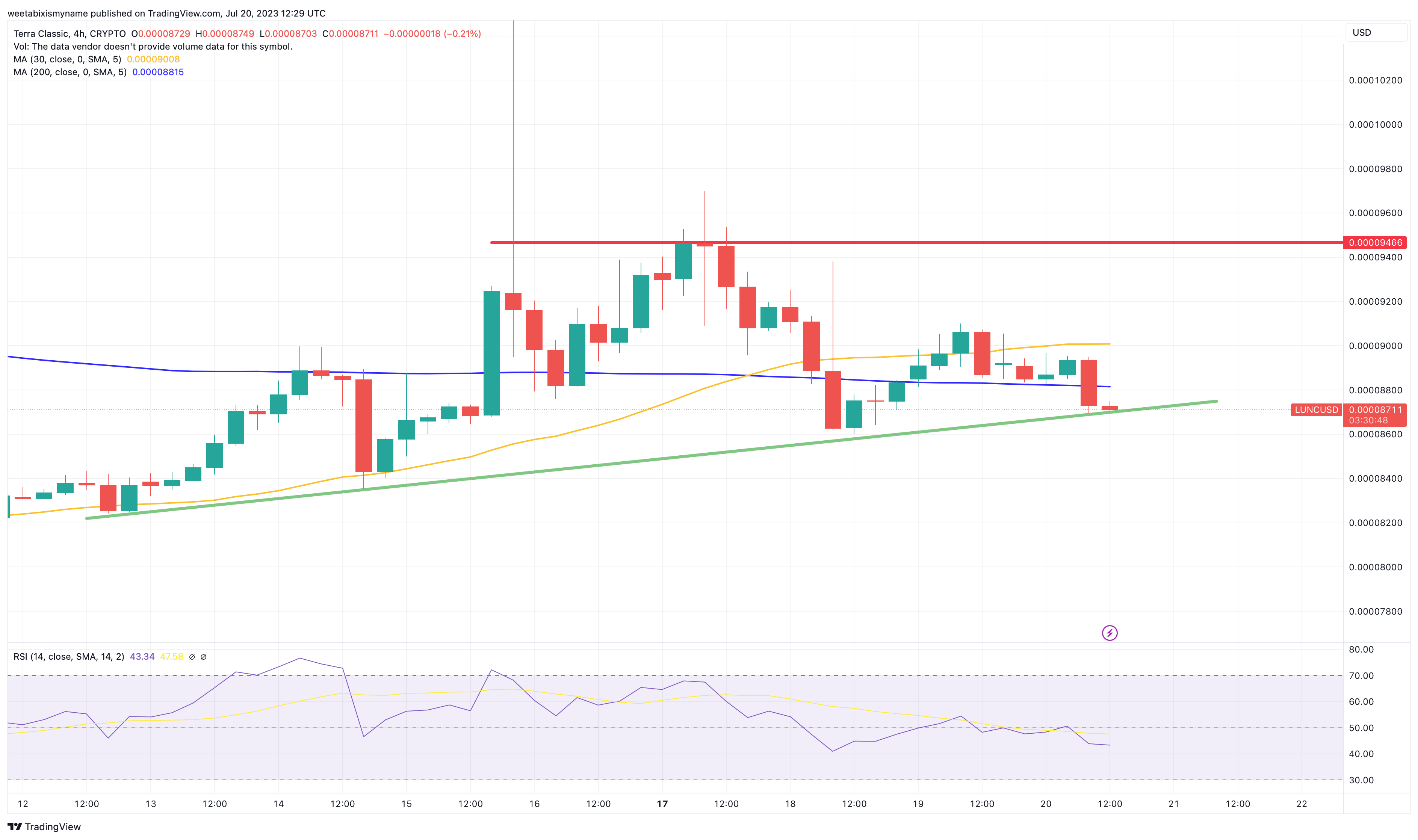 After rallying for much of this week, the LUNC 30-day moving average (yellow) has flattened out a bit, and it looks like it could start to dip below its 200-day average any time soon, which would point to further declines.
Similarly, the altcoin's Relative Strength Index (purple) has fallen from a dovish 50 to near 40, indicating a general move towards selling that could worsen in the coming days.
That being said, the LUNC (green) support level has held up well over the past week, and it will be interesting to see if the coin can hold up to a dip below the key $0.000085 level.
If it falls below this marker, further declines are likely as a result of some traders losing confidence in the cryptocurrency.
Still, it can be argued that the overall picture for LUNC looks a bit more positive right now than it has for several weeks or even months.
While several recent Terra Luna Classic governance proposals have been rejected by its community, it appears that one involving the creation of a wallet infrastructure for the Terra Luna Classic network will win approval.
Acceptance of this proposal would be encouraging for LUNC, as the introduction of wallet capabilities would make the Terra Luna Classic network more attractive to developers.
In turn, this could help encourage the development of more applications for the LUNC blockchain, which would have the effect of boosting demand for the altcoin.
It could also provide the Terra Luna Classic community with something to lean on, as the previous weeks and months have seen validators disagree over a number of proposals.
Such disagreement has hampered LUNC's performance of late, but even with steady progress in terms of making the Terra Luna Classic blockchain more attractive to developers, it's arguable that LUNC won't see any substantial rebound until a concrete plan to relink USTC is put into action.
This is the sister stablecoin to LUNC, which prior to the infamous decoupling event of May 2022 was really the only reason anyone used the Terra Luna blockchain.
Now, USTC is still priced very low at $0.01660229, making it almost useless as a stablecoin.
However, if the Terra Luna Classic community can finally come up with a realistic plan to re-link USTC, LUNC would reunite en masse in parallel.
Such a plan is not likely to come anytime soon, even if a proposal to test the ways in which a new linkage could be achieved has been accepted.
As such, it would be unwise to expect LUNC to make big moves any time soon, with a short-term target for the altcoin remaining around $0.00010.