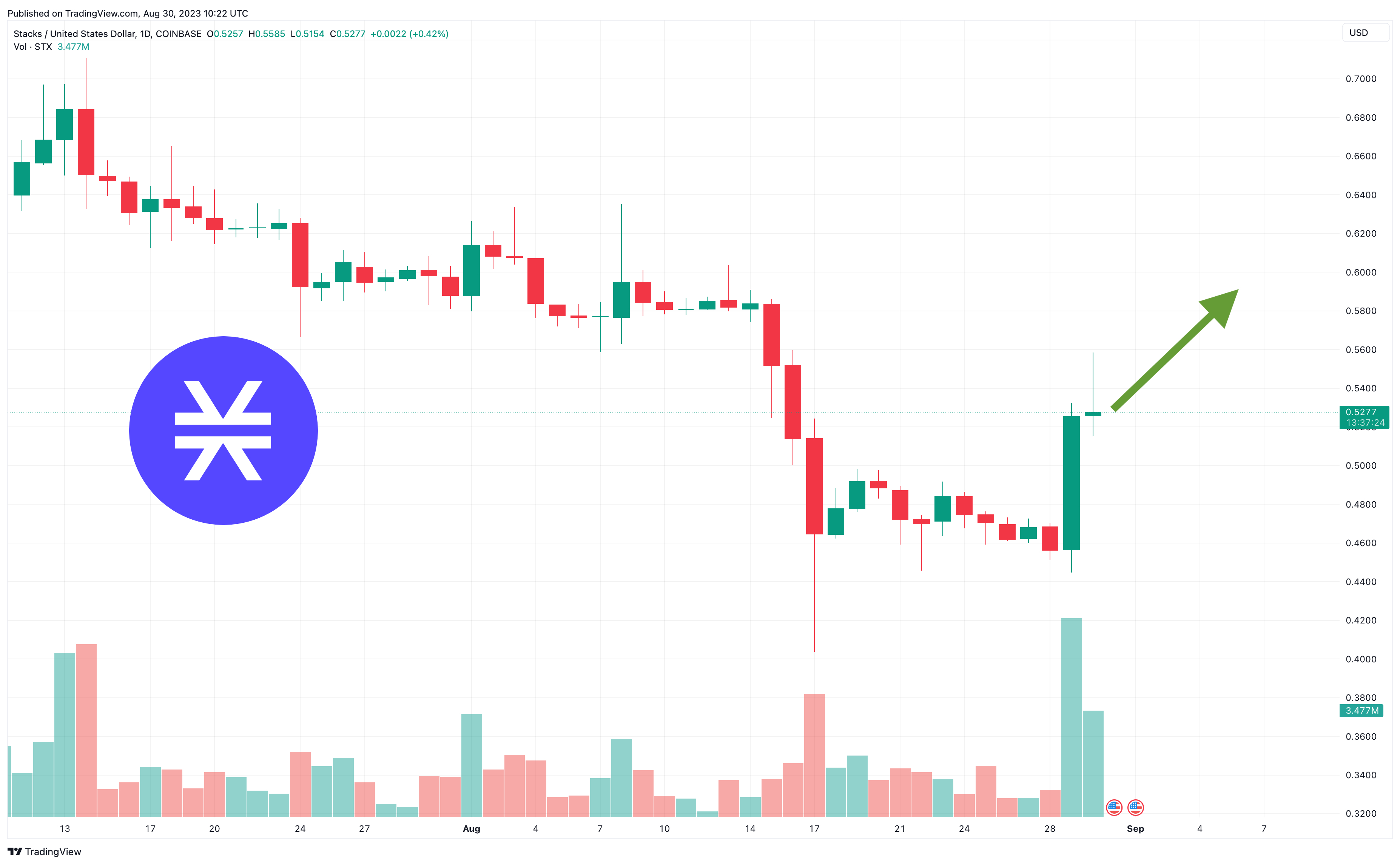 The price of Stacks (STX) has risen by 16.5% in the past 24 hours, with the coin's move to $0.526349 making it the best-performing major cryptocurrency today.
STX is also up by 12% in the past week, while remaining down by 12% in the last 30 days.
The altcoin's move today comes in the wake of the news that Grayscale has won an appeal against the Securities and Exchange Commission, which will now have to re-review the asset manager's application for a spot Bitcoin ETF.
And given that Stacks is a layer-two platform for Bitcoin, the approval of BTC ETFs would ultimately be highly beneficial for STX, which is likely to enjoy further gains in the coming weeks and months.
Stacks Price Prediction as STX Becomes Best Performing Coin in the Market – Time to Buy?
Stacks' chart is a good example of what should happen to any fundamentally sound asset when its indicators hit a bottom, with the coin's relative strength index (purple) now shooting up to 50 after more than a week at around 30 or under.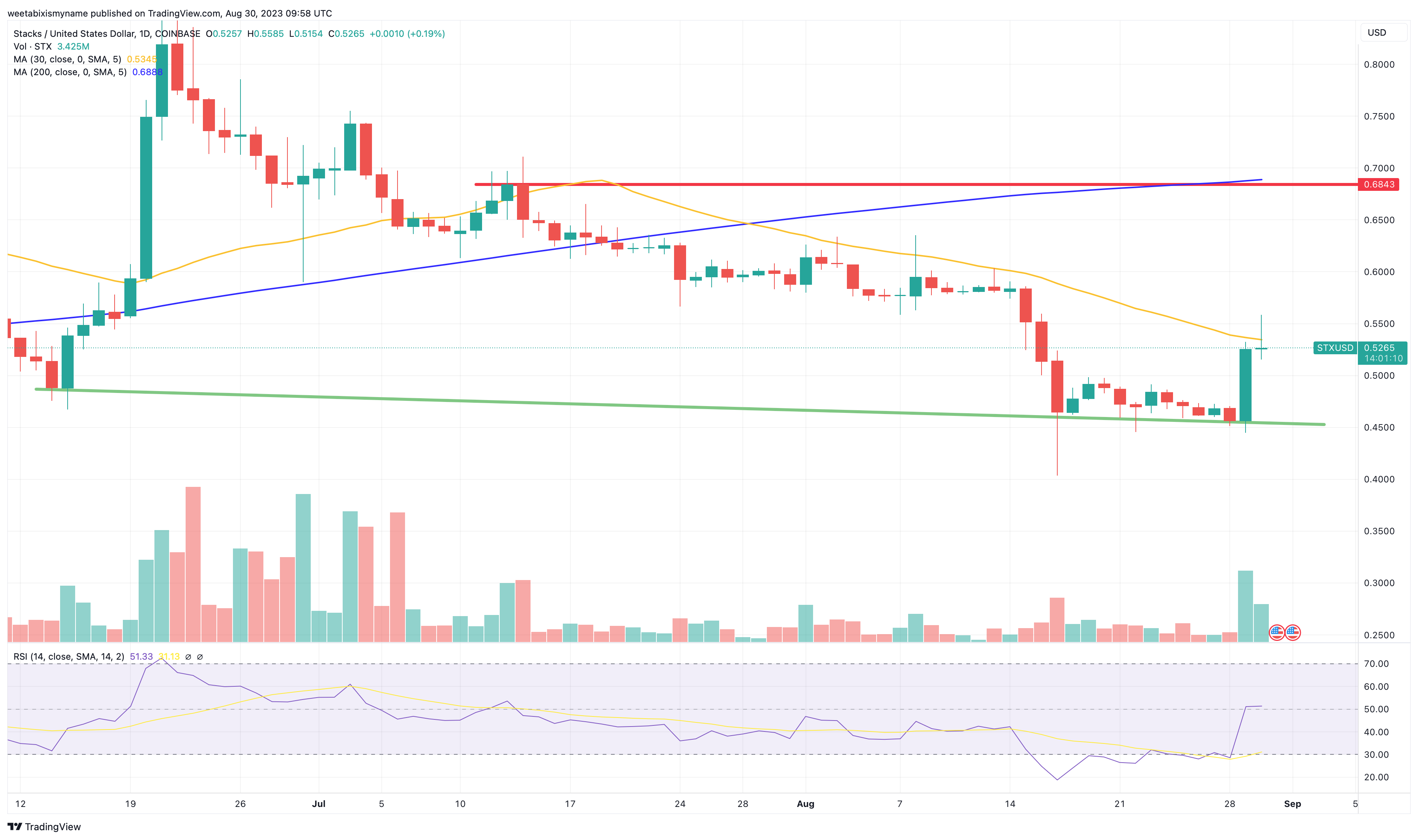 This move is likely to translate into a rising 30-day moving average (yellow), which has a long way to go before it catches and climbs over the coin's 200-day average (blue).
In other words, STX has plenty of lost ground left to recover, which could mean that it continues to rally for a little while longer yet.
STX has been heavily oversold in recent weeks, something which partly accounts for why it has risen faster than even BTC in response to yesterday's Grayscale news. 
And while the prospect of a Bitcoin ETF doesn't necessarily impact Stacks in a direct way, the growth of BTC as an asset will have positive ramifications for Stacks, which operates as a smart contract layer for Bitcoin.
The bigger BTC becomes, the more usage and adoption Stacks is likely to witness, which accounts for why STX has surged in response to the Grayscale news.
And given that most altcoins remain in regulatory limbo as a result of the SEC's actions against Binance and Coinbase, Bitcoin and Stacks could be big winners in the coming months and years.
So from its current price of roughly $0.526, STX could potentially reach $0.60 in the next few weeks, before returning to $1 in the latter stages of 2023.
Other Rising Altcoins
Of course, Grayscale's victory yesterday doesn't guarantee a Bitcoin ETF approval, with such an eventuality still possibly needing several weeks or months to happen.
For this reason, traders looking to make above-average profits in the next few weeks may be advised to turn to newer altcoins that look set to rally big as a result of exchange listings.
A good example of such a token is Launchpad.xyz (LPX), a new all-in-one Web3 trading platform that has raised an impressive $1.5 million since beginning its presale a month ago.
Due for launch in the third quarter of the year, Launchpad.xyz will help traders with a wide range of tools, including a Web3 wallet, a play-to-earn gaming hub, trading intelligence and signals, and also automated trading bots.
The platform will rollout new features regularly after its initial launch, with a decentralized exchange and NFT marketplace also planned, along with the ability to create and trade fractionalized assets.
Other features will include collaborative trading rooms and social trading, providing the platform with a strong, self-reinforcing community element.
This helps explain why investors have already grown very fond of Launchpad.xyz, with LPX made even more attractive as an asset by the fact that it can be used for staking.
New investors can get involved in the presale by going to the official Launchpad.xyz website and connecting their software wallets, with 1 LPX selling at $0.0445.
This price is likely to be eclipsed when the token lists on exchanges in the next few weeks, potentially making LPX one of the most successful presales and new coins of the year.
Visit Launchpad xyz Now
Disclaimer: Crypto is a high-risk asset class. This article is provided for informational purposes and does not constitute investment advice. You could lose all of your capital.