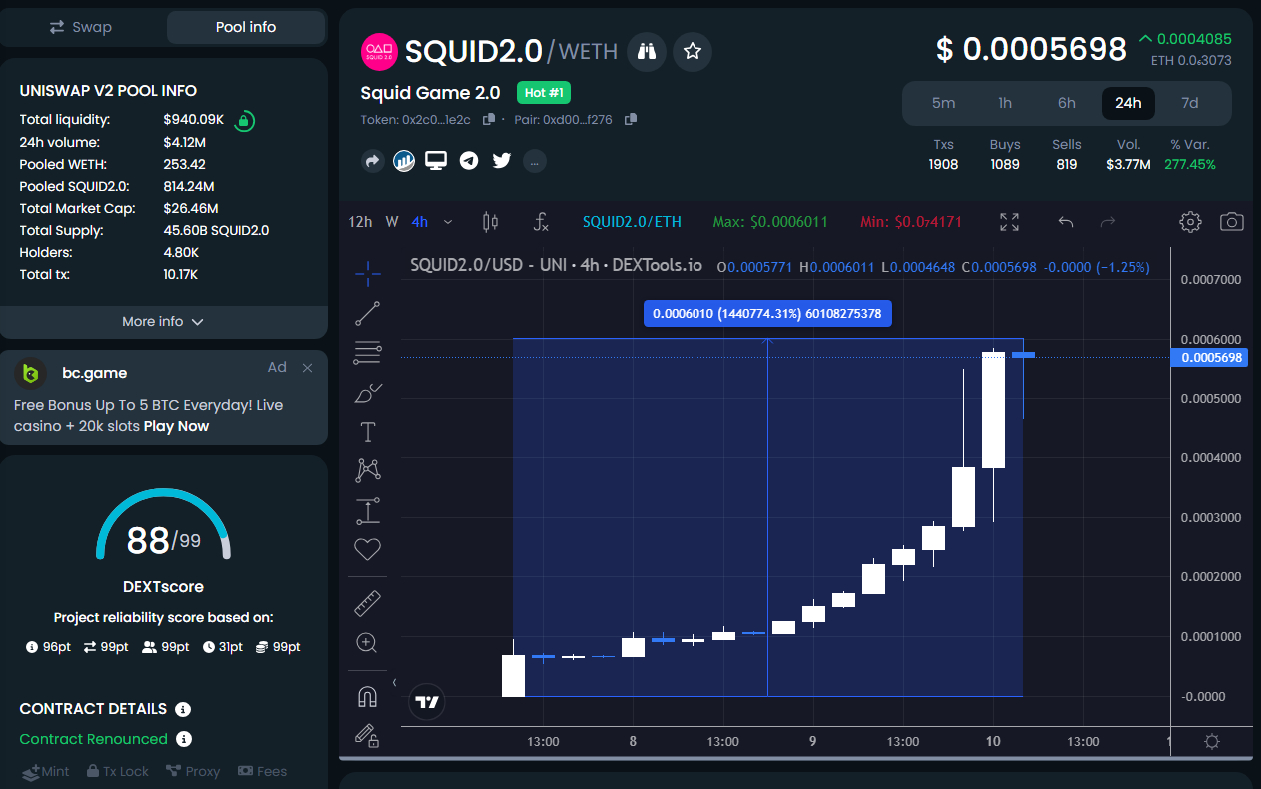 The recent trend of meme coins 2.0 now even includes a tribute to the infamous Squid Game (SQUID) crypto scam, which attracted investors in 2021: is Squid2.0 a scam too?
What was the Squid crypto game?
For traders who were not around during the last crypto bull run, Squid Game (SQUID) claimed to be a game to win cryptocurrency inspired by the South Korean Netflix series of the same name.
Launched on decentralized exchanges in late 2021, shortly before Bitcoin and Ethereum hit their all-time highs, $SQUID plunged more than 99.99% with holders unable to sell their tokens.
'Squid's developers have netted about $3.38 million (£2.48 million), according to technology website Gizmodo.' – BBCNovember 2, 2021
While rug-pulling scams are common, seen almost daily on DEX platforms like PancakeSwap and Uniswap, the Squid coin was one of the most successful for scammers, taking place at the height of retail interest in cryptocurrency.
Squid's market capitalization at its peak was over $2.1 trillion, more than double the total crypto market capitalization, an important lesson in how market capitalization figures are only theoretical, calculated by multiplying the last price of the token for the supply of coins that exists.
If an asset is illiquid, with reduced order books and holders unable to make a profit, its market capitalization does not represent actual demand and can be "shrinked" from a high valuation to zero instantly. Especially if more tokens can be minted, or if some wallet addresses are blacklisted from trading by developers, which is commonly seen with scam tokens.
Like the squid token CoinMarketCap Page writes, the project achieved meme coin status, being 'now ostensibly community run after initial cleanup' – The above video clip is widely shared on crypto Twitter to this day. However, $SQUID never caught on, today it is priced at less than a penny.
What is the Squid 2.0 token?
A new 'Pepe2.0 coin' started the trend of meme 2.0 tokens that aim to 'redo the bull run' of the assets for which they are named, but without making the same mistakes.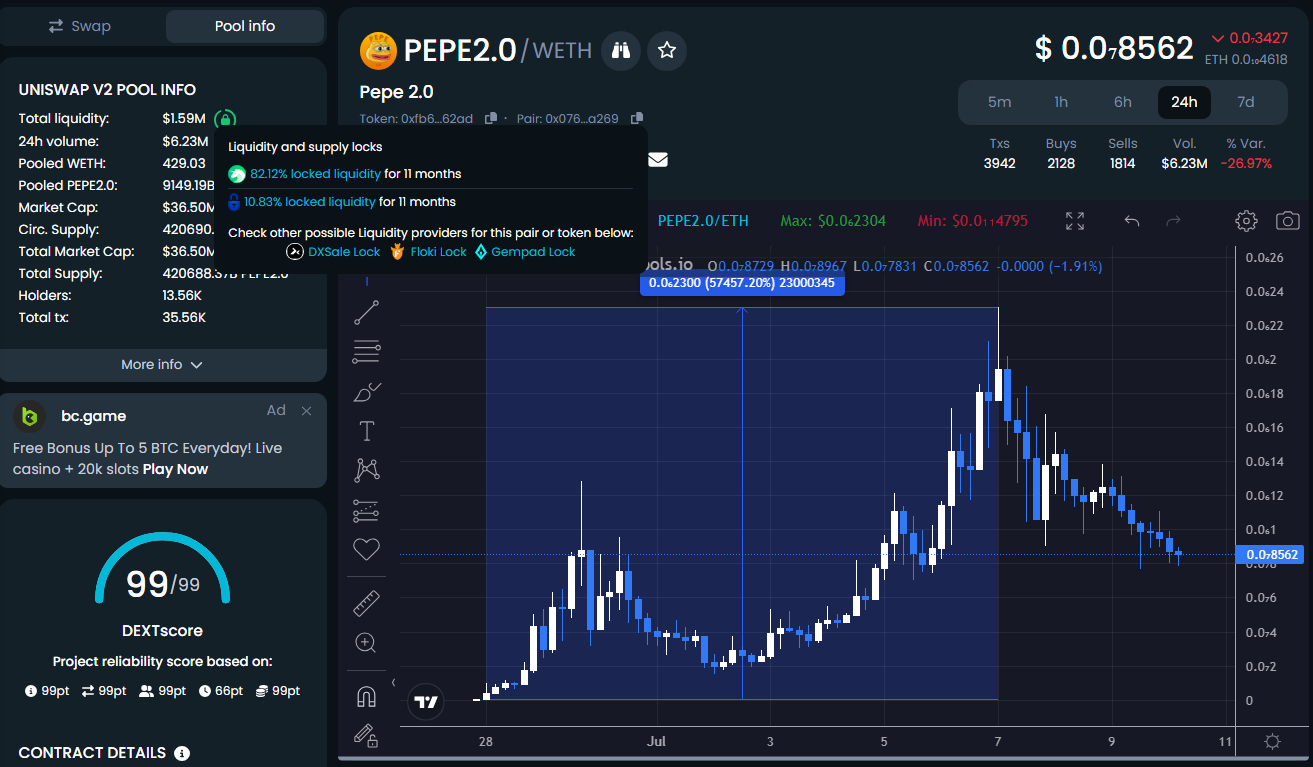 This was quickly followed by similar new coins on Uniswap: Doge2.0, Shib2.0, Babydoge2.0, TRX2.0 and more, with unknown developers.
Many of those 2.0 tokens have fallen in price after an initial rally.

However, PEPE2.0 has seen some initial success, with a fully diluted market capitalization of over $35 million at the time of writing and a locked liquidity pool of over $1.5 million adding to your credibility.
Squid Game 2.0 (SQUID2.0) has lower liquidity than Pepe2.0 and a smaller percentage of its tokens are locked, with UNCX Network.
The current fully diluted market cap of SQUID2.0 is just over $25 million, with a price of $0.0006 with a supply of 45.6 billion. It has a DEXT score of 88/99 and 4,800 headlines.

Squid Game 2.0 has a 1% sales and purchase tax.