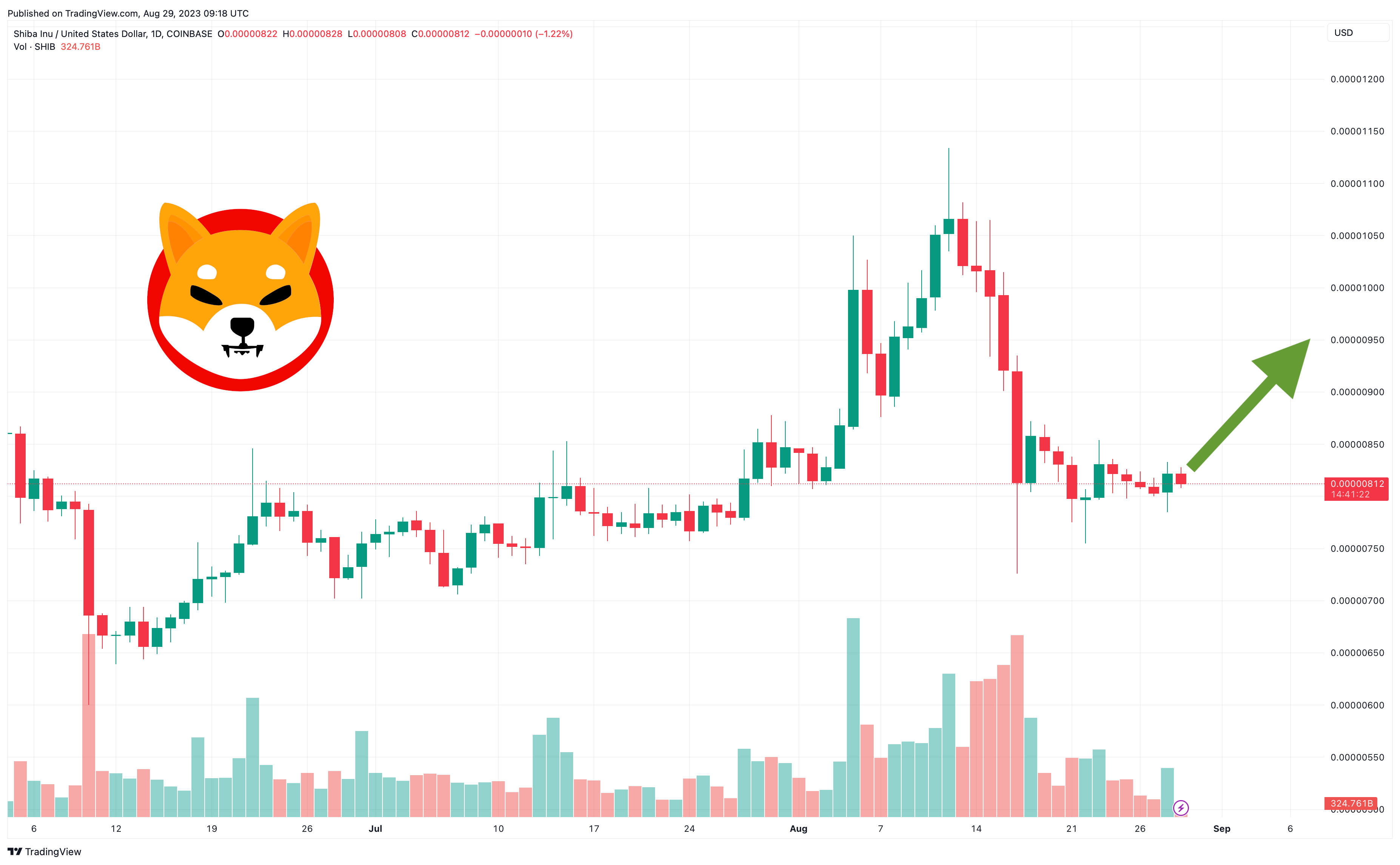 The Shiba Inu price has risen by more than 2% today, with its jump to $0.00000811 coming as the cryptocurrency market as a whole inches up by 0.4% in the past 24 hours.
SHIB is now up by 1.6% in the past week but down by 20% in the past fortnight, with the meme also having gained by only 0.1% since the beginning of the year (in contrast to many other major tokens, which have recovered strongly).
The underperformance of SHIB in the past couple of weeks has come in the wake of the botched Shibarium launch, with the layer-two network witnessing lost tokens and outages after it initially went live.
However, with Shibarium's developers now having relaunched an updated and more secure version of the layer-two network, it's likely that SHIB could witness further gains in the coming days, as the market receives more details of Shibarium's encouraging progress.
Shiba Inu Price Prediction as SHIB Spikes Up 2% – Time to Buy?
SHIB's indicators are in a position which suggests that the meme token could be ready for further, sustained price increases in the next week or so.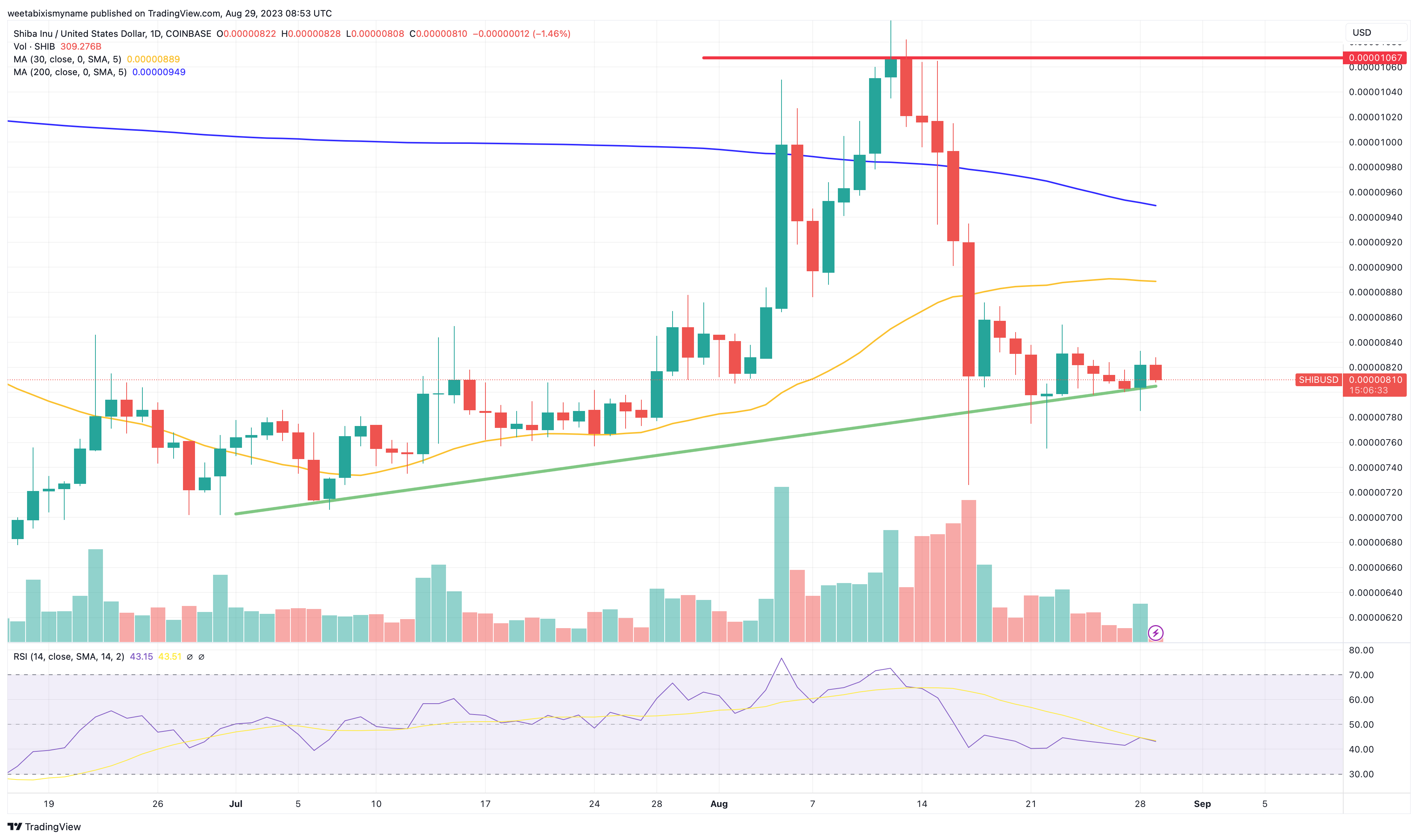 Firstly, SHIB's relative strength index has stabilized around 40 after falling hard more than a couple of weeks ago, in the wake of Shibarium's disappointing initial launch.
Secondly, the altcoin's 30-day moving average (yellow) remains well below its 200-day average (blue), meaning that it remains highly undervalued and should be due a strong correction upwards very soon.
And as suggested by SHIB's support level (green), the coin looks as though it has definitely finished its recent downturn, implying that only gains are likely in the short- and medium-term.
What will help push SHIB's price further is the ongoing rollout and expansion of Shibarium, which has been relaunched and which appears to be steadily gaining users and traffic.
Reports suggest that Shibarium already hosts just over 100,000 wallets, despite the fact that it was relaunched only yesterday.
It has also processed close to half a million transactions in under 24 hours, another sign that users are already flocking to the layer-two network, and don't seem too put off by its initial rollout.
What's also promising is that, after the relauch, Shibarium still has plenty on its immediate horizon to look forward to, including the migration of DEX ShibaSwap from Ethereum to the layer-two network.
As such, the next few weeks could bring recurring SHIB rallies, as the market comes to see that the relaunched Shibarium is working as intended and helping to expand the Shiba Inu ecosystem, while increasing demand for SHIB itself.
So from its current level of roughly $0.00000811, SHIB may rise to $0.000010 in the next few weeks, before potentially reaching $0.000020 by the end of the year.
New Meme Tokens May Bring More Momentum
Despite having plenty to celebrate, SHIB's progress in the near future may remain gradual and piecemeal, so traders looking for fast above-average gains may have to look elsewhere.
One promising area to look involves presale tokens, which can often rally substantially when they list on exchanges for the first time.
And in a year of strong presales, one of the most exciting belongs to Sonik Coin (SONIK), an ERC-20 cryptocurrency that has raised beyond $600,000 since beginning its sale earlier in the month.
As its name suggests, SONIK has styled itself the Sonic the Hedgehog franchise, with the token's memes and online presence having a playful edge that helps it to stand out in a market of nearly identical Shiba Inu and Dogecoin clones.
Judging by the fact that it has raised over $600,000 in only a few weeks, SONIK's personality has clearly helped it attract supporters, who will prove highly important in boosting the coin and sustaining its price once it lists on trading platforms in the next few weeks.
Bullishly, SONIK has set itself the target of becoming the fast coin to reach a market cap of $100 million, a goal which seems more than achievable given its raise.
Helping it attract more investors and followers will be its decentralized tokenomics, with 50% of its max supply (299,792,458,000 SONIK) being allocated to its presale, while another 40% being reserved for staking rewards.
The fact that it can earn holders staking rewards will be another big draw, with new investors able to join the presale by visiting the coin's official website and connecting their crypto wallets.
1 SONIK is being sold during the presale at $0.000014, a price which may end up seeming very cheap soon enough.
Visit Sonik Now
Disclaimer: Crypto is a high-risk asset class. This article is provided for informational purposes and does not constitute investment advice. You could lose all of your capital.