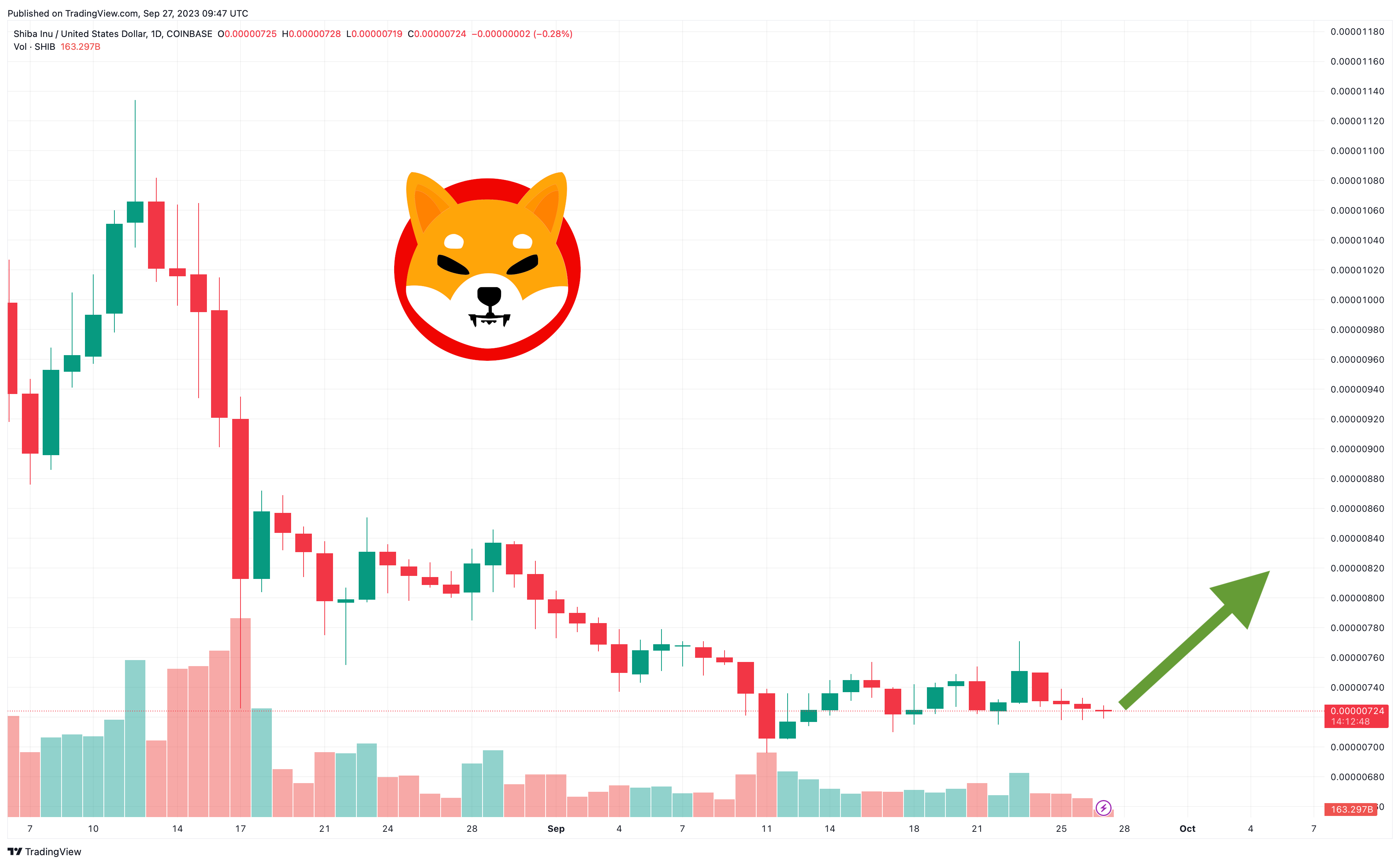 The price of Shiba Inu (SHIB) has declined by a slight 0.4% today, with its dip to $0.00000722 coming as the wider cryptocurrency market barely moves overall.
SHIB is now down by 2% in a week and by 9% in the last 30 days, with the token also down by 10.5% since the beginning of the year.
Such declines are likely to spark concern for SHIB holders and community members, with the token underperforming even despite the launch of layer-two network Shibarium a month ago.
However, it's entirely arguable that the meme token's falls are largely a function of market-wide negativity, with a return to more bullish conditions likely to provide it with a much-needed boost.
Shiba Inu Price Prediction: SHIB Price Going Nowhere. Is it Dead In the Water?
It's arguable that SHIB's little drop today only makes a comeback rally more overdue and even likelier, given how oversold the meme token has been in recent weeks and months.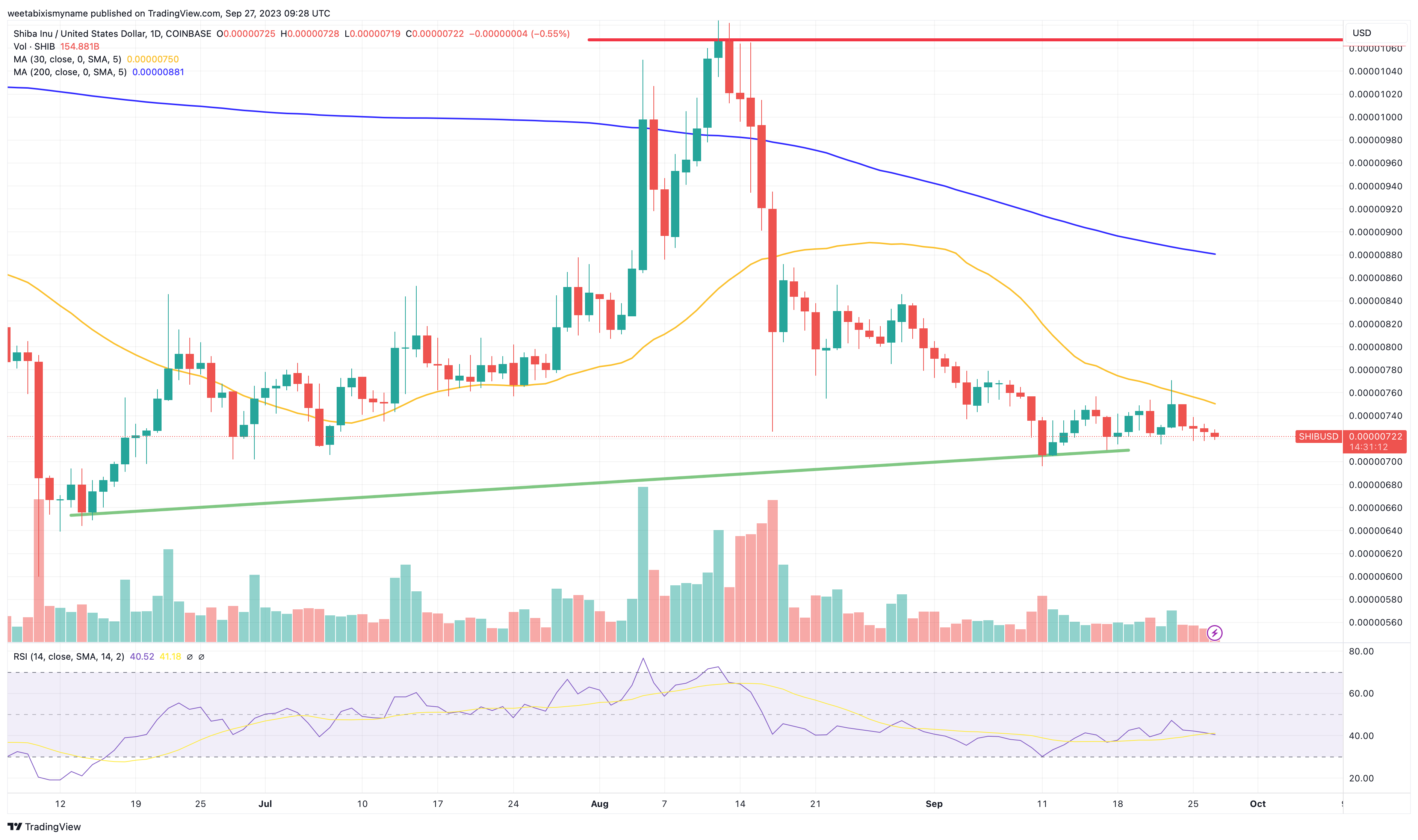 The coin's 30-day moving average (yellow) has been well below its 200-day average (blue) for the past few months, indicating that it continues to be undervalued and sold at a big discount.
Additionally, SHIB's relative strength index (purple) has been below 50 since the middle of August, something which would suggest that the token is due to rebound sooner or later.
It will therefore be interesting to see whether its current support level (green) will hold out against today's dip, with $0.00000720 being a key level to watch.
If the coin does fall lower than this, then we could easily see further declines, potentially towards or even below $0.0000070.
However, the short-term picture aside, it remains credible to suggest that SHIB's fundamentals point towards a higher price for the medium- and long-term.
As noted above, it marked the successful launch of Shibarium at the end of August, and it's heartening to note that the layer-two network has already passed 3.1 million transactions since it went live.
Along with the registration of around 1.2 million wallet addresses, this suggests a rapidly growing increase in usage for the new network, which offers the Ethereum-based Shiba Inu ecosystem faster and cheaper transactions.
In the long run, Shibarium is likely to lead to a busier and healthier Shiba Inu ecosystem, with apps such as ShibaSwap likely attracting greater usage over time, in addition to new apps being built.
Because of this, it would be rash to suggest that SHIB is 'dead in the water,' with the coin's underlying fundamentals hinting that it should recover once overall market sentiment becomes more positive.
It could return to $0.0000080 in the next few weeks, before potentially ending 2023 at around $0.000010.
New High-Potential Meme Tokens
SHIB may need some time to really get going again, meaning that traders looking for quick above-average gains may have to look towards other alts in the meantime.
Presales represent one area where they could look, with some of the bigger presales of the year leading to big rallies when their respective tokens finally list on exchanges.
One of the most hyped presales at the moment is being held by Meme Kombat (MK), an ERC-20 token that will enable holders to bet on the outcomes of AI-generated battles between various popular memes.
Starting last week, Meme Kombat's presale will make 50% of its overall supply – of 12 million MK – available to the general public, with the token already quickly increasing its total raise figure.
It seems that investors are already being attracted by Meme Kombat's platform, which will enable users to bet against each other (or against the platform itself) on the results of AI-controlled meme battles.
The use of popular meme characters is likely to help Meme Kombat attract a healthy following and userbase over time, with meme tokens having a  big 2023, despite the ongoing bear market.
Within the Meme Kombat ecosystem, the MK token will be used for staking, something which will not only earn holders a passive income, but which will also enable them to place (larger) bets.
This gives the token genuine utility, something which the vast majority of meme-related tokens lack.
New buyers can grab themselves the new token early by checking out the official Meme Kombat website and connecting their software wallets.
1 MK will be sold at $1.667 for the duration of the sale, but with the coin having a very limited supply and with it also offering some novel features, it's likely to rise higher soon enough.
Visit Meme Kombat Now
Disclaimer: Crypto is a high-risk asset class. This article is provided for informational purposes and does not constitute investment advice. You could lose all of your capital.