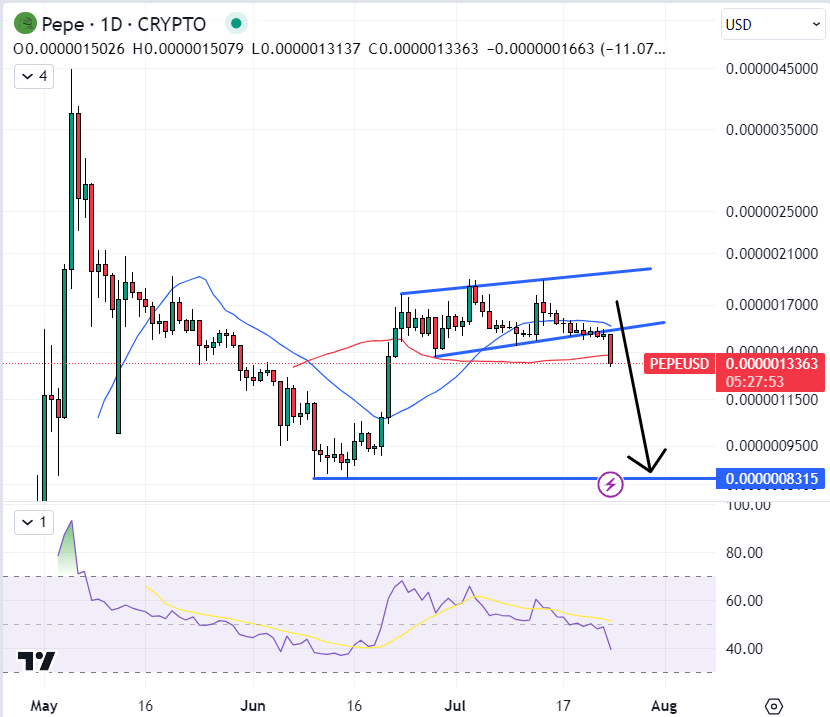 Pepe Coin (PEPE), the third most valuable meme coin in the crypto space that exploded on the scene earlier this year, has been under heavy selling pressure on Monday.
PEPE last traded at one-month lows at $0.0000013, after falling more than 12% in the last 24 hours, according to CoinGecko.
The meme coin is under pressure amid a broader downturn in the cryptocurrency market that has seen bitcoin (BTC) fall to $29,000 and ether (ETH) to below $1,850.
Cryptocurrency investors/traders are likely to take profits across the market on Monday amid a lack of further positive news to further boost this year's gains.
New negative report related to Binancethe world's largest cryptocurrency exchange has probably soured the tone as well.
Pepe Coin's latest drop means that the token is now back around 30% from its previous monthly highs and is now trading south of its 21-day and 50-day moving averages.
Price Prediction: Here's Where Pepe Coin (PEPE) Is Headed Next
Monday's slide not only saw Pepe Coin break south of its main moving averages, but also saw it convincingly break below an uptrend channel that had been in play for about a month.
Recent price developments suggest that PEPE's short-term technical outlook has worsened substantially.
Therefore, unsurprisingly, price predictions have turned drastically more negative.
The next major area of ​​support is at $0.00000084, which is a double bottom from early June.
With Pepe Coin's 14-day RSI suggesting that the cryptocurrency is still far from oversold conditions, there is plenty of room for further downside in the short term.
A drop to June lows would mark a further 37% drop from current levels.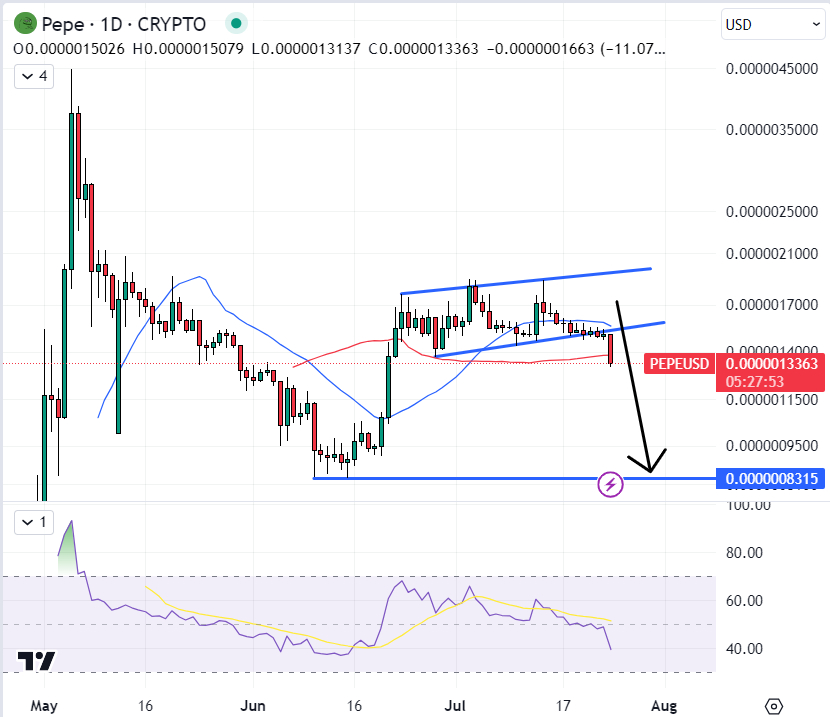 Are the June lows a nice area for long-term dip buyers?
However, the June lows of $0.00000084 could be a nice area for long-term dip buyers to get involved once again.
according to DEXTools Everyonethere are currently more than 134,000 individual wallets with PEPE.
That's around 20,000 in the last two months, suggesting that while the rate of accumulation by new buyers is slower, broader interest in the token remains.
Despite still subdued broader crypto market conditions for much of 2023, Pepe Coin continues to demonstrate its staying power.
As the broader crypto market transitions from recovery from the brutal 2022 bear market to a full-blown new bull market, Pepe Coin is a great candidate to pump, given that it is at the forefront of a new wave of novelty meme coins.
Alternate Coins to Consider
With the broader cryptocurrency market in a broader malaise that could last for the rest of the summer, traders looking to make a quick profit could look to more speculative corners of the cryptocurrency market, such as coins issued by new projects.
Here is a new crypto project that has received a lot of attention recently and could generate decent returns for early investors.
BTC20 (BTC20)
Billed as "Bitcoin on Ethereum" and as an opportunity for members of the cryptocurrency community to buy bitcoin at its price of $1 in 2011, a new token called BTC20 has generated a lot of buzz.
The tokenomics is designed to mimic bitcoin: a BTC20 token supply cap of 21 million, with tokens to be issued to BTC20 participants (rather than miners) according to the same issuance schedule as bitcoin.
Some claim that BTC20 is even better than bitcoin, given that it runs on a green, low-power proof-of-stake Ethereum blockchain, rather than a power-hungry proof-of-work chain like bitcoin.
According to the project White paperBTC20 seeks to raise a minimum of $3 million, although this could increase to $6 million, through the sale of BTC20 tokens for $1 each.
With the project already raising $1.6 million in just a few days, merchants need to move quickly to secure their spot.
Buy BTC20 here