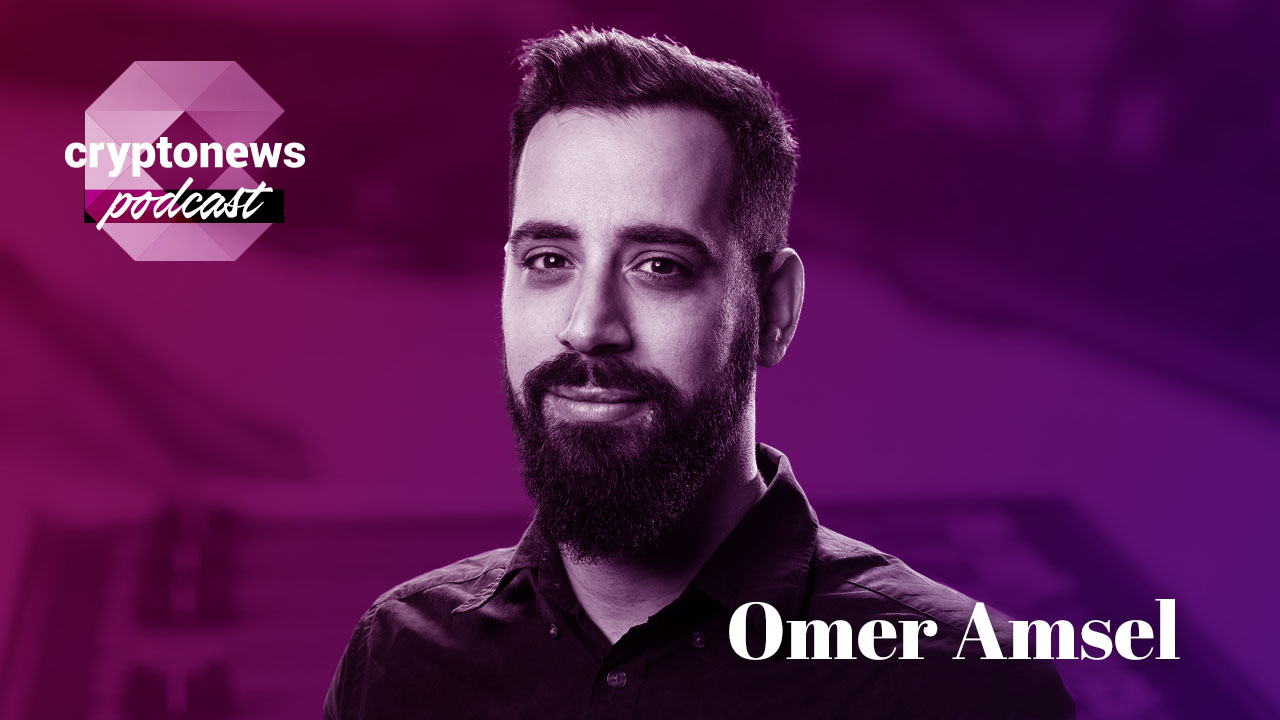 In an exclusive interview with cryptonews.com, Omer Amsel, Head of Web3 at Fireblocks, talks about developing Web3 for mainstream adoption, how to get to the next million users in the ecosystem, and Web2 businesses moving into Web3.
About Omer Amsel
Omer Amsel is Fireblocks' Head of Web3 and Director of Product Management. As Head of Web3, Omer is responsible for the strategy and product development enabling access and building of the emerging digital economy, including DeFi, NFTs, and GameFi, via the Fireblocks platform. For over a decade, Omer has been adapting cutting-edge technologies, such as blockchain, solar energy, machine learning, and computer vision, to create products that solve real-world challenges.
Prior to Fireblocks, Omer led product at UVeye, which developed automated inspection systems for vehicles, working with the firm's most high-profile clients including a Fortune 5 company. He also co-founded Slice RE, a blockchain-based real estate equity crowdfunding platform focused on high-growth, large-scale urban real estate developments. Omer met Fireblocks' Co-founder & CTO Idan Ofrat at Generaytor, a solar energy community created to accelerate solar adoption through the sharing economy model, where he worked with Idan to bring the product to market.
Omer graduated with a BA in Computer Science from IDC Herzliya (formerly Reichman University).
Omer Amsel gave a wide-ranging exclusive interview, which you can see below, and we are happy for you to use it for publication, provided there is a credit to www.cryptonews.com. 
Highlights Of The Interview
Developing Web3 for mainstream adoption
What institutions are looking for, and what are some of the barriers to entering the world of Web3 and DeFi
How to get to the next million users in the ecosystem
How brands and retailers leverage digital assets like NFTs to extend their customers' experiences
Web2 businesses moving into Web3



Full Transcript Of The Interview
Matt Zahab 
Ladies and gentlemen, welcome back to the Cryptonews Podcast. We are Buzz and as always, and I'm super pumped to have today's guests on the show, the one and only Omer Amsel, head of Web3 at Fireblocks. Also the Director of Product Management at Fireblocks. As head of Web3, Omer is responsible for the strategy and product development enabling access and building of the emerging digital economy, including DeFi, NFTs and GameFi via the Fireblocks platform. For over a decade, Omer has been adapting cutting edge tech such as blockchain, solar energy, machine learning and computer vision to great products that solve real world challenges. Prior to Fireblocks, Omer led product at UVeye. He also Co-Founded Slice RE, a blockchain-based real estate equity firm, and has done a whole bunch of other stuff as well. But that bio will be eight minutes long, so we're cutting just the good stuff here. Omer, pumped to have you on. Welcome to the show, my friend. How are you? 
Omer Amsel 
Thank you, Matt. Happy to be here, big fan. So really happy to be here. That bio is like, I don't think it's like too long for me. I'm like, I'm very, so I'm humbled. Thank you so much for everything. 
Matt Zahab 
No, I love it. It's great to have you on, man. I know we've been trying to try to make this happen for a while. Let's get right into it here. You co-founded a couple of different companies. It seems like you've dabbled in a shitload of different industries, blockchain, solar energy, ML, computer vision. I don't even know what computer vision is, but a lot of really big boy and big gal stuff, walk me through sort of your childhood journey, any sports growing up. I know you said that you are from Israel, walk me through everything that went on and how that brought you into present day Omer working at Fireblocks. 
Omer Amsel 
Yeah, so that's a great question. I don't think anyone ever asked me that. But I was born in Israel, born in Tel Aviv, one of the biggest cities in Israel, as far as cities go in Israel. It's only like what currently a 9, 10 million citizen country, so it's pretty small. You know, I grew up, I think since the age of five, I had a computer in my room. My parents are very like a gadgety. So they were always trying to see what's the new tech and buy that my father more than my mother. So I got into computer super early and admittedly it was mostly around basic coding and computer games. I still play computer games to this day, so it's a big love of mine to do that. I grew up, nothing too remarkable, and I really have to do mandatory army service. So I did that and then I took my girlfriend, then now my wife, to 10 months in South America, explored different cultures, and we went to South America, Central America, and then the US. And then I studied computer science, got involved in the startup industry. Israel is like super hectic in terms of tech startups, as you might know. I think you've had a few Israeli co-founders and CEOs on your pod. Yeah, so you know, we're big on entrepreneurship. So during studies, I helped another startup. I founded a startup right after in the travel industry. From there, moved on to the solar industry as a first employee in another startup. And then obviously didn't draw any conclusions. So jumped right in into another startup that I did, mostly around real estate and equity fundraising, trying to automate that. That's where I actually got exposed to blockchain technologies somewhere around 2013, 2014. It was super interesting. It's not every day that you get to kind of see new tech, and kind of the foundation is a little bit different. Because you grow up, you know, you learn about computers, you learn how they operate. And then suddenly it shifts a little bit. So it's not necessarily only like, oh, you can do computation locally. And then, oh, there's cloud, which means that you can do computation in a distant environment, which was great and amazing. This kind of shifts, you know, opens up a new, a totally new mindset. You need to adapt to it. And it was super interesting to be in a position where I could take my startup and pivot towards blockchain technologies. So I did that. What we tried to do is basically do security tokens for real estate. It's a little bit of a cheating because, and we did that all regulated. So if the audience knows what a Reg D is and a Reg A, and all these SEC words, that means a few different things, basically it's just taking what we call an SPV, a special purpose vehicle, or an LLC at the end of the day, and tokenizing the LP rights, the limited partner rights. And then that represents ownership within the real estate. And this is what you tokenize. Obviously, it was too early then because you have to get investors both on board with actually investing in the real estate and also say, oh, you know what? And it's also tokenized in blockchain. And, you know, during 2017, 2018, blockchain went from like being a bless to being a curse, in a sense. So during the ICO phase, it was a very interesting and challenging time to be in blockchain technologies. So I decided as the founder that we weren't at the right place. And the right time to do what we wanted to do. So I kind of took a hiatus from blockchain technology, went to lead product for a company that does automated vehicle inspection called UVI. And, you know, you ask what machine vision is, machine vision is basically how to teach a computer to see what we see and understand what we understand based on images that are fed into that machine. So it involves a lot of machine learning. We did that. That's why. 
Matt Zahab 
Is that the classic CAPTCHA? Like when you're logging into your bank or whatever and they're like click on all images that are a bus or a road or a stop sign. You hasn't then taken that data, putting it into the algo and boom. 
Omer Amsel 
Correct. So yeah. Yeah, it involves a lot of tagging, a lot of data being taken in. Yeah, basically teaching a machine how to spot what we think is interesting specifically for those use cases in order to output something meaningful for our customers. And companies still going in a great shape. I love those guys, but the offer from there to be part of Fireblocks and to go back to what I love, which is the blockchain technology and being at the location or being at the time and a place where you matter, allured me to do that. So that's how I wound up at Fireblocks. 
Matt Zahab 
Very cool. I love that. Great intro. Now myself and the listeners definitely know a little bit about you. A couple questions that we need to go over before we get into the Web3 stuff, before we get into obviously Fireblocks and everything Web3 crypto blocks generated. I love to travel as well. You grabbed the lady, you took her over to South America. What are the best or most underrated countries in South America that you visited?
Omer Amsel 
Wow. I don't want to upset anyone. I think, but so I'm only speaking from like a very subjective experience, right? So I think the consensus between my wife and I is that we really like Bolivia, which sometimes goes a little bit underrated. Think Bolivia is great, really enjoyed there. I guess one of the most amazing places we went is Patagonia, the land of fire, Tierra del Puego. South of Argentina and Chile, getting all the way down to like the most southern city of Ushuaia, that was super amazing. And of course, the Galapagos, which are always great and like really extremely awesome wildlife where you get like face to face with it. I remember like I went snorkeling from the boat and like a pack of seals just surrounded me. So I don't know, these experiences are like, we have the time of our lives. So like South America is like, I super suggest it, like I recommend it. I couldn't recommend it enough. 
Matt Zahab 
I love that. What about Espanol? To speak Spanish a little? A little, a little. Yeah, me too. I'm grinding. I'm working on it right now. I'm trying to, you know, I'm just using Duolingo, a couple other apps, calling my, I have an aunt who speaks Spanish. So just trying to, you know, build this streak 20 minutes a day, keep the doctor away. And then when I go back down to Mexico, just hopefully be able to actually speak a little because French, you know, I speak French, English, French is nice, but I don't speak French with anyone, man. And like, you know, especially in Canada, everyone's like, all French, this French, that. There's one province that speaks it and no one else does. So trying to get on that Spanish grind, but very interesting. 
Omer Amsel 
Yeah, Spanish is amazing and it really helps out. Again, I was in Israel, right? You actually get a lot of Israelis speak Spanish because after the army, you take what's considered in the US as a leap year. 
Matt Zahab 
You're a vacation. Yeah, just travel rip it up 
Omer Amsel 
Yeah, and like for a year. So like probably 50% go to the far east and then 50% go to South America. And then so you have a lot of young people actually speaking like very broken Spanish, but they understand they can speak a little. But it doesn't really help you in Israel. There are not a lot of like Spanish speaking, but here in the US it's super helpful to kind of, you know, speak a little bit of Spanish. It's really helpful. So I'm glad I did so. 
Matt Zahab 
And my last point before we question, rather, before we get into all the crypto stuff is Israel. I have been a part of many teams with Jewish founders and it just seems like not seems, but you guys, haul ass, you guys work incredibly hard, you have such a high tolerance for risk. What is it? I've never been, again, I feel like I understand the religion and culture pretty well, just because, again, Toronto, very large Jewish population, whether it was hockey teammates, friends at university school, and now being in business with a bunch of Jews as well, learned so much, and the one thing that I still can't put a thumb on is how hard you guys work and the want to succeed in business. And I don't know if this is such a shitty question on my end, but if you could try to articulate it, what is the reason why? What's the sauce behind it? 
Omer Amsel 
So I probably don't know enough about Jewish people, kind of in what we call the diaspora, like all over the world and specifically in the US. I can say something about Israeli founders and kind of the state of mind that we have in Israel. You know, we're a fairly new country. So if we didn't have the entrepreneurial spirit built into most of the population, then we probably wouldn't have survived and thrived. You know, Israel is only like 75 years old and you know, you need to make it up as you go, right? And that's the mentality, right? Sometimes you feel like if you know all the challenges that are in front of you, you might decide not to do it because there are too many. But if in a sense you're kind of ignorant to all the challenges that come and you're good at, I wouldn't say improvising, but you know, kind of dynamically changing and being very fluid in terms of like, you are very motivated, you know what the goal is and you'll find the solution, no matter how many challenges and how much like bad stuff are being thrown your way. I think that's the mentality of like an Israeli entrepreneur. And that's why we see a lot of them succeed. And I'm not saying by any means that, you know, other cultures and other countries do not share the same mindset. Just for me, within the Israeli community, that's what I see people who are very focused, very motivated and you know, we cannot dismiss the fact that the army gives you some tools, you know, to cope with hardships and, you know, accept that there are certain things that are above you. And then like you need to just make do with what you have and find a creative solution in order to achieve that. So I think these, again, we can go into a long conversation. I'm not sure I'm like the most fit to talk about it. This is kind of what I feel. 
Matt Zahab 
Just something that's always been curious. And even with Shabbat, with, you know, not using one of the companies that worked for Hush, shout out Aaron and Lior, Lior, one of the co-founders, Jewish, he took Shabbat very seriously, Toronto. And from sundown on Friday to sundown on Saturday, I believe, my apologies if I have that wrong. He wouldn't use technology. So it's like he would work his balls off from Sunday to Friday at six, five, six, seven p.m., whatever you want to call it, grinding, but then Saturday was a day to spend with family, eat incredible Jewish food and read books and not use tech. So it's like, I feel like a lot of entrepreneurs don't also get that full day break because you're grinding seven days a week, burnout. Whereas that day off, you know, when you're taking off a day every single week, I feel like that moves the shit out of the needle. Again, these are just weird things I think about over. Weird things I think about over time.
Omer Amsel 
I kind of agree. I think that the other thing that you can think about is that it's not necessarily the fact that you're not working is you have this time where you can kind of hear everything. Yeah, you have the time to get more perspective on what you do because once the technology is there, you know, it's all about like push notifications and emails and Slack messages. So you're you're devoted to the day to day, the minute to minute the hour to hour. Once you can get a you can go a step back and think about it, then you kind of process more and you have more resolutions and resolve into what you're going to do next week. 
Matt Zahab 
It's like a restart of your computer. You know, just take the hard drive, give it a little clean. So, anyways, let's let's go into the crypto stuff. These are the things that always pique my curiosity. And this is a crypto pod though. So let's dance here. Let's put our top dancing shoes on. Let's get right into it. What exactly is Fireblocks? I love throwing the ball over to my guest courts. You can explain this much better than I can. Give me the sort of 30 second one minute elevator pitch on Fireblocks, the TLDR, and then we'll get into the nitty gritty. 
Omer Amsel 
Right, so first and foremost, Fireblocks is a wallet provider and enterprise-grade wallet provider. What we do is provide an abstract of blockchain for any company that deals with digital assets to do that safely and securely. Starting with the most basic component, which is the wallet, and then expanding from that into in -depth security, giving you all the tools that you need in order to build your business on top of blockchain technology, facilitating a myriad of use cases and segments in the blockchain industry, the crypto industry. So that's, I would say, like 20 seconds about that, but we can elaborate. 
Matt Zahab 
Of course. And as head of Web3, it appears that one of your main roles is onboarding Web2 companies into the Web3 space using the myriad of tools and applications and piece of software that Fireblocks has. Walk me through some of these conversations, what do they sound like? What are the big value props on your guys' end? What are some of the big roadblocks on the Web2, Fortune 500 companies' end? Just give me the overarching scope of what these conversations sound like. How would they actually get moved from point A to point B, walk me through that whole situation? 
Omer Amsel 
Awesome. So super interesting question. I would say I'll take a step back in order for us to be aligned on kind of the definitions. What does it mean for me to be the head of Web3? Because I think everything is Web3. I always like to give this example that I was in a panel about a year and a half ago when I was still in Fireblocks and the panel title was DeFi Security. A year later, I did probably the same panel with probably the same people and the same question. It was only titled Web3 Security. So as a company, as a big company already, we need to understand what does it mean when we say Web3. So Fireblocks originally, as I've said, what we provide, we provided it mostly for the financial industry. You can think about it of anyone that wanted to deal with crypto as a speculative asset. So prop trading firm, hedge funds, banks, VCs, all these companies that dealt with digital assets for trading purposes, for investment purposes. And we built the entire foundation for them to deal with those digital assets, as I said, safely and securely. The same rails, the same suite of products that we've developed can also facilitate and also facilitate companies that not necessarily their intent of using blockchain technologies is strictly financial. It doesn't mean that it's non-profit or anything of that sort, but the products and the nature of the companies are not ones that provide financial tools. They don't provide investment opportunities or they don't provide, they're not fintech per se. So here we talk about companies such as consumer brand, marketing agencies, gaming companies. So what we call Web3 basically internally, we define as non-financial use cases for blockchain technology. So this is my role within Fireblocks to own those segments that utilize blockchain technologies for non-financial purposes. And sometimes there's a very big overlap between that and utility of building or creating assets that provide utility for the consumers. So one very simple example is NFTs as loyalty programs, token-gated experiences, and so on and so forth. These might have value, but the companies that actually produce the consumer experiences are not providing financial tools to those end users, to those consumers. So this is kind of how we define it. You can think of a gaming use cases of minting on chain tokens that represent something within the game. So use cases such as that, this is what I deal with. And it's been super interesting, from the bull run of 2021 into a little bit of 2022, and then kind of the bear market that's lasting in, I think it might be cliche, but it's super interesting to be in the industry right now because there are two things. One, big companies are taking their time to actually devise a strategy and are not stressed out to do, oh, we need to capitalize on this super fast. Like let's do something, let's like put a token out there and like. 
Matt Zahab 
No more rushing in. 
Omer Amsel 
Exactly. So they're taking the time and this is part of our job to also help educate and onboard them as an enterprise, not necessarily on the technology itself. So it's super interesting to see how these conversations, very deep conversation of wait, so what's the actual use case? What strategy can we build? What are the KPIs that we measure success with? And how does this benefit either existing revenue streams or new net revenue streams, which is super interesting as a business to have these conversations. They're not very rush, but on the other hand, you see a lot of belief that no matter how long it takes, the next bull run and the next like this thing, this trigger will happen to trigger the next bull run. So everyone is very convinced that it's going to happen. From one hand, they cannot be super complacent, but from the other hand, they don't see like a lot of rush to do it right now. So how do we build for the future without like rushing anything and then neglecting it once it doesn't meet the standards and the expectations of the leadership or steering committees that they have internally within the company? 
Matt Zahab 
Well said. So you obviously are in a fortune spot where you get to have these conversations with you know, C-suite execs and VPs and leaders and board members at Fortune 500 companies who want to enter Web3 and want some, perhaps some is the wrong word, a lot of peace of mind and you know, clarity on how to enter the space. And that's why I go to someone like you at Fireblocks. What do these conversations sound like? What are their big questions to you? How do you sort of put the cherry on the cake and get them to start using Web3 tech like NFTs and token gated communities instead of the traditional Web2 stuff? 
Omer Amsel 
Right. So I guess the, you know, it really much depends where are they on their, what we call like the crypto journey or the Web3 journey. If they've just heard about it and they, you know, they're super skeptical and they say, Oh, you know what? Convince me. That's not a conversation that we usually have, right? We need our counterparty to have a little bit of resolve when it comes to Web3. We need them to have a little bit of a motivation to do that because we're not making up things for other companies as they come. So usually our conversations are with, you know, either innovation teams or project managers or VPs, C levels that have a resolve of doing something, transforming their business into Web3, but they have concerns. They have a general idea of what this is. We help them, first of all, mitigate any risks that they might think of and plan that out from a technical perspective. How do they get to kind of a production grade feature, hopefully using our technologies? So I guess maybe this is a good segue to understand what are kind of the main challenges that these companies look at. I guess the first one is regulatory and the second one is more about the user experience. They are interrelated, right? Because if these companies could go to their user base and say, Hey, you know what? We've built this awesome Web3 product. All you need to do is plug in your wallet and then I don't know if sad truth or it's like it's a good opportunity and it's a positive is that most of their existing customers and more specifically the target market of their Web3 product is not aimed towards specifically the ones that already have a wallet. And as we know in this industry, creating a wallet while it became much easier, you know, in the past, probably, you know, it's a really great slope, I guess, upward training of how easy it is to actually have a wallet. It's still not very friendly in that sense. So, you know, if you think about, I don't know about your parents, I can say about my parents, they don't have a wallet, for instance, they might have an account in an exchange, but they don't have a wallet. So basically what you do is you kind of cut your addressable market in probably 85, 90 percent. If you don't have a way to kind of give them a good experience into onboarding into your product, right? So now here's the catch 22, because if you embed that entire onboarding process and you want to make life as easy as possible to your consumers, then you're running to regulatory issues, right? Because you would say, Hey, you know what? You don't need to own your keys. You don't need to own your wallet. I'll open a wallet for you. Give you the entire experience. Don't worry about it. Like it looks like Web2 for you, but you do have NFTs. You have some measure of control over them. You might be able to go to another Web3 application and connect your wallet through my wallet. But then these big enterprises say, wait, so who's the custodian of these assets? Who takes custody over these assets of the consumers? So we provide, Fireblocks provide different custody mechanisms, but up until now it was like you as a corporate customer or as an enterprise, you're the custodians of these assets. Now, if you go to FinTech companies, if you go to the financial space, that's mostly fine because they are regulated entities. They might be qualified custodians. They might have MTS. They might have like all these different. They're already deep within, you know, with the regulator. If you look at FinTech companies, so companies like Itoro and Revolut and all these, you know, you had an interview with the Itoro person also. So they are used to being to take custody over their consumers assets. But then when you go, you kind of cross the, you know, the cross the street and you talk with consumer brands, they don't have any appetite to actually be the custodian of the assets. They don't want to, you know, kind of step into that regulatory mess, as we know it is right now, specifically in the US. 
Matt Zahab 
You can't blame them either. 
Omer Amsel 
No, I don't. So it's kind of a UX issue that leads up to a regulatory issue. And then to cap it all up, you have also the internal, I guess, compliance and regulatory issues of, Hey, I am a publicly traded company and I'm going to put ETH on my balance sheet. How exactly do I do that? Does that warrant any, any special like a consideration? So all these are concerns that these companies have. I didn't even touch, oh, how do we make it secure? How do we make it easy? How do we orchestrate it? How do we automate it? These are like for me, like a second order of magnitude problems. It's not like the first order of magnitude. So these are kind of the main challenges and obviously shamelessly self promoting. This is what we set out to solve, right? For these companies. How do you manage your treasuries without necessarily having to pay gas fees in ETH and keep like ETH on your balance sheet? How do we provide you with a custody model that will appease your internal compliance and regulation officers through what we believe is a non custodial wallet and then unlocking the way to onboarding your consumers into these types of wallets while not affecting the UX too much, allowing you to access that a target market that you want. So this is kind of the suite of products that we have and obviously providing security in depth and guardrails to actually keep your consumer safe and use you as an enterprise safe and secure, dealing with those assets for your users. So yeah, it was a long pitch, but this is what we do here.
Matt Zahab 
No, I love that. And I appreciate that. We do need to take a quick break and give a huge shout out to our sponsor, of the show that is the one and only PrimeXBT huge shout out to the team at PrimeXBT longtime friends of cryptonews.com and longtime sponsors of the Cryptonews Podcast. PrimeXBT offers a robust trading system for both beginners and professional traders. Doesn't matter if you're a rookie or a vet, you can design and customize your layouts and widgets to best fit your trading style. PrimeXBT is also offering a huge promo for listeners of the Cryptonews Podcast. The promo code is CRYPTONEWS50 and that will give you 50% of your deposit credited to your trading account. Again, that is CRYPTONEWS50  all in words received 50% of your deposit credited to your trading account. Now back to the show with Omer. One more thing before we get into our next subject here, the next million users, you've obviously been on the little bit of the podcast circuits, you have stuff written online as well. You and the team at Fireblocks are big on onboarding the next one million users. This is going to be extremely tough. You just spoke about how tough it is. Not only are you guys, you know, pitching these Fortune 500 companies on your software, but you're also pretty much a friggin consultant. Not pretty much. You are a bloody consultant and you are teaching them how to navigate regulatory shit shows and the whole nine yards all the way down to the full kit and caboodle. With that being said, how do we get the next million users on boarded into the big bad Web3? 
Omer Amsel 
So I'll tell you what I advocated my strategy is. Think the honest truth is that we need a killer application. It might be a game, it might be… 
Matt Zahab 
I completely agree. You need that. You need the one thing. Similar to how Facebook, you know, not Facebook, I guess MySpace was the catalyst for social networks. We need that one big boy that sort of sets the stage for everyone else. Sorry to interrupt, keep going. 
Omer Amsel 
No, you're 100% correct. And I would say for me, I'm not vain enough to say, what is exactly that application? You need to fuel the industry, right? You need to empower VCs to make good decisions in order to spread capital for smaller teams to work. You need to equip those smaller teams with really great tools so they can focus on product and not just kind of a mess around with, wait, how do I do key management on blockchain and how, right? We wanna take this abstract idea of how blockchain works and then apply it to an application on a consumer level, which is not financial, like not a trading app per se, right? It can be something very similar to it. But I want to get to a point where I say, hey, how come no one thought of this before? This is like a perfect fit. This is like great for me. I love it and it's built on blockchain rails. And this is what we need, we need that killer app. And it might come, I have my own ideas of where it will come from, but we truly believe that it will come, right, from one of these applications. Once you have that application, you'll start to have best practices. How do they do it? Wait, how can we replicate it to maybe a different segment of the market or maybe a different use case? So we'll see that as well. 
Matt Zahab 
Hold up, Omar, before you keep going, what's your, give me your idea. What area, what sector do you think it's gonna be in? It's gonna be financials, is it gonna be a game? Is it going to be a social network? 
Omer Amsel 
I'm going to be crucified for this. Maybe I'm going to rub a lot of people the wrong way, but as I've said, I come from a gaming background. I think that a game that will do it in what we are seeing right now, partly with like the, you saw with DraftKings, what's going on there, which is kind of the border between game and financial, but it will cross over. We know of a lot of like super amazing, very talented teams. If you look at Shrapnel trying to build like a loot extraction game over Blockchain, which makes a lot of sense for me. It might be like a good use case. We see, we know that Zynga now announced that they have a blockchain based game that is set to launch by the end of the year. Maybe even next month, I don't remember. You see a lot of interest. Square Enix started with, Blockchain is interesting to the fact that they announced like a game, Square Enix, the creators of Final Fantasy, which they announced that they're experimenting with it and they're going like with it. There are a lot of different companies, right? That are taking that and trying to build something. I'm not saying that all of them will succeed and I'm not saying that the games will be great, that all of them will be great, but some of them will. And you look at that industry, that industry is like monstrous, right? The gaming industry is just simply monstrous. And look at what Nike announced, right? With EA games and Epic and Fortnite, right? So it's slowly creeping in. It might come really from the consumer logo brands doing composable interactions with games. It might be a pure game use case, but I feel everyone's kind of eyeing towards that like super engaging industry and trying to build something that will accommodate gamers. The current sentiment is awful towards like Blockchain and NFTs. But I feel it's only because they haven't experienced the utility side. They only experienced that, oh, wait, I bought this NFT, I lost 95% value on it. So, you know, the NFTs are crap. So sorry for my language. But this is what I feel is the sentiment, but I feel like giving a good use case, it might be turned over. So my bet will be something around the gaming industry, either a game or a high profile collaboration between a game and maybe like a huge consumer brand. So that's what I would say. 
Matt Zahab 
I also think it's going to be something gaming related, but I feel like the most important and most valuable piece of that puzzle will be something in regards to micro payments. I feel like with the prominence of gaming and obviously, and this is Gary Vee's term, not mine, but we do live in the attention economy nowadays. And the CEO of Netflix on a, I don't know, three, four years ago was like our biggest competitor is actually YouTube and gaming. It's the people that spend their time. It's not the other, it's not Hulu or Prime or whatever. It's literally other verticals of attention economy. I think that it's going to be something in regards to kids or people like us gaming all the time with some type of micro payments baked in where you have X amount of people watching your stream. Boom. You get their native coin or you get a chunk of Bitcoin, a chunk of ETH, a chunk of Tether, a chunk of whatever. But I feel like it's going to be some type of combo in there. 
Omer Amsel 
Yeah, creation economy is super interesting. 
Matt Zahab 
Yeah, it's huge. The other big one is what you already worked on is I feel like tokenizing real world assets, homes, cars, whatever the case may be. When your car breaks down, you go to the mechanic, you don't know who did what before it. There's no actual log, right? Like blockchain can fix that. What about healthcare, same shit? So I feel like it's gonna be some either massive industry that has nothing to do with the attention like healthcare or auto, or it's going to be something attention related like gaming, but it has to be baked in with finance. I feel like gaming alone will not do it. That's just me. But those are my tricks on that. 
Omer Amsel 
Yeah, man. I appreciate that. 
Matt Zahab 
So what other areas of crypto really get you going at the moment? And what other areas of crypto is Fireblocks really honed in on, zoned in on present day that you guys think is gonna be huge over the next five, ten years? 
Omer Amsel 
So I think, and this is kind of the me, not as part of my responsibility, but what I see in the market. I think like CBDCs and stablecoins are going to be amazing and a huge catalyst for the entire industry as well. Maybe like the existing industry and bringing on more on the traditional finance space to have that. We do offer products around that. I'm not the most qualified to talk about it, but being able to issue stablecoins and working with governments on CBDCs. There's a super interesting space right now. I feel like this is what we needed to onboard the traditional finance into the blockchain rails. Once that is done, the gap between kind of the traditional finance and what we call it, the crypto finance or the crypto native finance is a shorter hop than what it used to be. So the more we can get like these traditional financial institutions on board, creating those tokenized assets. So as you said, right, I mean, it's also relates to real world assets being tokenized, but let's start with kind of the deep financial facilitation layer and then see how it leads to kind of a more adoption and more synergies between kind of the traditional finance and the new finance, I would say. 
Matt Zahab 
I like that. Omar, this has been a treat man. We are in all tight for time. One last segment before we wrap up. Hot take factory, preferably non-crypto related. Give me a couple of Omerhot takes before we let you go. Health, wealth, happiness, space, race, AI, aliens, food, you name it. But give me a couple of spicy hot takes, preferably non-crypto or blockchain related, and then we'll wrap this baby up. 
Omer Amsel 
Wow. I'm, you know, I have three kids. I'm such a dad. Like everything I think of is like, how great it is to have kids, but sometimes, you know, banging your head against the wall. So I would say my hot take is to dedicate time for your family. Like for me, that's the best thing that happened to me. I know everyone watching is like super hectic and like have a busy schedule and me too. And I don't do that enough, but like really, my hot take is like spending time with your family. It's probably the best investment that you can make in the short term. Sorry for being such a like ready, told some, you know, subreddit. So, but really, that's what I have for you. 
Matt Zahab 
That one hits hard. I'm 28 man. I would, if I met the lady of my dreams tomorrow and obviously she's the one who's gonna be pumping out the kids and not me, I'm only half the equation, realistically like 1% of the equation. But I mean, I'd like to have a family with three kids, 10 years down the road as well. So, but Omar, this has been a treat. Really appreciate you coming on. Before you go, please let our listeners know where they can find you and Fireblocks online and on socials. 
Omer Amsel 
So yeah, I mean, find us at fireblocks.com. We're hiring. Look if you have any interesting jobs. It's a really awesome company. I know I'm biased, but I don't know for what it's worth, believe me. And you can find me on Twitter @OmerAmsel. And yeah, you can find Fireblocks at Fireblocks. So always happy to engage in conversation. DM me if you need anything. If you have any questions, talk to you also. 
Matt Zahab 
Love it. Omer, thanks again man. Appreciate it. Pumped to have you on for round two and we'll keep in touch my friend. 
Omer Amsel 
Thanks, Matt. 
Matt Zahab 
Folks, what an episode with Omer Amsel, head of Web3 at the one and only Fireblocks. Huge shout out to his team and my team for making this happen. Great episode, learned a ton. Hope you guys did as well to the listeners. Love you guys. Thank you so much for listening as always. If you enjoyed this one, please do subscribe. It would mean the world to my team and I. Speaking to the team, love you guys. Thank you for everything. I would be hooped without you and I cannot tell you how amazing you guys all are. Justas my amazing sound editor. You're the GOAT and you know it and the listeners. Thanks again for everything guys. Appreciate you. Keep on growing those bags and keep on staying happy, wealthy and healthy. Bye for now and we'll talk soon.