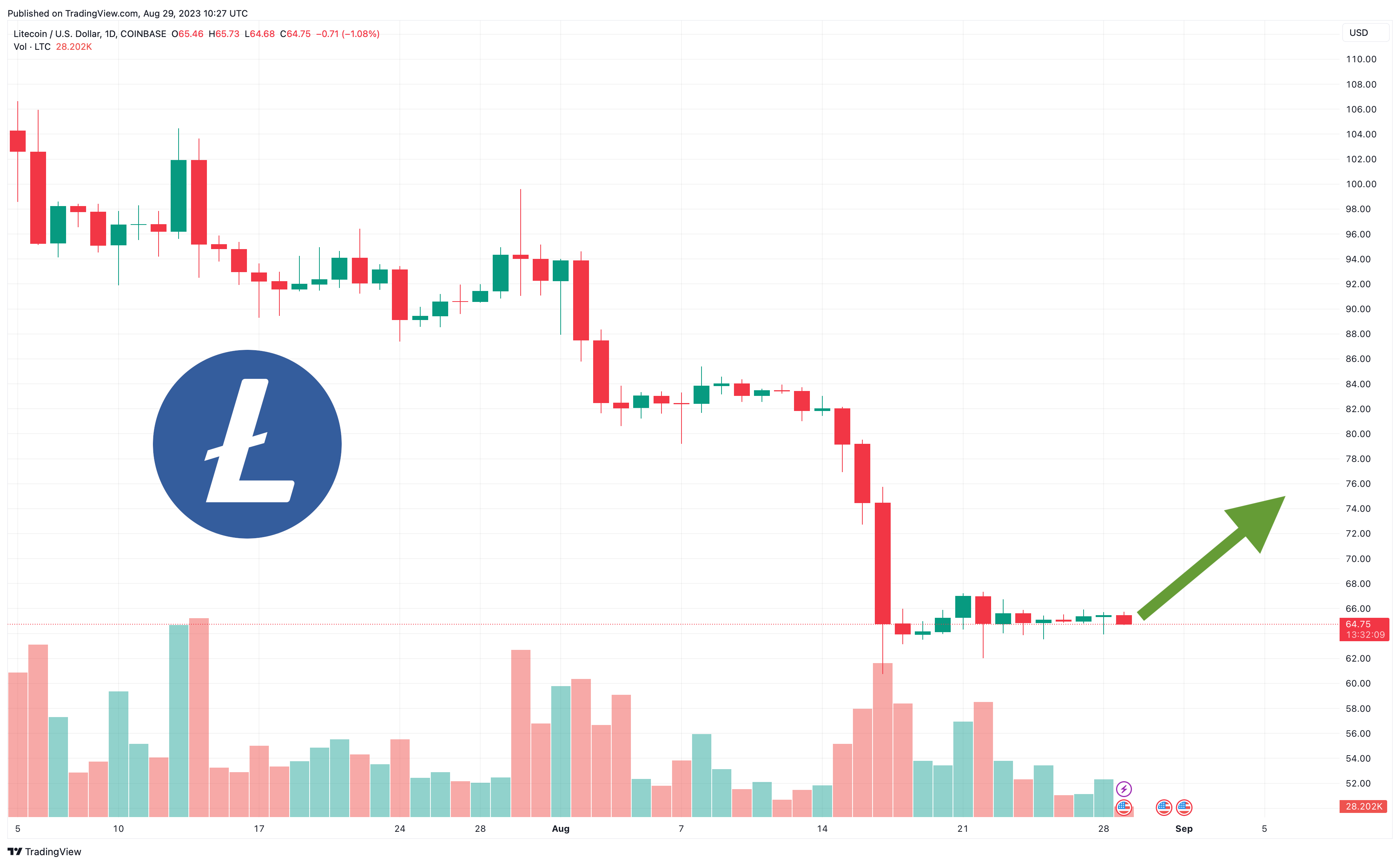 The price of Litecoin (LTC) has risen by 1% in the past 24 hours, reaching $64.98 as the altcoin's trading volume remains above $200 million.
LTC is now down by 1.5% in a week and by 31% in the last 30 days, while the cryptocurrency has also declined by 7% since the beginning of the year. 
This compares poorly with the many major tokens (e.g. BTC, ETH, XRP) that have recovered well since January, although on the flipside it can be argued that LTC has therefore been severely undervalued and oversold in the past few months, and that it's due a big comeback anytime soon.
Litecoin Price Prediction as $200 Million Trading Volume Sends LTC Up 1% – Are Whales Accumulating?
As bad as LTC's performance has been in recent weeks, it's clear from a technical perspective that it has more or less hit rock bottom, and that the only way is up for the token.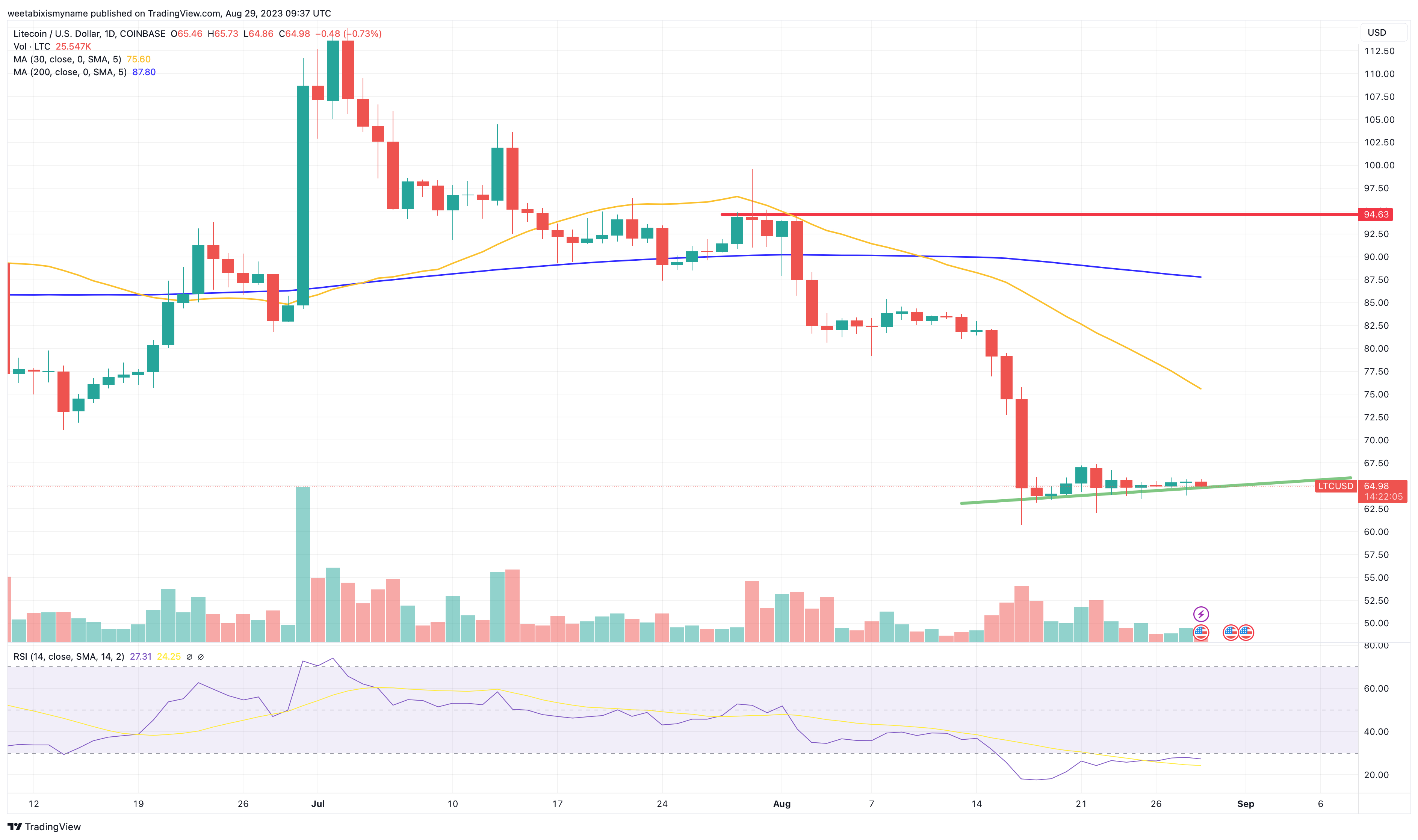 The coin's 30-day moving average (yellow) has continued to plunge substantially beyond its 200-day average (blue), and given how far below it now is, we should soon see a strong correction upwards.
This assumption is validated by LTC's relative strength index (purple), which has remained below 30 after sinking to 20 a week and a half ago, providing another clear sign that the altcoin has been severely oversold.
And while LTC has fallen through a number of support levels in recent weeks and months, its short-term support (green) has risen every so slightly since the middle of August.
This provides some indication that LTC has hit a bottom and is now ready to recover, with its current trading volume suggesting liquidity to spark a strong movement in the very near future.
As for fundamentals, there isn't really anything on Litecoin's horizon that would suggest an incoming rally, with the cryptocurrency having gone through its halving earlier this month.
The halving was disappointing for LTC in terms of its price action, with the coin actually dumping in the wake of the halving's successful completion.
However, not only do many analysts expect LTC to correct in response to its being oversold, but other commentators have noted that its hashrate has climbed healthily since the halving.
As such, it can easily be argued that Litecoin remains in a good condition as a cryptocurrency and network, and that it should indeed recover soon enough.
From its current level of approx. $65, it should return to $70 in the next few weeks, before reaching $100 again towards the end of the year.
Expanding Potential Upside With New Altcoins
As an established altcoin, LTC may see gradual rather than sudden price increases over the next few months, meaning that short-term traders may be better off diversifying into newer tokens.
Fortunately, there are a number of promising new coins in the market right now, with various presale tokens raising amounts which suggest that they already have strong community support.
One such token is Launchpad.xyz (LPX), a one-stop Web3 trading platform that has raised more than $1.4 million since beginning its sale in the past month.
Launchpad.xyz will provide traders with a whole ecosystem of useful features and tools to help them stay ahead of the market, with its platform set to launch towards the end of the year.
Its features will encompass the provision of Web3 wallet addresses, a play-to-earn gaming hub, a launchpad for Web3 presales, trading signals and automated trading bots.
They will also include collaborative trading rooms and other social features, enabling traders to participate in and benefit from online trading communities.
On top of this, Launchpad will also have its own DEX and its own NFT marketplace, something which could end up making it a big player in the Web3 and DeFi sectors.
Adding to LPX's attractiveness as an asset is the fact that it will be used to pay Launchpad's fees and subscriptions, and that it can also be used to earn staking rewards.
This makes LPX a coin with real utility, and helps explain why its presale has already done so well so far.
New buyers can join the sale by going to the official Launchpad.xyz website and connecting their software wallets, with 1 LPX selling at $0.0445.
Visit Launchpad xyz Now
Disclaimer: Crypto is a high-risk asset class. This article is provided for informational purposes and does not constitute investment advice. You could lose all of your capital.