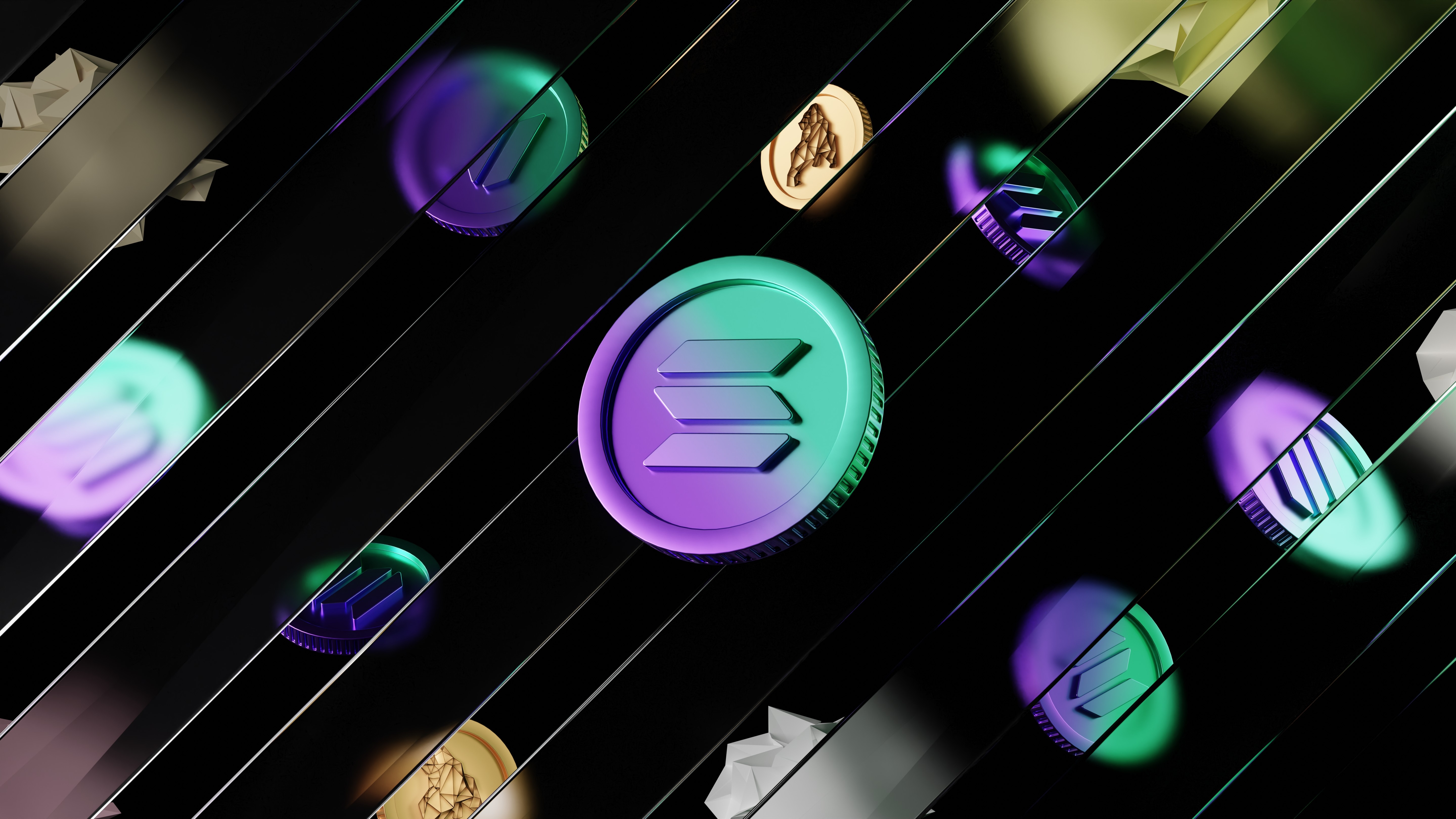 Solana (SOL) celebrated a new yearly high today, hitting $32.13 as strong positive market sentiment gave it a boost. The price of SOL shot up by an impressive 23.5% at its highest point.
However, the positive trend did not last long. Sellers soon made their presence felt in the market, exerting a downward force on the price.
As of now, SOL is priced at $27.99. Despite the drop, it maintains a decent daily gain of 7.61%, adding to yesterday's substantial gain of 18.55%.
Solana Price Prediction and Technical Analysis – SOL Price Action Breakdown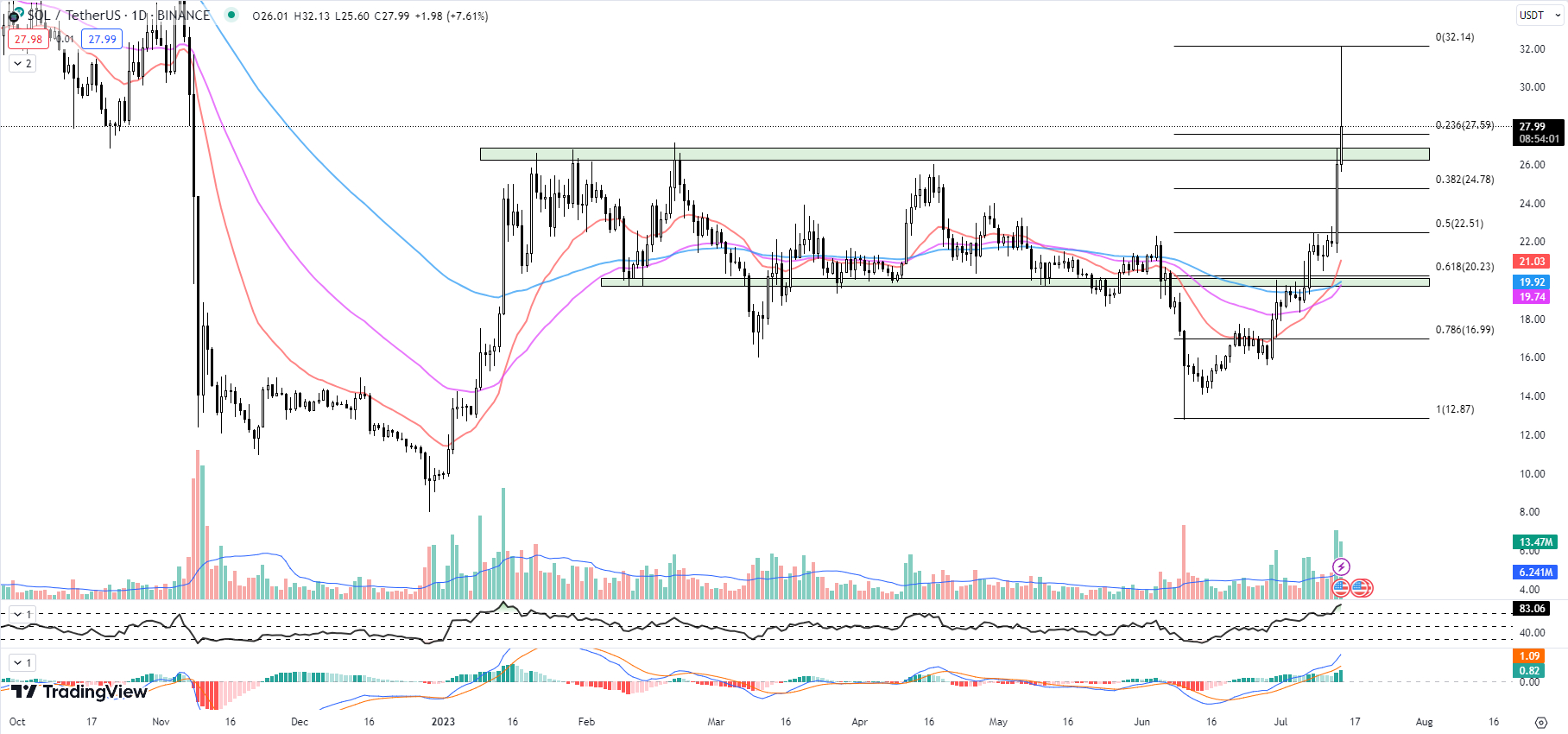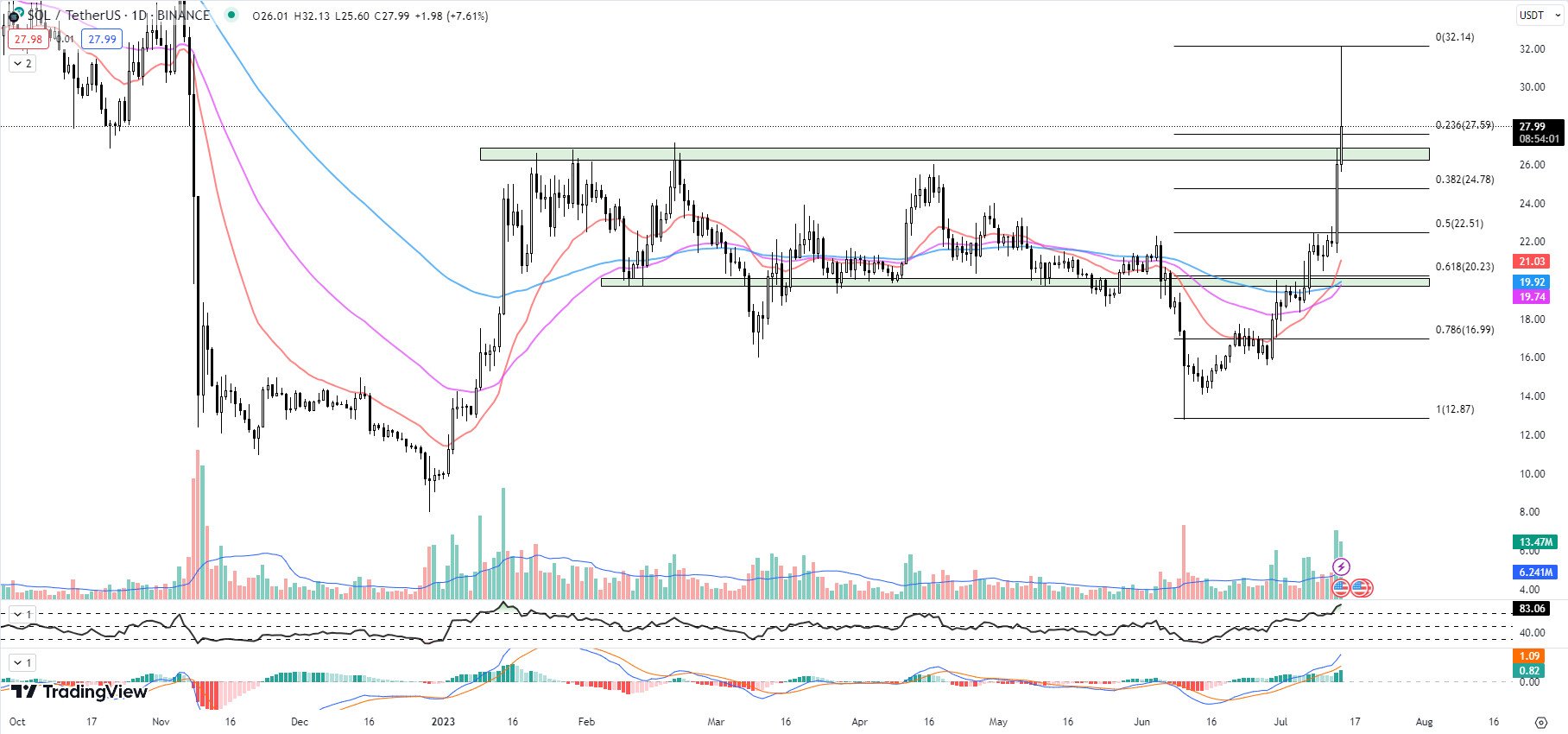 To better understand price action, let's look at technical indicators. The 20, 50 and 100 day EMAs are at $21.03, $19.74 and $19.92 respectively.
All three averages are currently below market price, suggesting an overall uptrend. The 20-day EMA, being the closest to the current price, offers immediate dynamic support.
The RSI, a momentum oscillator, is currently at a high of 83.06. This is considerably above the standard 70 overbought level, indicating that SOL may be overbought and could be due for a pullback or consolidation period.
Future SOL Price Projections and Potential Trading Strategies
Turning our attention to the MACD histogram, the positive value of 0.82 shows that there is bullish momentum.
MACD is a trend-following momentum indicator, and the positive histogram suggests that the bulls are in control.
However, traders should be cautious as the high RSI suggests that the market could be ready for a correction.
Regarding market statistics, Solana's market cap is up 25.74% today, currently standing at $11,297,560,780, while 24-hour trading volume has skyrocketed 494.01% to $2 774 142 431.
The dramatic increase in volume coupled with a rising market capitalization indicates strong buying interest and could drive the SOL price further.
In terms of key levels to watch, the SOL price is facing immediate resistance at the fresh YTD high of $32.13. A successful break of this level could signal further bullish momentum.
On the other hand, the 0.236 Fib level at $27.59 acts as immediate support, followed by a horizontal support zone ranging from $26.25 to $26.85.
Given the existing technical setup, traders should monitor these key levels and adjust their strategies accordingly.
Those looking to buy may consider waiting for a possible price drop given the overbought RSI, while those who already have SOLs should watch the resistance level closely to gauge the strength of the current trend.
Unraveling the complexities of trading with yPredict
The technical analysis involved in trading cryptocurrencies like Solana can be complex, but yPredict offers traders a solution to this challenge.
YPredict is positioning itself at the forefront of web3 artificial intelligence and is approaching the seventh stage of its crypto token pre-sale. Pre-sale has generated nearly $3 million to date, demonstrating the platform's growth potential.
YPredict is developing a powerful set of AI analytics toolswhose goal is to simplify the complexities of cryptography and seo analysis. In order to raise funds for this effort, yPredict is releasing 80% of its total $YPRED token supply to the public.
Pre-sale offers more than just the chance to own a piece of this project. It also comes with perks like quarterly rewards, discounts on AI tools, and lifetime access to yPredict's crypto price prediction system.
Progress is clearly visible on the yPredict journey, with the platform not only promising prospective returns but also delivering tangible results. As an initial proof of concept, the company released its first AI-powered tool, the Backlink Estimator, which received more than 5,000 requests within the first day of its release.
Presale participants continue to enjoy exclusive benefits like unrestricted access to the Backlink Estimator and the upcoming WriteMingle tool. yPredict is preparing to release another tool called Alt_Pump_001, an AI model that promises to predict the next altcoin surge.
yPredict's vision is heavily focused on its core offering: an advanced AI-powered crypto price prediction and analysis platform. This service promises traders and investors a wide range of AI-powered signals, pattern recognition tools, and news/social sentiment analysis capabilities.
The combination of the $YPRED token, together with the wide range of AI applications offered by the yPredict platform, positions the platform as a notable competitor in the AI Utility Coin Market. Along with significant staking returns and token holder discounts, the incentives make yPredict a pre-sale opportunity that could attract attention.
Visit andPredict now
Disclaimer: Crypto is a high-risk asset class. This article is provided for informational purposes and does not constitute investment advice. You could lose all your capital.