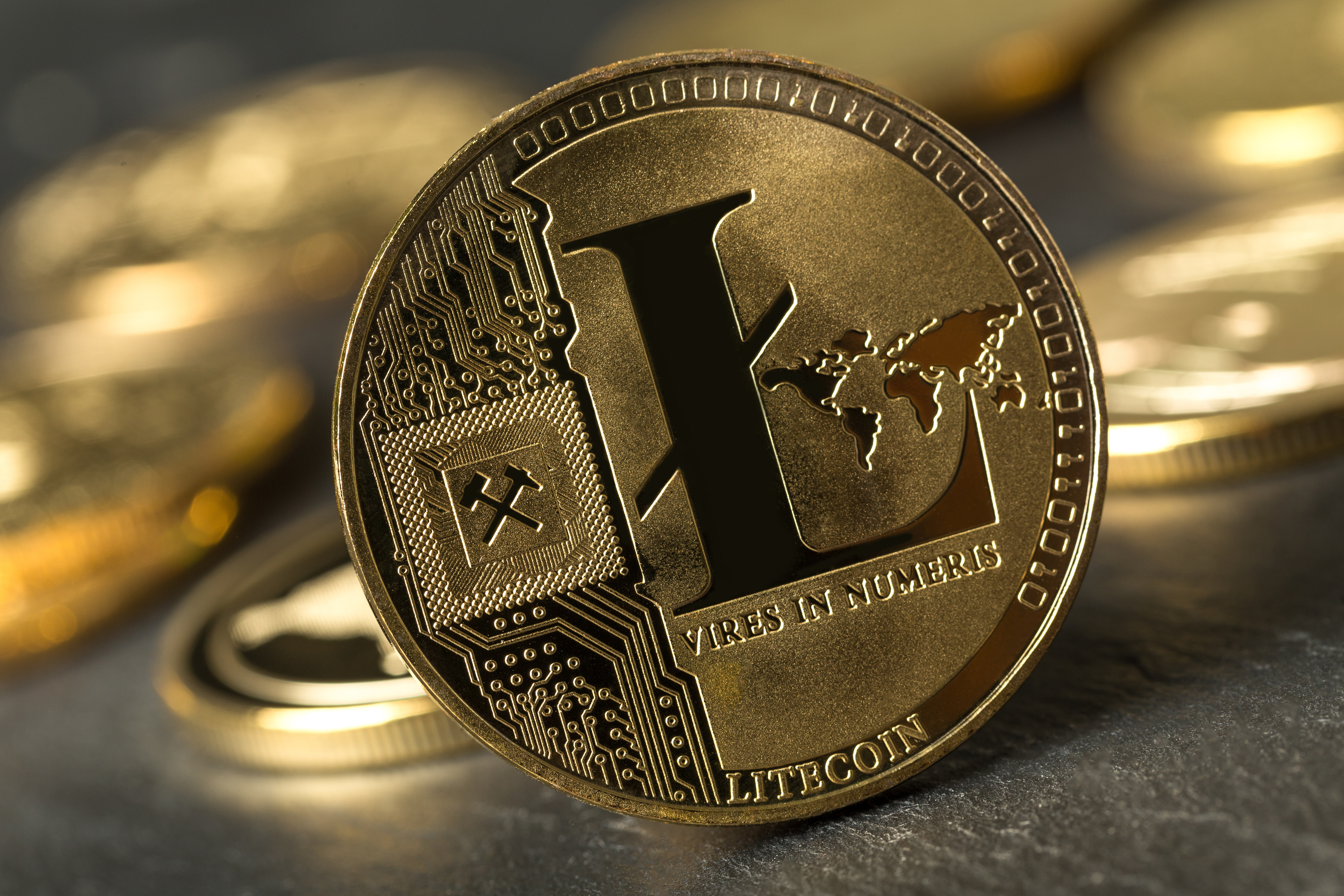 Litecoin (LTC), the cryptocurrency that powers the decentralized payments-focused Litecoin blockchain, has pulled back from the more than a year highs it hit earlier this week in the $115 area.
LTC/USD last traded for around $101 on major cryptocurrency exchanges, with LTC down about 2.5% on the day as the broader crypto market pulls back a bit.
But LTC still looks healthy.
At current levels above $100, the cryptocurrency is still up more than 40% off June lows near $70.
And in the last seven days, LTC is still up more than 20%.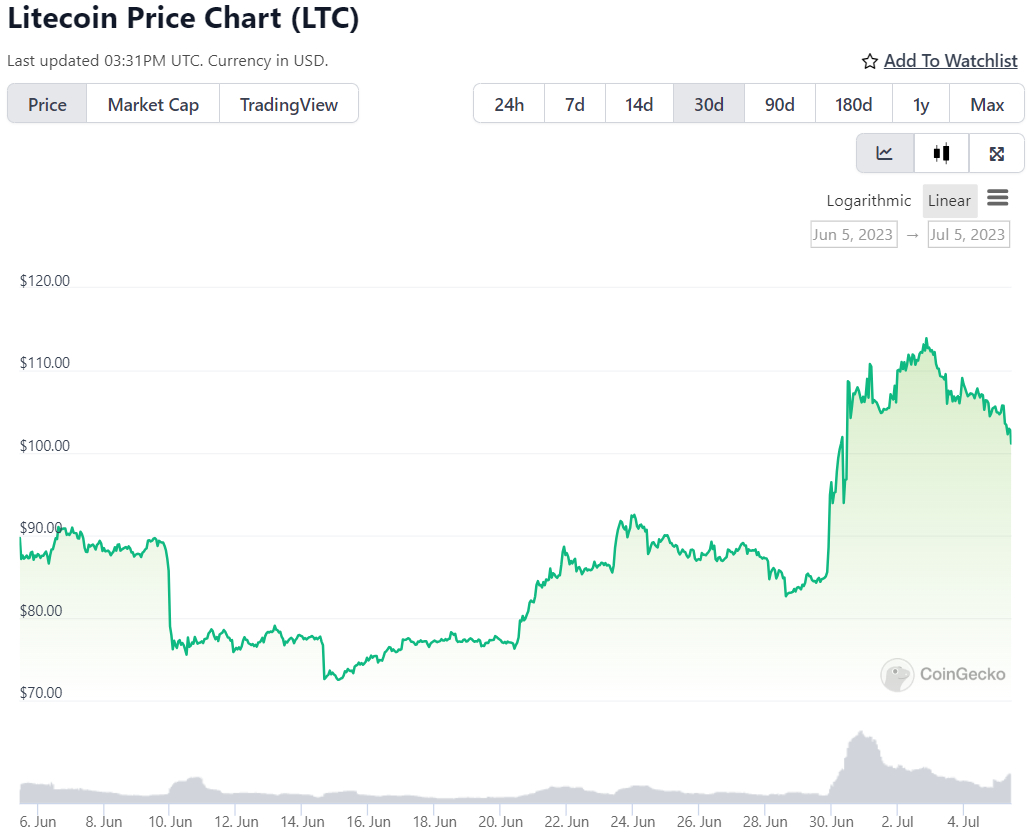 Broader cryptocurrencies are staying afloat amid optimism about possible approval of spot bitcoin ETFs.
Additionally, Litecoin continues to benefit from tailwinds related to its listing on the much-hyped new US cryptocurrency exchange EDX Markets and bullish sentiment ahead of the August halving event.
For reference, EDX Markets is supported by several major US financial institutions and stands apart from its competitors as the most regulatory compliant US exchange.
Meanwhile, the August halving event, which takes place in just under 30 days, will see Litecoin's issuance rate halved from 12.5 LTC tokens per block to 6.25 LTC.
While this is not always the case for Litecoin, bitcoin halvings have historically been bullish and traders seem to be betting that the next halving will be a bullish event for LTC.
Is it too late to buy Litecoin (LTC)?
Following the 40% rally from the June lows, some traders may be wondering if they missed the opportunity to buy on the dip.
Is it too late to buy Litecoin?
The short answer: no, it probably isn't.
This is because the Litecoin price outlook is strong, suggesting that those investing at current price levels above $100 still have a very good chance of generating strong short-term gains.
This is because, even forgetting the bullish force tailwinds in the broader crypto market (i.e. Bitcoin near yearly highs), EDX Markets listing, and the upcoming halving, Litecoin looks very well on the charts.
The rebound from the June lows confirmed that LTC remains in a solid uptrend from the 2022 lows.
Furthermore, the recent pump highs that saw LTC move above all of its major moving averages once again also resulted in a bullish pennant structure.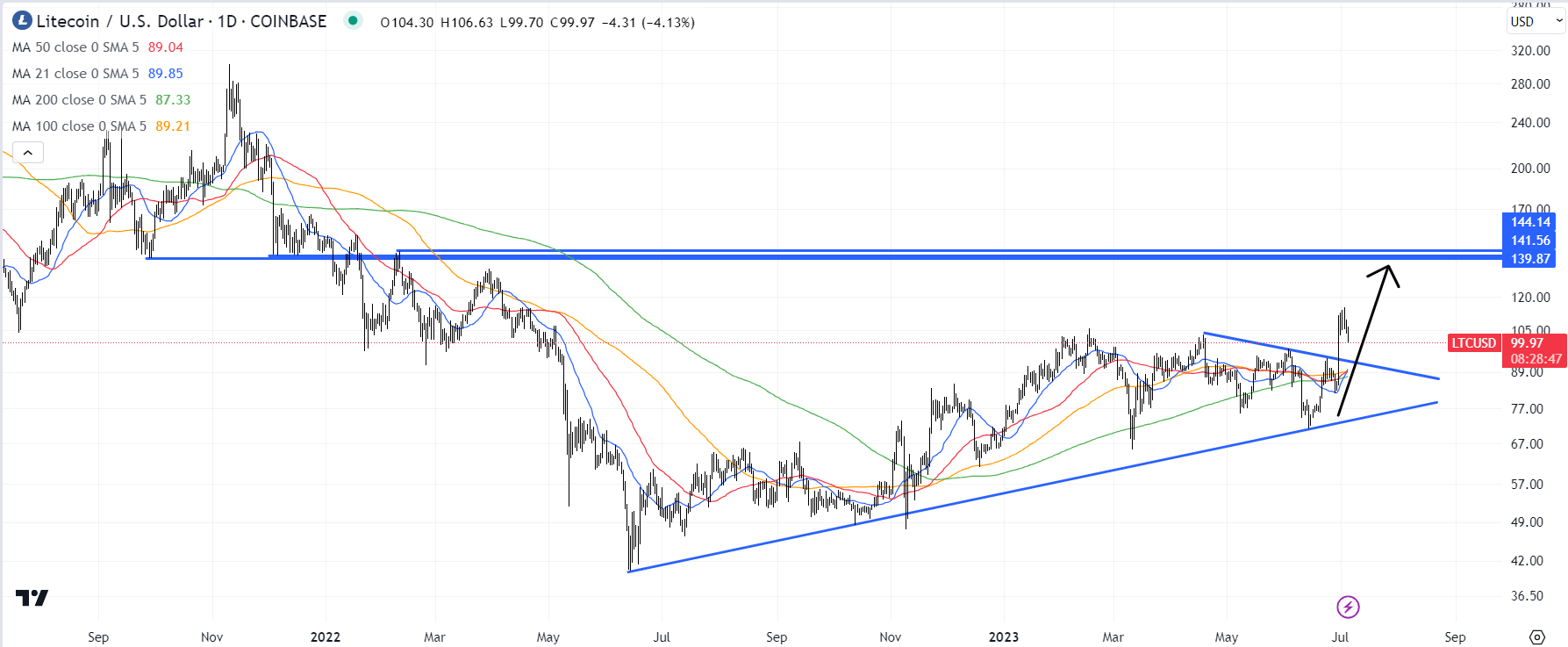 While a drop to sub-$100 levels is a strong possibility, dip buyers could quickly force a bounce and push LTC into the mid-$100s.
Litecoin (LTC) Alternative to Consider – yPredict (YPRED)
Investors should always be vigilant in diversifying their cryptocurrency holdings.
One high-risk, high-reward investment strategy that some investors might want to consider is to get involved in cryptocurrency pre-sale.
This is where investors buy the tokens of emerging crypto projects to help finance their development.
These tokens almost always sell very cheap and there is a long history of pre-sales bringing huge exponential gains to early investors.
Many of these projects have fantastic teams behind them and a great vision to deliver a revolutionary crypto app/platform.
If an investor can identify such projects, the risk/reward ratio of his presale investment is very good.
The Cryptonews team spends a lot of time looking at pre-sale projects to help investors.
One such project that they believe has a lot of potential is an artificial intelligence (AI) driven web3 startup called yPredict.
The platform is best known for its first institutional grade financial price prediction system.
Observers believe that the tool, which is based on yPredict's internal deep data analysis, will help cryptocurrency investors discover the next cryptocurrency bomber with ease.
The best part is that yPredict's crypto price prediction system will remain free and open for all users to access – price predictions will be publicly available and you don't need to log in to view them. the white paper of the project Explain.
But yPredict offers investors much more than just cryptocurrency price predictions.
The project is "building a cutting-edge crypto research and trading platform that gives traders and investors access to dozens of signals, breakouts, pattern recognition, and AI-powered news/social sentiment features," the startup says. in yPredict Litepaper.
The platform is also building a number of other AI-powered tools, including an innovative content management system.
As AI continues to make waves in the crypto industry and beyond, projects like yPredict are expected to attract significant interest.
That's why many industry watchers are pointing to AI cryptocurrencies like yPredict's native $YPRED token, currently available via pre-sale, to be among the next best-performing coins.
The $YPRED presale has been flying through the stages.
from 5he As of July, the project has raised more than $2.7 million.
Investors need to move quickly to anticipate the next price hike when the presale hits $2.98 million.
Visit yPredict Here