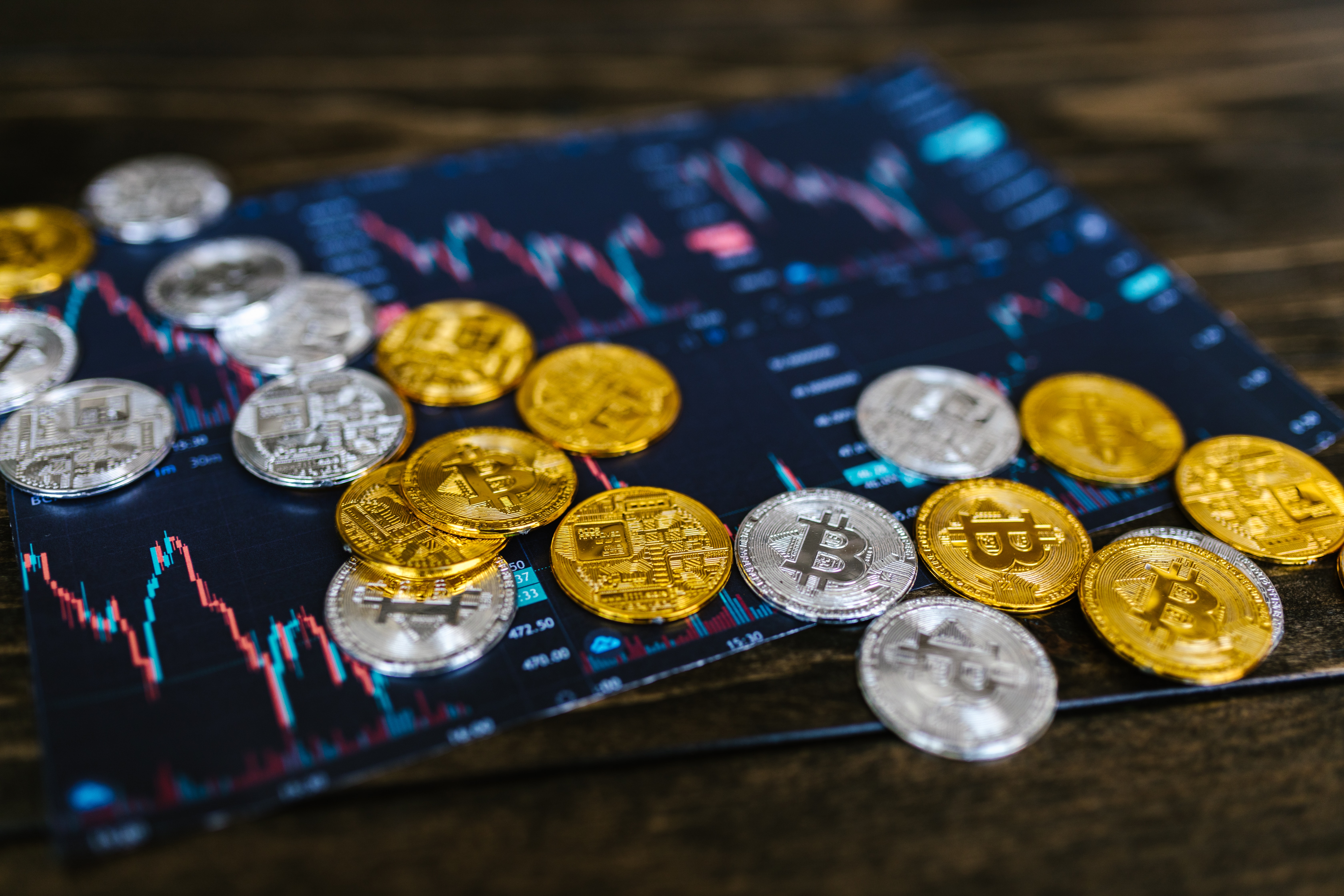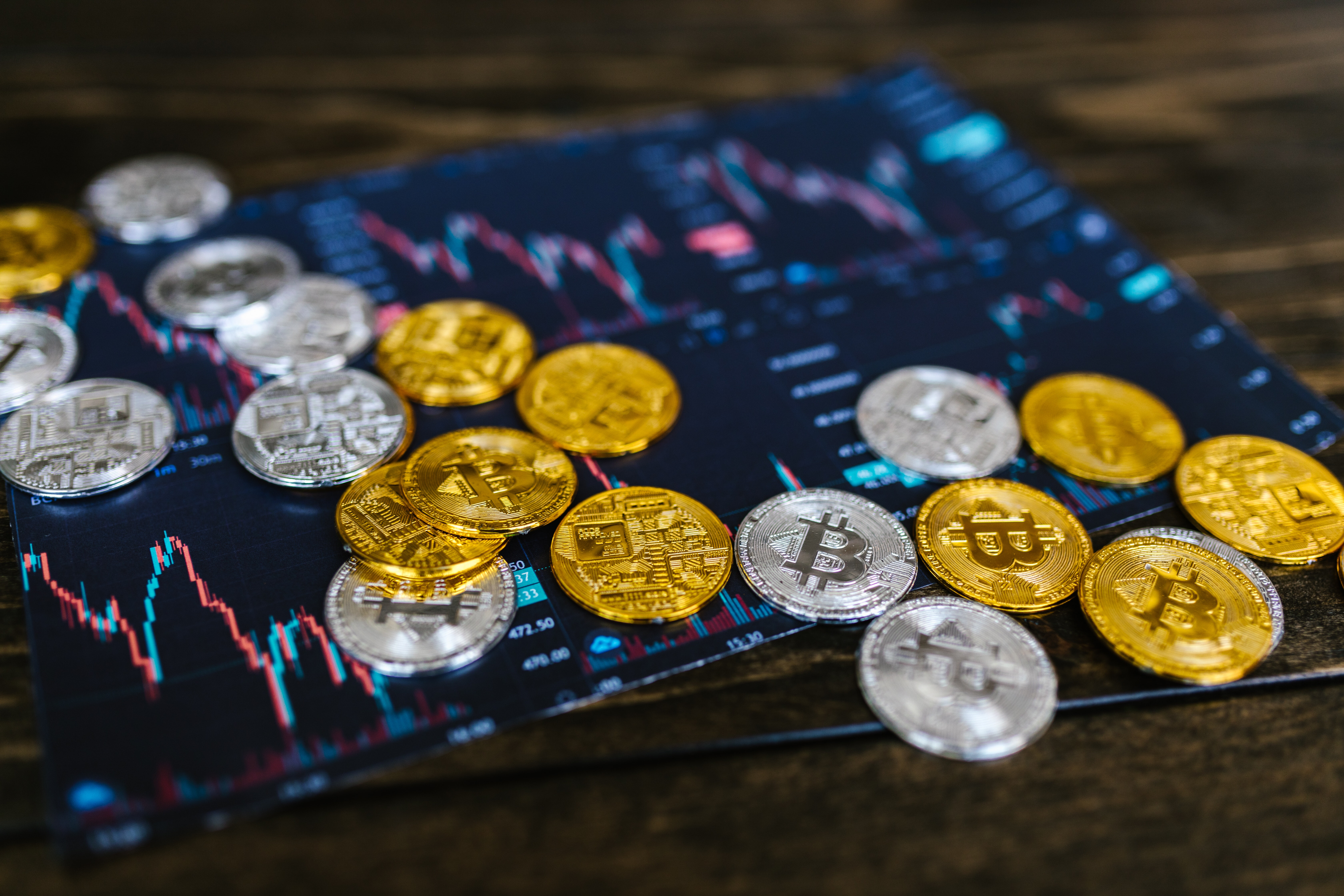 With its 19.70% breakout yesterday, Compound (COMP) presents a strong buy opportunity during its consolidation around the $46-48 level.
COMP has firmly reset its technical indicators into bullish territory, and buyers may want to look to accumulate on dips before the next leg higher.
To buy Compound at optimal levels, patience is key as the COMP price stabilizes after the powerful breakout.
COMP Price Price Prediction: Short-Term Indicators Suggest Potential for Continued Bullish Momentum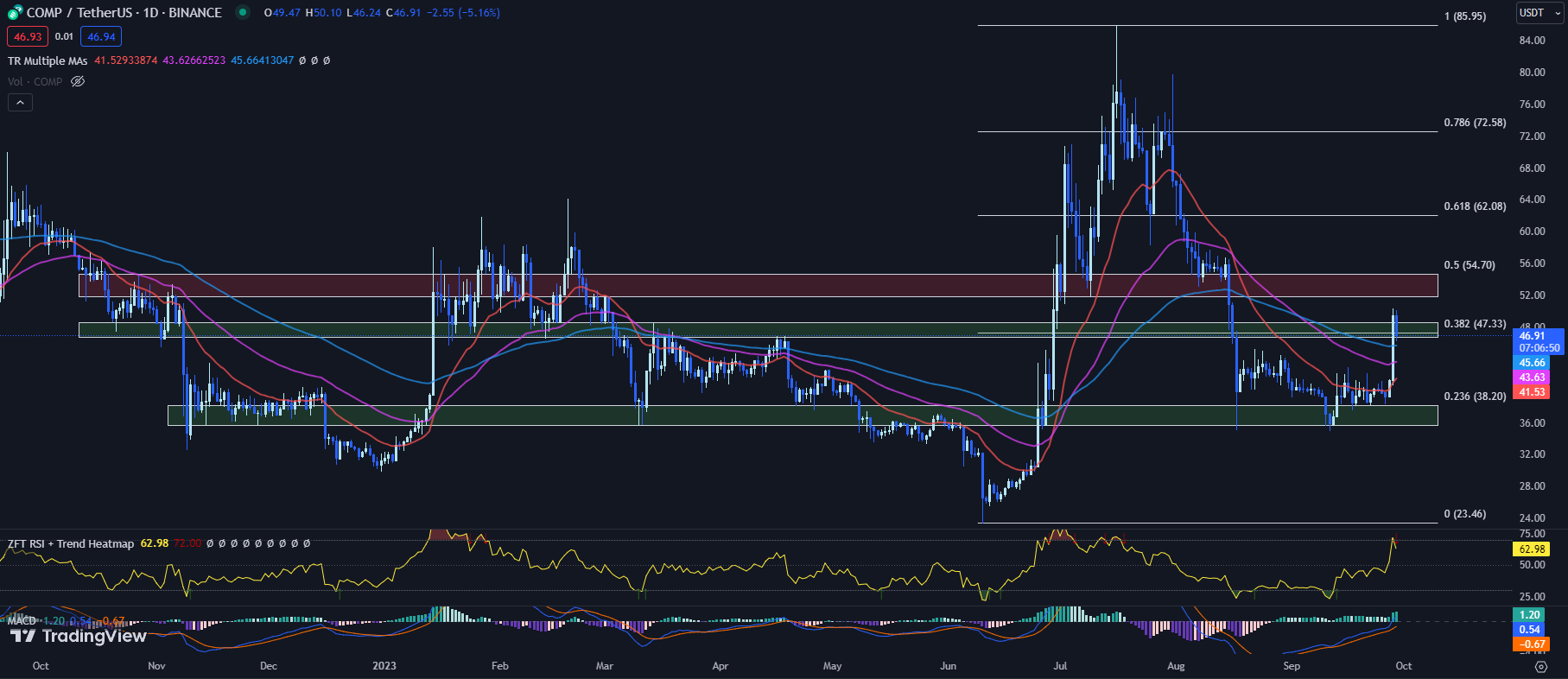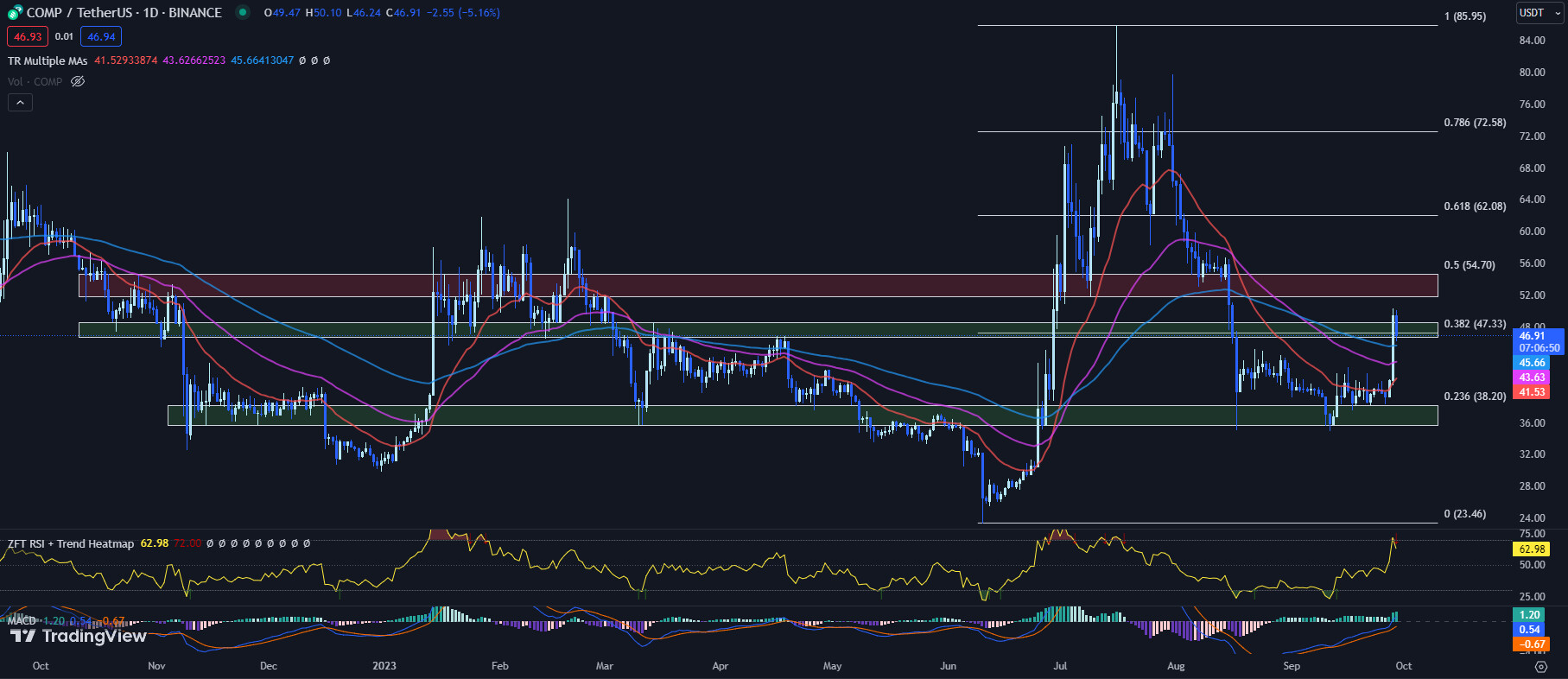 Comp's 20-day EMA currently stands at $41.53, below the 50-day EMA at $43.63 and the 100-day EMA at $46.91. Typically, a short-term EMA positioned below the long-term EMA suggests a bearish sentiment.
However, given the recent breakout and the COMP price currently positioned above these EMAs, the scenario signals a potential bullish momentum.
The RSI shows an interesting shift for those looking to buy Compound. The RSI has pulled back to 62.98, from yesterday's overbought levels at 71.42 following the substantial 19.70% surge.
This retreat from overbought territory is a healthy indicator that might suggest the possibility of a continuation of the rally, assuming the COMP price maintains its current levels.
Meanwhile, the MACD histogram shows a value of 1.20, up from yesterday's 1.07. The MACD's upward trajectory indicates bullish momentum, further supporting the case for traders looking to buy Compound.
Key Levels to Watch for Potential Continued Upside
Despite the 2.71% market cap drop to $371.8 million and the 2.11% decrease in 24-hour volume to $114.3 million, the COMP price has managed to hold relatively steady above its immediate support level.
The modestly decreasing volume and market cap might suggest a healthy retracement following the breakout, potentially paving the way for a sustained upward move.
The immediate resistance level for the COMP price is the horizontal zone between $51.80 and $54.66, aligning with the Fib 0.5 level of $54.70. If the price successfully holds above the 100-day EMA, overcoming this resistance could fuel further bullish momentum.
On the downside, the immediate support lies between $46.70 to $48.56, in conjunction with the Fib 0.382 level of $47.33.
After a breakout from this level with yesterday's rally, the COMP price is currently retesting this zone for support.
If it fails to hold, the next immediate support is the dynamic level of the 100-day EMA at $46.91.
While the COMP price is currently in a retest phase, the technical indicators suggest a potential continuation of the bullish momentum.
With the RSI retreating from overbought levels and the MACD indicating a bullish trend, the stage could be set for a further upward move, provided the COMP price can retain its current levels and overcome immediate resistance.
While Compound's technical indicators point to continued upside potential, investors are also keeping an eye on up-and-coming platforms like Launchpad XYZ.
With its all-encompassing dashboard and an array of services, Launchpad seeks to be a crypto investor's guide through the complex cryptocurrency market.
Launchpad XYZ: Leading the Charge in WEB3 Platforms
Launchpad XYZ is steadily cementing its position in the Web 3.0 investment sector.
The company's data-informed platform will deliver an extensive set of services, spanning analytics, insights into crypto and NFT markets, metaverse adventures, and admission to private ICOs.
LPX, the proprietary token within the Launchpad XYZ ecosystem, is instrumental in the platform's operations.
Serving both as an investment and utility token, LPX will offer its stakers exclusive access to various platform features.
Staking LPX for a period of 90 days enables users to access ICO and NFT mint alerts, among other benefits.
The LPX token presale is currently offering the tokens at $0.0445 each. The presale, which has raised over $1.78 million so far, includes a 15% bonus that will conclude in less than 5 days.
After the presale finishes, LPX will be listed on the platform's decentralized exchange (DEX).
Visit Launchpad XYZ Now
Dashboard Features & Premium Access
The all-encompassing dashboard of Launchpad XYZ is designed to guide investors in their journey through the tumultuous crypto market.
It will offer a range of services from providing insights into play-to-earn games in beta mode to fractional, high-value asset investments like real estate and supercars.
Access to premium features like private ICOs and newly minted NFTs, as well as discounted DEX fees, is granted to those staking a minimum of 10,000 LPX for 90 days.
This strategy not only seeks to increase the token's demand but also rewards its community with passive income.
Unique Features & Forward-Looking Roadmap
Differentiating itself from the competition, Launchpad XYZ integrates an AI-enabled search feature designed to assist users in identifying potential investment opportunities.
The platform will also offer a unique solution for NFT collection purchases by securing an allocation of whitelisting spots for its users.
The platform is also in the process of developing a play-to-earn gaming hub, providing users a platform to view and bet on the outcomes of games in real time. Early access to these game releases will be granted to LPX token holders.
The team leading Launchpad XYZ, with CEO Terence Ribaudo steering the ship, presents a transparent and public front. They have outlined a clear roadmap for the future, including launching a Web 3.0 wallet in Q2 2023 and a series of other features throughout the year.
As an ambitious new entrant in the Web3 space, Launchpad XYZ's presale of LPX tokens offers investors an early opportunity to gain exposure to the platform's growth potential.
Acquiring LPX in the presale provides a way to get in on the ground floor, establishing a stake in Launchpad XYZ as it executes its roadmap.
Visit Launchpad XYZ Now
Disclaimer: Crypto is a high-risk asset class. This article is provided for informational purposes and does not constitute investment advice. You could lose all of your capital.