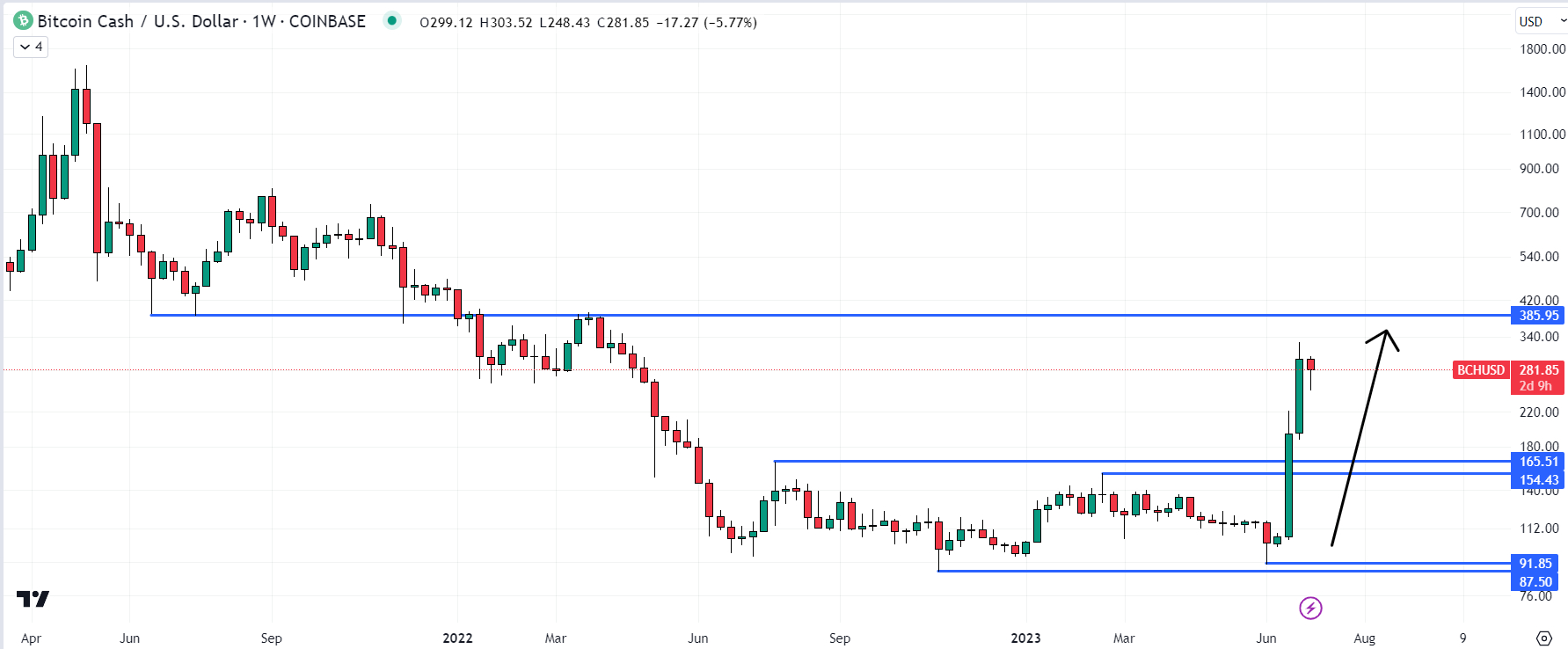 Bitcoin Cash (BCH) is a bit higher on Friday at current levels just above $280, having managed to recover more than 13% from previous weekly lows of around $250.
However, in the grand scheme of things, the rally is not much to get excited about as BCH remains within its $250-$330 ranges of last week.
In fact, BCH bulls have been taking a breather for the past seven days after a massive 3x pump in the second half of June from lows of less than $100 per token.
The news that BCH will be one of the few cryptocurrencies listed on the EDX Markets cryptocurrency exchange was credited as the catalyst for June's big price spike.
EDX Markets, which is backed by several major financial institutions like Fidelity, Charles Schwab, and Citadel, recently launched and observers believe the exchange will be viewed more favorably by regulators than competitors like Coinbase.
Bitcoin Cash was created in August 2017 as a result of a hard fork from the original Bitcoin blockchain.
Its creators launched the new blockchain to address bitcoin's limitations, such as issues related to its scalability and transaction speed.
Bitcoin Cash's recent strong performance since mid-June means it is the best-performing cryptocurrency in the top 100 by market capitalization over the past thirty days, up more than 150% according to CoinGecko.
The bulls have marked the key long-term support-turned-resistance level around $385 as a key short-term price target.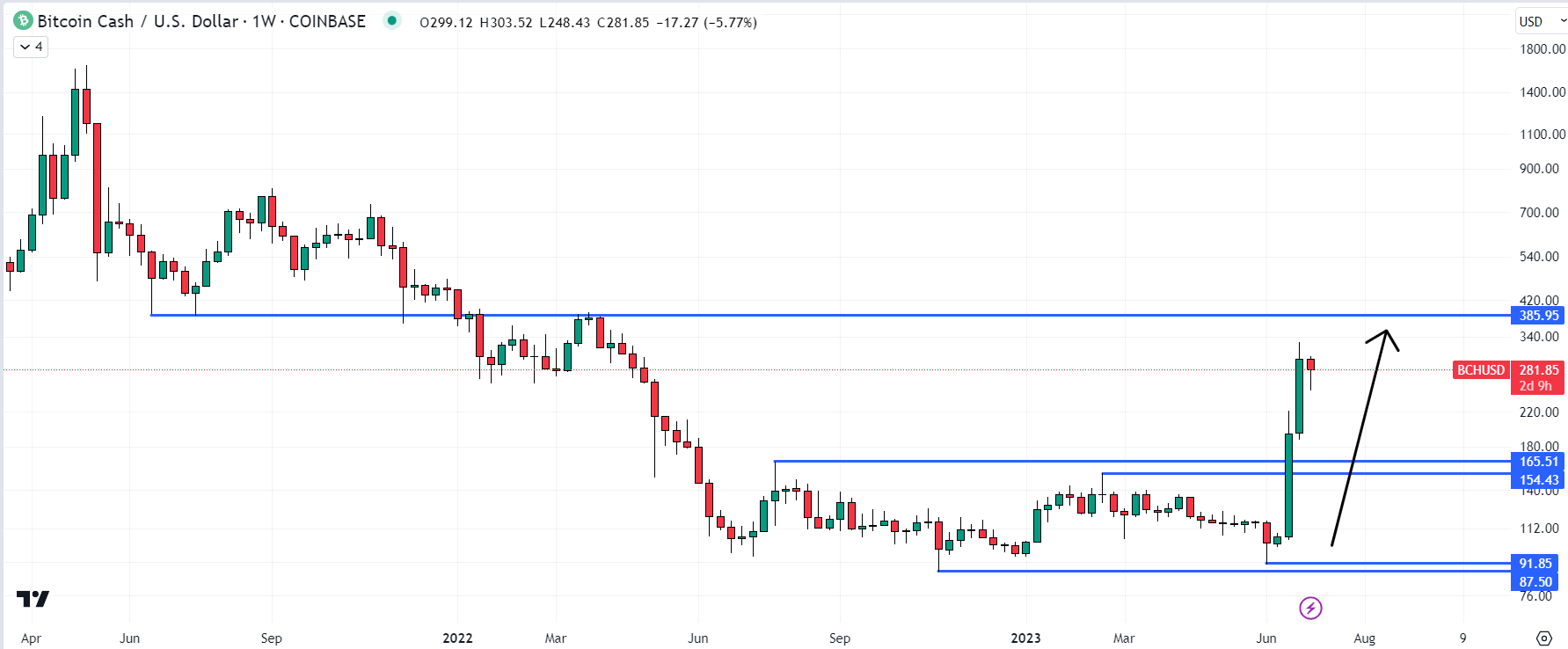 Is it too late to buy Bitcoin Cash (BCH)?
The strong rally of the last few weeks has some crypto investors worried that they have missed the opportunity to buy BCH on the cheap.
Is it too late to buy Bitcoin Cash? you may now be wondering.
Well, while the cryptocurrency's sharp breakout from the $90-$160 range that it was stuck in for about a year certainly seems to indicate longer-term bullish momentum, BCH is still well below previous all-time highs.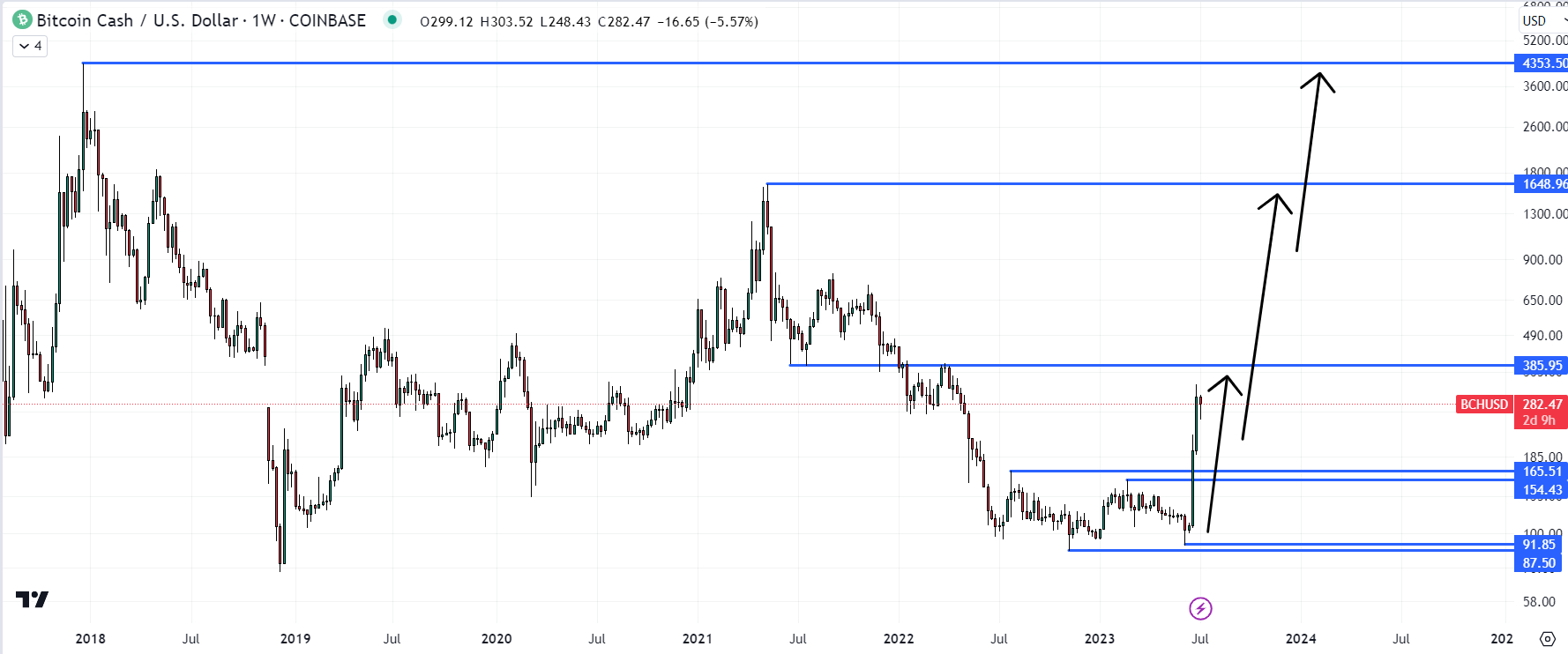 In May 2021, Bitcoin Cash rose as high as $1,600, more than 6 times the current levels.
Meanwhile, in 2017, BCH at one point hit $4,300.
The cryptocurrency's struggle to keep up with Bitcoin's adoption rate means that these 2017 highs may never be reached again.
But if we are in the early stages of a new crypto bull market, BCH could still do very well.
Since the cryptocurrency still looks cheap by historical comparison, it is certainly not too late to buy BCH.
Bitcoin Cash (BCH) Alternative to Consider: yPredict (YPRED)
Investors should always be vigilant in diversifying their cryptocurrency holdings.
One high-risk, high-reward investment strategy that some investors might want to consider is to get involved in cryptocurrency pre-sale.
This is where investors buy the tokens of emerging crypto projects to help finance their development.
These tokens almost always sell very cheap and there is a long history of pre-sales bringing huge exponential gains to early investors.
Many of these projects have fantastic teams behind them and a great vision to deliver a revolutionary crypto app/platform.
If an investor can identify such projects, the risk/reward ratio of his presale investment is very good.
The Cryptonews team spends a lot of time looking at pre-sale projects to help investors.
One such project that they believe has a lot of potential is an artificial intelligence (AI) driven web3 startup called yPredict.
The platform is best known for its first institutional grade financial price prediction system.
Observers believe that the tool, which is based on yPredict's internal deep data analysis, will help cryptocurrency investors discover the next cryptocurrency bomber with ease.
The best part is that yPredict's crypto price prediction system will remain free and open for all users to access – price predictions will be publicly available and you don't need to log in to view them. the white paper of the project Explain.
But yPredict offers investors much more than just cryptocurrency price predictions.
The project is "building a cutting-edge crypto research and trading platform that gives traders and investors access to dozens of signals, breakouts, pattern recognition, and AI-powered news/social sentiment features," the startup says. in yPredict Litepaper.
In fact, potential investors should also be on the lookout for the highly anticipated release of Alt_Pump_001, an AI model designed to predict the next pump in altcoins.
The platform is also building a number of other AI-powered tools, including an innovative content management system.
As AI continues to make waves in the crypto industry and beyond, projects like yPredict are expected to attract significant interest.
That's why many industry watchers are pointing to AI cryptocurrencies like yPredict's native $YPRED token, currently available via pre-sale, to be among the next best-performing coins.
The $YPRED presale has been flying through the stages.
from 7he As of July, the project has raised more than $2.8 million.
Investors need to move quickly to anticipate the next price hike when the presale hits $2.98 million.
Visit yPredict Here
Disclaimer: Crypto is a high-risk asset class. This article is provided for informational purposes and does not constitute investment advice. You could lose all your capital.