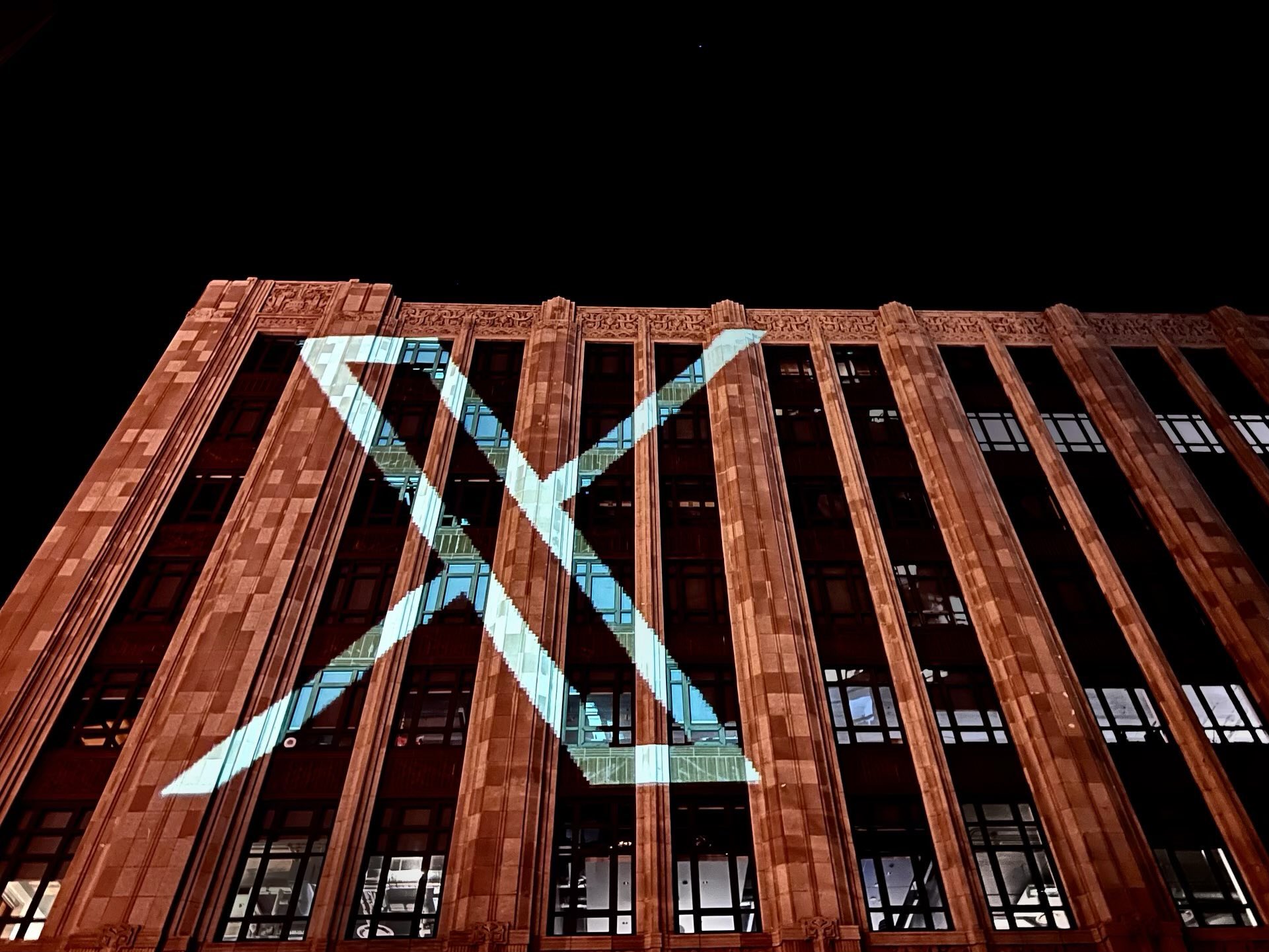 Twitter owner Elon Musk is in the process of implementing a long-awaited rebranding of the social media platform into a new super app called "X."
"X is the future state of unlimited interactivity, focused on audio, video, messaging, payments/banking, creating a global marketplace for ideas, goods, services and opportunities," Twitter CEO Linda Yaccarino said on Sunday.
"Powered by AI, X will connect us all in ways we are only beginning to imagine.
The platform has already ditched its iconic bird logo in favor of a new X logo
Given the new super app's emphasis on payments, the rebranding has sparked fresh speculation about what medium of exchange could be used within the platform.
Musk has previously said that he wants any future payments from Twitter to be built around fiat currencies first and foremost.
However, it has also said that it wants cryptographic functionality added at a later date.
Dozens of X wannabe tokens were created and launched on decentralized exchanges (DEXs) over the weekend, with some seeing impressive pumps and traders piling in, looking to turn a quick profit.
But only a few blue chip cryptocurrencies that have caught Musk's eye in the past are seriously crying out for a future Twitter payments platform.
Let's examine the candidates.
Dogecoin (DOGE)
Elon Musk has been a supporter of Dogecoin, the world's largest meme coin by market cap and a self-sustaining, decentralized cryptocurrency network in its own right, for over 2 years.
He has confirmed that he owns Dogecoin and references it frequently on Twitter, including replacing the old Twitter bird logo with the Dogecoin logo for a brief period earlier this year.
The rebrand has seen Dogecoin pump on Monday, despite the broader downside in the crypto market.
Dogecoin (DOGE) last traded around $0.074 and appears to be on the verge of breaking a key resistance area in the form of the 200-day moving average and a downtrend from the 2021 all-time highs.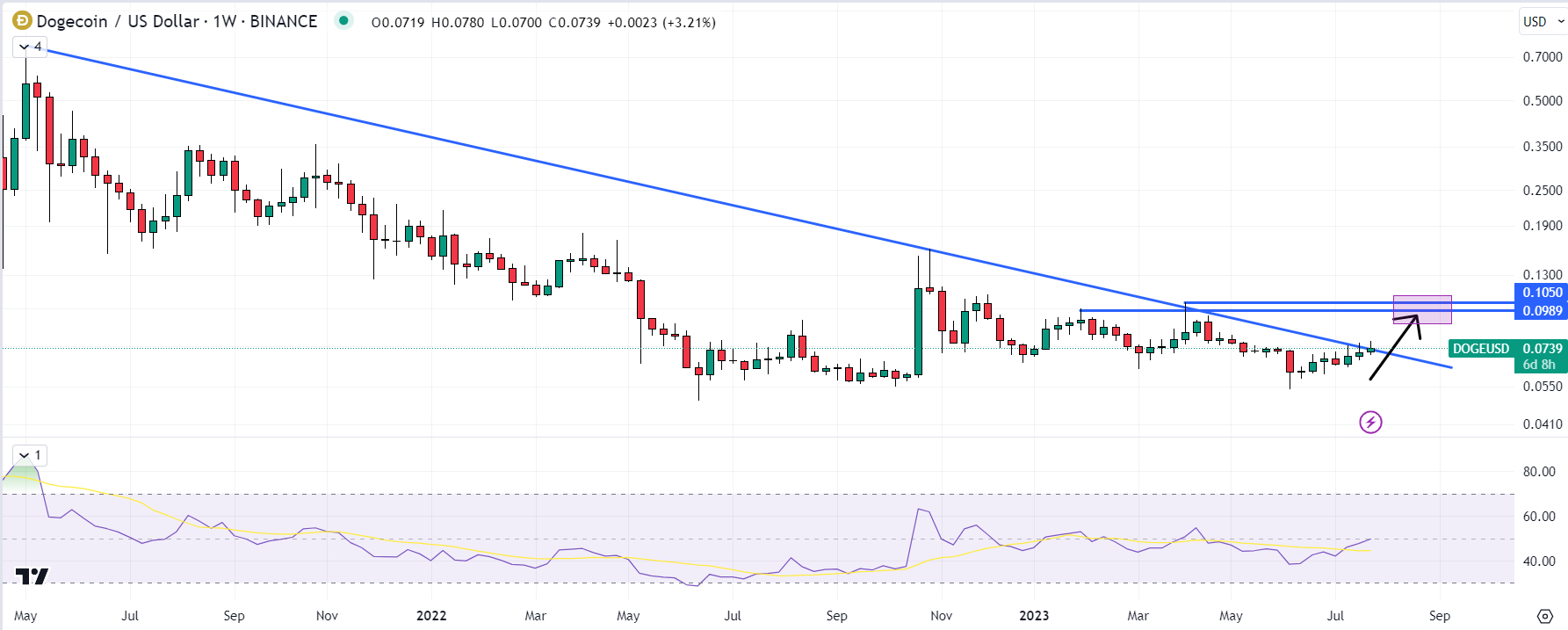 Speculation about integrating Dogecoin into a future Twitter payments platform has led to a huge surge for the token in the past, such as when Musk initially took over Twitter last October.
If the hype continues to mount and Dogecoin can break above key resistance, a retest of no reason resistance around $0.10 is possible soon.
Bitcoin (BTC)
Tesla, whose CEO is Elon Musk, used to accept payments in Bitcoin (BTC) and to this day maintains a sizeable position in BTC.
While the major electric car maker halted its acceptance of BTC payments due to concerns about the environmental impact of the Bitcoin mining network, Bitcoin is certainly on Musk's radar.
With BTC still being by far the preeminent cryptocurrency in the industry, there is a good chance that Bitcoin will be integrated into any future Twitter/X payments platform.
The bitcoin price was around $29,000, having dipped below recent ranges as traders profit amid a lack of new positive news and more negative reports on Binance, the world's largest cryptocurrency exchange, since the Wall Street Journal.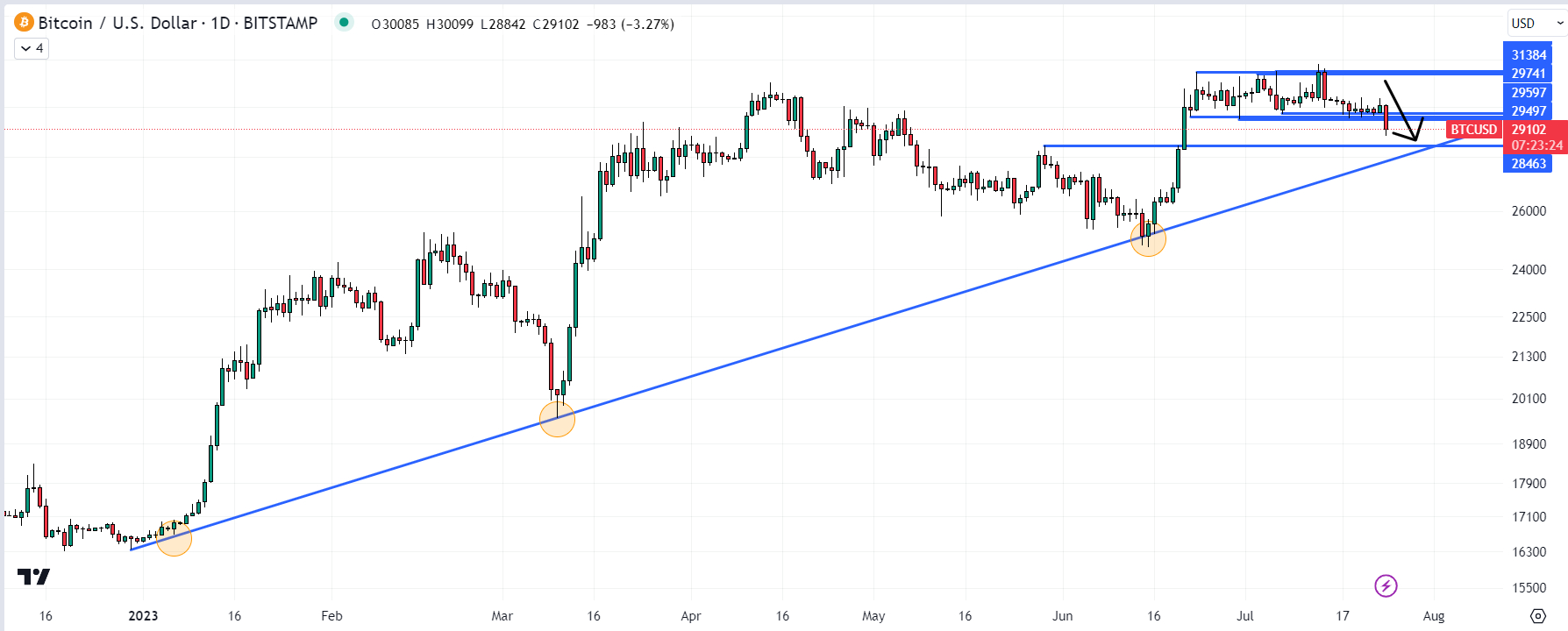 Alternate Coins to Consider
Dogecoin could go higher, but it is still a risk game.
Meanwhile, the broader cryptocurrency remains in a broader malaise that could last for the rest of the summer.
Traders looking to make a quick profit may want to seek out more speculative corners of the crypto market.
Here are some new crypto projects that have gotten a lot of hype recently and could generate decent returns for early investors.
BTC20 (BTC20)
Billed as "Bitcoin on Ethereum" and as an opportunity for members of the cryptocurrency community to buy bitcoin at its price of $1 in 2011, a new token called BTC20 has generated a lot of buzz.
The tokenomics is designed to mimic bitcoin: a BTC20 token supply cap of 21 million, with tokens to be issued to BTC20 participants (rather than miners) according to the same issuance schedule as bitcoin.
Some claim that BTC20 is even better than bitcoin, given that it runs on a green, low-power proof-of-stake Ethereum blockchain, rather than a power-hungry proof-of-work chain like bitcoin.
According to the project White paperBTC20 seeks to raise a minimum of $3 million, although this could increase to $6 million, through the sale of BTC20 tokens for $1 each.
With the project already raising $1.6 million in just a few days, merchants need to move quickly to secure their spot.
Buy BTC20 here
Wall Street Memes (WSM)
Wall Street Memes, one of the most popular retail investment communities on the internet, rose to fame in the 2021 stock meme craze and has recently been expanding its relevance in the cryptocurrency space with the pre-sale of its new $WSM token.
The pre-sale success of $WSM, which has raised nearly $17.5 million in just over a month, is hardly surprising given the size of the Wall Street Memes community.
Not only are there 523,000 hyper-engaged community members in your Instagram account wallstbetsthere are another 214k on Twitter and over 100k on his other two Instagram channels, wallstgonewild and wallsstbullsnft.
In total, Wall Street Memes has a strong social community of 1 million degens, which analysts believe almost guarantees the $WSM token will be listed on tier 1 crypto exchanges like Binance.
Since 30% of the token supply is retained for community rewards, airdrops to holders can reasonably be expected to be a large part of the ecosystem.
In fact, the first $WSM airdrop it is open now.
analysts They are already predicting great things for Wall Street memes when you trade on the exchanges and you can be a part of that.
Visit Wall Street Memes here
Disclaimer: Crypto is a high-risk asset class. This article is provided for informational purposes and does not constitute investment advice. You could lose all your capital.