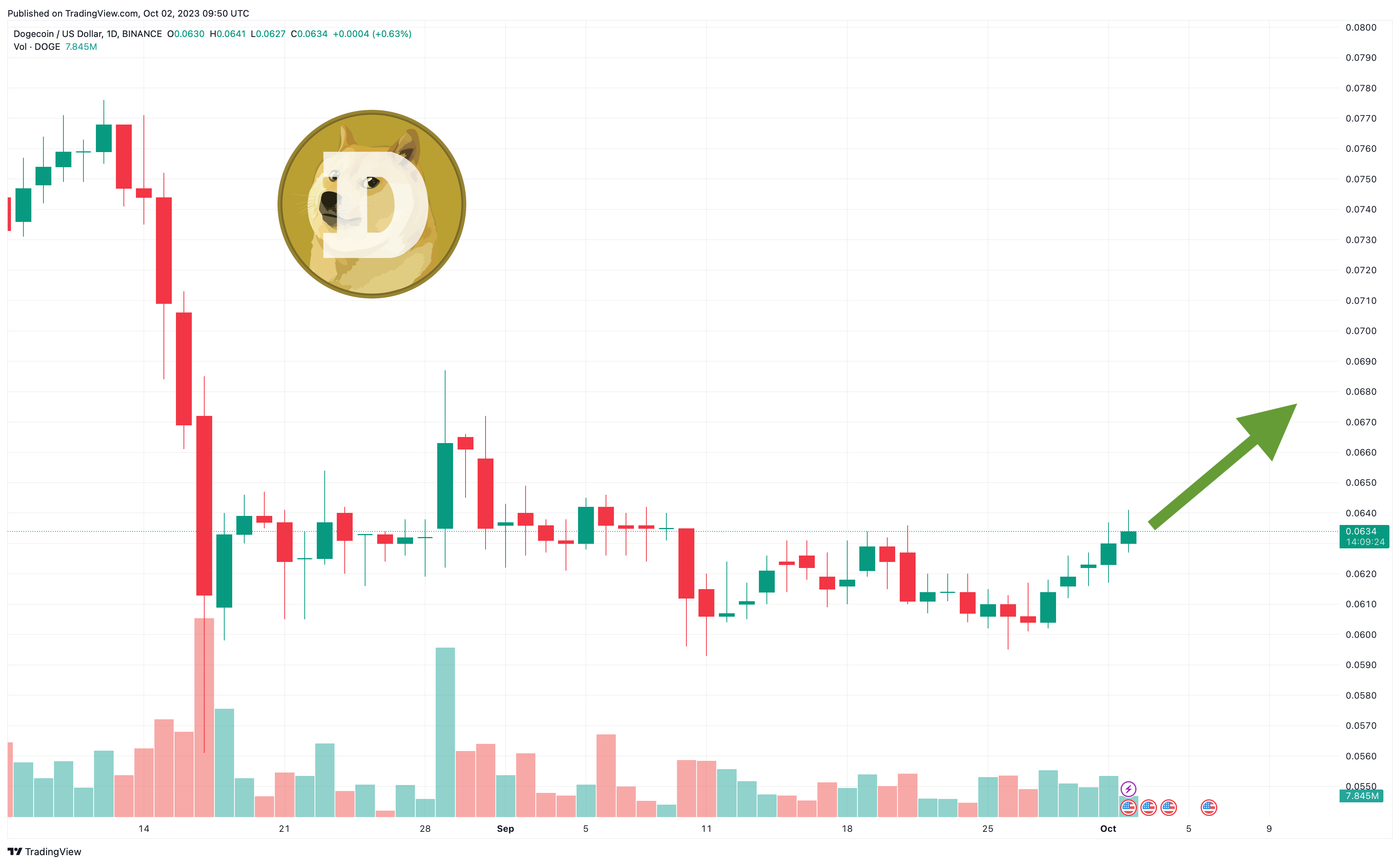 The price of Dogecoin (DOGE) has jumped by 2.5% in the past 24 hours, rising to $0.063922 as the cryptocurrency market as a whole gains by 3.5% today.
This move has enabled DOGE to reenter the top 10 of cryptocurrencies by market cap, with the meme token also up by 5% in a week, while remaning up by only 0.5% in the last 30 days.
Given just how oversold DOGE had been in recent weeks, today's rise may be the start of a sustained new rally, with a recovery in market sentiment (as we enter the last three months of the year) helping to push the meme coin up higher in the next few weeks.
Dogecoin Price Prediction as DOGE Becomes Top 10 Crypto in the World – Is $1 DOGE Possible in 2023?
As with most other major tokens, DOGE is showing plenty of momentum right now, with its indicator becoming more bullish after weeks of overselling.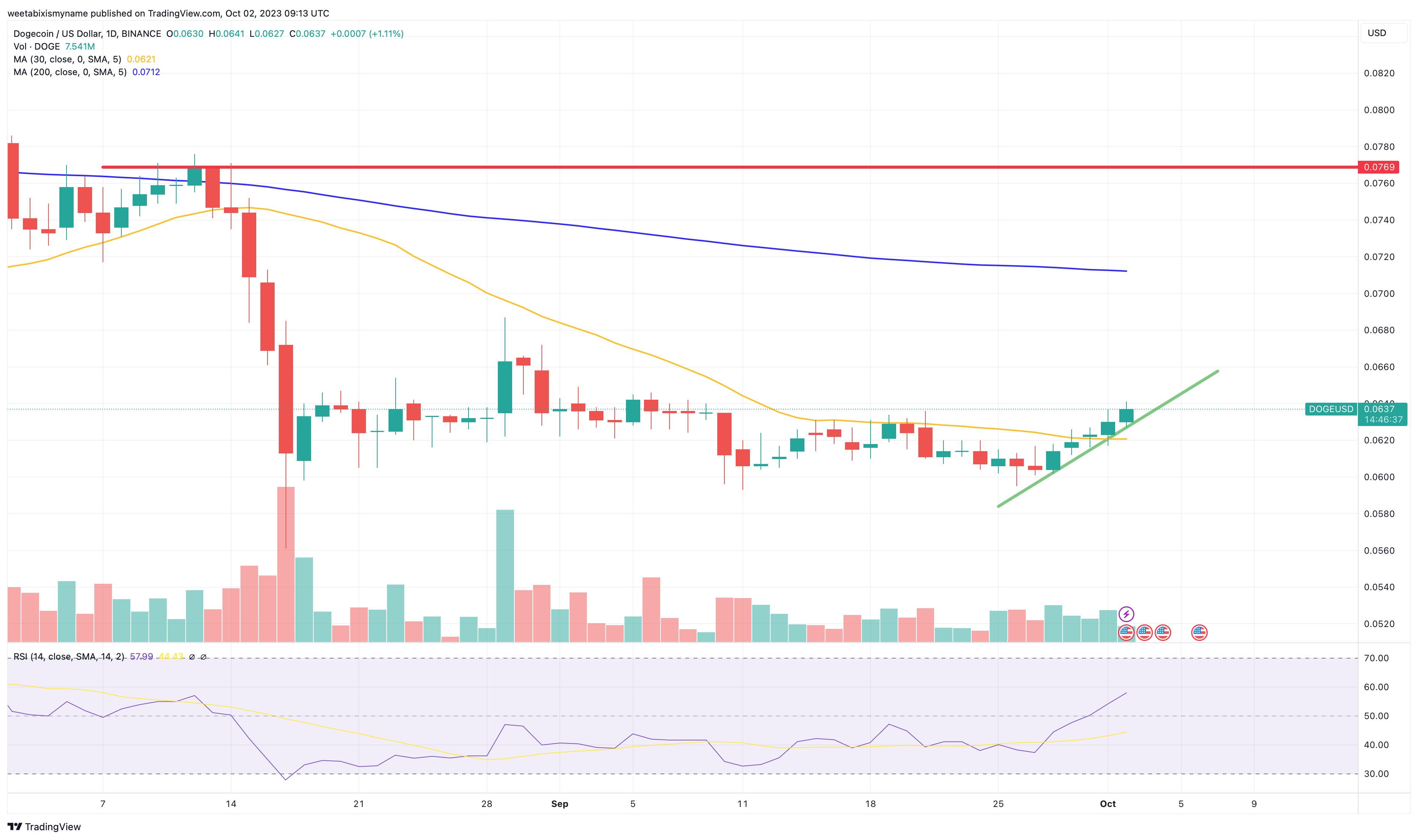 In particular, DOGE's relative strength index (purple) has climbed from under 40 a few days ago to 60 today, and it's looking very likely that it will continue climbing in the coming days, as the coin's price rises higher.
At the same time, DOGE's 30-day moving average (yellow) has flattened out and now looks like it will begin climbing again, with the indicator still having plenty of space left to rise towards the 200-day average (blue) until the coin becomes overbought.
Capping off the positive picture is the fact that DOGE's support level (green) has shot up in the past couple of days, suggesting that it had truly hit a bottom after weeks of decline.
There's fundamental reason as to why DOGE has rallied today, with the main cause simply being the fact that the entire market has rallied after a couple of bad months.
Bitcoin has led the charge, while a number of other altcoins have risen by higher percentages than DOGE, which has had relatively modest gain by comparison with others.
Still, DOGE had been due to rebound, and it's likely that today's positive reversal could be the beginning of a more sustained recovery, helped on by a gradual improvement in economic data.
As for whether DOGE can outperform other major tokens, this question will depend on if and when X (formerly Twitter) will ever introduce cryptocurrency – and particularly DOGE – payments.
There's no real indication that this will happen anytime soon, but with X forging ahead with its obtaining of money transmitter licences, it's clear that the social media company wants to move into digital finance.
And if DOGE is added in one way or another to X, then it would undoubtedly skyrocket, potentially hitting $0.10 in a matter of days, before moving back up towards $0.3 or higher.
New Altcoins With Higher Potential
Because DOGE is almost entirely reliant on Elon Musk and/or X for its gains, many traders may prefer to expand their portfolios into other altcoins and meme tokens, with a number of presale coins looking especially promising at the moment.
One of the most interesting new tokens in the market right now is Meme Kombat (MK), an Ethereum-based gaming platform where users will place bets on AI-generated fights between well-known meme characters.
Opened only a couple of weeks ago, Meme Kombat's presale has already raised over $200,000, providing some indication of the enthusiastic response to the new project from the wider cryptocurrency community.
What sets Meme Kombat apart from the crowd of new altcoins is its unique mix of battle gaming and gambling, with users rewarded in the form of MK tokens whenver they correctly bet on a certain outcome in the platform's AI-powered meme battles.
As a token, MK will have a very limited supply of only 12 million, making it a very deflationary cryptocurrency in the long run.
Aside from using it to bet on battles, users will also be able to stake the token, earning them a passive income.
50% of the token's overall supply has been reserved for the presale, while another 30% is going towards staking and battle rewards.
Meme Kombat has also held 10% of its supply for community rewards, thereby providing its followers with an incentive for engaging with the platform and championing it to other investors.
New buyers can join the sale by visiting the official Meme Kombat website, where 1 MK token costs $1.667.
It will sell at this price for the entirety of the sale, although it could easily rise much higher once the exciting new token lists on exchanges.
Visit Meme Kombat Now
Disclaimer: Crypto is a high-risk asset class. This article is provided for informational purposes and does not constitute investment advice. You could lose all of your capital.