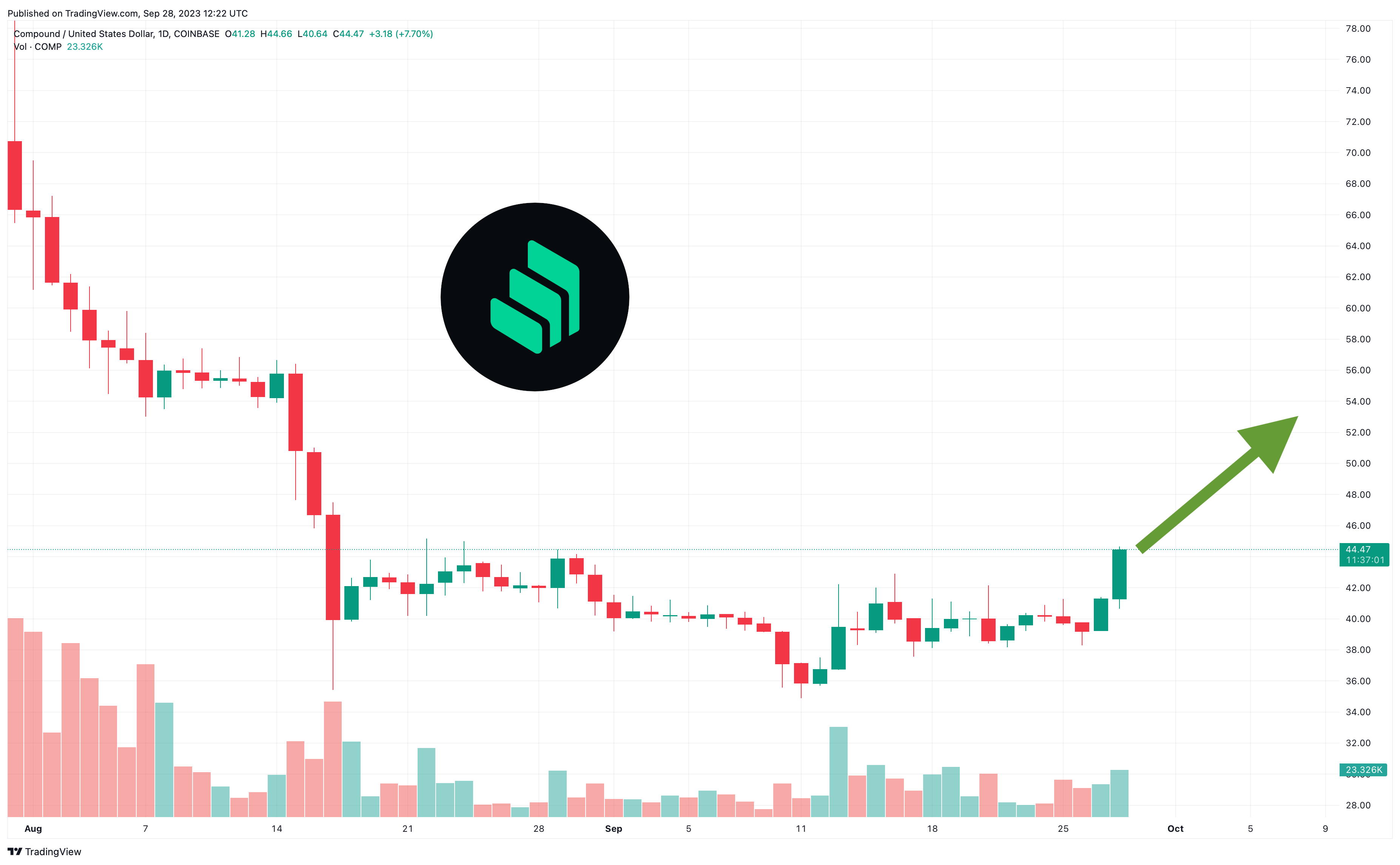 The price of Compound (COMP) has rallied strongly this morning, with the altcoin's ascent to $43.51 representing a 7.5% gain in the past 24 hours. 
COMP is also up by 11.5% in the past week and by 6% in the last 30 days, with the token also having gained by 39% since the beginning of the year. 
Its rallies have come after a period of growth for Compound, with the DeFi platform since a marked increase in wallets and transactions over the past month.
And wih COMP arguably still be undervalued, the altcoin could easily post more gains in the coming weeks.
COMP Price Prediction as Compound Retests September Highs – Will COMP 10x From Here?
COMP's chart looks very bullish right now, with the coin's indicators suggesting that it could be on the brink of a breakout.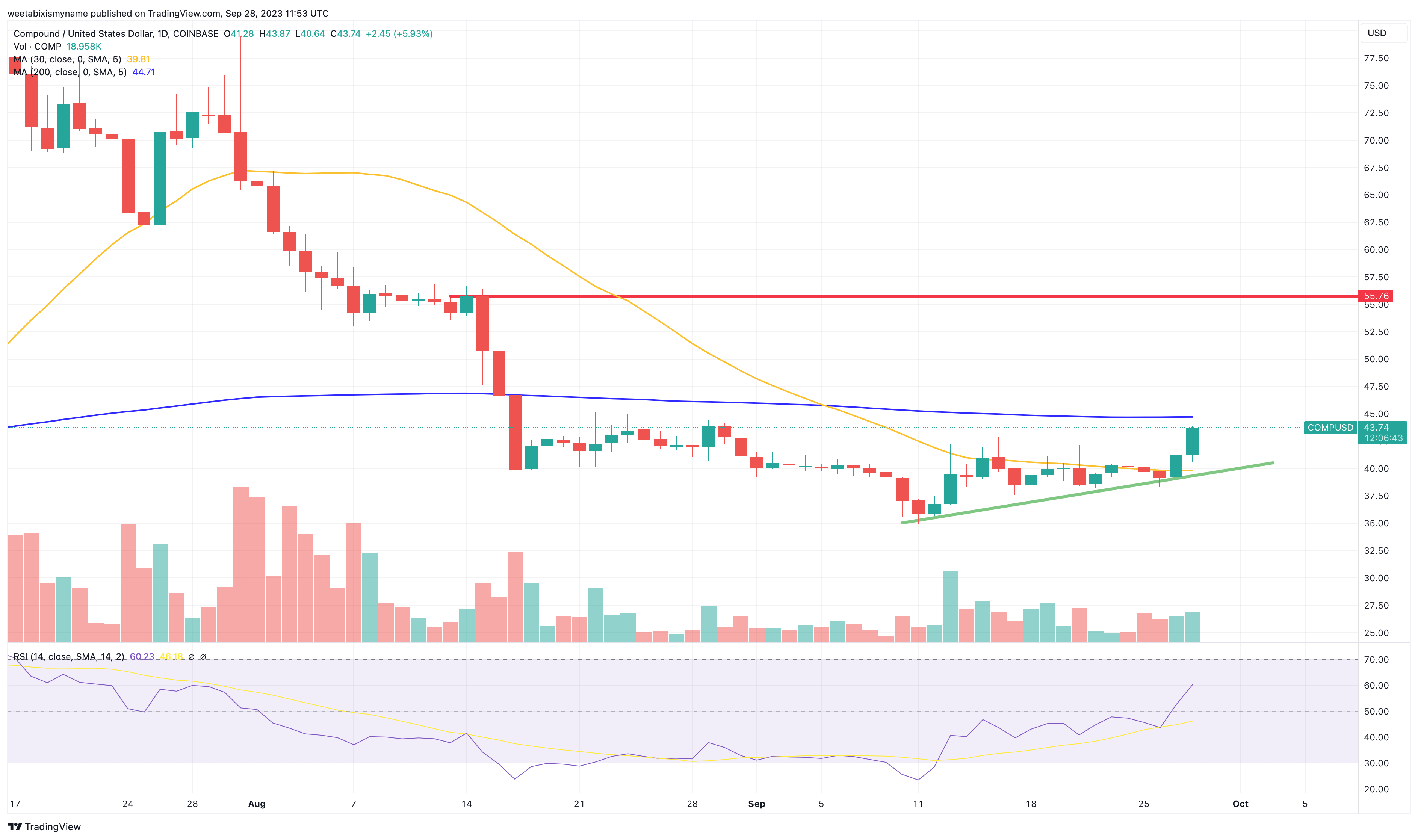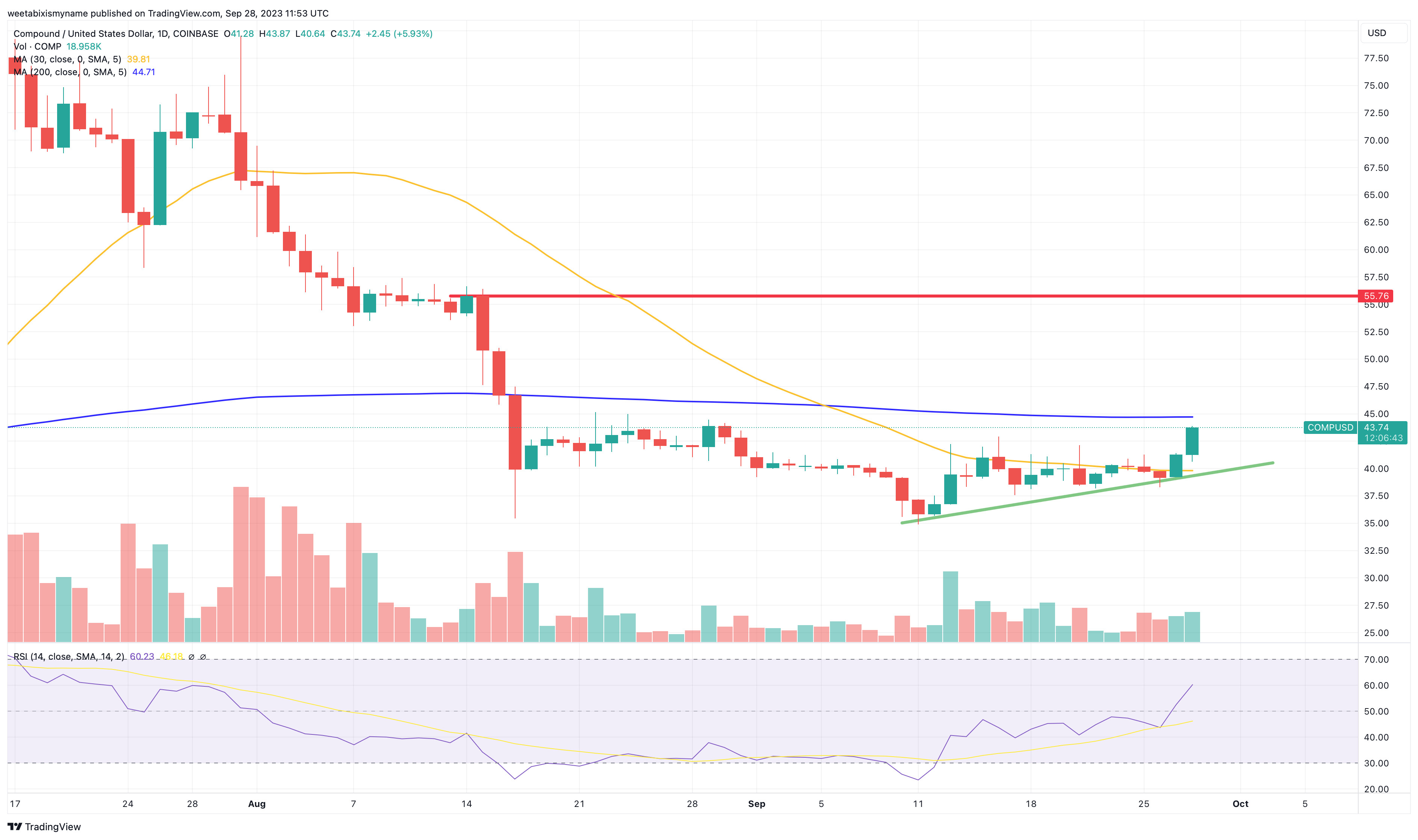 Most notably, its price is about to jump over its 200-day average (blue), forming a crossover that can signal further gains to come.
Likewise, COMP's relative strength index (purple) has surged above the 50 level and looks on course to reach 70 or even higher, meaning that traders should buy now before it rises further and becomes overbought.
That the altcoin had been due a big rally had been indicated by just how low the RSI had fallen between the middle of August and September, with the coin seemingly bottoming out on September 11.
There's no clear short-term trigger for COMP's rally today, which has made it one of the best-performing coins in the market.
Still, there's little doubt that Compound has been growing steadily as a DeFi platform, with DappRadar data showing that its uniqe active wallets have grown by 87% in the past 30 days, to just under 3,000.
Similarly, transactions have risen by 75% in the past month, another sign that Compound is attracting more usage as a borrowing and lending platform.
And given that COMP is Compound's native governance token, it's only natural that demand for the token will rise in parallel with growing usage of the DeFi platform.
Recent months have also seen Compound expand its offerings and markets, with the platform adding Arbitrum's native USDC market at the start of September.
This all helps boost usage, with COMP likely to continue rising in the next few weeks.
It could potentally reach $50 by the end of October, before seeing out 2023 at around $60 or $70.
New Platforms With New High-Potential Tokens
While COMP looks like it's in a good position to make up for lost ground, it's not the only altcoin with considerable potential at the moment.
There have been a number of promising new altcoins in the market this year, with several presale tokens going on to list strongly after successful raises (e.g. Wall Street Memes, which is currently up on its final presale price). 
One of the most interesting new presale coins in the market right now is TG.Casino (TGC), an Ethereum-based casino platform that harness the social power and reach of Telegram to offer a unique take on online gambling.
Promisingly, TG.Casino has already raised over $230,000 in its sale, which began only last week.
This provides some indication of just how enthusiastically the market has taken to the platform, which will use Telegram in order to tap into the numerous communities that already exist and operate on the instant-messaging app and social network.
This use of Telegram will provide it with a healthy supply of followers, supporters and users, while it also will also offer a slick and comprehensive casino experience, which will feature a wide variety of games and betting markets.
This mix of social network and online casino is a big part of the reason why it has been able to attract a healthy amount of funding so quickly, and it's this mix that will likely make TG.Casino a successful platforms once it goes live.
TGC will come with a total maximum supply of 100 million tokens, with 40% of this supply going to the presale, 20% going to staking rewards, 20% going to DEX liquidity, and 10% to gaming rewards (another 10% will go to marketing and affiliates).
Participating in the token's sale is simply a matter of going to the official TG.Casino website and connecting your crypto wallet, with 1 TGC costing $0.125 for the entirety of the sale.
Visit TG.Casino Now
Disclaimer: Crypto is a high-risk asset class. This article is provided for informational purposes and does not constitute investment advice. You could lose all of your capital.