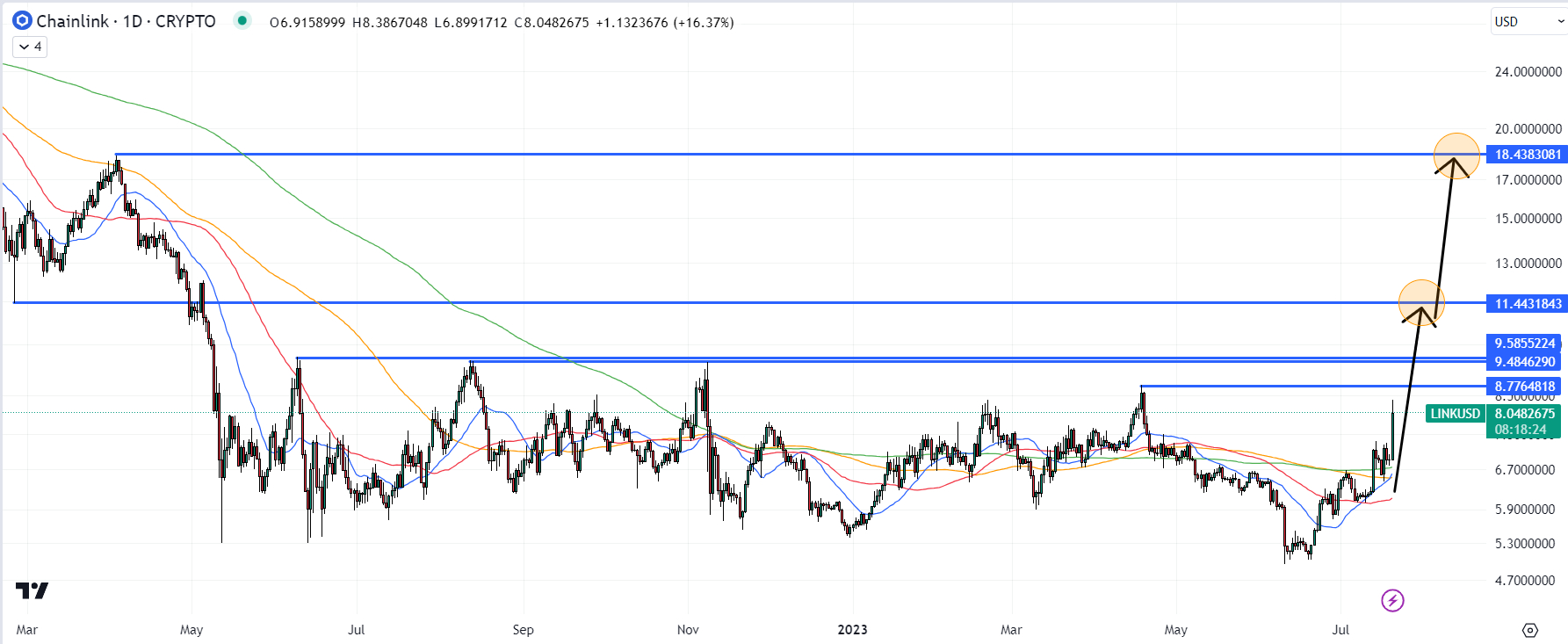 Altcoin rally is heating up, with blockchaincenter.com Altcoin Season Index hitting a new four-month high at 31, and Chainlink (LINK) is leading the charge on Thursday.
LINK rose 20% on Thursday to hit fresh three-month highs just north of $8 per token, at one point even coming close to hitting $8.50.
That means LINK is now trading convincingly north of all of its major moving averages.
It also means that LINK is now up an impressive 65% from its June lows below $5.0.
LINK is the cryptocurrency that powers Chainlink's decentralized Oracle network that enables smart contracts on various blockchain platforms to connect and interact with real-world data and external APIs.
While increased risk appetite towards altcoins in the wake of a US judge's favorable ruling towards XRP last week is likely the main driver of LINK's rally, positive ecosystem developments enhancing the utility of LINK are also playing an upward role.
On Monday, Chainlink's highly anticipated Cross-Chain Interoperability Protocol (CCIP) went live and observers are optimistic that it will herald a new era of interoperability in the still highly fragmented web3 world.
Are the whales accumulating?
The increasingly bullish outlook on the altcoin market plus positive developments in the Chainlink ecosystem seem to have encouraged the whales to double down on their bullish LINK bets.
At least, that's according to information presented by the popular Twitter account @lookonchain.
According to the chain detective, five whales have significantly raised the price of $LINK on Thursday in a series of transactions that the Twitter account details. here, here and here.
Whales are often considered "smart money", so their increased interest in Chainlink may be a sign that retail is about to pile up, driving the price even higher.
Price Prediction: What's Next for Chainlink (LINK)
Despite the recent bombshell, LINK still remains stuck within its 14-month range.
For things to turn truly bullish for LINK, the cryptocurrency will need to break north of resistance in the form of a triple top in 2022 at the $9.50 area.
That would open the door for quick gains towards the next major resistance around $11.50 and possibly $18.50.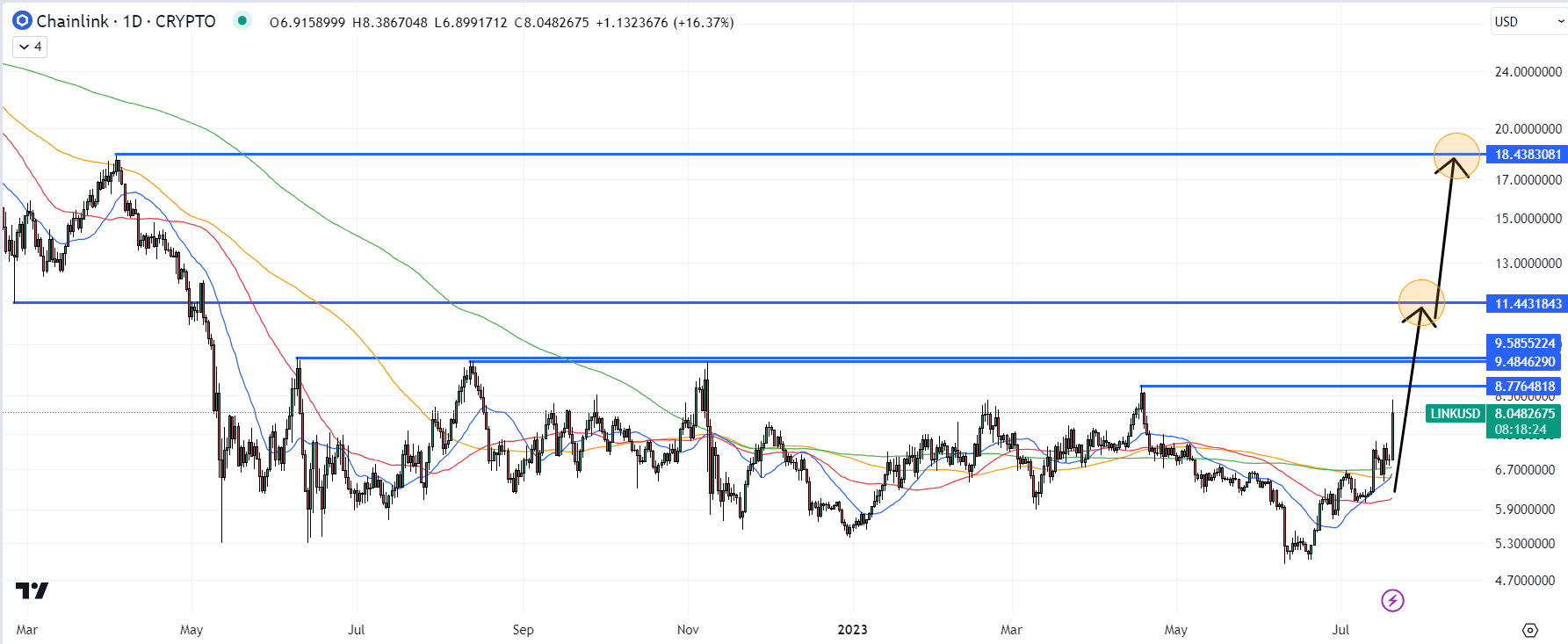 But as the outlook for altcoins improves, the chances of a bullish breakout increase.
LINK bulls should prepare for possible 2x gains in the coming months.
Chainlink (LINK) Alternatives to Consider
Investors should always be vigilant in diversifying their cryptocurrency holdings.
One high-risk, high-reward investment strategy that some investors might want to consider is to get involved in cryptocurrency pre-sale.
This is where investors buy the tokens of emerging crypto projects to help finance their development.
These tokens almost always sell very cheap and there is a long history of pre-sales bringing huge exponential gains to early investors.
Many of these projects have fantastic teams behind them and a great vision to deliver a revolutionary crypto app/platform.
If an investor can identify such projects, the risk/reward ratio of his presale investment is very good.
The Cryptonews team spends a lot of time looking at pre-sale projects to help investors.
Here is a list of 15 of what the project considers to be the best cryptocurrency pre-sales of 2023.
View all 15 Cryptocurrencies
Disclaimer: This section presents information from cryptocurrency industry players and is not part of the editorial content of Cryptonews.com.