On Tuesday, the trading value of Bitcoin dropped by nearly 2% to $28,912 amidst significant developments in the cryptocurrency landscape. 
The SEC's lawsuit against Richard Heart, the mastermind behind Hex, alleging the sale of unregistered securities worth $1 billion, has raised regulatory concerns. 
Moreover, the political arena adds further uncertainty, with a Republican contender vowing to halt President Biden's perceived "war on Bitcoin" if elected. 
Additionally, the IRS has introduced a new requirement mandating US taxpayers to report crypto staking rewards as gross income, further impacting the market sentiment and contributing to the recent price volatility.
SEC Files Lawsuit against Hex Creator for $1 Billion Unregistered Securities Sale
Today's BTC/USD fundamentals indicate a decrease in the value of Bitcoin as regulatory issues persist in the market. 
The recent SEC lawsuit against Richard Heart, the creator of Hex and Pulsechain, has raised concerns about possible crackdowns on cryptocurrency assets. 
The lawsuit accuses Heart of violating securities laws and misusing funds, resulting in a 20.36% drop in HEX price over the past three days.
Investors are uncertain and selling off in the broader market due to the SEC's reported stance on considering all crypto assets, except Bitcoin, as securities.
This has led to a fall in BTC/USD today, as market participants remain cautious about regulatory developments.
Republican Contender Vows to Stop President Biden's Alleged "War on Bitcoin"
The decline in BTC/USD is happening at the same time as debates about digital currencies in politics. 
Ron DeSantis, a Republican candidate in the upcoming 2024 presidential race, has promised to put a stop to what he sees as President Biden's "attacks on Bitcoin" and prohibit central bank digital currencies (CBDCs) if he becomes president.
The current stance on cryptocurrency regulation is causing uncertainty and could negatively impact investor sentiment. 
Furthermore, other candidates' positions on cryptocurrencies are also affecting the broader market sentiment. 
For example, Democratic candidate Robert F. Kennedy Jr. has expressed pro-crypto views. In light of these unclear political developments, BTC/USD is experiencing selling pressure.
Important Update for US Taxpayers: Crypto Staking Rewards Must be Reported as Gross Income to IRS
The IRS recently announced a new ruling (Revenue Ruling 2023-14) stating that American taxpayers are obligated to report any earnings from crypto staking as gross income during the year they gain control over the tokens.
If you receive cryptocurrency for validating transactions on proof-of-stake blockchains, either directly or through centralized exchanges, you need to include the fair market value of the rewards in your annual income. 
When you have "dominion" over the tokens, meaning you can sell, exchange, or dispose of them, that's considered when you gain control as an investor.
Previously, the IRS only subjected crypto-mining rewards to income and capital gains tax, without specific provisions for staking rewards. 
But now, the ruling is that crypto staking should be treated the same as stock dividends, though experts have mixed reactions. 
This new development coincides with increased regulatory scrutiny on crypto-staking service providers and exchanges by federal regulators like the Securities and Exchange Commission. 
After this new crypto tax rule, BTC/USD prices faced extra selling pressure.
Bitcoin Price Prediction 
After conducting technical analysis, it was observed that Bitcoin had been trading within a limited range. It faced resistance close to the $29,500 mark and found support around $29,000.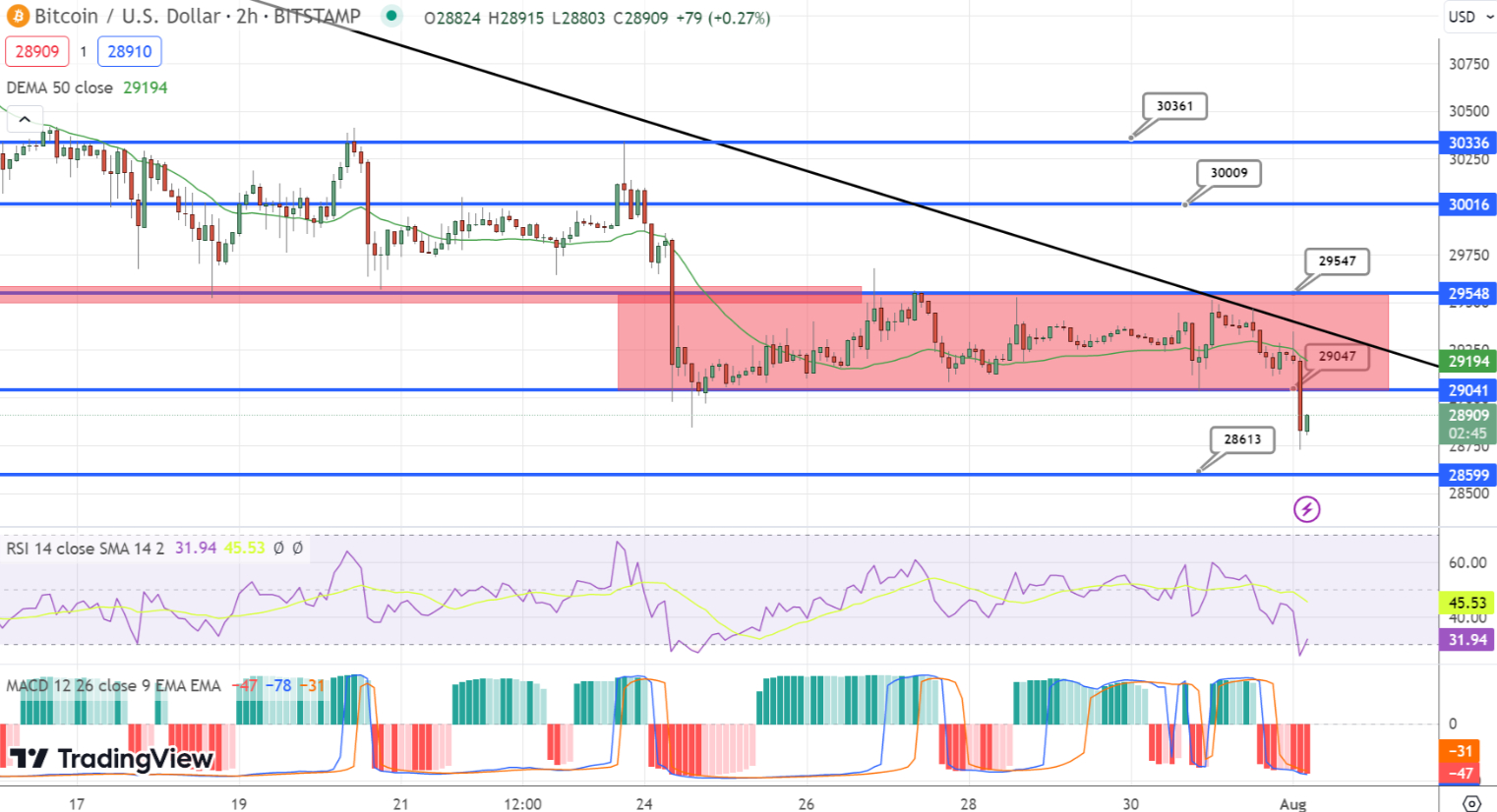 There are a number of technical indicators that point to a negative outlook for Bitcoin, such as the relative strength index (RSI) and the moving average convergence divergence (MACD). 
However, the recent bearish movement has seen the price drop below 29,000, which could lead to further selling and a potential drop to $28,613. 
On the brighter side, Bitcoin may encounter resistance around $29000 or $29,500 if it continues to rise.
Top 15 Cryptocurrencies to Watch in 2023
Stay informed about the latest initial coin offering (ICO) projects and alternative cryptocurrencies by regularly exploring our carefully selected collection of the top 15 digital assets to watch in 2023.
This thoughtfully curated list has been compiled by industry experts from Industry Talk and Cryptonews, ensuring that you receive professional recommendations and valuable insights.
Stay ahead of the game and discover the potential of these cryptocurrencies as you navigate the ever-changing world of digital assets.
Find The Best Price to Buy/Sell Cryptocurrency

Disclaimer: Cryptocurrency projects endorsed in this article are not the financial advice of the publishing author or publication – cryptocurrencies are highly volatile investments with considerable risk, always do your own research