The price of Binance Coin (BNB) has climbed by almost 2% in the past 24 hours, with its move to $212.46 coming as the wider crypto market rises by a more modest 1%.
BNB is now down by 2.5% in the past week and by 2% in the last 30 days, with the exchange token also falling by 13.5% since the beginning of the year.
This drop has come in the context of numerous regulatory challenges for Binance, which has been sued by both the CFTC and SEC in the United States, while it has also exited a number of markets (mainly in Europe) after failing to secure licenses.
As such, BNB may struggle to see substantial gains this year, at least until Binance's regulatory situation becomes a little clearer.
BNB Price Prediction: BNB Gains 2% – Will Binance Coin Dominate the Month?
BNB's indicators remain in an oversold position, even if the token has seen some improvements in the past few days.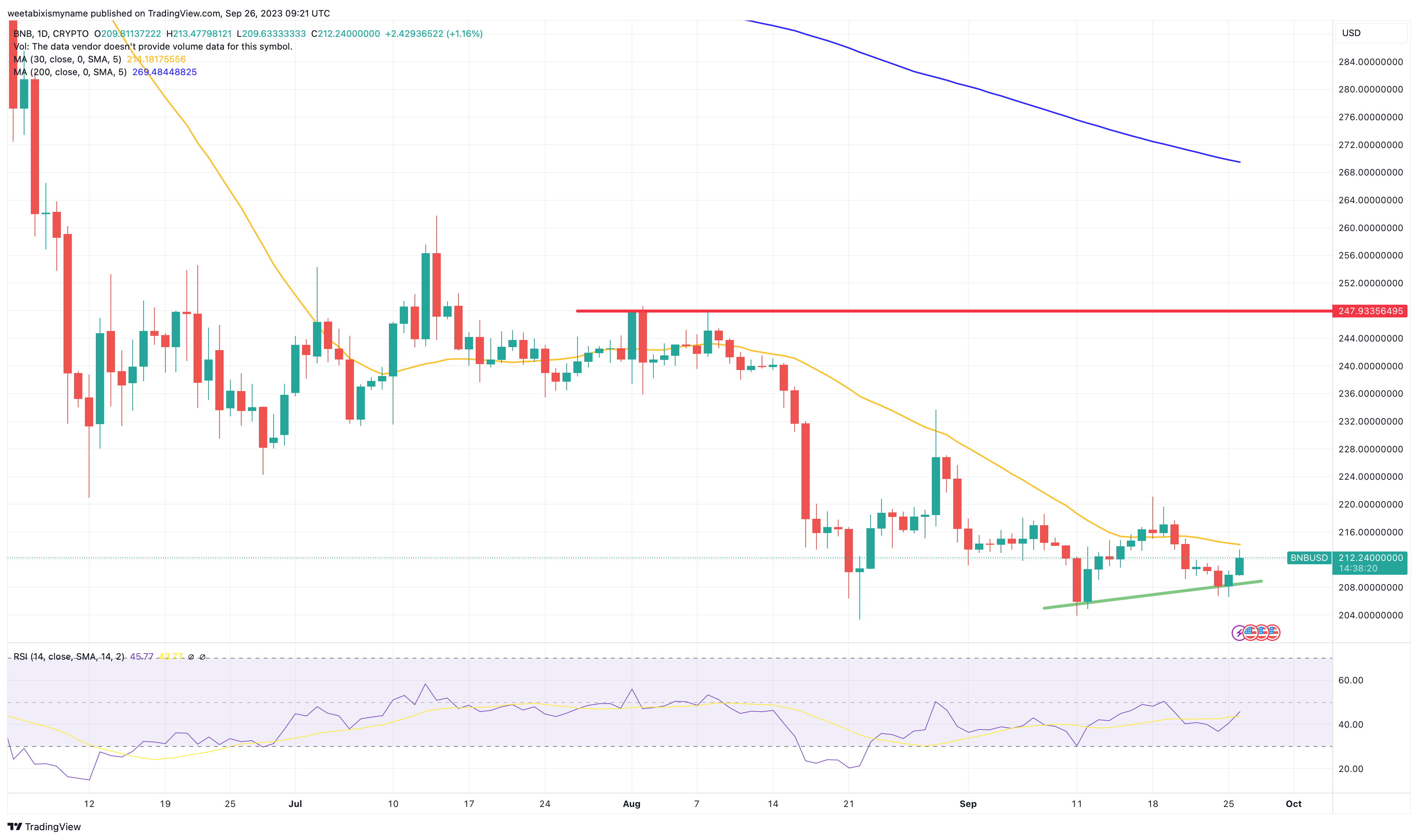 Its relative strength index (purple) has begun rising towards 50 after dropping to 40 a few days ago, suggesting that the token may begin gaining some momentum and posting further gains.
That BNB should make a concerted recovery is also indicated by the coin's 30-day moving average (yellow), which has languished at some distance below its 200-day average (blue) since the beginning of the summer.
Normally, such overselling would indicate that a given asset would have to recover sooner or later, assuming that said asset were fundamentally sound.
However, in BNB's case its entirely arguable that its fundamentals have been permanently weakened as a result of the SEC and CFTC suing Binance, on a variety of counts (e.g. offering unregistered securities, circumventing controls).
To make matters worse, Binance has also exited a number of markets this year, while it has also seen a number of high-profile exits leave their positions.
This all suggests an exchange in trouble, meaning that it would take a strong dose of optimism to conclude that Binance will make it through its current issues unscathed.
Indeed, FTX seemed in a much healthier position that Binance before it collapsed in November 2022, so it would be premature to conclude that the latter is going to remain the biggest exchange in the market over the longer term.
For this reason, BNB may struggle to maintain its current level over the next few months, with the token potentially making it to $240 in the short term before possibly losing further ground in the following weeks.
Higher Potential Altcoins
Because BNB will need to wait for Binance to emerge from its current issues, many traders and investors may prefer to look towards other altcoins in the meantime, with various presale tokens currently promising gains in the face of bearish conditions.
One of the most promising new presale coins in the market right now is Meme Kombat (MK), an ERC-20 token that will enable holders to bet on the outcomes of AI-generated battles between various popular memes.
Meme Kombat began the presale for its native $MK token last week, with the new project already beginning to attract plenty of interest.
Investors appear to be drawn in by the platform's novel proposition, which will enable users to win prizes (in the form of $MK) for betting correctly on  the results of meme-versus-meme battles.
Players will be able to bet against each other, or bet against the platform itself, while they will also be able to use MK for staking, something which will earn them a passive income and enable them to place larger bets.
As a token, MK will have a total maximum supply of 12 million, with 50% going to its presale, 30% being kept aside for staking and battle rewards, and 10% being allocated for community rewards (with another 10% going to liquidity).
Meme Kombat's use of popular memes is likely to help it market and draw attention to itself, while its use of community rewards will help it maintain steady engagement over time.
Interested investors can join the presale by visiting the official Meme Kombat website and connecting their software wallets, with 1 MK being sold at $1.667.
This price is likely to rise substantially once the token lists on exchanges, with MK having all the ingredients for a successful sale and listing.
Visit Meme Kombat Now
Disclaimer: Crypto is a high-risk asset class. This article is provided for informational purposes and does not constitute investment advice. You could lose all of your capital.