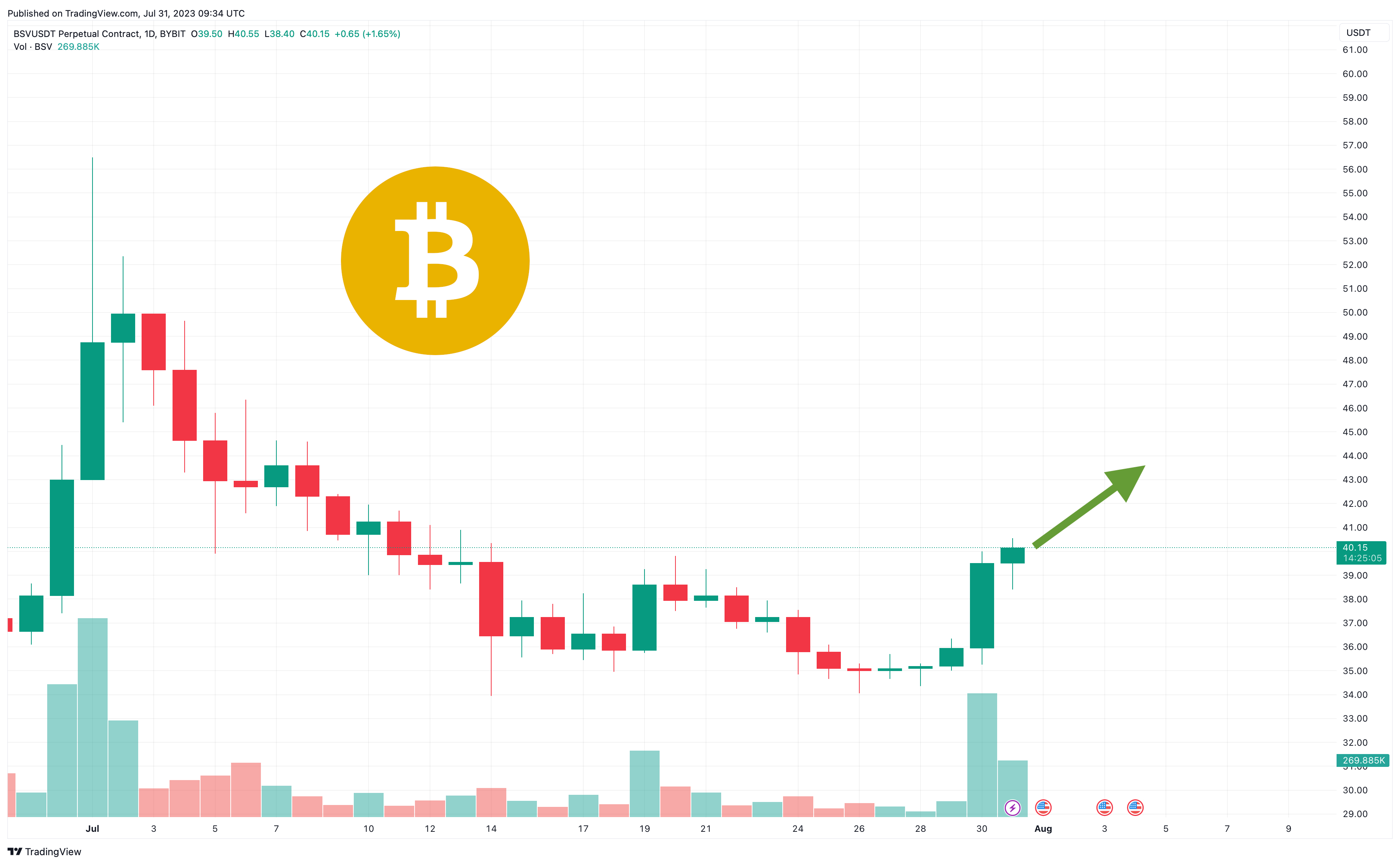 The price of Bitcoin SV (BSV) has risen by 11% in the past 24 hours, with its jump to $39.83 making it one of the best-performing top-100 coins in the market today.
Its current price also represents 7% gain in the past week, yet BSV remains down by 23% in the last 30 days, as well down by 3.5% since the beginning of the year.
This slippage since January 1 stands in contrast to the sizable gains made by such major cryptocurrencies as Ethereum (ETH) and Bitcoin (BTC), with the latter sitting on a 77% gain since the beginning of 2023.
Such a difference arguably puts paid to any notion that BSV may overtake or outperform BTC in the medium- or long-term, with BSV possibly being harmed by the fact that co-founder Craig S. Wright last week lost an appeal he had filed against Bitcoin podcaster Peter McCormack. 
Bitcoin SV Price Prediction as BSV Becomes Best Performing Coin on the Market – Can BSV Overtake Bitcoin?
There's no doubt that BSV looks pretty strong right now, with its technical indicators firing off healthily and providing the impression that the altcoin may continue rising for the next one or two days.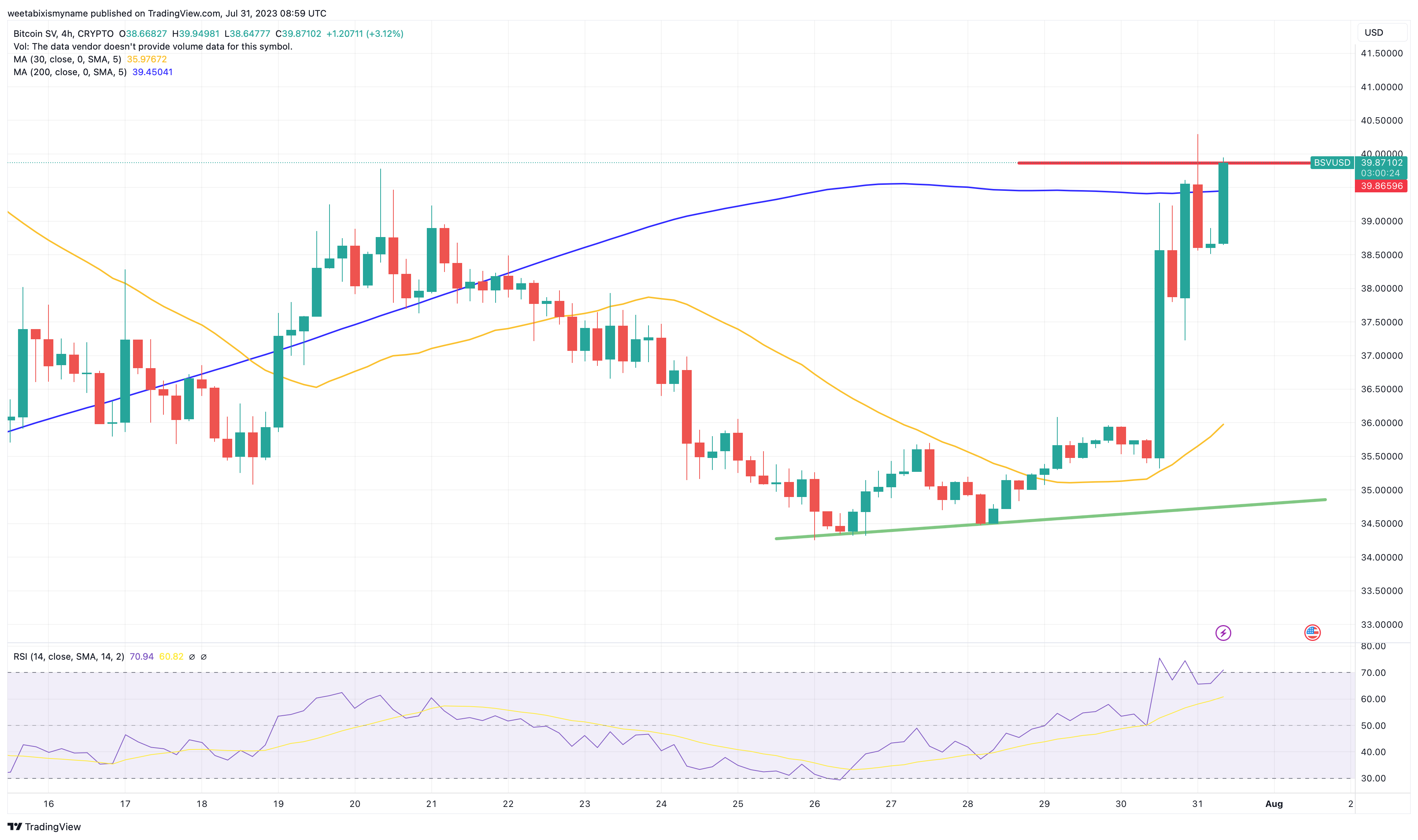 BSV's relative strength index (purple) has shot up to 70, and what's encouraging is that it rose back up to 70 after dipping briefly yesterday, suggesting that its momentum is likely to continue in the near term.
Supporting this view is the fact that the coin's 30-day moving average (yellow) has begun rising steeply, but it still has plenty of time left before it hits the 200-day average (blue), meaning that the rally could continue for several days yet.
Indeed, BSV has been undervalued and oversold for a while now, so it's credible to suggest that it's overdue some kind of sustained rally.
On the other hand, it's hard to say what exactly on a fundamental level may be causing BSV to rally at the moment, with the only positive piece of news being that it's expecting to undergo its halving on April 1, 2023.
This date is still some way away, however, while it's also worth pointing out that BSV declined quite substantially after its previous halving in 2020, in contrast to BTC.
The only other recent piece of BSV news is that co-founder Craig S. Wright – who infamously claims to be Satoshi Nakamoto – lost his appeal against Peter McCormack, whom he had sued in the UK for libel after McCormack referred to the Australian entrepreneur as a 'fraud.'
Wright had appealed against the fact that the court had awarded him only nominal damages of £1, due to the finding that the entrepreneur had presented a "deliberately false case and evidence on serious harm."
However, Wright has lost his appeal to increase his damages, with the Court of Appeal siding with the original ruling.
This may potentially (further) damage Bitcoin SV's reputation in the eyes of the wider cryptocurrency community, and in turn potentially lower its price over the longer term.
As such, BSV may not do much beyond its current rally, with the altcoin potentially on track to end 2023 with a price that's no higher (or lower) than it was at the end of 2022.
Newer Altcoins With More Potential
Given the uncertainty surrounding BSV and its long-term future, many investors may be advised to look towards other altcoins for gains in the near and more distant future.
One particularly good source of gains this year has come from presale tokens, which can rally significantly once they list on trading platforms.
And possibly the likeliest presale token at the moment to rally upon listing is Wall Street Memes (WSM), a new ERC-20 coin that has already raised more than $18.8 million in its presale, which began last month.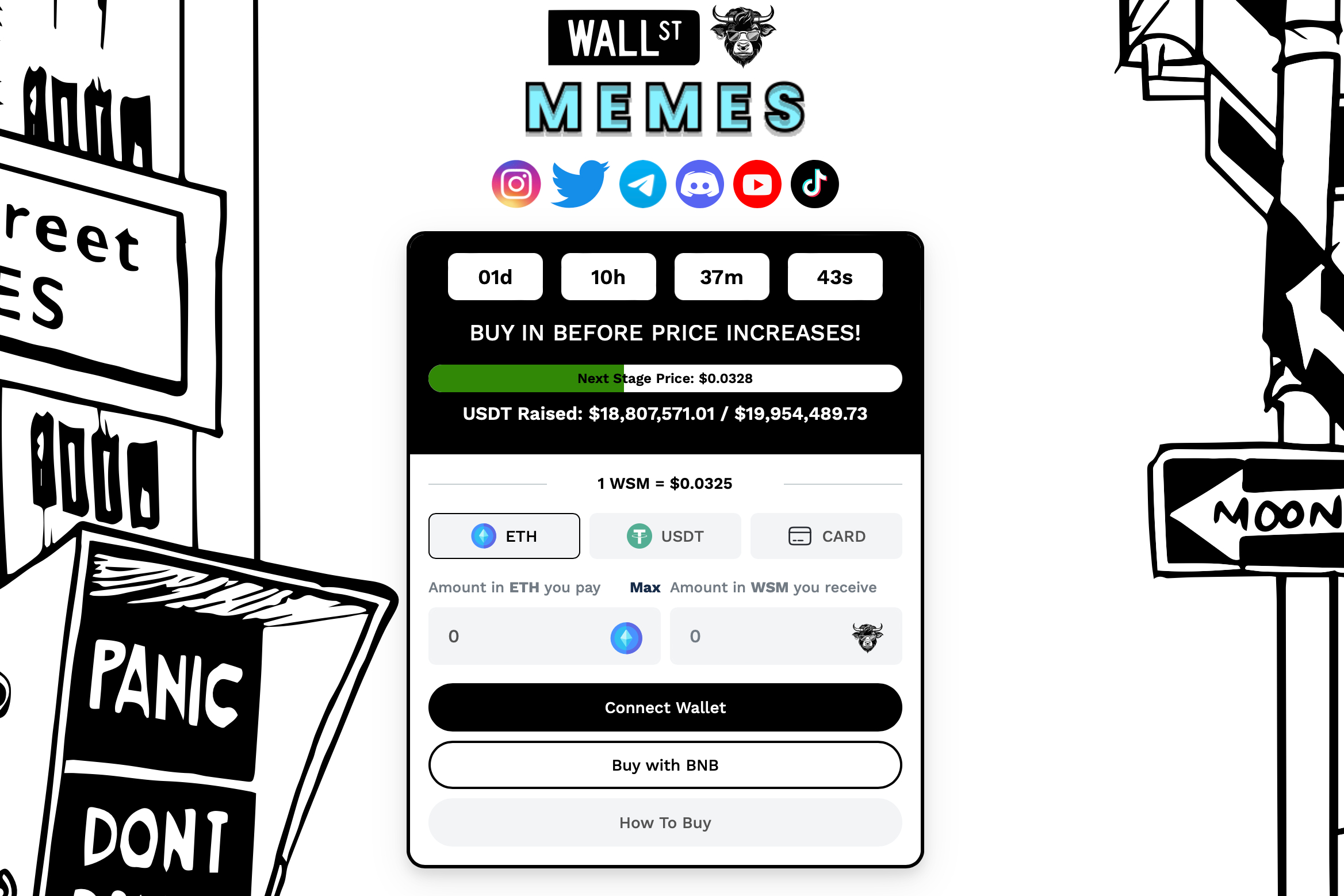 With its roots in the meme stocks movement that instigated the 2021 GameStop rally, Wall Street Memes already has a substantial commuinity behind it, as indicated by its success in raising nearly $19 million in just over a month.
Indeed, its Twitter profile now counts over 256,000 followers, with its online following likely to help it sustain price increases and rallies well beyond its listing on exchanges.
Its supply is capped two billion WSM, with the presale receiving 50% of this and 30% going to community rewards, something which help it to incentivize greater community involvement.
New buyers can get involved in the WSM sale by visiting the official Wall Street Memes website, with 1 WSM currently selling at $0.0325.
This will reach $0.0337 by the end of the presale, while WSM will be added to exchanges in the following days and weeks, at which point it could rise rapidly.
Visit Wall Street Memes Now
Disclaimer: Crypto is a high-risk asset class. This article is provided for informational purposes and does not constitute investment advice. You could lose all of your capital.