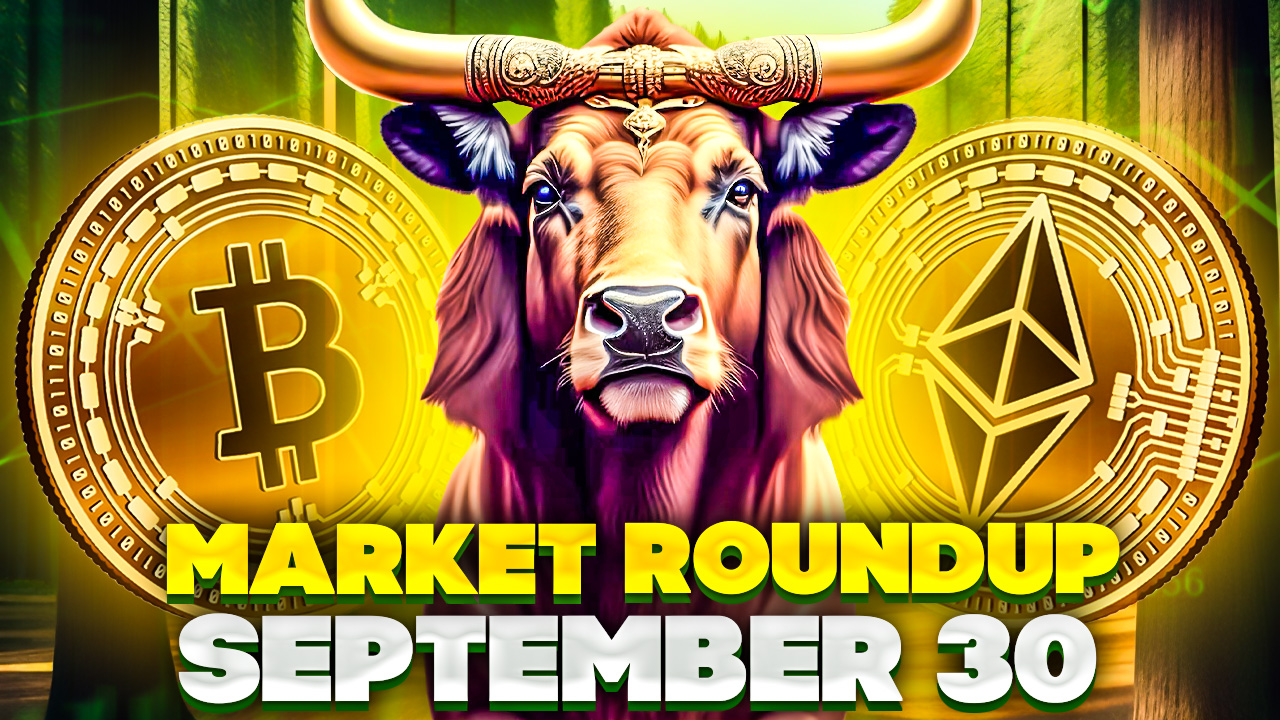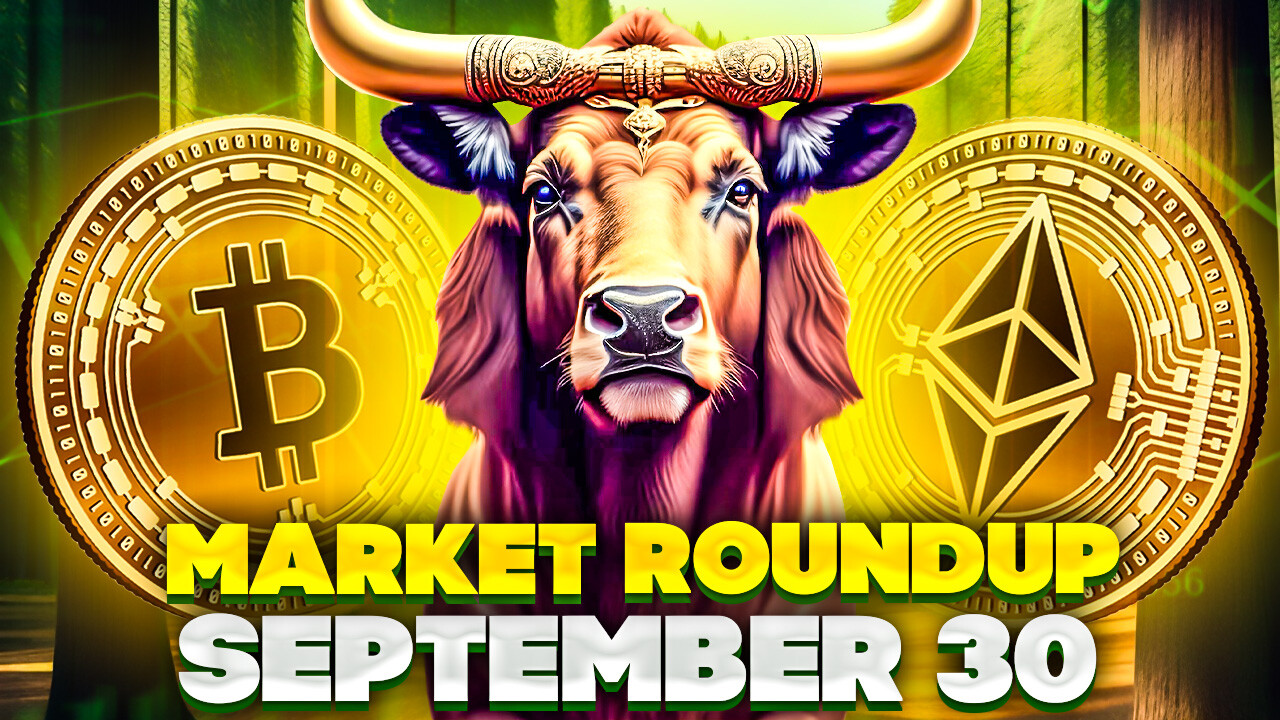 As Bitcoin stabilizes around the $26,800 mark, a myriad of investors and enthusiasts are casting their analytical gaze on its future price trajectory. The renowned cryptocurrency, often heralded as digital gold, presents both opportunities and challenges in predicting its next move. 
This update aims to delve into an in-depth analysis of Bitcoin's current stance and provide informed price predictions for potential and existing investors.
Bitcoin Price 
Bitcoin, currently positioned at a pivotal $26,800 level, has many investors deliberating on the opportune time to make their move. 
Analyzing the data for September 28, Bitcoin is trading for $26,938. Within the span of the last 24 hours, it has transacted a substantial volume of approximately $8.47 billion, marking a modest decrease of nearly 1%. 
In the broader cryptocurrency market landscape, Bitcoin steadfastly retains its paramount #1 ranking on CoinMarketCap. Its live market valuation stands impressively at around $525.29 billion. 
In terms of supply metrics, the market currently hosts about 19.5 million BTC coins in active circulation, with an upper limit set firmly at 21 million coins.
Bitcoin Price Prediction 
Delving into the technical details, based on a 4-hour chart perspective, Bitcoin's pivot point is noted at $26,629. In the upward trajectory, resistance is first encountered at $27,116, with subsequent barriers at $27,972 and $29,305. 
Conversely, the digital asset finds its immediate floor at $25,767, followed by deeper support zones at $25,277 and $23,966.
From an indicator standpoint, the Relative Strength Index (RSI) positions itself at 58, conveying a mildly bullish undertone, especially as an RSI reading above 50 traditionally points to bullish sentiment. 
The MACD, another vital technical indicator, registers a reading of 9, juxtaposed against a signal value of 139. Additionally, Bitcoin's current stance just above the 50 EMA (50-Day Exponential Moving Average) at $26,636 further solidifies its short-term bullish trend.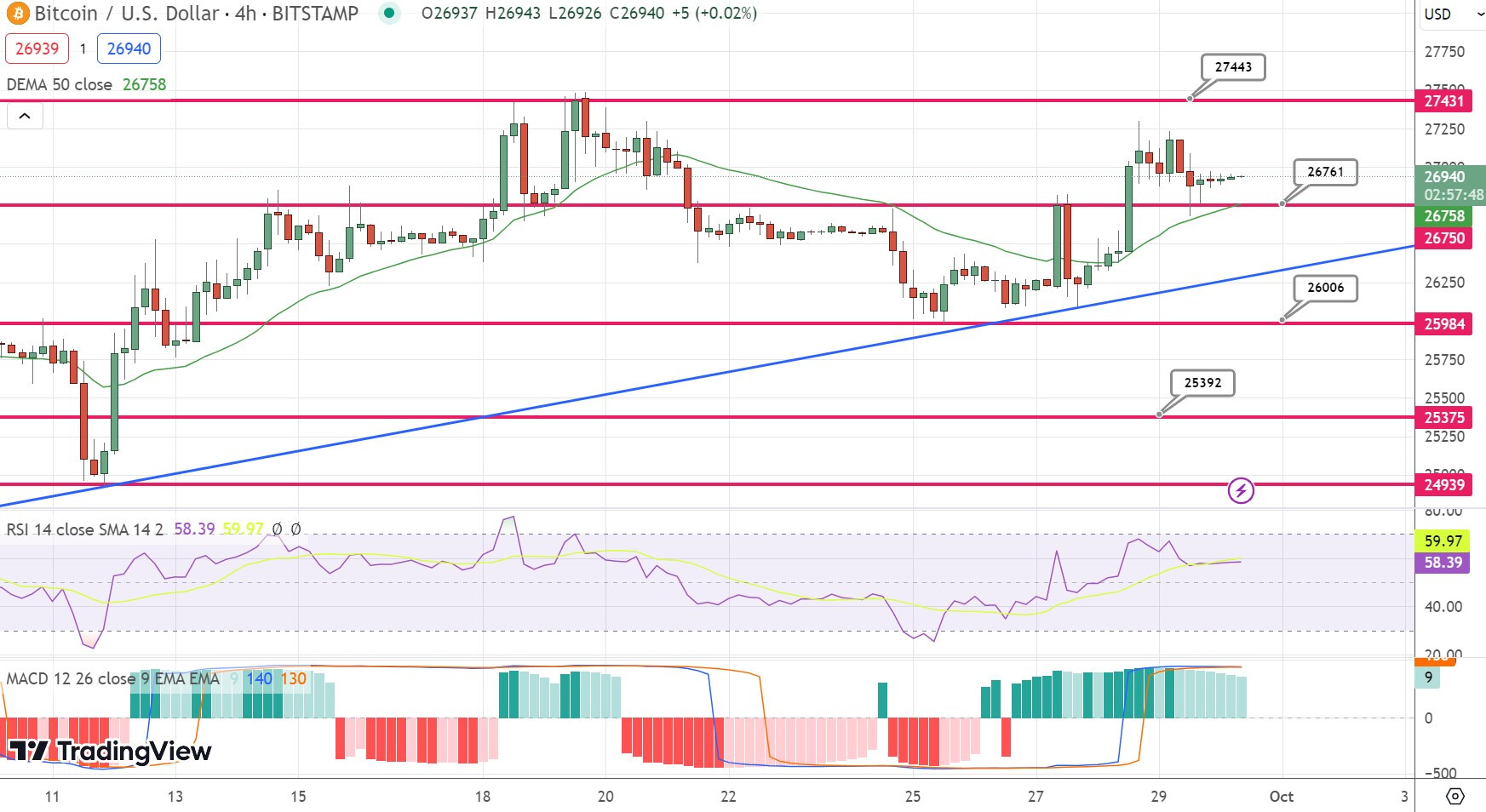 A salient feature emerging from the charts is the presence of a downward trendline resistance hovering around the $27,250 mark. 
The implication here is clear: a potential breakthrough above this delineated boundary could herald a renewed bullish rally for Bitcoin.
Based on the prevailing technical nuances, Bitcoin's current posture advises a strategic buy stance above the $26,600 mark, or a sell directive beneath it.  
As always, potential investors are encouraged to exercise due diligence and perhaps seek expert financial counsel before making definitive investment choices.
Explore the Best Alternative Coins with Bitcoin Minetrix (BTCMTX)
Bitcoin Minetrix ($BTCMTX) is a new cryptocurrency presale contender that has introduced a revolutionary stake-to-mine approach. Investors have already contributed around $235,000 to the project, with an opportunity to earn high annual percentage yields (APY) by staking tokens and participating in cloud mining to receive BTC rewards. 
One of the unique features of Bitcoin Minetrix is that investors can enter the program with a low entry point of just $10, along with advanced security features that set it apart from other cloud mining initiatives. 
BTCMTX token holders can earn credits for cloud mining by staking their tokens, which democratizes the mining process and allows anyone to earn BTC rewards without the high costs and energy requirements of traditional mining operations. 
The presale is ongoing and BTCMTX tokens can be purchased at an initial price of $0.011, which is set to rise to $0.0119 by the end of the presale.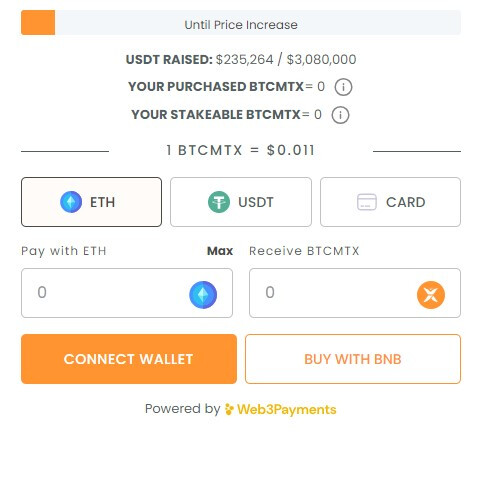 The presale will make 70% (2.8 billion) of the token supply available, with the total supply capped at 4 billion. The soft cap is set at $15.6 million for 1.4 billion tokens, and if the presale manages to sell out, the hard cap will be $32 million. 
To learn more about securing your investment in this innovative project, you can read our detailed guide on How to Buy Bitcoin Minetrix.
Visit Bitcoin Minetrix
Top 15 Cryptocurrencies to Watch in 2023
Stay up-to-date with the world of digital assets by exploring our handpicked collection of the best 15 alternative cryptocurrencies and ICO projects to keep an eye on in 2023. 
Our list has been curated by professionals from Industry Talk and Cryptonews, ensuring expert advice and critical insights for your cryptocurrency investments. 
Take advantage of this opportunity to discover the potential of these digital assets and keep yourself informed.
Find The Best Price to Buy/Sell Cryptocurrency


Disclaimer: Cryptocurrency projects endorsed in this article are not the financial advice of the publishing author or publication – cryptocurrencies are highly volatile investments with considerable risk, always do your own research.