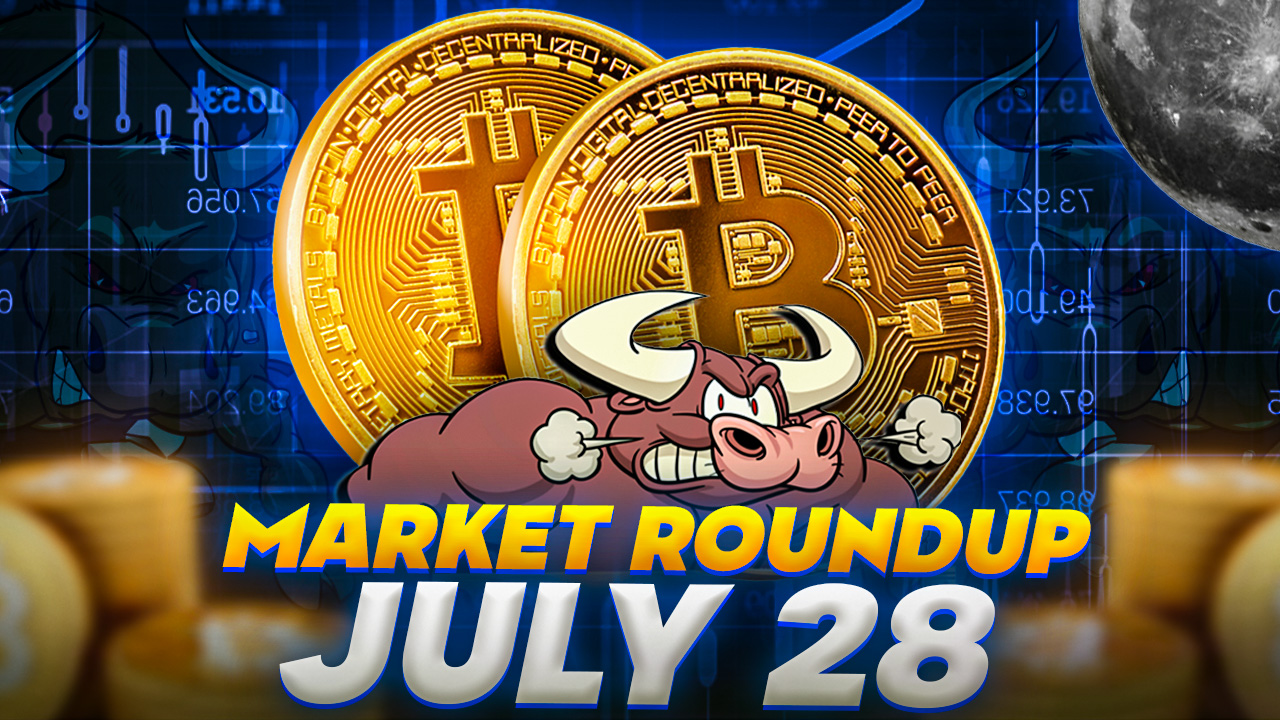 The live Bitcoin price today is $29,312, with a 24-hour trading volume of $11.3 billion. Bitcoin is up nearly 1% in the last 24 hours. 
The current CoinMarketCap ranking is #1, with a live market cap of $569.8 billion. It has a circulating supply of 19,441,687 BTC coins and a max. supply of 21,000,000 BTC coins.
In addition to the price fluctuations, recent developments in the cryptocurrency market have caught the attention of investors. 
Notably, Grayscale has made claims that Coinbase, a prominent cryptocurrency exchange, will not serve as a suitable partner for Bitcoin ETF surveillance. 
As bears continue to exert pressure, Bitcoin has found support around the $29,000 level, leading traders and enthusiasts to ponder its potential next move.
Grayscale Claims Coinbase is Not a Suitable Partner for Bitcoin ETF Surveillance
Grayscale, a prominent asset management firm, has urged the US Securities and Exchange Commission (SEC) to approve any qualifying Bitcoin spot exchange-traded fund (ETF) applications simultaneously. 
The company emphasized that the SEC should avoid favoritism and not "pick winners and losers" among applicants. 
However, Grayscale also argued that Coinbase, a major cryptocurrency exchange, should not be considered a suitable surveillance partner for launching a Bitcoin spot ETF, citing the SEC's prior skepticism towards pricing data from unregulated Bitcoin trading venues. 
The company is currently engaged in a court battle with the SEC to convert its Bitcoin fund into an ETF. If the SEC does decide to approve a Coinbase-partnered ETF, Grayscale has requested that it prioritize investors, particularly those of its GBTC fund, in the approval process.
The SEC's decision to approve or deny Bitcoin spot ETFs simultaneously, as advocated by Grayscale, could create more clarity and stability in the cryptocurrency market, potentially boosting investor confidence and leading to increased interest and investment in BTC.
On the other hand, if Coinbase's qualification as a surveillance partner for a Bitcoin spot ETF is denied by the SEC, it may create uncertainty in the market and dampen investor sentiment, resulting in a short-term pullback in BTC price.
Bitcoin Price Prediction 
Based on my analysis of Bitcoin's technical aspects, it appears that the cryptocurrency has garnered significant backing at the $28,850 mark. 
This is evidenced by a succession of candles – like Doji and spinning top – that have concluded above this threshold.
At present, Bitcoin is situated slightly below the $29,500 obstacle. This barrier is strengthened by a downward trend line that is visible within the four-hour timeframe.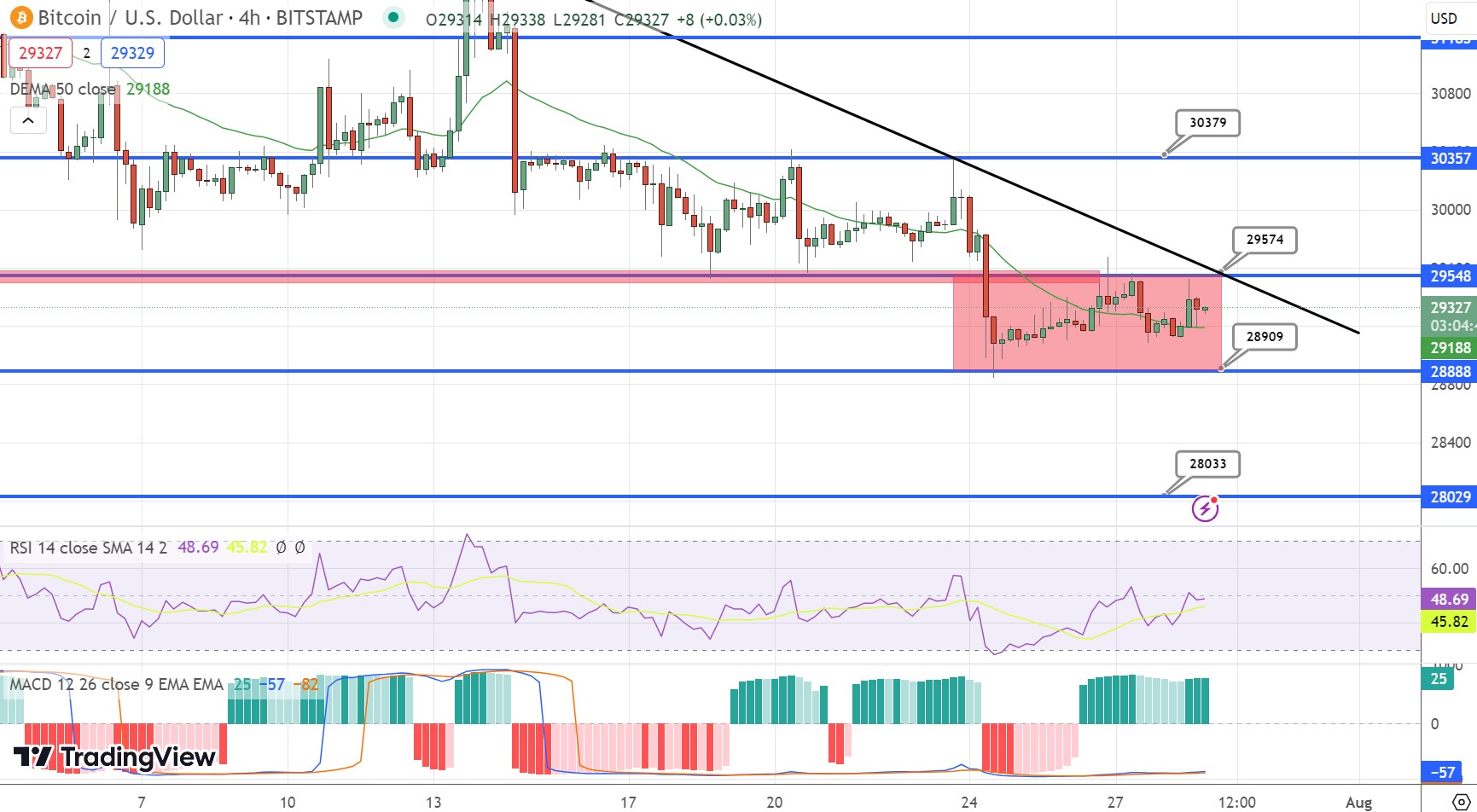 If BTC manages to exceed the milestone of $29,500, it may face a technical obstacle at the $30,000 mark, which holds psychological significance.
Furthermore, the next potential resistance could be at $30,350. Conversely, if BTC falls below $28,850, the next support level is still at around $29,000. 
A drop below this level may lead to a decrease towards $28,850.
Top 15 Cryptocurrencies to Watch in 2023
To stay up-to-date on the latest initial coin offering (ICO) projects and alternative cryptocurrencies, we recommend regularly exploring our carefully selected collection of the top 15 digital assets to watch in 2023. 
This list has been thoughtfully curated by industry experts from Industry Talk and Cryptonews, ensuring that you receive professional recommendations and valuable insights. 
By discovering the potential of these cryptocurrencies, you can stay ahead of the game and navigate the ever-changing world of digital assets with confidence.
Find The Best Price to Buy/Sell Cryptocurrency

Disclaimer: Cryptocurrency projects endorsed in this article are not the financial advice of the publishing author or publication – cryptocurrencies are highly volatile investments with considerable risk, always do your own research.