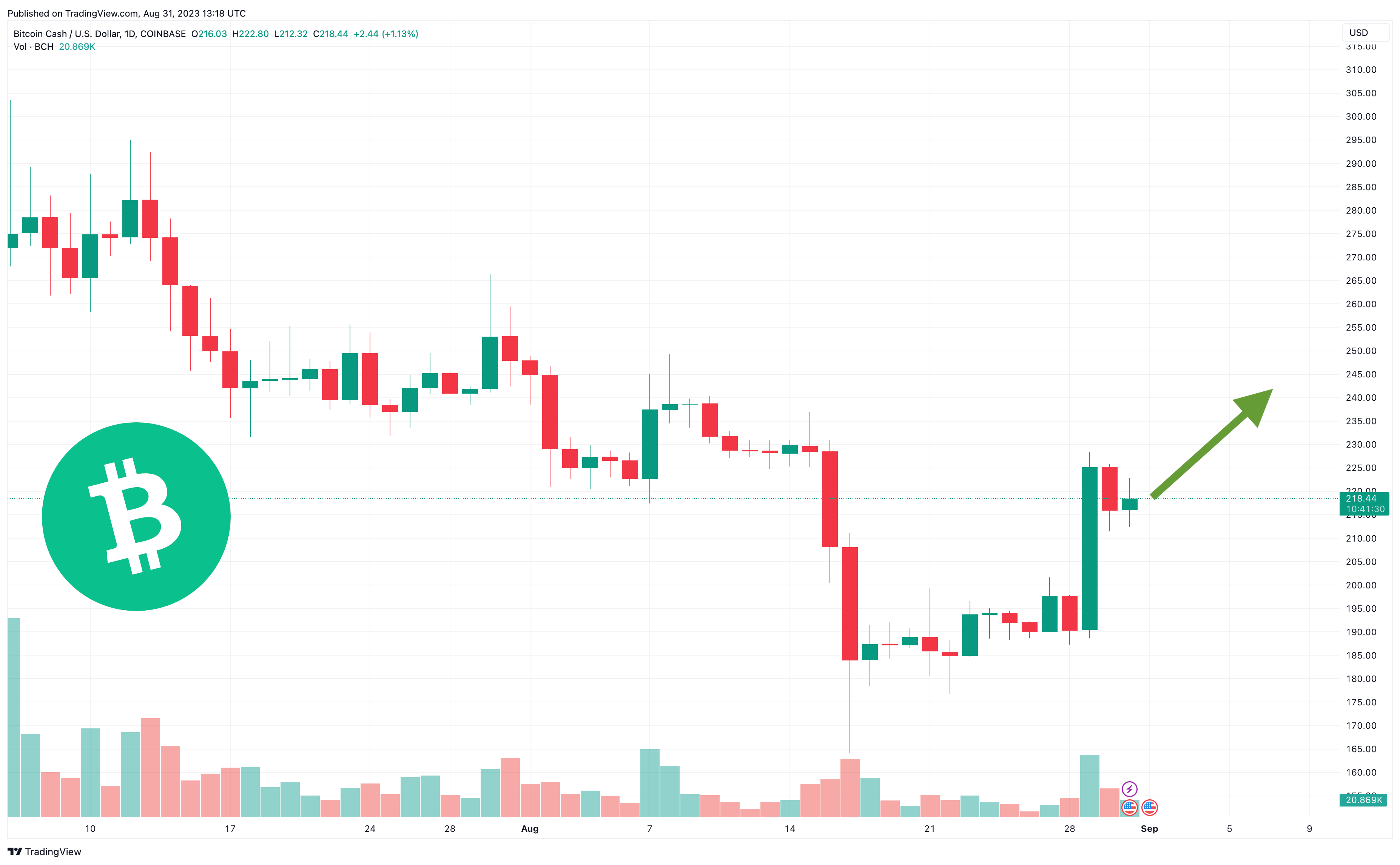 The Bitcoin Cash price has moved to $218.93 today, marking a 1% gain in 24 hours and a 15% rise in a week.
BCH's increases have come after Grayscale won an appeal against the SEC, which had previously refused the asset manager's application to open a spot Bitcoin ETF.
But with the regulator now required to look at the application again in detail, it has become increasingly likely that a Bitcoin ETF will be approved in the near future, something which could end up having a beneficial effect on Bitcoin Cash (as well as Bitcoin).
This has made BCH an attractive asset to buy, and while there are currently no indications that whales are buying the altcoin in bulk, its out-performance of Bitcoin in the past week could be a sign that the market expects larger investors to make a move soon.
Bitcoin Cash Price Prediction as BCH Rockets Up 15% – Are Whales Choosing BCH Over BTC?
Bitcoin Cash's chart shows not only that its momentum is building, but that it has space left to rise further before entering 'overbought' territory.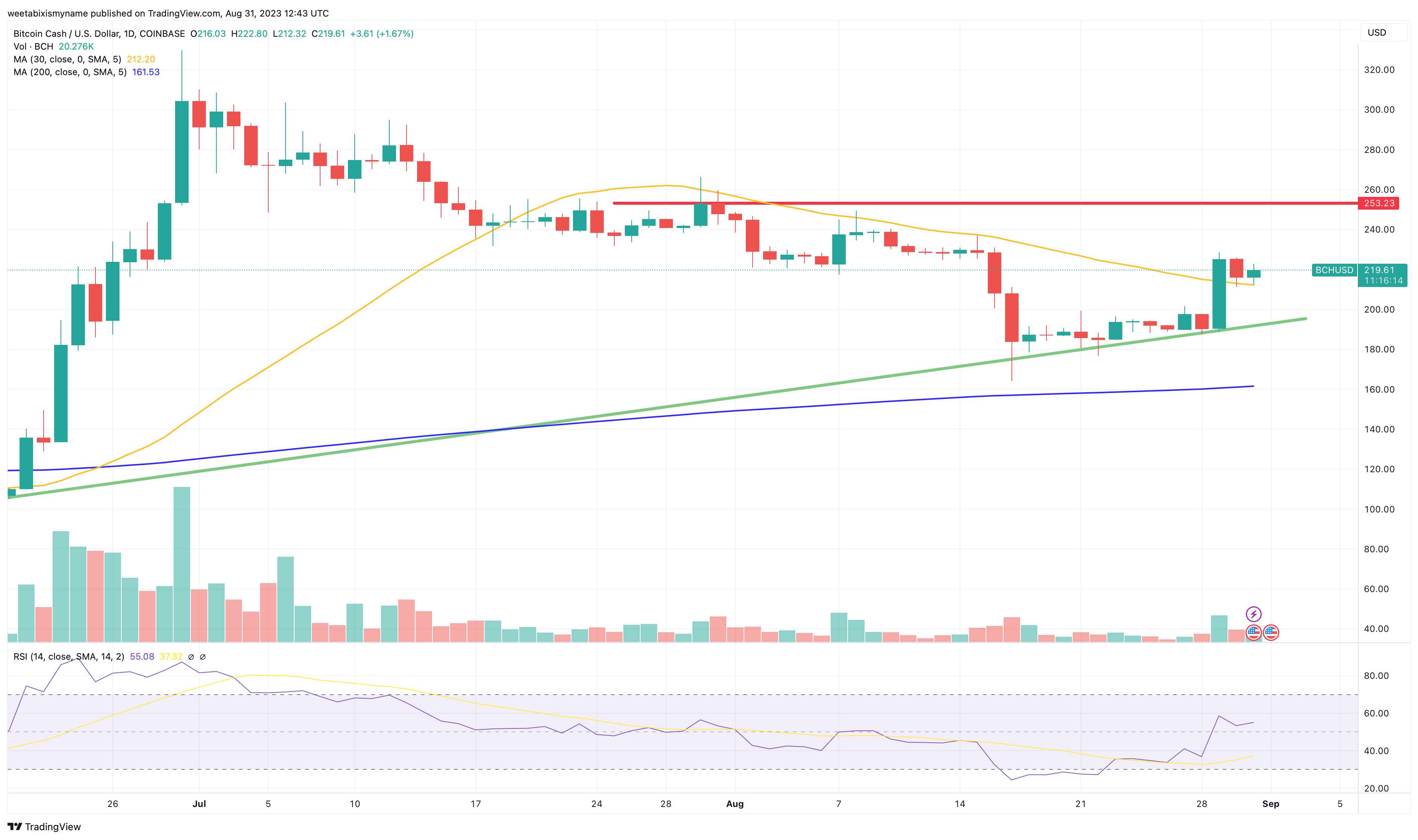 For example, the coin's relative strenght index (purple) has climbed close to 60 in the past couple of days, yet the fact that it hasn't neared or passed 70 suggests that further increases could soon come.
Likewise, BCH's 30-day moving average (yellow) had been declining since the beginning of August, so it's now in a good position to rise again for the next few weeks.
It's hard to say just how far Bitcoin Cash's price will rise, but its overselling in mid-August would suggest that it's due to rise a bit further, potentially reaching $230 in the next week or so.
As mentioned above, it has been the biggest beneficiary (aside from Stacks) of Grayscale's victory in its appeal against the SEC.
While there is no direct link between Bitcoin ETFs and Bitcoin Cash, it's worth pointing out that the latter enjoyed a similar surge towards the end of June, when Bitcoin ETF applications from BlackRock and other managers were first filed.
The market's assumption must be that Bitcoin Cash ETFs would soon follow the acceptance of Bitcoin ETFs, making the altcoin more attractive to whales and institutional investors in the process.
However, with no application for a BCH ETF having been made by a significant asset manager or financial institution, such a benefit is still likely a long way off.
It can't be discounted though, with BCH likely to rise massively if whales and institutions gain more of an interest in the token.
From its current level of $218, it could return to $250 in the final few months of the year.
Presale Tokens May Rise More Quickly
As much as BCH has benefitted from recent talk of Bitcoin ETFs, it remains a possibility that such ETFs aren't approved anytime soon, and that even if they are, the altcoin won't be boosted as much as Bitcoin itself.
In view of this possibility, some traders may be tempted to diversify their portfolios into other cryptocurrencies, including newer altcoins and presale tokens that look set to rally once they list.
Arguably the supreme example of such a coin right now is Wall Street Memes (WSM), a new ERC-20 cryptocurrency that has raised more than $25 million since beginning its presale a couple of months ago.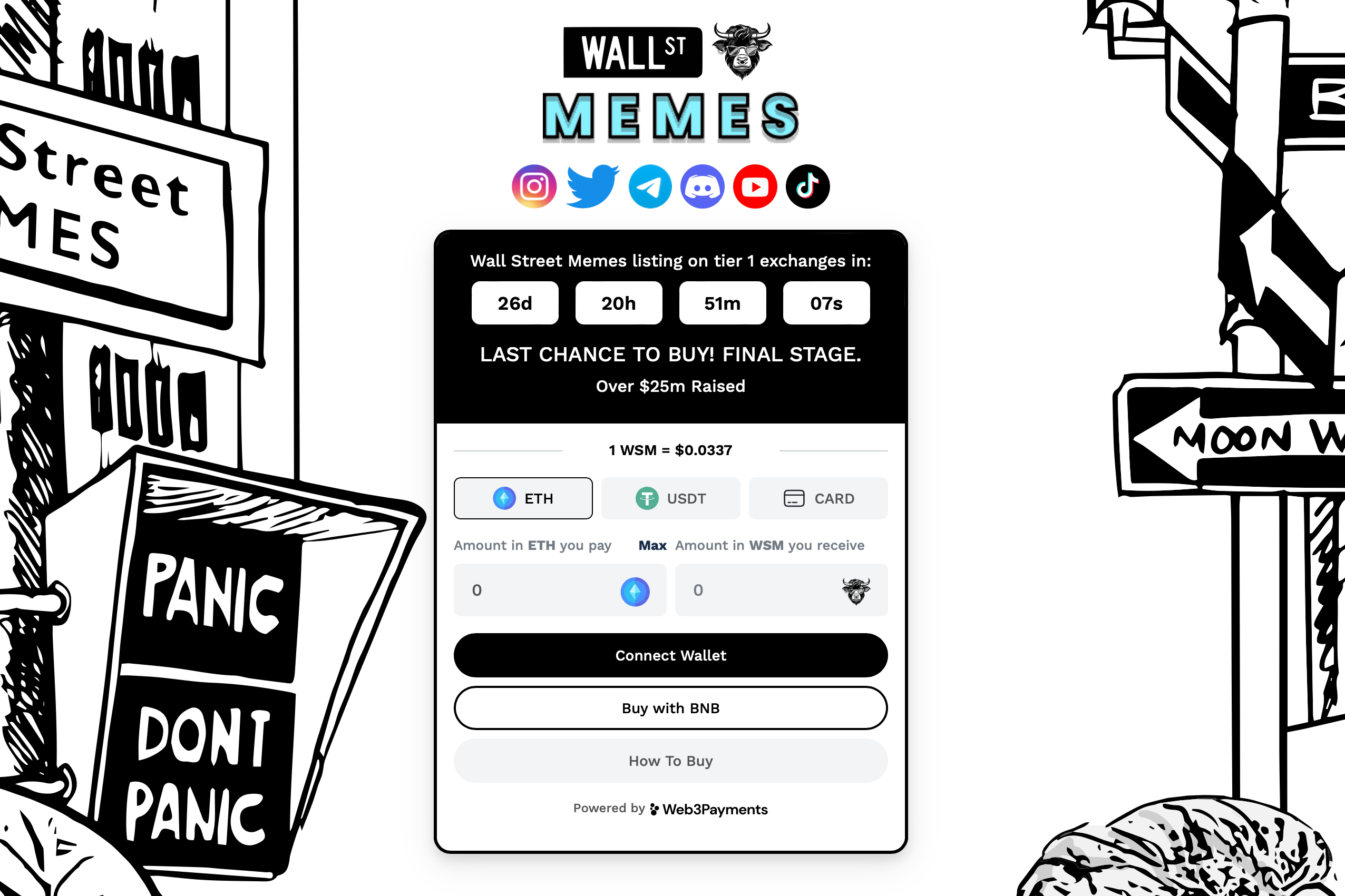 With its presale set to end in 26 days, Wall Street Memes has grown out of the meme stocks movement associated with the GameStop and AMC rallies in 2021.
Its ready-made links to this movement has provided it with a growing community of investors and supporters, with its Twitter follower count now standing at more than 265,000.
This healthy following should provide WSM with the holders and cheerleaders necessary for it to succeed as a meme token, with its supporters working not only to maintain the coin's price but to help enlist more investors to its cause.
Helping attract more investors will also be the coin's decentralized tokenomics, with 50% of its max supply (2 billion WSM) going to its presale and 30% going to community rewards.
Such rewards will help incentivize greater community involvement and engagement with Wall Street Memes, ensuring that the token remains a strong-performing asset well after it lists on exchanges for the first time.
New investors can join the presale by heading over to the the official Wall Street Memes website, where the sale is ending with WSM available at a price of $0.0337.
And as soon as the sale ends in less than a month, WSM will list on several Tier 1 centralized exchanges, where it could potentially surge.
Visit Wall Street Memes Now
Disclaimer: Crypto is a high-risk asset class. This article is provided for informational purposes and does not constitute investment advice. You could lose all of your capital.