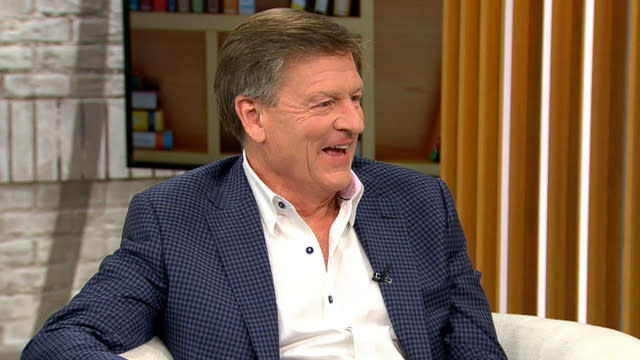 Biographer Michael Lewis has exposed management failures and the alarming disappearance of billions of dollars within the financial empire of crypto tycoon Sam Bankman-Fried. 
Sharing his findings on CBS's 60 Minutes, Lewis, known for his investigations into Wall Street misconduct that unraveled the 2008 financial crisis, delved into allegations surrounding FTX and an alleged plot to bribe Donald Trump into abandoning his presidential ambitions in 2024.
Bankman-Fried, who is set to face trial this week on fraud charges, has been accused by the Department of Justice of transferring customer funds from the FTX exchange to sister company Alameda Research, using them to finance his extravagant lifestyle. 
Despite these accusations, Bankman-Fried has pleaded not guilty and appeared to downplay the severity of the situation when questioned by Lewis.
According to Lewis, he confronted Bankman-Fried about his lack of awareness regarding the presence of $8 billion in customer funds within his private fund. 
In response, Bankman-Fried referred to it as a mere "rounding error," stating that at the time, the amount felt inconsequential and he wasn't even paying attention to it, as if they had infinite funds at their disposal.
Lewis also supported the claims made by FTX's new leadership, who took charge after the company filed for bankruptcy on November 11. 
They raised concerns about poor corporate governance during Bankman-Fried's tenure. 
"Even his best friends, inside the company said, 'Sam is just not built to manage people,'" Lewis said.
Bankman-Fried Considered Bribing Donald Trump Not to Run for Presidency
Lewis revealed that Bankman-Fried, prior to the collapse of FTX, even contemplated offering up to $5 billion to Donald Trump not to run for another presidential campaign. 
"Sam's thinking, 'We could pay Donald Trump not to run for president. Like, how much would it take?'" Lewis said. 
"He did get an answer. He was floated — there was a number that was kicking around. And the number that was kicking around when I was talking to Sam about this was $5 billion. Sam was not sure that number came directly from Trump."
Lewis concluded by noting that Bankman-Fried genuinely believes in his innocence, describing FTX as a "great real business" that could have weathered the storm if not for the detrimental impact of negative publicity leading to a panic among depositors.
Just recently, the defense team representing Bankman-Fried asked for clarity from the U.S. judge presiding over the case regarding specific arguments they can present during the trial. 
Their goal is to gain a better understanding of their ability to argue that FTX was not regulated in the United States, while acknowledging that FTX.US did adhere to applicable rules, according to a Monday filing.
Additionally, they are seeking permission for the disgraced crypto boss to discuss the potential for substantial recoveries by FTX creditors in the ongoing bankruptcy case, as well as the inclusion of his charitable giving and philanthropic activities in the trial.
Meanwhile, Bankman-Fried's trial is slated to start on Tuesday at 9:30 a.m. ET, with the selection of the jury. 
Prosecutors have indicated that they anticipate this process to conclude within a day, suggesting that opening arguments could potentially begin as early as October 4.