The price of Bitcoin has held steady this week even as stocks have tumbled, a divergence that some analysts say could signal more pain ahead for the cryptocurrency market.
The Dow Jones Industrial Average has fallen by 1.72% so far in the weekly candle, and the S&P 500 has dropped by 1.64% due to growing concerns that interest rates will remain high.
However, Bitcoin's price has only decreased by a slight 0.22% during the same period, maintaining a value of around $26,200 according to TradingView data.
Bitcoin has been locked in a relatively tight range between $25,000 and $28,000 for over a month now, exhibiting little of the extreme volatility it has been known for in the past.
Some analysts argue Bitcoin's recent calm shows it is firmly entrenched in a historic slump, with trading volumes and volatility near multi-year or even record lows, depending on the metric.
Other analysts contend the weakness in stocks could be an ill omen for cryptocurrencies as investors worry interest rates will stay elevated longer than anticipated, adding pressure to risky assets including cryptocurrencies.
For now, it seems Bitcoin is neither panicking along with stocks nor providing a safe haven from broader economic turbulence. Instead, analysts say it remains stuck in neutral–a state unlikely to last forever.
As Bitcoin continues its period of muted price action, other altcoins such as Calcium, FINE, and Tyrion.finance are experiencing dramatic swings, standing out as some of the biggest crypto gainers today on DEXTools.
CAL Cryptocurrency Sees Impressive Recovery, Surges 160%: Bullish Momentum Ahead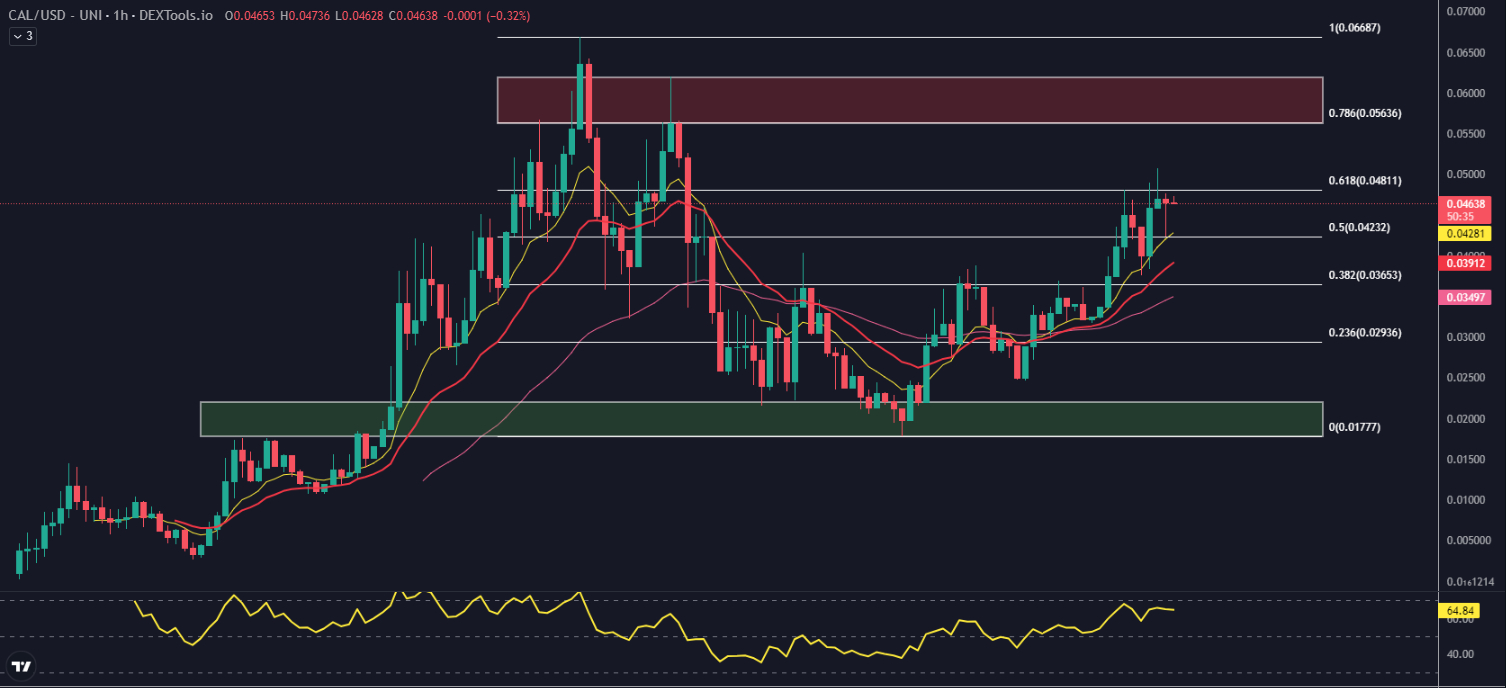 After dipping to its previous support zone ranging from $0.01777 to $0.02199, CAL has made a recovery, rebounding an impressive 160% from its bottom.
On the heels of this uptrend, CAL is currently trading at $0.04638, marking an increase of 29.47% so far today.
The recent price action of CAL has been encouraging, as the cryptocurrency has managed to trade above its immediate Exponential Moving Averages (EMAs).
This is a bullish sign, indicating strong upward momentum. The 1-hour 10 EMA is currently at $0.04281, the 20 EMA is at $0.03912, and the 50 EMA is at $0.03497.
Additionally, the RSI is currently at 64.84. This value is above the midpoint of 50, suggesting that buying pressure has been dominating the market, but it's still shy of the overbought level of 70, implying there might be room for further upward movement.
CAL is now attempting to break out from the reverse Fib 0.618 level of $0.04811. If successful, this could pave the way for CAL to reach the next resistance at the horizontal zone of $0.05626 to $0.06189, in confluence with the reverse Fib 0.786 level of $0.05636.
This would further solidify its position among the biggest crypto gainers today on DEXTools.
However, traders should keep a close eye on the immediate support at the reverse Fib 0.5 level of $0.04232, which is in confluence with the 1-hour 10 EMA of $0.04281. If the CAL price falls below this level, it could trigger a bearish reversal.
The market cap of CAL is currently at $9.40M, with a circulating supply of 205.24M. Uniswap V3 Pool information reveals a liquidity of $714.34K.
The 24-hour trading volume is at $5.16M, which is a healthy amount of activity and shows substantial trader interest in CAL.
With 4.34K holders, CAL seems to have a strong investor base, which could provide a degree of stability for CAL's uptrend.
The technical indicators suggest that CAL has the potential to continue its upward trajectory in the immediate future. However, traders should remain cautious and monitor the support and resistance levels closely.
FINE Price Analysis: Bullish Momentum Propels Crypto Gains
Following a two-week low of $0.00000001000 on September 25, FINE has effectively bounced back. After a period of consolidation between September 25 and 27, it has triumphantly emerged from its consolidation range.
It initiated a near 120% move to the upside from its current bottom, solidifying its place as one the biggest crypto gainers today on DEXTools. Despite retracing some of these gains, FINE is still trading high at $0.00000001576, up by 45.85% so far today.
The 1-hour EMAs for FINE are showing positive signs. The 10 EMA is at $0.00000001477, the 20 EMA at $0.00000001336, and the 50 EMA at $0.00000001233.
These values indicate an ongoing upward trend, as the shorter-term EMAs are above the longer-term EMA, suggesting that the buyers are in control.
Adding to this bullish scenario is the RSI value of 62.33. This value, while not in the overbought territory, suggests that buying pressure is dominating, which could support further price increases.
FINE has recently breached the Fib 0.382 level of $0.00000001589 to the downside, which now stands as the immediate resistance level.
The immediate support lies in the horizontal support zone between $0.00000001085 to $0.00000001148, in confluence with the Fib 0.5 level of $0.00000001460. If the FINE price dips below these levels, it could indicate a short-term bearish reversal.
Uniswap V3 Pool information shows a market cap of $6.21M, with a circulating supply of 394.12T. The 24-hour trading volume stands at $463.70K, indicating a robust level of trading activity.
With 5.64K holders, FINE has a substantial investor base that could provide stability and resistance against drastic price fluctuations.
FINE's technical indicators suggest a bullish outlook, with the potential for further price increases in the immediate future.
Tyrion.Finance (TYRION)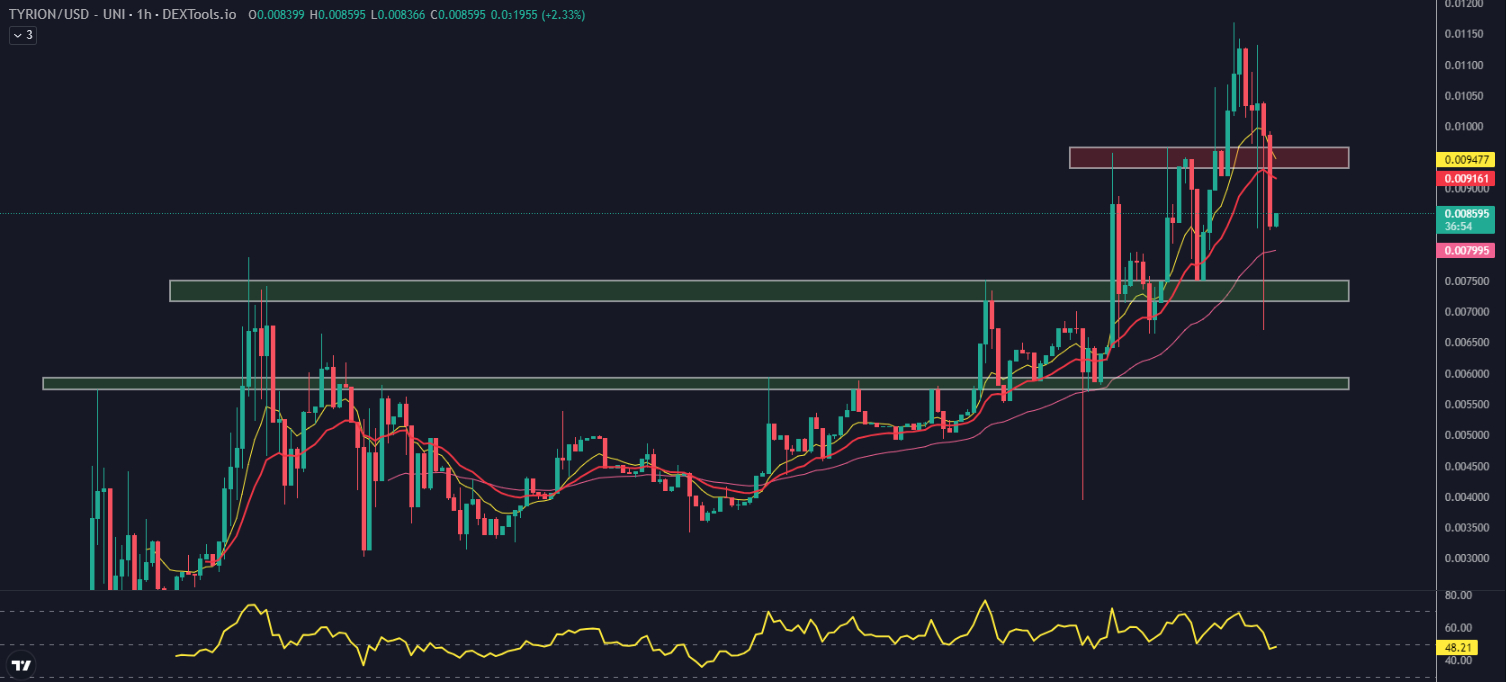 Over the past week, Tyrion.finance (TYRION) has been moving in a parabolic trajectory, posting gains of nearly 240% since its previous bottom of $0.003426 on September 23.
Despite a slight retracement over the past few hours, the general uptrend for TYRION still remains intact, signaling a potential opportunity for traders to consider.
The 1-hour technical indicators for TYRION provide some interesting insights. The hourly 10 EMA currently stands at $0.009477, with the 20 EMA at $0.009161 and the 50 EMA at a lower $0.007995. These EMAs are effectively functioning as dynamic resistance and support levels for the TYRION price movement.
The fact that the current price of TYRION is $0.008595, which is in between the 10 and 50 EMA, suggests a potential tug-of-war between the bulls and bears in the immediate future.
TYRION's RSI currently stands at 48.21. Traders should be cautious as there is a potential continuation of a breakdown from the RSI50, which could potentially lead to a further breakdown in TYRION's price. However, even as the RSI hints at a bearish outlook in the short term, the overall uptrend remains robust.
The immediate resistance for TYRION is the hourly 20 EMA of $0.009161, followed by a horizontal resistance zone ranging from $0.009332 to $0.009667.
This zone is in confluence with the hourly 10 EMA of $0.009477, indicating a significant hurdle for bulls to overcome. Surpassing this resistance zone could potentially lead to a continuation of the uptrend.
On the downside, the immediate support is the hourly 50 EMA of $0.007995, followed by the previous resistance, which now serves as the support zone ranging from $0.007173 to $0.007510.
A bounce back from this region could offer a good buying opportunity, further solidifying TYRION's status as one of the biggest crypto gainers today on DEXTools.
While the immediate technical indicators suggest a potential short-term breakdown for TYRION, the overall uptrend remains intact.
Traders should exercise caution and closely monitor the price movement around these key resistance and support zones to make informed trading decisions.
Cryptocurrencies Flying Under the Radar Worth Checking
Cryptocurrency presales allow investors to get in early on new projects before they become available to the wider cryptocurrency market. Buying tokens at the presale stage can potentially offer cheaper prices compared to after a public launch.
There is also the possibility that token values may increase if the project gains popularity post-launch. In general, token prices tend to be lower during presales than at public release. So if the project takes off after launch, presale buyers could see potential gains.
The analysts at Cryptonews.com take a methodical approach when evaluating upcoming presale opportunities. They carefully assess factors like the expertise of the team as well as the uniqueness of the project's core concepts.
Through in-depth research, they've identified several 2023 presales that may warrant consideration for those willing to accept the risks involved.
The experts at Cryptonews.com emphasize the volatility of crypto markets and how it makes investing in presales somewhat unpredictable. They suggest that investors proceed with prudence and give preference to projects with strong fundamentals and proficient leadership.
While absolute success can't be promised, a meticulous evaluation can help spot new presales with promising prospects.
New Cryptocurrencies to Buy In 2023
Disclaimer: Crypto is a high-risk asset class. This article is provided for informational purposes and does not constitute investment advice. You could lose all of your capital.