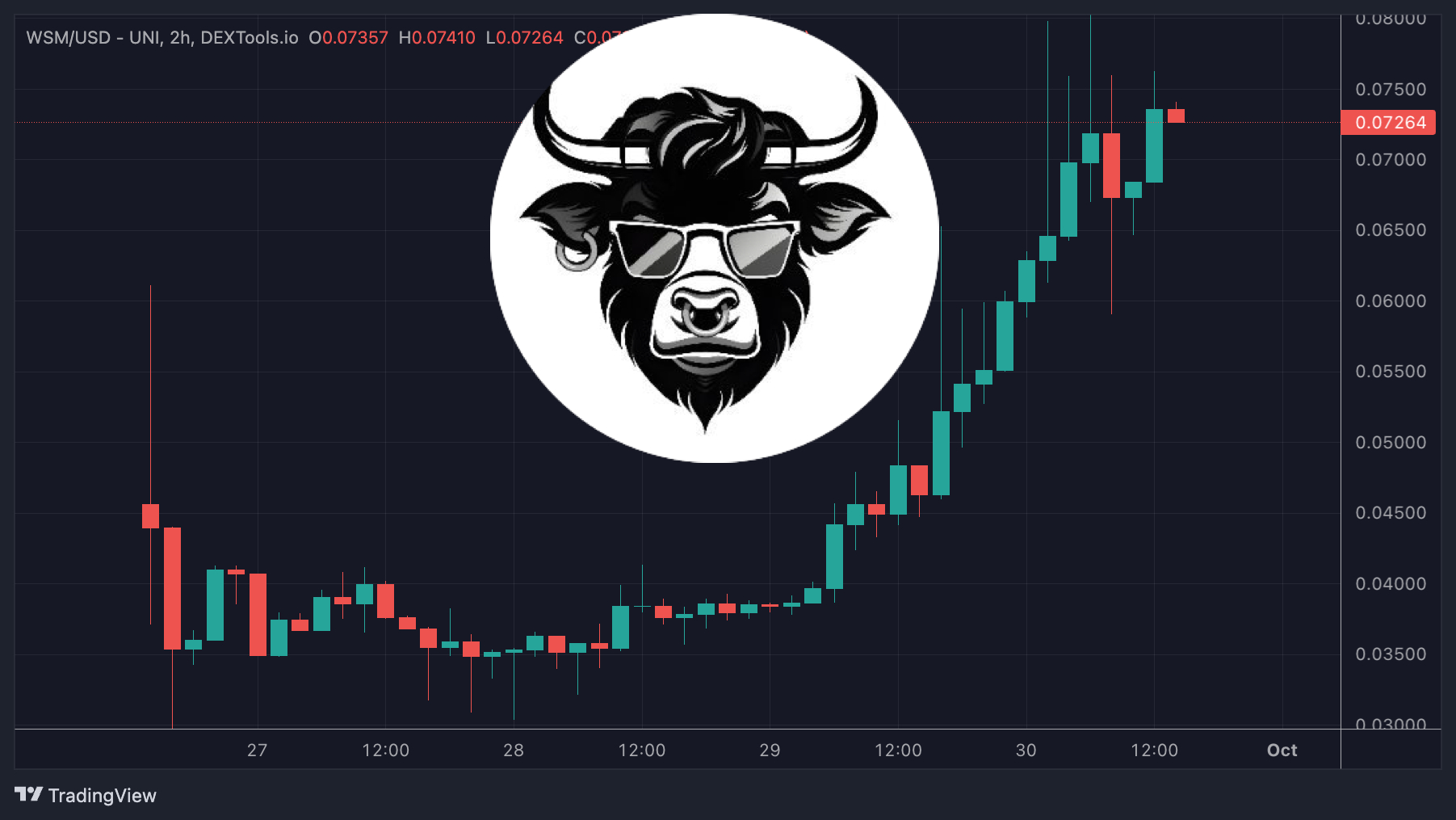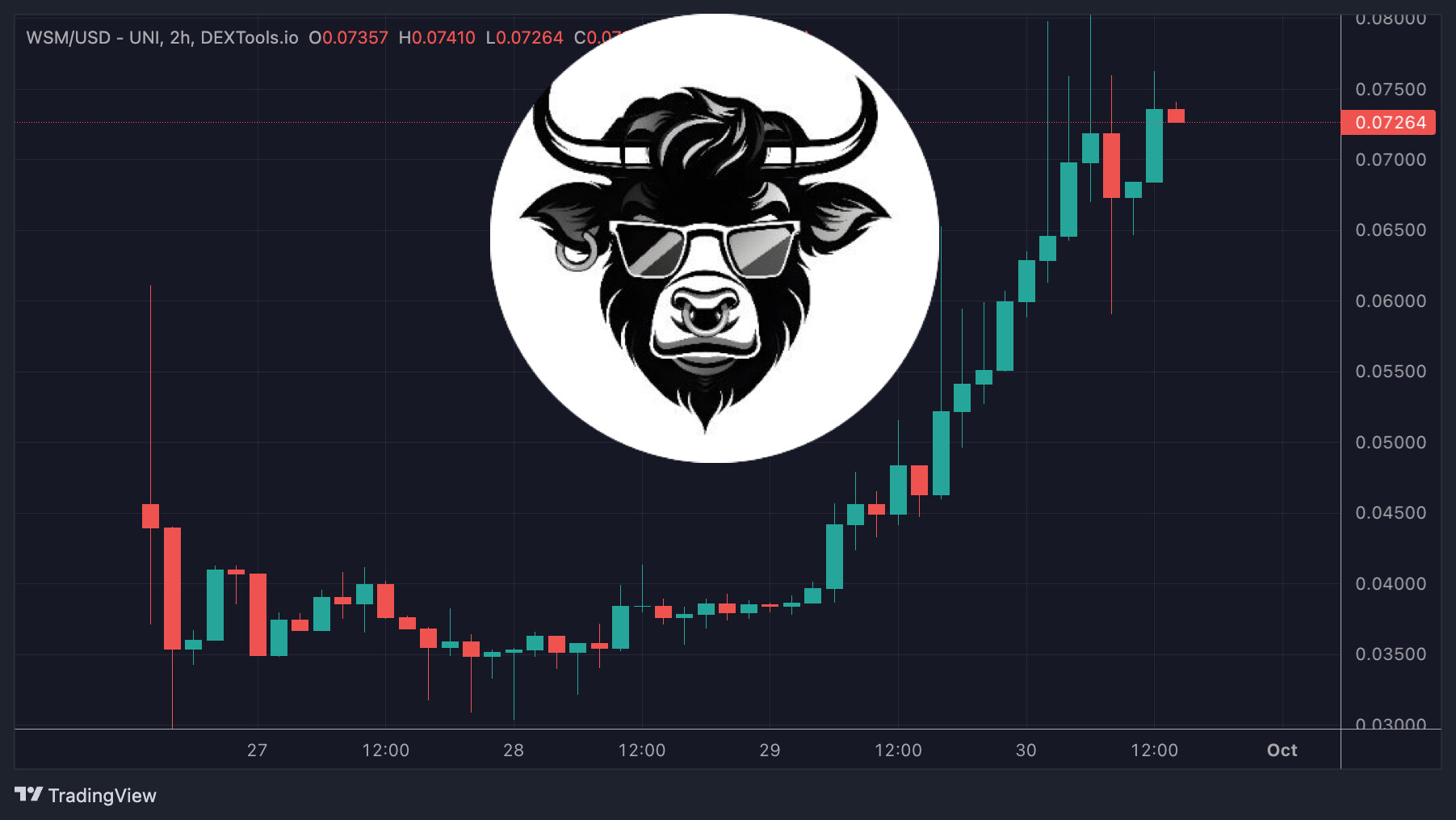 Retail investing community Wall Street Meme's newly launched $WSM meme coin is in blast-off mode, up 3x since presale.
In 24-hour trading volume, Wall Street Memes token is bigger than top meme coins Pepe and Shiba Inu.
The token is up 56% at the start of the weekend at $0.071 for a market capitalization of $142 million.
Early presale buyers are sitting on gains of nearly 3x after a 183% price surge, with the price set to kill a zero to reach $0.10, possibly in the next few hours. 
Those who bought when $SWM launched Tuesday on centralized exchanges such as OKX are sitting on a return of more than 100%.
$WSM reached an all-time high to date of $0.089 at 7am UTC.
$WSM is consistently trending in the top gainers on DEXTols and also on Coinmarketcap.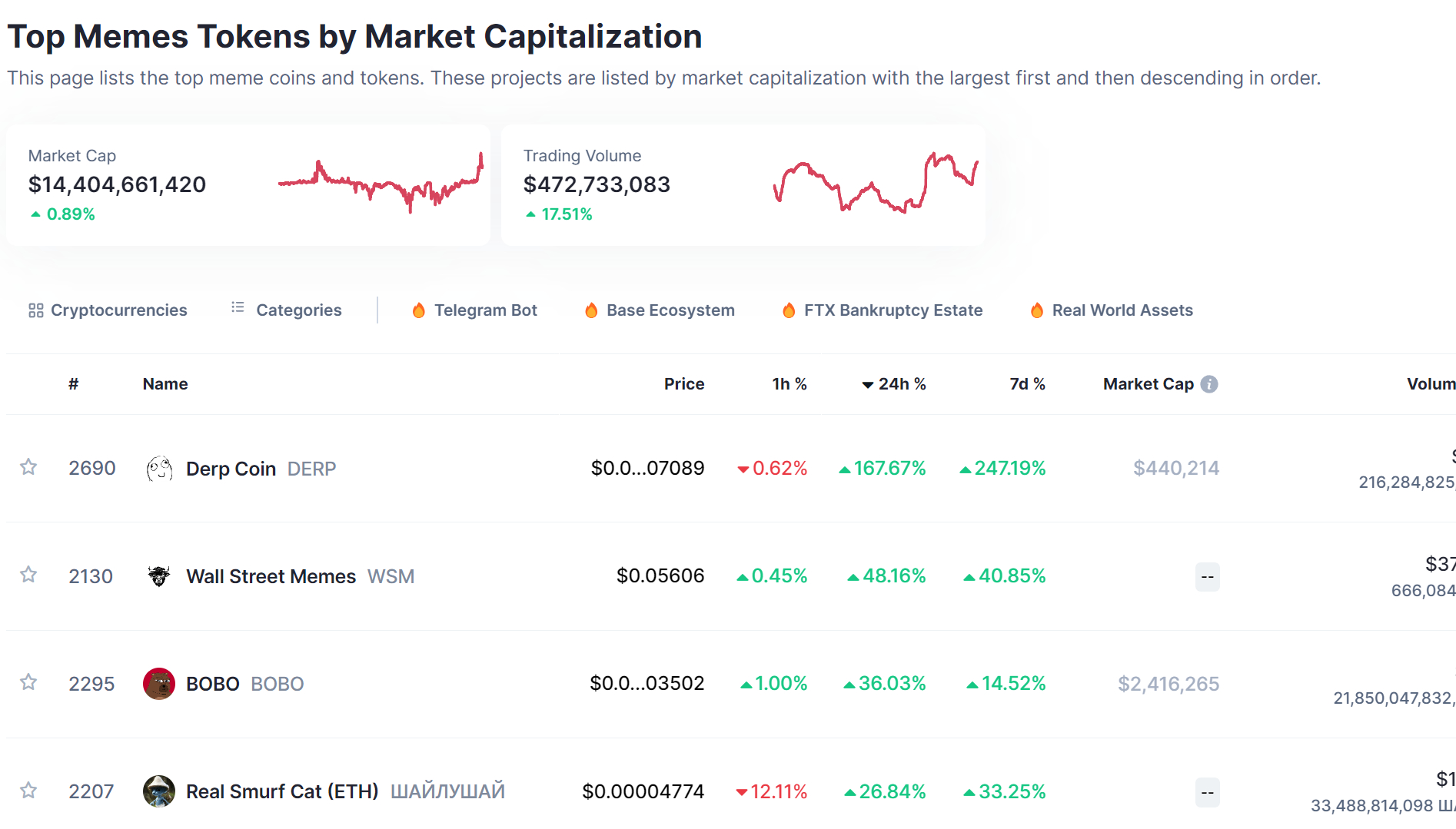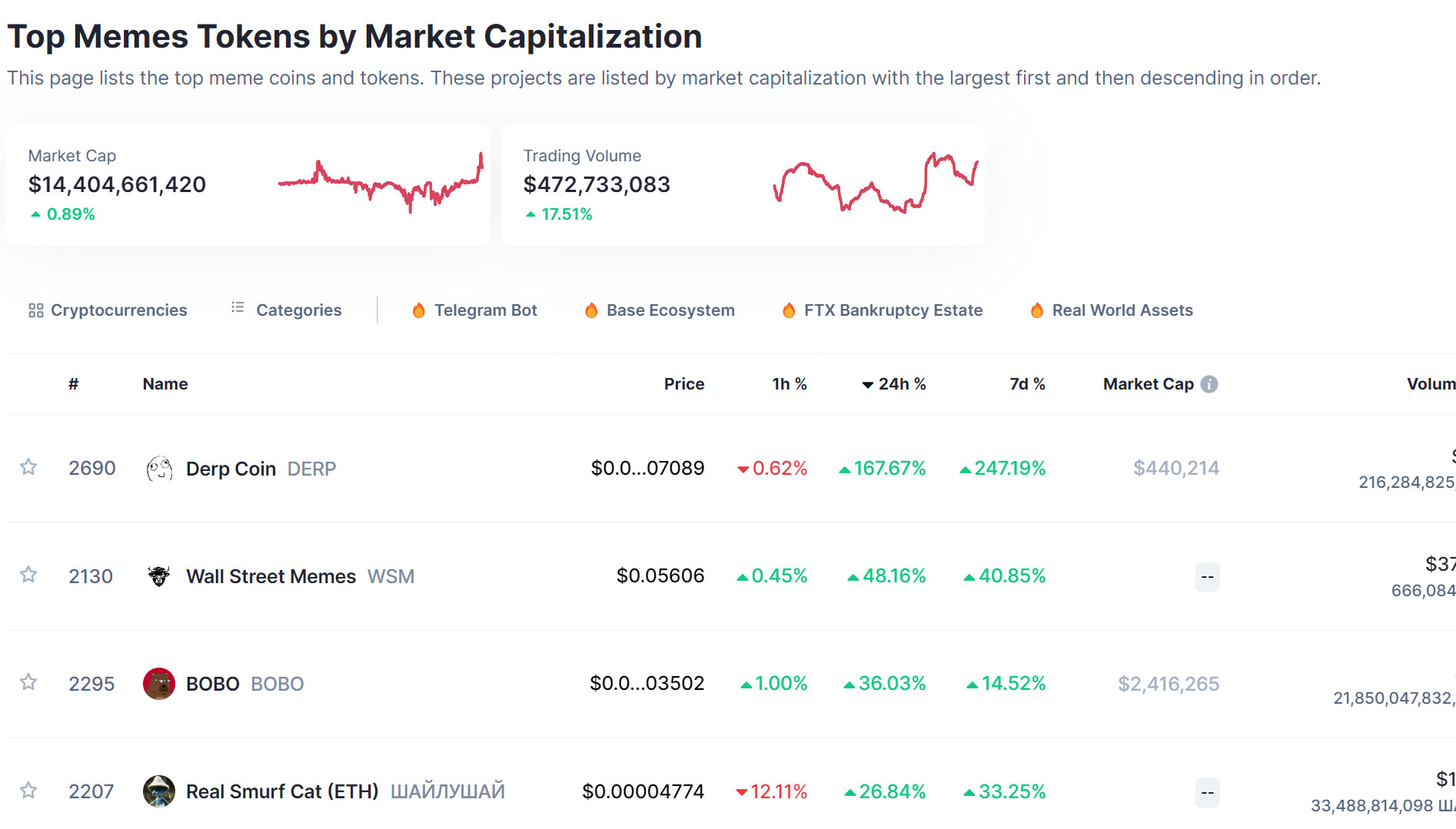 Major Wall Street Memes product release coming in October
The rapid price charge comes after Wall Street Memes teased the launch of its first product and a token buyback program that is set to launch in October via a post on X (formerly Twitter).
Wall Street Memes is already backed by a 1.1 million strong social community that grew out of the meme stocks movement. Its mission to democratize finance and take on Wall Street is finding an eager following in the crypto space.
Also, the project is being helped by the fact that Elon Musk has interacted with its X (formerly Twitter) account. There are even rumors that Musk may be one of the whale buyers of $WSM.
Add to that the fact that $WSM has staking utility out of the box, unlike many throwaway meme coins that have no utility features.
Buying interest is being further incentivized by the news that the team will be launching at least one major product in October and undertaking a burn program. There were murmurs about product launches during the presale, but it is now official.
A product(s) linked to the $WSM token would boost its utility, potentially also boosting its demand, while a buyback program would decrease the $WSM token supply over time, increasing its scarcity and the value of remaining tokens.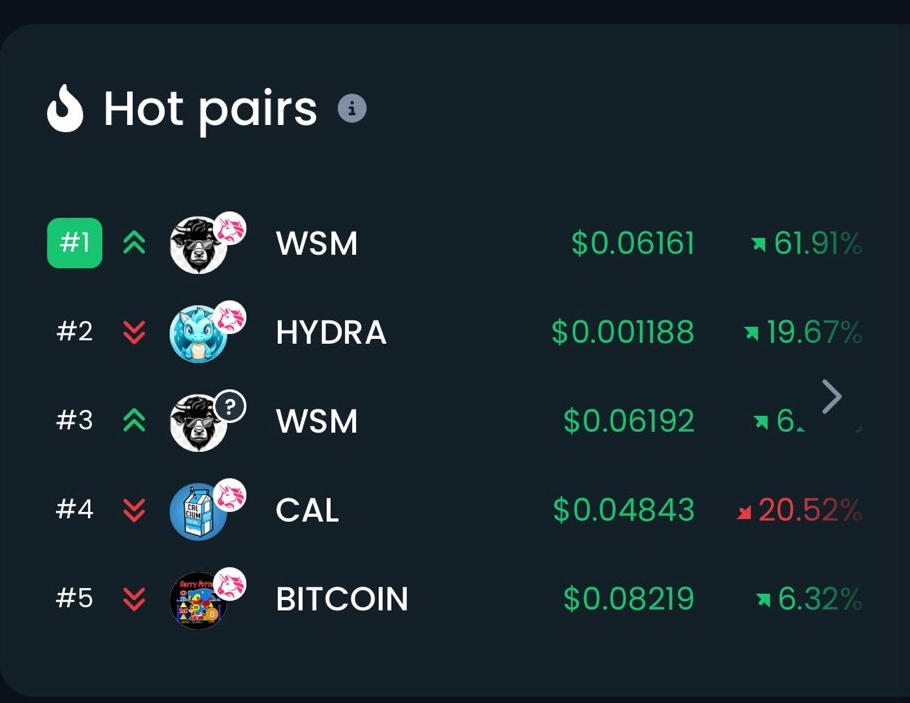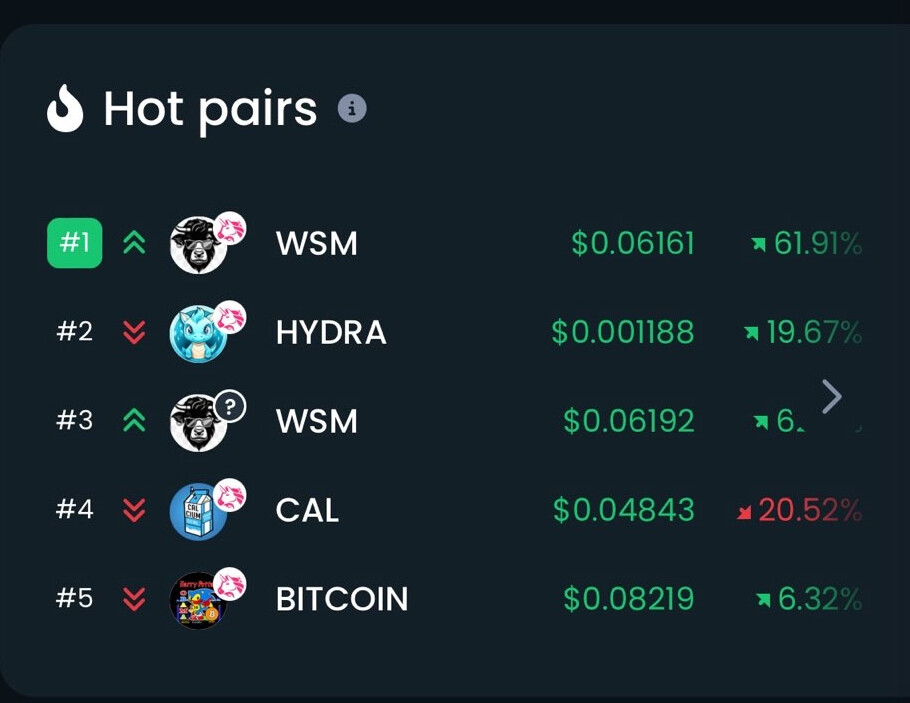 Trading volume beats Shiba Inu and Pepe – more top exchange listings coming in 3 days
Wall Street Memes has ratcheted up 24-hour trading volume of $79 million, currently beating Siba Inu on $74 million and Pepe on $70 million.
As the market pulls in more traders, other big exchanges in addition to the likes of OKX and Huobi will be taking note.
Prior to its first listing, there were rumors of a Binance launch. After $WSM's explosive start to trading, that possibility is looking more and more like a near-term racing certainty.
$WSM is trending as the top meme coin on OKX and a Binance listing could soon see it establishing itself permanently as one of the top dogs in the meme coin world.
According to the countdown on the website, the next top-tier exchange listing is due in three days.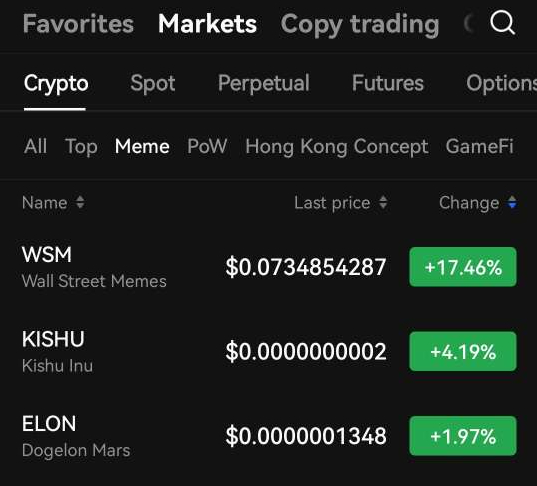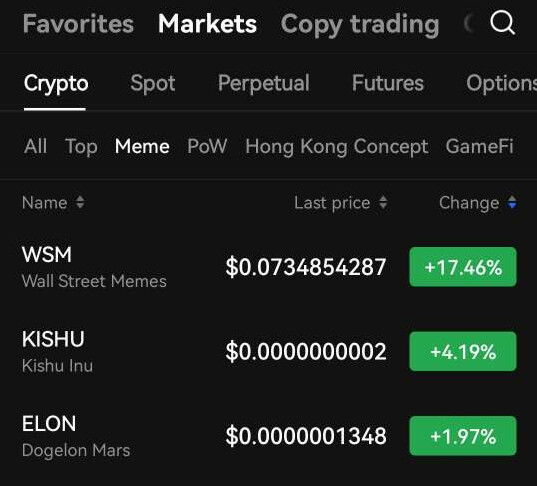 Wall Street Memes $1 billion valuation could be a conservative forecast
In other words, the team's avowed aim of attaining a $1 billion valuation could actually be a conservative goal.
When Pepe launched on Binance it rocketed 2,000%. But, as mentioned, $WSM has utility that coins like Doge and Pepe lack. Even Shiba Inu, which has returned 26,000% for some early investors, has struggled to add a utility layer, as seen in its stuttering Shibarium launch.
In addition to OKX and Huobi, MEXC, BitMart, LBank and Coinex have also listed $WSM, less than a week since launch.
The more exchanges $WSM is available on, the easier it is for retail investors to buy the token, creating a bullish virtuous circle for the price.
Regarding $WSM's yield-bearing utility, 540 million token are staked, earning an annual percentage yield of 37%. So as well as capital appreciation, owners of the $WSM token can lock in a passive income stream, making the token doubly attractive.
Traders should also note that Wall Street Memes is currently conducting a generous $50,000 airdrop competition, which can be entered on Gleam.
As news about Wall Street Memes spreads like wildfire across the crypto space, it might not be too long before Elon Musk tweets about it. Either way, with a mystery major product launch coming soon, $WSM is the latest buzz coin in crypto.
In market cap terms, Wall Street Meme is the 7th-largest meme coin.
Add Meme Kombat and Bitcoin Minetrix to your portfolio for more $WSM-like gains 
Opportunities like Wall Street Memes don't come around that often, but it could be that there is a purple patch of hot coins that could also be set for stellar launches.
Meme Kombat ($MK) is one, on sale now for $1.667. This meme character battling platform, brings together memes in combat, allowing players to bet on the outcome. There really is nothing like it anywhere else in crypto, and it is in presale now. 
The project has raised $147,000, with an initial target of $1 million. You can buy Meme Kombat token today with ETH, BNB or USDT.
Another promising project with a genuinely unique use case is Bitcoin Minetrix. It offers the world's truly decentralized cloud mining. Simply stake the $BTCMTX token and earn credit, which can then be used to mine Bitcoin. 
No cash changes hands and everything is automated through smart contracts. Bitcoin Minetrix kills the scammers stone dead and is way more efficient route into mining for retail investors. 
$BTCMTX is priced at $0.011, and the project has raised nearly a quarter of a million dollars in days, so there's no time to lose to invest in one of the most innovative projects in crypto right now.
Visit Meme Kombat
Visit Bitcoin Minetrix
Disclaimer: Cryptocurrency projects endorsed in this article are not the financial advice of the publishing author or publication – cryptocurrencies are highly volatile investments with considerable risk. Always do your own research. You may lose all of your capital.