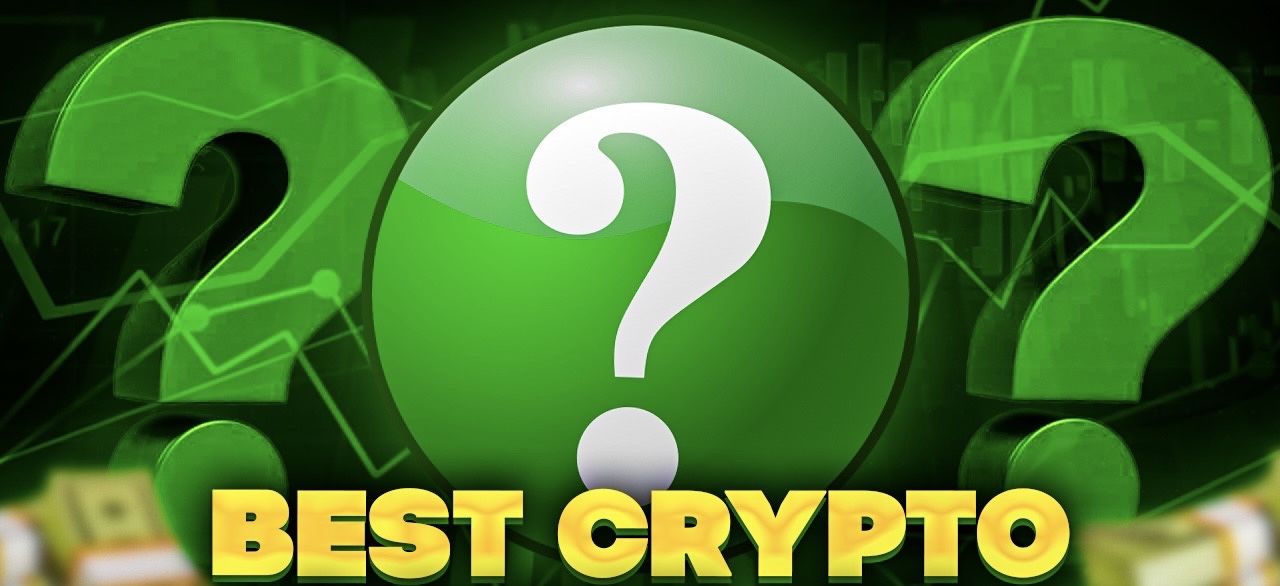 With an unwavering conviction in the potential of cryptocurrencies, Larry Fink, helmsman of BlackRock, the world's most influential asset management firm, expressed a stronger faith in digital assets as investment tools today. His contention is that cryptocurrencies will "transcend any one currency."
How will this influence the best cryptos to buy now?
Fink shared his augmented optimism for digital currencies in a CNBC interview earlier today.
While he refrained from delving into Bitcoin specifics due to BlackRock's pending application for a spot market Bitcoin Exchange Traded Fund (ETF) with the U.S. Securities and Exchange Commission, he underscored the unique value of crypto compared to other investment classes.
Seeking to expand its foothold in the cryptocurrency market, BlackRock – which manages an enormous $9.5 trillion in assets–applied for SEC approval of a spot Bitcoin ETF on June 15.
This move is believed to have nudged other institutional investors to direct capital toward the crypto sphere, driving the asset to reach its peak value in the last twelve months.
"Our obligation is to make investing an accessible practice for all," Fink opined about ETFs.
"In recent years, there's been a marked rise in global investors expressing curiosity about the place of crypto in their portfolios. Crypto, with its broad international reach, undoubtedly has the capacity to go beyond the boundaries of a single currency in terms of valuation."
Fink's argument is that an "international crypto product" could potentially provide a solution to the issue of dollar devaluation, given its inherently borderless nature.
The launch of a Bitcoin ETF on the spot market could provide institutional investors with a gateway to access Bitcoin without needing to deal with the complex issues of storage.
This could potentially result in a significant inflow of capital into the market, assuming that the ETF receives regulatory approval.
The cryptocurrency market was filled with optimism following a court ruling yesterday, which declared that XRP is not a security. As a result, Bitcoin and the broader market enjoyed a favorable close.
However, today, Bitcoin has once again pulled back to its range low and is currently testing the Fib 0.236 level at $30,159, which coincides with the 20-day EMA at $30,147.
Bitcoin is currently trading at $30,098 reflecting a 4.40% loss so far today, while the total cryptocurrency market cap is dropping by 4.44% to $1.166 trillion so far today.
Despite this pullback, the overall bullish trend in the cryptocurrency market is still intact. In fact, this dip may present a buying opportunity for those who have been waiting to get in before Bitcoin's next potential leg up.
Lido DAO, Wall Street Memes, Polygon, Chimpzee, and ApeCoin are some of the best cryptos to buy now due to their strong fundamentals and/or positive technicals.
Lido DAO (LDO) Pulls Back from Yesterday's High: What's Next?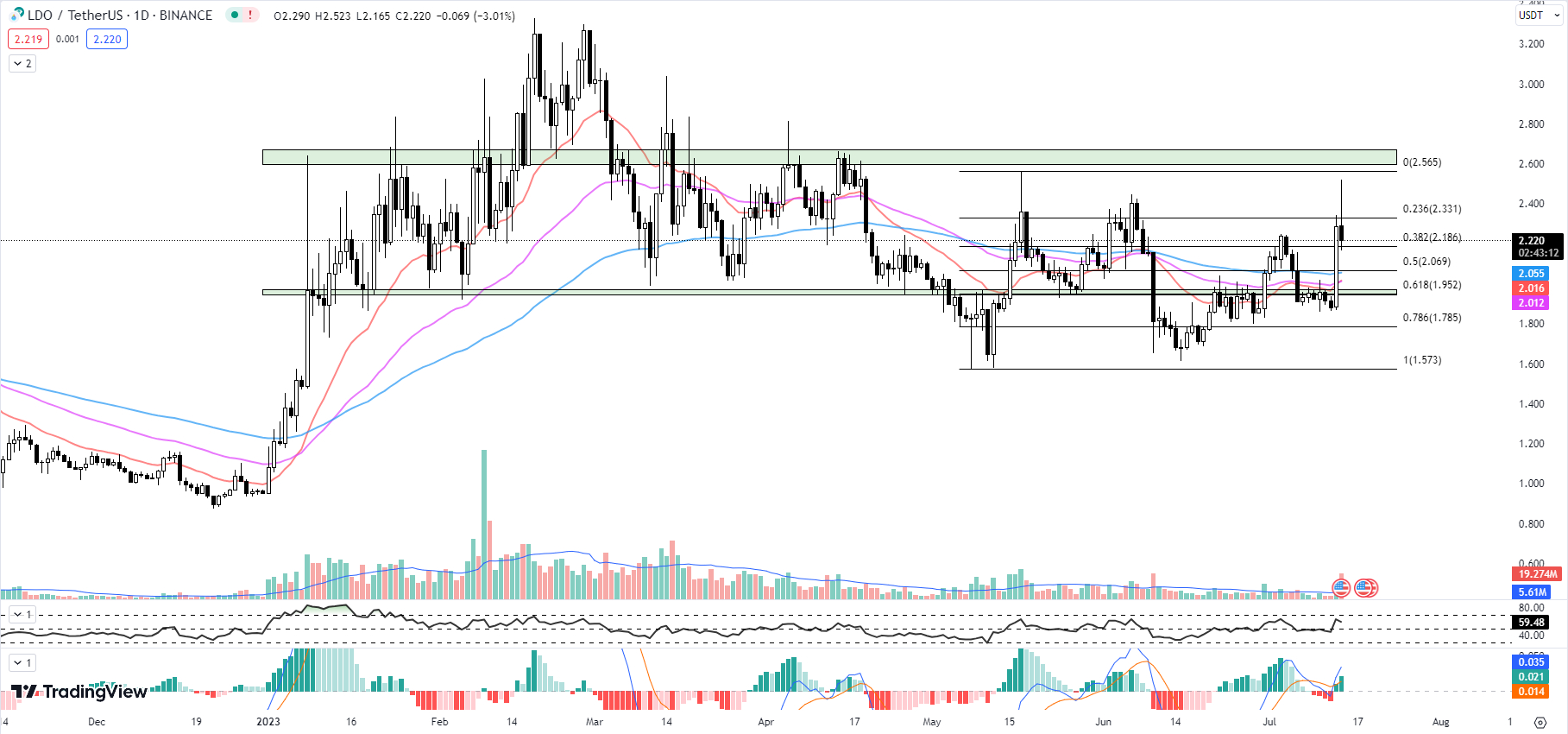 Lido DAO (LDO) is currently facing selling pressure around the Fib 0.236 level of $2.331, resulting in a slight pullback from yesterday's 21.56% gain.
Despite reaching an intraday high of $2.523 earlier today, LDO is currently trading at $2.220, reflecting a loss of 3.01% for the day.
The 20-day EMA stands at $2.016, the 50-day EMA at $2.012, and the 100-day EMA at $2.055.
All three of these averages are below the current LDO price, suggesting that despite today's pullback, the overall trend remains bullish.
The fact that LDO's price is above these averages indicates that the recent bullish momentum has not been entirely lost.
Nevertheless, the RSI, a momentum oscillator that measures the speed and change of price movements, has declined from yesterday's reading of 63.07 to today's 59.48.
While still in the moderately bullish zone (above 50), this drop in RSI could signal slowing momentum in the short term.
The MACD histogram, which is used to identify possible buy and sell points, has risen to 0.021 from yesterday's 0.011.
This increase suggests that buying pressure is still present, and there might be room for further upside movement.
However, LDO faces immediate resistance at the Fib 0.236 level at $2.331. Breaking above this resistance could pave the way for a retest of today's intraday high at $2.523.
On the downside, immediate support is found at the Fib 0.382 level at $2.186, followed by a significant support zone at the Fib 0.5 level at $2.069.
This latter support aligns closely with the 100-day EMA at $2.055, making it a critical area to watch.
If the price of LDO drops below this level, it could indicate a potential trend reversal from bullish to bearish.
While the short-term momentum for LDO may be slowing, the overall bullish trend remains intact. Traders are advised to watch the Fib 0.236 resistance level and the Fib 0.5 support level closely, as these could be pivotal in determining LDO's immediate market direction.
Wall Street Memes' $WSM: The Best Crypto to Buy Now for Meme-Loving Investors
Fueling the spirit of its 2021 roots, Wall Street Memes is launching the $WSM meme coin, drawing a torrent of investors.
Having already raised over $14.7 million so far through its presale, this upcoming token launch has garnered significant attention as one of the most highly anticipated meme coin launches of 2023.
Reflecting the spirit of defiance in the 2021 GameStop saga, the Wall Street Memes community channels the legacy of the retail investors who rattled the Wall Street establishment.
With $WSM, the movement that shook the financial sector is being tokenized, in a sense.
The community's clout is hefty, with analysts touting $WSM as a prospective contender to meme coins like Pepe, Shiba Inu, and Dogecoin.
Successful past endeavors reinforce this potential. Previously, the Wall Street Memes team quickly sold out their digital asset launches, making $2.5 million from a 10,000-piece NFT collection in just 32 minutes.
Exemplifying fairness and inclusivity, 100% of the token supply is dedicated to the Wall Street Memes community.
The presale offers 50% of the token supply, and the remaining will be distributed as community rewards, CEX liquidity, and DEX liquidity.
Given the generous community reward allocation, crypto airdrops are likely to be an integral part of the ecosystem, potentially totaling over $20 million.
Investors looking for potential future price hikes might want to consider securing their $WSM in this presale.
Visit Wall Street Memes Now
Is Polygon (MATIC) the Best Crypto to Buy Now? Here's What the Indicators Say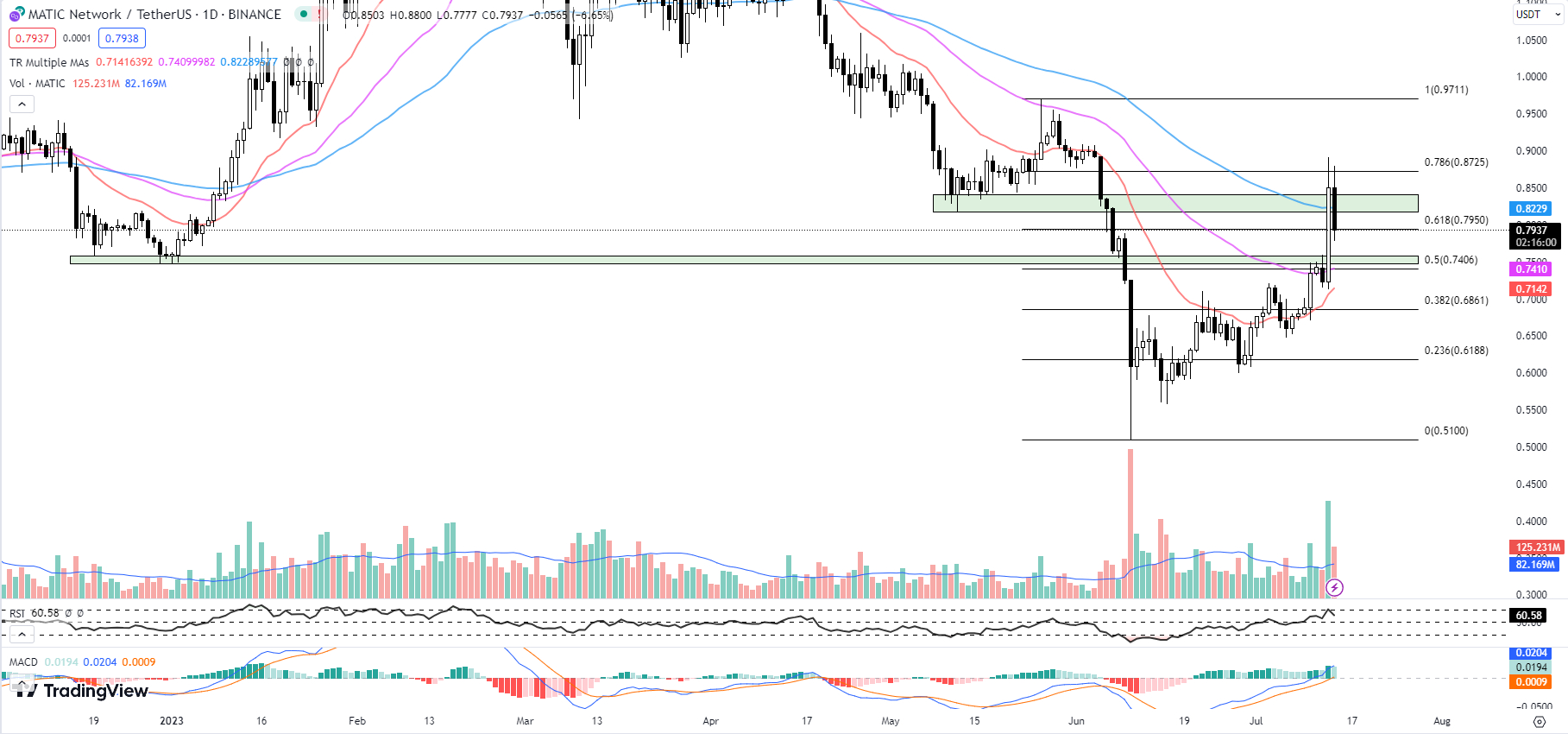 Polygon (MATIC) finds itself locked in a struggle, unable to conquer the horizontal resistance area ranging from $0.8183 to $0.8412, which sits in line with the 100-day EMA at $0.8229.
MATIC is currently trading at a price of $0.7937, a significant loss of 6.65% so far today.
One of the primary indicators, the 20-day EMA, registers a mark of $0.7142, and the 50-day EMA is at $0.7410.
These measurements reveal an upward momentum in the mid-term despite the recent loss.
However, the 100-day EMA at $0.8229 is a crucial figure to watch as MATIC struggles to breach this point.
This failure to overcome the 100-day EMA indicates a persistent resistance barrier in the near term.
The RSI has dipped from yesterday's 70.11 to 60.58. While this might suggest the onset of bearish momentum, the current reading remains above the median of 50, indicating that bullish sentiment still outweighs the bearish one, albeit to a lesser degree than before.
Meanwhile, the MACD histogram reads 0.0194, a slight drop from yesterday's 0.0197.
Though the drop is minimal, the declining trend may imply an impending bearish crossover, potentially suggesting a short-term bearish phase.
Matic currently finds immediate support at the Fib 0.618 level, precisely at $0.7950.
Should the price fall below this point, the next significant support zone comes into view at the Fib 0.5 level at $0.7406, which coincides with the 50-day EMA at $0.7410.
This confluence provides a robust safety net that could keep the cryptocurrency from falling further.
The technical indicators for Polygon (MATIC) paint a complex picture. The recent losses, coupled with an RSI in decline and the inability to breach the 100-day EMA resistance, could suggest bearish sentiment in the short term.
However, the ascending EMAs over the medium-term and support levels aligned with Fib retracements and the 50-day EMA indicate possible bullish potential.
Given these observations, investors are advised to proceed cautiously, taking into account both the bearish and bullish signals shown by the technical indicators.
Remaining vigilant and watching for shifts in the RSI and MACD, as well as price reactions at key support and resistance levels, could be crucial in formulating effective trading strategies in the days ahead.
Chimpzee: The Charity-Focused Crypto Start-Up Making a Difference
Catching the eye of web3 industry observers, the Chimpzee project has turned heads by raising over $844,000 so far through the presale of its native $CHMPZ token.
Considered a promising charity-focused crypto start-up, Chimpzee balances earning passive income with a conscientious focus on fighting climate change and saving animals.
With a multitude of features lined up, including a merchandise store, a non-fungible-token marketplace, and a play-to-earn game named "Zero Tolerance," investors can secure $CHMPZ tokens at $0.0007 each with a 125% token bonus.
Early investors during the gold stages will also be eligible to mint Chimpzee Gold Passport Non-Fungible Tokens (NFTs) post-presale, offering a yield of 18%.
A striking contrast to other charity-focused presales, Chimpzee is already making a difference by planting over 20,000 trees and donating more than $35,000 to charity.
Profits from the Chimpzee shop will also be shared with listed charities, fostering a unique shop-to-earn and shop-to-donate experience.
Apart from its charitable cause, $CHMPZ holds potential for investment portfolios. Early investors could witness considerable gains when $CHMPZ debuts across major cryptocurrency exchanges later this year.
The deflationary supply, combined with the burn policy for unused tokens and those used for Chimpzee Passport NFTs, could further propel the token's value.
With 45% of the $CHMPZ supply available during the presale, a purchase of this token now may present a savvy move for those searching for the best cryptos to buy now.
Visit Chimpzee Now
ApeCoin (APE) Struggles to Rebound: Is It Still One of the Best Cryptos to Buy Now?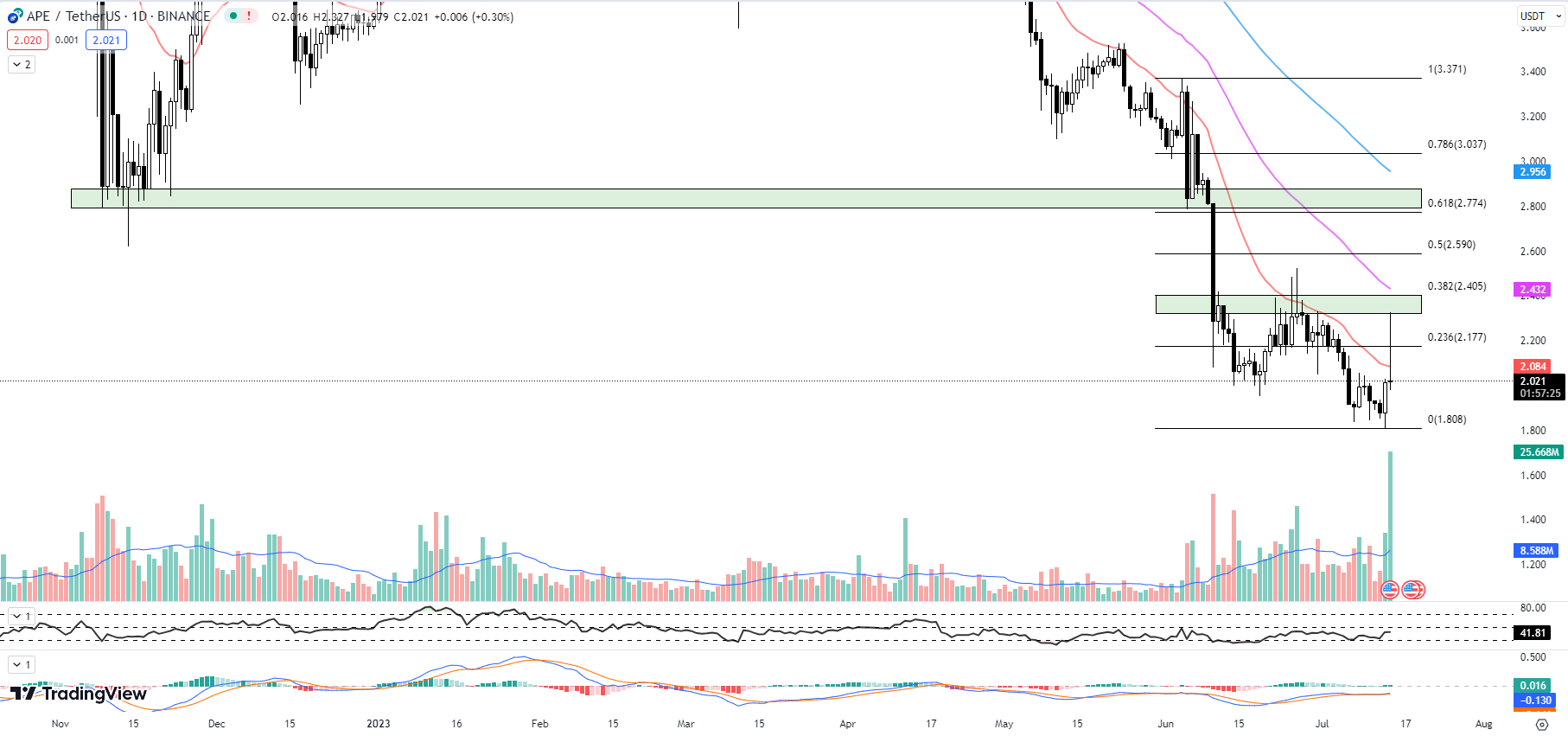 ApeCoin (APE) continues to grapple with its resistance levels, with no clear signs of gaining momentum for a breakout from its 20-day Exponential Moving Average (EMA) of $2.084.
Despite an intraday high of $2.237, which marked a fleeting 15% gain earlier today, the coin's value was swiftly deflated due to intensive selling pressure, falling back to its current level of $2.021.
This trajectory has led to the formation of a bearish gravestone doji candle, which traditionally signifies a potential reversal of the current uptrend.
The higher EMA values – the 50-day EMA at $2.432 and the 100-day EMA at $2.956 – underscore the cryptocurrency's waning bullish momentum.
Traders should take note of this growing divergence between ApeCoin's current price and these EMA levels. Historically, such a gap has often preceded a bearish phase.
APE's RSI has marginally increased from 41.41 to 41.81. This minor uptick suggests a mild increase in buying pressure.
However, as the RSI still lies below the midline (50), the overall trend remains bearish. Traders should keep an eye on this indicator as it approaches the oversold threshold of 30, which could trigger a bullish divergence.
Despite a modest gain in ApeCoin's market cap today (up by 2.33% to $743,994,964), the 24-hour trading volume has surged by 162.58% to reach $261,735,918.
This dramatic increase in trading volume, coupled with the downward pressure on the coin's price, suggests that a significant number of holders are offloading their ApeCoins.
The MACD histogram presents a slight positive divergence with the value rising to 0.016 from yesterday's 0.009.
However, the predominance of bearish indicators signals that this might not be enough to spark a bull run.
For now, ApeCoin's immediate challenge lies in breaking through its dynamic resistance level, marked by the 20-day EMA at $2.084, which has held firm for over two months.
On the downside, traders should be alert to the swing-long support area between $1.808 to $1.878.
A break below this support could potentially signal a more substantial bearish shift in the coin's trajectory.
Conversely, a successful breach of the 20-day EMA resistance might provide the necessary catalyst for a rebound. The bearish sentiment surrounding ApeCoin remains pronounced.
While the minor positive divergence in the MACD suggests a glimmer of hope, the coin's struggle to break past its 20-day EMA, coupled with an uptick in selling volume, indicates a challenging road ahead.
Disclaimer: Crypto is a high-risk asset class. This article is provided for informational purposes and does not constitute investment advice. You could lose all of your capital.