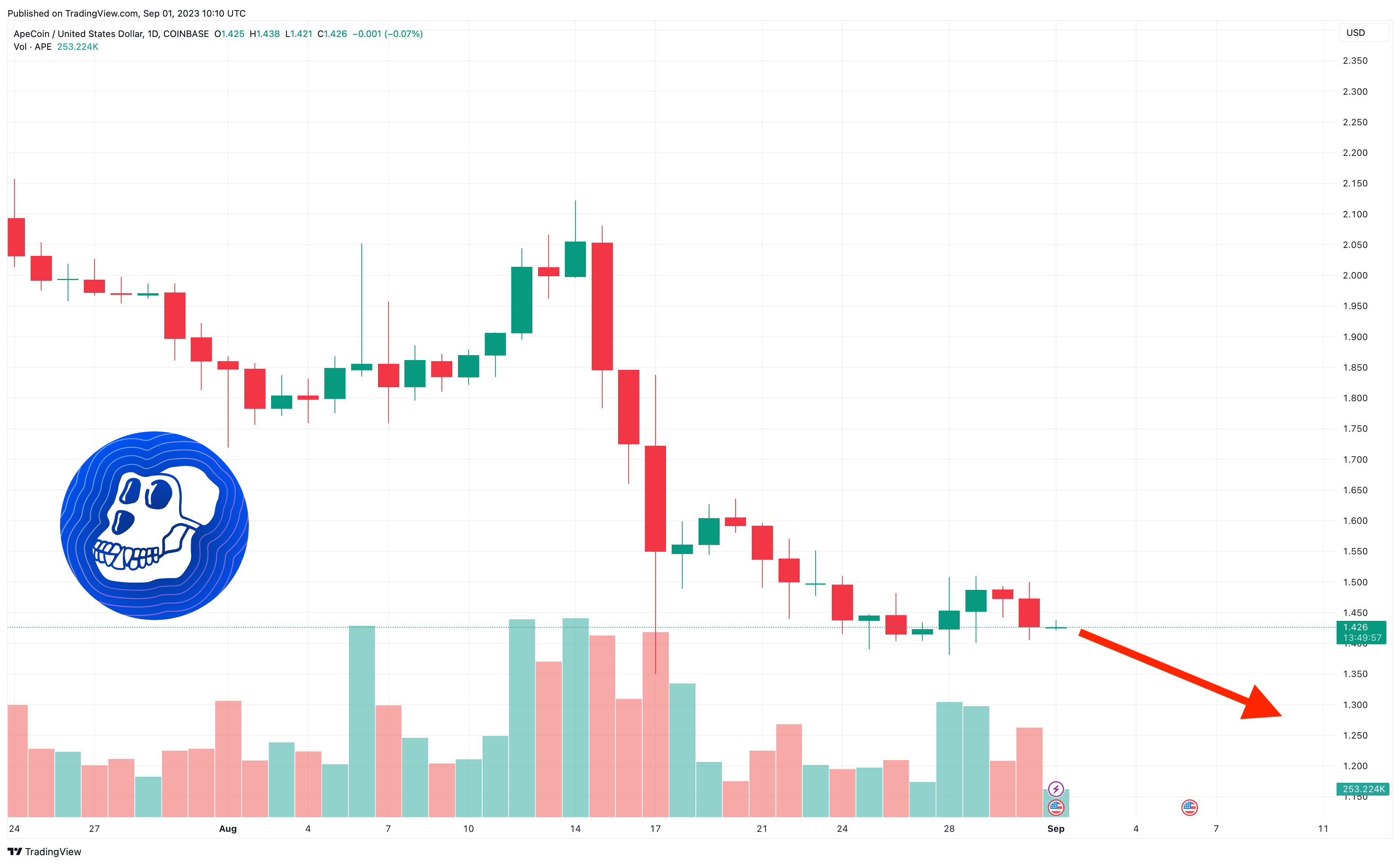 The ApeCoin price has dropped by 3% in the past 24 hours, with its fall to $1.43 coming as the cryptocurrency market slides in the wake of another Bitcoin ETF application delay.
APE is now up by 1% in a week but down by 7% in a fortnight and by 21% in the last 30 days, with the altcoin also down by 60% since the beginning of the year (in contrast to many major cryptocurrencies, which are up across the year-to-date).
However, APE's recent declines put it in an oversold position from which it should rebound strongly, although the altcoin has been undermined in recent weeks by legal disputes between Bored Ape Yacht Club creator Yuga Labs, NFT investors, and marketplaces and auction houses.
ApeCoin Price Prediction as APE Falls Below $1.50 – Here are Key Levels to Watch
On the face of it, APE is in a great position, insofar as its indicators all signal severe overselling, which under normal circumstances would suggest an asset going at a steep discount.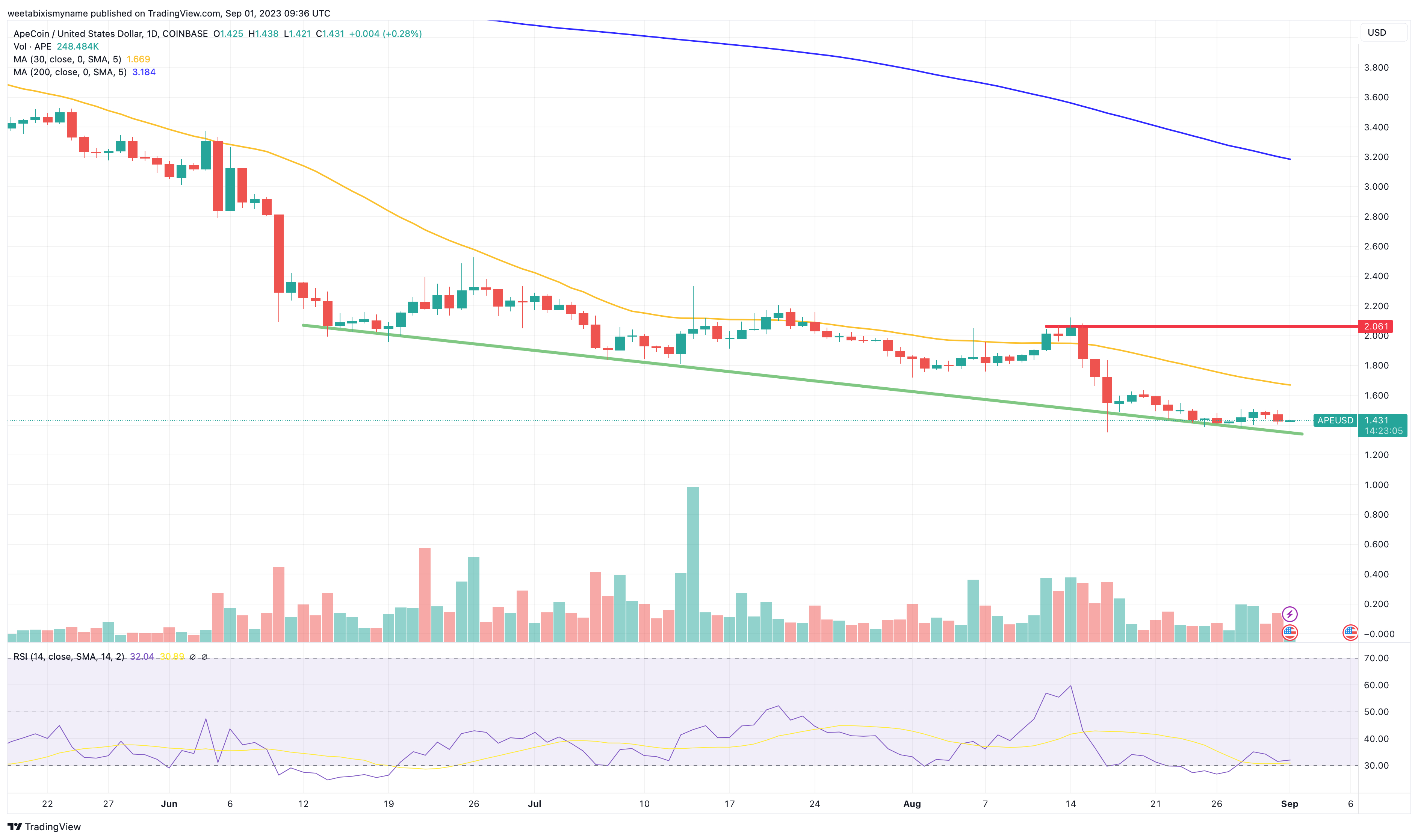 For one, APE's relative strength index (purple) continues to languish at around the 30 level, and given that it has been at this level for a couple of weeks, many traders would be forgiven for assuming that the coin simply has to rebound anytime soon.
Similarly, APE's 30-day moving average (yellow) is massively below its 200-day (blue), which again signals considerable overselling and undervaluation.
This would imply that the altcoin has completely bottomed out and that it more or less has to begin rebounding very soon.
However, the fact that APE's support level (green) has declined steadily since early June would indicate that it may not have finished declining just yet.
Indeed, the coin's failure to hold to the $1.50 level may indicate some serious weakness, and it may be the case that investors aren't willing to return to APE until it falls even further.
Such conservatism on the part of investors may be entirely justified, given how the NFT market – which includes Bored Ape Yacht Club – continues to suffer after falling off a proverbial cliff towards the end of 2022.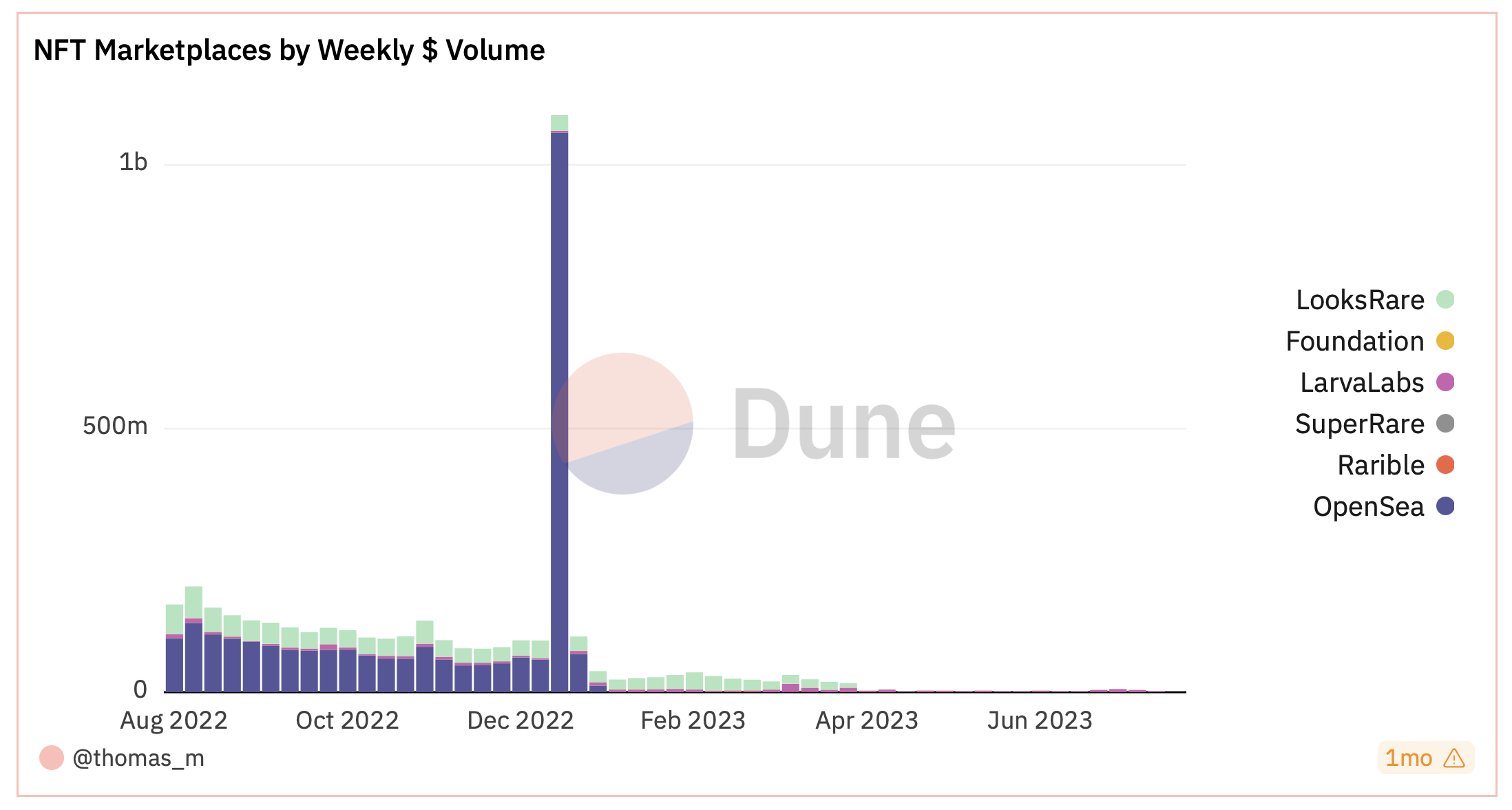 Not only have sales volumes on NFT volumes dried up, but a couple of disputes have broken out in recent weeks.
Firstly, a number of Bored Ape investors have sued Sotheby's and other auction houses, claiming that they were misled as to the viability of NFTs as investments.
Secondly, Bored Ape creator Yuga Labs is currently in a dispute with major NFT marketplace OpenSea, which is planning to stop collecting royalties on behalf of NFT creators.
This move has led to Yuga Labs deciding to remove its support from OpenSea, which could only end up hurting Bored Ape Yach Club, given how big openSea is within the NFT market.
Because of all this, APE's prospects in the near and more distant future don't look especially promising.
The coin may recover in the shorter term, but perhaps not until it falls to $1.35 or lower.
And it's likely to be only a gradual recovery for APE, one which will be dependent on the overall recovery of the NFT sector.
New Altcoins Have More Potential
Because APE's future remains uncertain, many traders may prefer to invest in newer altcoins that show more potential for big gains in the near future.
One particular area worth exploring in this regard is presales, with numerous new tokens holding their sales right now and looking as though they could rally substantially once they list on exchanges.
One of the best of these is Sonik Coin (SONIK), an ERC-20 meme token that has raised more than $900,000 since its presale began last month.
Taking its memes from the everlasting Sonic the Hedgehog franchise, SONIK has carved a little niche for itself as a result of its mix of brash humor and playful edginess.
And given that it has raised close to $1 million so quickly, it's fairly apparent that its personality is winning over converts, something which will help it achieve its aim of rising rapidly to a market cap of $100 million once it's added to trading platforms.
The meme token will come with a maximum supply of 299,792,458,000, a number which happens to be the speed of light in mm/s. 
50% of this total has been made available as part of the presale, while another 40% will be kept aside for staking rewards (the remaining 10% will go towards liquidity).
That SONIK will be open to staking is likely to make it more desirable as investment, with holders able to earn a passive income on top of any price appreciation the altcoin enjoys.
And while the sale is due to end in four days, investors can still participate by heading over to the coin's official website and connecting their software wallets.
SONIK is now available at $0.000014, a price which is likely to seem very cheap in the next few weeks.
Visit Sonik Now
Disclaimer: Crypto is a high-risk asset class. This article is provided for informational purposes and does not constitute investment advice. You could lose all of your capital.