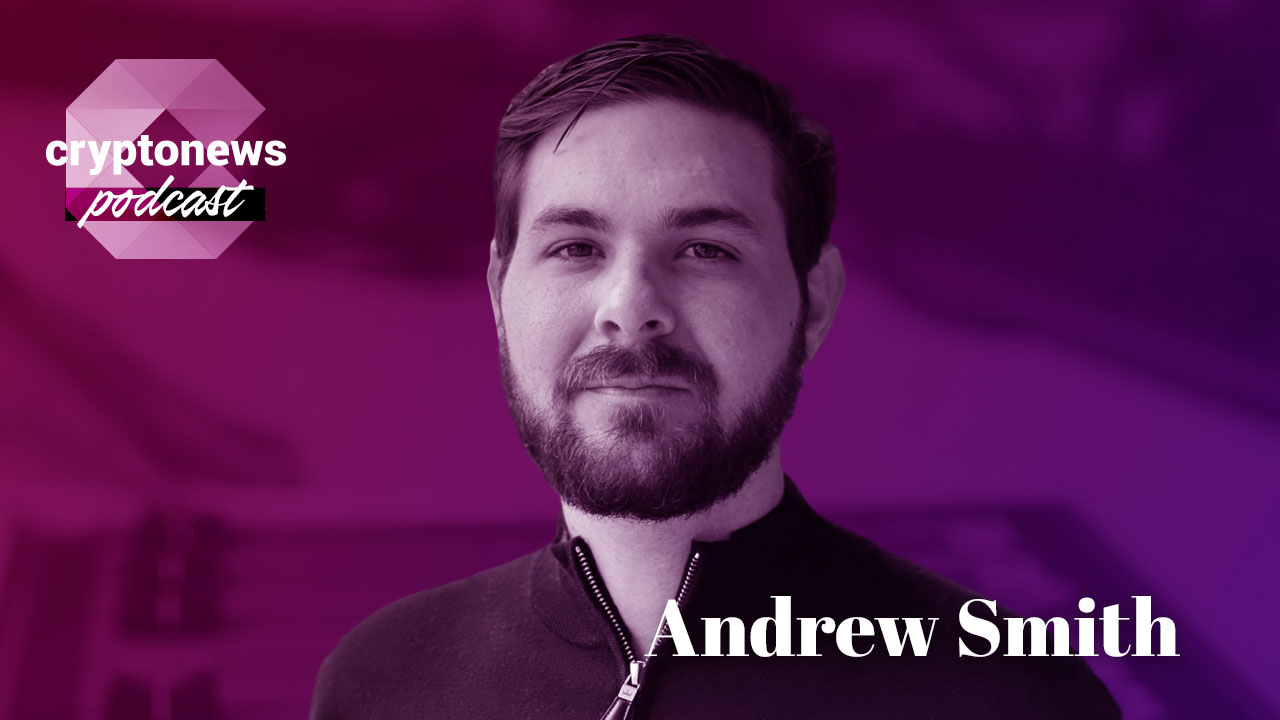 In an exclusive interview with cryptonews.com, Andrew Smith, Founder of VRRB Labs, talks about building a Layer1 blockchain, how Metaverses should not be built on the blockchain, and how AI will make crypto more efficient. 
About Andrew Smith
Andrew Smith is the Founder of VRRB Labs, a decentralized protocol that is developing the VRRB Layer 1 blockchain, an innovative blockchain that will make it easy and financially sustainable for developers to build user-friendly applications. Andrew founded VRRB Labs in 2020 after experiencing the challenges inherent in many blockchains, including a lack of scalability and developer-focused resources. Prior to founding VRRB Labs, Andrew served as co-founder and Chief Data Scientist of OWL ESG, a tech-driven ESG data provider. Andrew began his career as Chief Product Strategist of the investment firm New Millennium Macro. 
Andrew Smith gave a wide-ranging exclusive interview which you can see below, and we are happy for you to use it for publication, provided there is a credit to www.cryptonews.com. 
Highlights Of The Interview
Building a Layer1 blockchain
Empowering developers to innovate will ultimately lead to more attractive and user-friendly dApps, which will, in turn, drive user adoption
Nurturing a vibrant developer community is the key to unlocking Web3's full potential
Metaverses should not be built on the blockchain – it is a waste of their time, energy, and resources
A.I. has the ability to take web3 – and blockchain technology in particular – to the next level



Full Transcript Of The Interview
Matt Zahab 
Ladies and gentlemen, welcome back to the Cryptonews Podcast. We are buzzing as always and I'm super pumped to have Andrew Smith on the show today, founder of VRRB Labs. A decentralized protocol that is developing the VRRB Layer 1 blockchain, an innovative blockchain that will make it easy and financially sustainable for developers to build user -friendly applications. Andrew founded VRRB Labs in 2020 after experiencing the challenges inherent in many blockchains, including a lack of scalability and developer-focused resources. Prior to founding VRRB Labs, Andrew served as Co-Founder and Chief Data Scientist of OWL ESG, a tech-driven ESG data provider. Andrew began his career as Chief Product Strategist of investment firm New Millennium Macro and currently resides in the one and only Miami, Florida. We love to see Andrew super pumped to have you on man. Welcome to the show. 
Andrew Smith 
Thanks so much for having me. I appreciate this. Yes, I live in Miami. Unlike a lot of people who live in Miami now, I actually was born and raised here. It's becoming more and more rare. It's crazy having grown up here. Obviously, I've got a bunch of friends who are from here, but more and more often, you meet people and they're coming from New York, they're coming from Seattle, they're coming from San Francisco and all over the place. I actually left Miami when I was in my early 20s for my career. There was just really no tech industry, so to speak, in Miami. Everything was basically real estate. 
Matt Zahab 
Like entertainment? 
Andrew Smith 
Well, some entertainment, to be honest, the big industry here was like health insurance fraud, which is kind of funny. There's like a massive, like when all of the sort of drug cartels got pushed out of Miami because it became very difficult to get into the gangs, basically got into like health insurance fraud where they're like defrauding Medicare and Medicaid. It was like a huge industry here, which is bizarre. Miami was always kind of known as sort of a sunny place for shady people. I didn't want to be associated with that, especially young in my career. So I did take the opportunity to get out as a programmer. I also have a passion for financial markets and economics. So started my career building trading strategies very early on using data science techniques, machine learning, to build trading strategies for primarily focused on commodities. Yeah, so that took me to LA. So I lived in LA for about a decade, started my first startup there, and then in 2020, I moved back to Miami. So I've been back here for a few years. There's a number of different things that led me to do that. First was obviously the main thing that brought a lot of people to Miami was COVID. Everything was open here. So you got to live your life. And then obviously I had still have all my family here. So it was really nice after being gone for a decade to come back and reminds you of what really matters in life and being close to family is really important to me. 
Matt Zahab 
Well said. What are some of the biggest differences you found with LA and Miami? Because those are two like world -class cities, right? If you're not from the state to someone who's from Canada, it's like the three cities that everyone talks about are New York, Miami, and LA. Obviously, the three most famous cities in the States. What are some of the biggest differences between the two that you found? 
Andrew Smith 
So Miami is the least, maybe aside from Hawaii, is the least American city in America. It's very Caribbean, the culture is Caribbean. It doesn't really matter what you look like. You walk into it, you can be white, black, Asian, you walk into any store in Miami, that the assumption is going to be that you speak Spanish. That is sort of a little bit of a culture shock for a lot of people straight away. LA is still very diverse, but it's still very American. There's burger shops and donut stores and stuff like that. Here, there's none of that. There's obviously got like your fast food burger places, but Miami is Cuban cafes, Venezuela and Colombian cafes, stuff like that. So just the food, the culture, everything is very different. LA is still very American in my opinion, and there are benefits to that. But Miami is unlike any other city in the States. I think it's more like a Caribbean island than it is another American city. 
Matt Zahab 
I love both those cities and I probably live in both, but I found them very different as well. I found LA, the type of people in LA was very interesting to me because everyone is, and again, this is just my very small sample size of being there, but everyone's incredibly full of themselves and sort of in this little world of their own, via the entertainment industry, which I'm sort of like, you guys are goobers, what do you do? And on the flip side, I respect the hell out of it because they're giving up their lives and dreams and families and leaving all of their close friends to go live out a dream where they know they have such a small chance of succeeding. And I respect the shit out of that. So it's very paradoxical on my end because I'm like, you're so full of yourself, what are you doing? But on the flip side, it's like, hey, you're in the arena and I'm not so touche. So that's how I feel about it. And then Miami, it's just a whole different world. But yeah, that's the sort of my two cents there. 
Andrew Smith 
For sure. I think, yeah, Miami, you get a little bit of the full yourself in Miami as well, a little bit of the flashiness. Definitely some of that. The other place where I think has a little bit of that as well is in Silicon Valley. But it's a different type of being full yourself. But anybody who's extremely successful until they became extremely successful was told over and over again that the evolution is a granger and they're crazy and nobody believed in them. And like, why would you ever try to do this? Why don't you just go get a real job? Like everybody who's super successful has some variant of that story of nobody believing in them. So I always have respected that. I think it's, you know, it was just sort of in my DNA. I was never going to just kind of settle for, you know, you know, a nine to five corporate job that just isn't me. Again, I think that there's a type of person that it takes to build a startup. And I think there's a similar personality there to the type of person that takes to become a famous actor. So you need to have an extremely high degree of self-confidence. And that's not to say that you're not, there's not going to be ups and downs that you're not going to go through, you know, tough times been there and done that, but it's, you've got to have something in yourself that, that you believe you're the person for that job. So, and I think that there's overlap with the entertainment industry in LA. 
Matt Zahab 
100%. Let's, uh, let's jump into the show here. It is Crypto Pod, doing research, again one of the questions I always have to ask, and I got to throw hot seat city population. You right away, it's got to happen. You guys are developing a Layer 1 blockchain. There's so many of them. Why develop another one? Obviously there are reasons why you are developing another one and we'll jump into these. So many people have tried to, you know, find product market fit and developing a new Layer 1, you and the team are really moving and grooving and have a really good chance of finding that sort of end goal product market fit. But in essence, in summation high level, if you could summarize it, why are you guys building a new Layer 1 blockchain? 
Andrew Smith 
So I think that there's really two core reasons. One is, is scalability. We have yet to really see a truly scalable Layer 1. You could argue Solana and to some degree now, Sui, but even their, you know, peak transactions per second have been sort of in the three, you know, the 50 ,000 range and average transactions per second on Solana. I think hover around, around 3000. There's all sorts of controversy and arguments about whether those are votes versus actual, you know, transfers value and stuff like that. So scalability, I think is still really important. If we want to build a new financial system and a new internet censorship resistant or censorship proof that's permissionless, that banks the unbanks that enables you to globally transfer value in, you know, sub second times, you need to be able to handle more. There's eight billion people in the world. There's millions of businesses, money's flowing all over on, and, you know, the legacy financial system, you know, whether it's stock market or, you know, the swift system or locally in the States, domestically, the, uh, Fed wire system, there's billions and trillions of dollars traveling around these, these mechanisms, not to mention all the credit card transactions, everything. So you need to be able to scale a blockchain up to hundreds of thousands, if not millions of transactions per second, if you want to be able to replace the legacy financial system. So that's number one. And then number two, I found that the focus on most Layer 1s has been in the wrong place. It's  been primarily around trying to create sort of a moded community, small community of niche developers. Oftentimes those developers are really brilliant. Sometimes you'd say they're too smart for their own good. There's not like a super solid user experience focus or product focus. A lot of times it's, Hey, let's do something fun and interesting and cool, that a lot of people kind of have a tough time relating to or understanding. So the second thing that was really kind of a big driver for us to do this was to rethink the way the developer experience works. Instead of building a Layer 1 with a language VM and sort of a domain specific language, or even sort of taking the Solana approach and using, you know, existing languages like Rust, you know, we wanted to provide a more flexible developer experience that made it possible for existing Web2 developers and sort of your general software programmers out there in the wild to make the transition to Web3 really seamlessly. Developers are the lifeblood of a Layer 1. You know, we talk a lot about users, like where are we going to find the next billion users? And that's all, all funny and good. And I think we need to have those conversations like, yeah, what are the killer use cases that are going to come from this? But ultimately the truth of the matter is nobody actually knows. What we really need to be focusing on is bringing on developers who can build innovative new products that eventually people will want to use. Users will come if there's use cases for them to use. That's not the only prerequisite. You need to get the word out there about those use cases. You need to drive people to it. You have the greatest product in the world, but if nobody's heard of it, nobody's going to use it. So there's multiple layers to it, but at the very core of it, if you want more users, you need things that they want to use. And I know that sounds like really obvious, but nobody's doing that. Nobody's focusing on that. So that was where we felt we could really have a big advantage here. So our Layer 1 offers the ability to build smart contracts in any language that you want. Literally whatever programming language you prefer, you can build in our system. And if you'd like, we can talk about how we enable that. And on top of that, it's not just about the language barrier, although that's a big one. Familiar tools, familiar frameworks, familiar testing environments, making it look and feel more like the Web2 developer experience. Something that people are familiar with that they can step in and in 15 minutes to 30 minutes go from a test net or even launch a local test environment. So there's all sorts of tooling that we're building around the developer experience to provide a seamless onboarding process. 
Matt Zahab 
Walk me through the language barrier and developer tooling, because again, this is something that was never front of mind for me. It makes sense that this is such an issue in developer tooling and the developer experience, but I didn't know it was as big an issue as it actually is. I'd love if you could just take a deep dive into this and why the language barrier is such a shithole for developers. 
Andrew Smith 
Yeah, so I think I get this question a lot, particularly around solidity. And it's like, solidity is not that hard of a language to learn. Why can't people just learn it? And the truth is that that is true. Like, it's not a crazy, difficult language to learn tactically. If you've reincode in JavaScript or even to a certain degree, C and C++, there's enough overlap there where you could pick up the syntax pretty quickly. And it's not really just about learning the language, though. Solidity has all sorts of what we would call foot guns. And it's very easy to make mistakes. It's very easy to become complacent and think that you know what you're doing. And when you're talking about millions of dollars at risk, potentially billions of dollars at risk, you've seen tons of exploits on Ethereum. There's a reason why there's tons of exploits, because the language is not really the safest language. So it's not just about learning the language. It's about becoming an expert at the language. So that's part of it. And then the second part of it is, why learn solidity? There's only one reason you would ever learn Solidity, and that's to write smart contracts. It is a domain-specific language. There have been other domain-specific languages that have become marked down, obviously, is really popular. You call that a DSL. HTML is a DSL, right? But there were these huge user bases already built in for that. It's not exactly clear that there's a huge user base built in for smart contracts. I think those of us in the know, know that's the case. But there's not really a huge incentive for some Python developer who's making a quarter million dollars a year building machine learning algorithms to go and learn yet another domain-specific language. They'd rather learn an additional general programming language like Go or Rust or C or C++ or some other Web2 language. Maybe they want to learn JavaScript and they want to learn how to write react code so that they can build front-ends and tie them in with their apps. So it's not just about it being a difficult language because it's really not. It's fairly easy language to pick up the basics of. But then becoming an expert of anything takes time. And because there's all these book guns, it's very expensive. You have to get very expensive audits on your smart contracts. You're dealing with people's money. And then on top of that, it is not a general programming language. It's a domain-specific language. There's only one reason you'll ever learn it. A lot of people just don't feel as though it's worth learning for that purpose. But if they could build a language that they can also do 10 other things with, now all of a sudden this becomes more appealing. 
Matt Zahab 
Your ceiling is more higher as a dev. Honestly, the line you gave about the upside and managing the risk and reward of jumping from Web2 to Web3, it's nonsensical. It makes almost zero sense for them. If you're making a couple hundred grand a year doing whatever you're doing plus the ability to make side cash, side jobs on the side, why would you jump to Web3? Sure the ceiling might be a little bit higher, but there's a shit ton of risk as well. It's a very good point. 
Andrew Smith 
Yeah, exactly. There's a ton of risk. So to stay on that point a little bit, what has made Silicon Valley what it is today is what I typically refer to as coffee shop entrepreneurship. A couple of developers hanging out at a coffee shop, get to talking, idea sparks. They both know how to write code, spend a couple of weekends building out an MVP or prototype, and boom, you got a product. You can go and test it amongst your friends. And if there's something there, okay, now I go raise money around it. Now I try to find product, market fit, etcetera. You really don't have that in Web3. You've got to dedicate everything you have to building whatever it is you're building and get it to a test net. This goes into a whole bunch of other things, but this is why the metric that we really kind of focus on here at VRRB is developer acquisition cost. So things sort of customer acquisition costs, but with focus on developers. And the developer acquisition cost for other base layers is really high. And there's a reason for that. If you're asking somebody to give up whatever else they're doing and spend six to nine months building out a prototype of something, they need some money to make that work with their lifestyle. So a lot of Layer 1s give out big grants. They host these really sort of elaborate and elegant and expensive hackathons and hacker houses to try to drive developers into their ecosystem. So our developer acquisition cost in this industry has gotten out of hand. It's unsustainable. And at a certain point, if we really want to bring in more developers and find killer use cases, we got to drive that down. The best way to drive that down is to build out a hobbyist culture where things like rapid prototyping becomes a lot easier, where people can do this as a side gig until they've tested it enough to know that they're onto something and then they can go out and raise the money that they need to actually bring it to market. That's what you get in Web2. That's what you get in sort of general software programming. You don't have that in Web3. You get a little bit of it, but you really don't have like this robust hobbyist hacker culture. 
Matt Zahab 
So true. So it seems like the playbook in your eyes, and I'm in a very similar yacht to you, but it seems like the playbook is on the foundation side of things, founders and teams need to build really good developer tooling to get developers in, which will inherently allow a multitude of really good products and services and protocols to be built, which now has more use cases for end users, and that will just create the funnel that is missing. Is that that I sort of sum that up correctly? Anything missing from that? 
Andrew Smith 
No, I think that's precise. I think offering up some support as well, highlighting, promoting. To a certain degree, you want to be somewhat neutral about this, but I do think that the foundations do have a responsibility to also inform the public that, hey, here's some really cool things you can do on our chain or on our network. So, I would add that to it. But yeah, it's creating sort of this, you know, people will use the term flywheel. I think that's kind of what it is. You're creating this flywheel where, you know, a couple of good products get built, more developers come in, because now there's liquidity in users, they build some more new products. And then, eventually, you just have, you know, sort of, you know, what we would like to see is sort of an AWS of Web 3, where it's just your go-to when you want to deploy a product, right? Like, you build something, you go to VRRB, you deploy it, you build something else, you go to VRRB, deploy it, and you just keep creating new and new things and piecing things together to build an ecosystem of use cases. Yes, some that are Web3 native, some that are sort of Web2 .5. But at the end of the day, we want developers to think Web3 first, not Web3 only if I absolutely need it. There's a lot of benefits to Web3 that you get. Like, for example, one of the things I mentioned earlier on is censorship-resistant internet, like, or censorship-proof internet. I think, you know, you're in Canada, I'm in the States, we're privileged in the fact that we live in a democracy that, you know, 99% of the time allows for free speech. There's a lot of benefits to living in a Western democracy. And a lot of people just kind of forget that way more of the world does not live in a Western democracy than lives in a Western democracy. So one of the benefits of growing up in Miami was that was hammered into my head over and over gigs. A lot of my friends, their parents escaped authoritarian dictatorships. So, and came to America for that promise of democracy and freedom and the ability to speak your mind and to complain and reject, you know, the status quo. You know, we get to go to the internet, go to whatever sites we want for the most part. That's not the case in the rest of the world. That's not the case in Iran. It's not the case in China. That's not the case. Lots of places the internet is censored. 
Matt Zahab 
Canada now, unfortunately, it's yeah. 
Andrew Smith 
Yeah. It's not what it once was, right? And that's the same case in a lot of places in South America. And then take that and extend it to the financial system. So now you're talking about not just information, but people's money gets censored. And they can be unbanked, you know, or debanked. 
Matt Zahab 
That's spooky. 
Andrew Smith 
Yeah. So at the core of what we're doing here is we're trying to build a backbone for a censorship proof, permissionless internet and financial system that enables people to access all of the things that we, growing up in a Western democracy, took for granted. And I think that's a extremely important goal if we want to see human flourishing. That degree of freedom enables people to make the best decisions for themselves and enables them to be able to conduct business and exchange, which ultimately is going to lead to much greater standards of living. It's going to lift people out of poverty. All of these things are very important to me. That's why I'm building VRRB. But at the core of it, none of that matters if at that first layer, developers have a tough time building what they want to build. Right? So you've got to make it easy for the people who are going to offer up those services to build on top of the infrastructure that you're offering up. Otherwise, they're just going to go to AWS or Google Cloud or Azure, wherever else. 
Matt Zahab 
100%. Yep. What's comfy. What's easy. Andrew, we're going to take a quick break and give a huge shout out to our sponsor of the show PrimeXBT. And when we get back, we are going to talk about the Metaverse and some of the biggest misconceptions about the Metaverse. But first, huge shout out to PrimeXBT, our sponsor of the show and longtime friends of cryptonews.com. PrimeXBT offers a robust trading system for both beginners and professional traders. It doesn't matter if you're a rookie or a vet, you can easily design and customize your layouts and widgets to best fit your trading style. PrimeXBT is also offering an exclusive promotion for listeners of the Cryptonews Podcast. After making your first deposit, 50% of that first deposit will be credited to your account as a bonus that can be used as additional collateral to own positions. The promo code is CRYPTONEWS50, thats CRYPTONEWS50 all one word to take advantage of this offer and receive 50% of your deposit credited to your trading account. And now back to the show with Andrew. Let's show them into the Metaverse. Obviously, we're going to go back to VRRB. I mean, this is connected, but nonetheless, one of your not hot takes, but one of your warm takes perhaps on the metaverse is that Metaverses should not be built on blockchains. And there really isn't a future in which Metaverses can be built on blockchains because it is hella expensive, way too much equipment needed, way too much graphic related stuff needed. It's candidly, it's nightmare fuel, but there's such a narrative that's already been built into the ethos of Web3 and to crypto and blockchains and NFTs and the metaverse one and so forth that it almost seems like the metaverse is synonymous with crypto or being built on a blockchain. And truly, it's not the case. I love if you could take a deep dive into this and explain why is this such a waste of time, energy and resources. 
Andrew Smith 
Yeah, it's absolutely not necessary to build an entire metaverse on chain. And you saw a lot of like run projects try to take advantage of this. You're going to buy a plot of land in the metaverse and I get it. I think it's an interesting use case for like NFTs and stuff, like digital real estate and all that. I just never really kind of saw that. I think there is a component of the metaverse that you could have on chain, which is it like whatever you want to call it, in-game assets, right? Or like any world assets. So you could have NFTs that represent certain things within the metaverse that are on chain and make them tradable and more accessible. And then you can have APIs within your VR world that allow you to kind of like interact with the blockchain on the back end. But the idea of building the entire infrastructure on top of black blockchain is kind of absurd. The one benefit of it would be sort of the censorship resistant or censorship proof aspect of it. You'd be able to access it from anywhere at any time. But I don't think that like until we get to a point where there's all sorts of, and this is kind of the other problem, until we get to the point, did you ever watch the Chappelle show? 
Matt Zahab 
Of course. Oh yeah. Classic. 
Andrew Smith 
Okay. So there's this, whenever I think of the metaverse, I think of this. There's this episode of the Chappelle show where he's talking about like, he does this skit of what if the internet was a real place and like a place in real life. And like he's why this is back in the old days in the internet where they're pop-ups and like, you know, just like you'll be browsing the internet and all sorts of like porn pop-ups start coming up and it's like, get out of my face. What are you doing? You know, so he's like walking through this real and I kind of like, that's kind of like what I think of when I think of the metaverse still. And maybe it's just because I'm getting older, but I think there are some aspects of it of a metaverse where especially if you want mass adoption, you need to have some degree of control over the content that's being produced in it. You don't want the whole thing to devolve into, you know, a place that's not, you know, child friendly, enables a very like offensive environment for children or for anybody really. So I think that there's aspects of control over a metaverse that you want to have. That's one part of it. I do think in world assets, you could link on chain and have, you know, some of those benefits built into it. But I think the idea of everything needing to be on chain is kind of absurd. I see metaverse as sort of a Web2 .5 application that you have a lot of the gaming components of it are built off chain. The asset component of it is on chain and you kind of link those together through, you know, API calls down to the chain. That's probably the most obvious way to build this. I think most of the metaverses we've seen have been built that way. I think trying to avoid getting scammed buying like a plot of land in the metaverse is probably a good idea. Like don't buy plots of land in the metaverse. The reason why real estate is expensive and has values is because there's a legitimate scarcity to it. There's only so much in certain areas with certain characteristics, etc. In the metaverse, you can produce as much real estate as you want. You could argue that like, yeah, you can create scarcity, artificial scarcity within these worlds. But I don't know, it's unnecessary. If we want to build like a truly expansive metaverse sort of the snow crash, you know, Neil Stevenson vision of the metaverse of this expansive world with all sorts of different, you know, in-game businesses and assets and avatars and all that kind of stuff. Some of that can be facilitated by blockchain technology and tokenization, and I'm all for that. But I think the core game component of it probably should not be. 
Matt Zahab 
Yeah. No, Andrew, you and I are in the same yacht here. In regards to VRRB and the Metaverse, you guys again, bread and butter helping the Dev community create incredible tools for the Metaverse. What exactly are you and the team doing to help Devs create better tooling protocols and products for the Metaverse? 
Andrew Smith 
The ability to integrate 3D assets and use existing languages like Unity and C++ and being able to incorporate existing frameworks for game development and 3D world development I think is probably the most important one where you don't need to learn new skills to integrate Web3 assets into your Metaverse. You can actually just use existing tools. You can build it like it's a regular game and you can use API calls down to programs or smart contracts that are built in languages that your team is already familiar with, that you've done before. The big difference here instead of using a SQL database, you're using a blockchain. So whenever you're tracking somebody's in game assets, instead of building like a Django framework with a Postgres backend, you're just going to use our chain to stash data and users will actually own their avatar. Users will actually own, if you're building, let's say like a MMORPG game, which I make the same argument I just made for the Metaverse. A lot of that stuff can just be Web2. But some of the assets being Web3 provide a lot of benefits. I never get a chance at playing anymore, but I was a big fan of Diablo, the original Diablo. I remember people selling their avatars on eBay. They'd sell their level 770 avatar for like five grand, ten grand. Which is crazy. Yeah. And what you were selling was not your avatar, you're selling your username and password on eBay, which is crazy. But this was a real thing.  It probably still is. I haven't looked, but probably still is. But now you can do that without having to give up your username and password. That avatar sits in your wallet. You can sell it to somebody else if they want to buy it. Same thing with all of your weapons and your armors and everything else. You have real in-game exchange. You have in other games already. You have in-game, current season in-game exchanges. This just makes it a lot more real and tangible and swappable, where you don't have to swap it just for other things that are in-game. You can swap it for things that are outside of that game for different assets. So there's a lot of benefits to integrating Web3 assets and tokenization into gaming. I see that it's going to be a catalyst. This is what brought a generation onto the internet. There's no reason to think that it's not going to also bring a generation into Web3 on chain. It's a very difficult space to be in, though. Gaming is very competitive. And if you're as a chain presenting yourself as a gaming chain and you don't land the biggest game of the season, then from a business perspective, you're in a little bit of trouble. So this is why VRRB is not a gaming chain. We're a generalist chain. We don't want to be pigeon holed into being a gaming chain. I think that's a very difficult business proposition. And everybody's going to be competing for the best game. That's not to say we're not going to try to compete for the best game. We want to compete for the best game as well. We want those games on our chain. Just everybody's going to be. So it's a very difficult position to put yourself in if you want to be truly a gaming chain. So yeah, that's kind of my thoughts on it. I think the ownership component of gaming and the metaverse is a Web3 native use case. I'm a big fan of it. But a lot of the other stuff outside of that doesn't need to be on chain. 
Matt Zahab 
Yeah, I totally agree with you here. Andrew, one last sort of mega topic to jump into before we wrap up here, AI and Web3. You're a believer that AI can revolutionize might be a stretch, but really make current Web3 everything, tooling, you name it, a lot more efficient with things like gaming, for example, creating game assets, almost instantly being able to do tons of cross-chain stuff, really just making things 100 times easier. What's your two cents on the future of Web3 X AI? 
Andrew Smith 
I'm a big fan of AI. Obviously, as a data scientist in my last role, we built a BERT model, which in a lot of ways is kind of precursor to all the GPT and other pre-trained, large language models, more focused and closed domain models. I see AI as a tool. I'm not a doomer. When it comes to AI, I think it's going to dramatically improve the quality of life of people. It's going to create 100X productivity for a lot of people. Your typical junior engineer is not going to be able to write code. They're a senior engineer and your senior engineers are going to fucking crush. Excuse me, sorry for cursing. 
Matt Zahab 
No, you're good to let it fly. 
Andrew Smith 
Okay, cool. I think it's going to be great for a lot of different things. I also think the user experience of chat, this natural conversation user experience, instead of having to click buttons and learn some unintuitive user interface, just being able to chat and get things done and use natural language to accomplish what you want to accomplish with any given app, I think is a really great improvement in user experience. That could be brought over into Web3 as well, particularly when it comes to the gaming conversation, the ability to embed large language models into NPC, non player characters, and create more of a unique adventure for players of the game, where it's not always the exact same thing, where NPCs now actually have a little bit of like, they have a mind of their own, so to speak. I think also one of the really cool things that we're going to see as AI embedded in executable NFTs, and the ability to build agents out of your NFTs with different personalities, different characters, and have these autonomous agents that are embedded in an executable NFT, and can be trained over time to become really good at some particular task. So now there's an inherent utility in some of these NFTs. I've got a lot of ideas around this thought in particular. I could probably do a whole podcast just on this. 
Matt Zahab 
Keep going. Give me some of the big ones. 
Andrew Smith 
I think the obvious one is, and this is very uncoture, but the simp economy, if you look at AI girlfriend, AI boyfriend searches on Google, it's skyrocketed. Right now, it's like some chick on Instagram who is using a generic LLM that is just responding with generic responses to everybody versus having a customized one. The other thing is tutoring. I think for, so this is taking it to the opposite end of the spectrum. I think LLMs are going to become great tutors and are going to make the process of becoming educated and learning a lot better for a lot of people, particularly people with learning disabilities, for people with trouble comprehending specific topics. That's going to be a dramatic improvement. I think having some degree of fine-tuned for each individual large language model, this is where Web 3 comes in. Being able to do decentralized AI, and this goes beyond smart contracts, this becomes more of a decentralized generic compute task, which I think VRRB is really well suited for. Being able to have customized fine tuned models and agents that have long-term memory and get a feel for the way that conversations go, where certain people struggle, where certain people are good, and tying that into some sort of ownable asset so that you know you're always using the correct model for a given task, I think is a really powerful thing. We're still a ways away from this. I'm impressed by some of the LLMs that are out there. They're not silver bullets. They don't solve everything. I think there's been a lot of hype around them. The assumption is that you can basically spin up an autonomous misage and tell it to do whatever you want. It's just going to do it. That's not really the case. Even if you wanted it to do some really complex tasks, it may accomplish it over a long period of time. With a lot of customization, you may be able to get it to do what you want to do. Ultimately, it's going to become really expensive if you're using a closed source model. If you're using an open source model, the amount of time that you're going to be using it may not be worth. It just takes too long to do, to fine tune it and to add it. I think there's a lot of use cases for AI, and there is a crossover. I think the most compelling one, the most obvious one right away, is the improvement of user experience. Then on the other side, the improvement of the developer experience. The ability to scaffold out code using large language models is fantastic. You can get a lot more done a lot faster that way. I think those two areas are the obvious ones. Then the embedding of large language models and unique assets that serve specific purposes and are fine tuned to that specific purpose is really valuable. A pay once, use it forever model, especially if you're using open source models. You wouldn't pay once and use it forever every time you're interacting. You're probably going to have to pay a little bit for the compute job. But effectively, you buy this asset one time. When you buy a game, you can upgrade it. You can use that game forever. You can upgrade it, but you can use it forever as it comes, as opposed to a subscription model or something like that. Particularly as open source models improve, I think we'll get more and more of these customized domain specific large language models that could be embedded into different things. The other thing is the ability to create unique assets on the fly, which is something that you mentioned at the beginning of this. Tools like stable diffusion and as that improves particularly around being able to build 3D models and 3D avatars, the ability to create custom assets on the fly is going to be something that I think is really valuable as opposed to having to have all of your assets in a game or all of your assets in a metaverse pre built. The ability to use AI, use stable diffusion, or some other AI model to generate characters, items, etc., and have those items be unique, that's something that I think is really cool as well and an intersection of AI and Web3 that I think is coming sooner rather than later. 
Matt Zahab 
Well said. Andrew, this has been a blast. I know we're getting a little tight for time and we've barely scratched the surface here. I cannot wait to have you on for round two. One last question before we wrap up. Any Andrew Smith hot takes? I know you got a bunch of them. Give us a couple. It doesn't have to be crypto related. Can be a little spicy, can be a little controversial if you like health, wealth, happiness, AI, space, you name it. Give me a couple Andrew hot takes before we go. 
Andrew Smith 
I'm going to stick to crypto and I'm going to try to sour the Kool Aid around Rollups a little bit. I think that a lot of people That I talk to are effectively in the camp that innovation is over. Basically, Ethereum plus Rollups plus restaking solves all the problems we ever imagined. It's a silver bullet. It's a silver bullet for scaling. It's a silver bullet for developer experience. It's a silver bullet for all of these problems that people obviously solve with Ethereum. There's absolutely no need for there to ever be another Layer 1. There's absolutely no need for there to ever be another ecosystem outside of EVM. First of all, I think that's absurd. You're starting to sound a lot like Bitcoiners when you try to fall into this territory of, this is the only thing you'll ever need. The first is usually not the best. Usually, things need to be improved and typically improvement comes from the outside, not the inside. It's a lot easier to rebuild something from scratch than it is to extend and improve something, especially when you're dealing with complex system where billions of dollars are at risk around it. So, I would warn against assuming that Rollups plus Dinksharding plus ZK proofs plus restaking and this whole scaling roadmap for Ethereum is going to be the silver bullet. I think it'll be sorely disappointed. I think there are some benefits to it. Does it scale it? Yes, technically it does. Even with Dinksharding though, you're only probably going to get 2 ,000 to 3 ,000 transactions per second. So, it's not nearly what we need in order to actually build a backbone for a new internet and a new financial system. And then on top of that, there's all sorts of problems that come along with rollups and Layer 2s. And then you can extend some of these to Layer 3s as well if you want to talk about execution environments that improve the developer experience. But first of all, the most obvious one is centralization risks. So, a lot of rollups, a lot of L-2s are basically effectively single sequencer, single validator. They're trying to improve that. They're trying to decentralize them more. The more you decentralize, the less scalable they become. One of the reasons why L-2s are so scalable is because they're so centralized. The other problem is that you end up with what I refer to as liquidity fragmentation. So, you're going to have DEXs on all these different Layer 2s. People are going to be using them. The liquidity spreads out as opposed to it all being on the base layer, where now you have a much more liquid environment. Slipage is going to become higher. There's a lot of problems with that you lose a lot of composability, which is one of the great benefits of smart contracts, particularly in the EVM environment, is that they're so composable, they can interact with each other, you can trigger side effects amongst them. You lose a lot of that when you shift that to a Layer 2. Then lastly, I think the user experience on L-2s still leaves a lot to be wanted. It is not what people expected it to be. The ability to bridge between Layer 2s and then back to the base layers is not great. It's a poor experience. That's my hot take. I'm generally a contrarian, so usually when 90% plus people think one way, I'm usually going to take the opposite of it anyways. But this is what I'm really concerned about. I think a lot of people are pouring a lot of resources into something that is a fool's gold solution. There are benefits to Layer 2s. They are not a silver bullet. I do think we do need more L-1 innovation. That's why VRRB exists. That's why L-1s like Monad, one big fan of those guys, they're trying to scale EDM up to over 10 ,000 transactions per second. Their team is really smart, very complex problem, but they're hoping to accomplish that. We need innovation at the base layer. If we ever want to build a new global financial system and a new internet, you have to have innovation at the base layer. A lot of VCs are pouring a ton of money in this. They have big bags and they're going to go around talking about this. There's a circle jerk going on now where everybody just says, oh, no, we've already solved this problem. But the problem is far from solved. In theory, there are some people who believe this will potentially solve Ethereum scaling issues and the rest of the stuff you can fix over time and patch together. I'm not sold on it. So that would be my biggest hot take. I think L-2s and Rollup are not the solution to scaling blockchains and to providing a better developer experience and better user experience. 
Matt Zahab 
Well said. Andrew, truly a treat. Really appreciate you coming on and can't wait for round two. Before you leave us today, can you please let our listeners know where they can find you and VRRB Labs online and on socials? And normally I asked to 100% include your Twitter. But this episode is going to air in a couple of days on Thursday, the 27th, and Twitter is no longer a thing. We now have X. So where can our listeners find you online on socials and on X? 
Andrew Smith 
Yes. So online, it's vrrb.io. our website. It's really cool. Check it out. I think you'll like it. And there's a lot of improvements that are going to come to the website in the coming months. We have a Telegram channel and a Discord server. If you go to the clubs section on our website, you can find links to both of those. And on the app formerly known as Twitter, we are at @VRRBLabs. That's the official VRRB Labs Twitter handle. And me personally, I'm @VRRBFounder. That's where you can find me there on the app formerly known as Twitter. Now X, I don't know what we call it. Is it an X handle? Is it, are we X-ing? I don't know what's going to happen. Is it CryptoX now instead of Crypto Twitter? So those are the best places to find me. I mean, I'm on LinkedIn. I basically never used LinkedIn. So you probably won't have much luck reaching out to me there. The app formerly known as Twitter, Telegram and Discord are really sort of our hubs, our website. We will be having a testnet that watches very soon here. That's coming. That's imminent. Can't give an exact date on that yet, but it's very soon here. And a lot of exciting things happening. If you get in our Telegram and get in our Discord, that's where all the alpha drops occur. So you really want to get there. 
Matt Zahab 
Love it. Andrew, thanks again, man. Really appreciate it and wishing you the best of all the team. Can't wait for round two. 
Andrew Smith 
It was a blast, Matt. Thanks so much for having me. 
Matt Zahab 
Folks, what an episode with Andrew Smith, founder of VRRB Labs, dropping knowledge bombs left, right and center. Anything on the state of blockchains, building Layer 1 blockchains, the metaverse, AI use cases, you name it. We talked about it. Again, huge shout out to Andrew and the team for making this happen. If you guys enjoyed this one and I hope you did, please do subscribe. It would truly mean the world to my team and I. Speaking of the team, love you guys. Thank you so much for everything. Justas my amazing sound editor. Appreciate you as always. And back to listeners. Love you guys. Keep on growing those bags and keep on staying healthy, wealthy and happy. Bye for now and we'll talk soon.