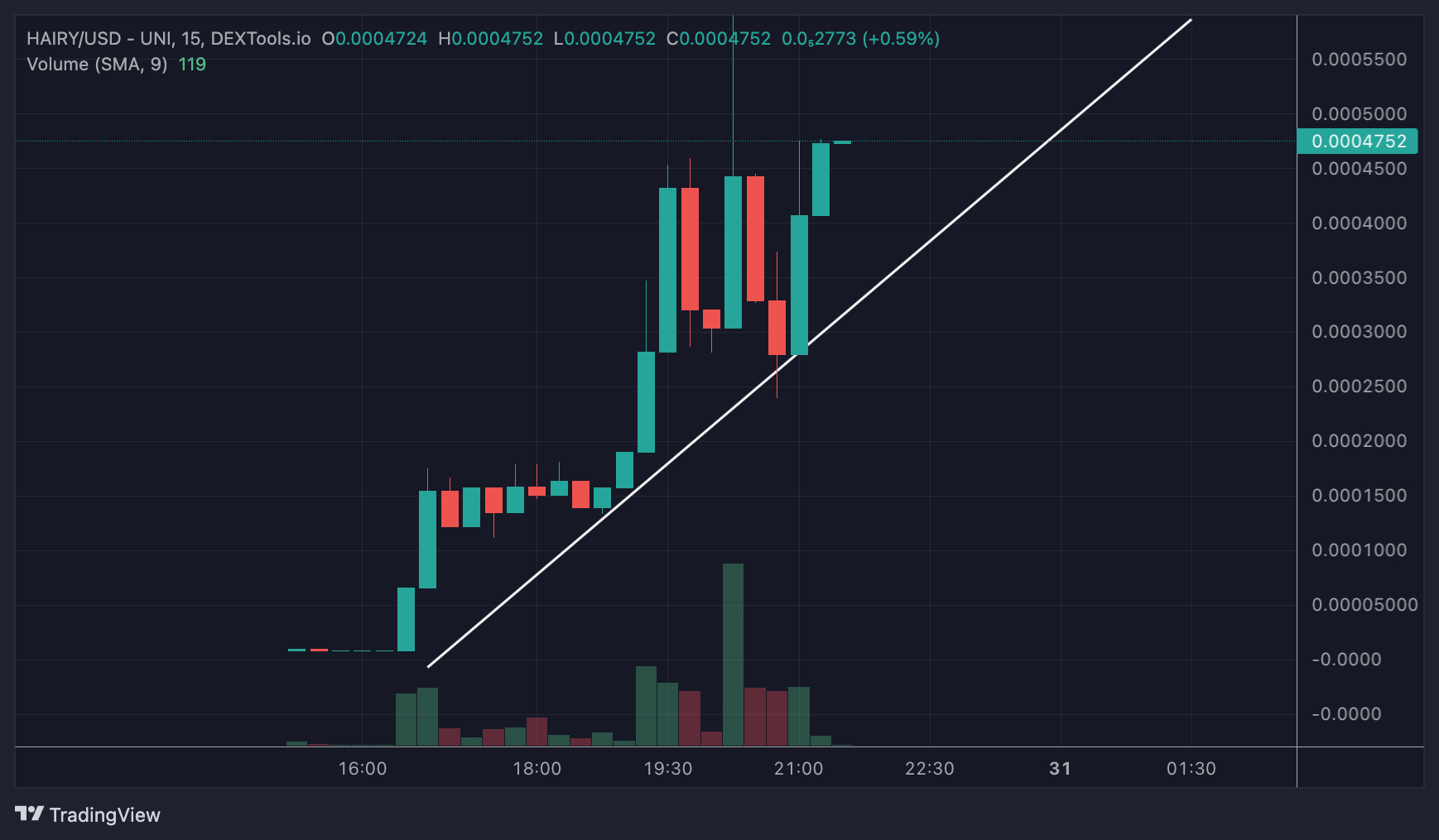 The BALD coin price has erupted, becoming the first meme coin on the Coinbase Layer 2 Blockchain to go viral, and now it has found its partner – HAIRY coin.
BALD coin's price is up more than 3 million percent, and at one point today, it was up 4 million percent, or 40,000x.
Meanwhile, HAIRY coin is up as much as 8,000%, and it looks like there's much more to come.
Base is the leading US crypto exchange's very own blockchain but is yet to be fully interoperable with the rest of the crypto ecosystem, which means buyers of BALD cannot yet realize their profits by selling. 
Base is built using the Optimism stack, which users roll-up technology to batch transactions on Ethereum and leverage its security.
Nevertheless, BALD return on investment, on paper at least, has been impressive for many:
However, there is talk that the HAIRY meme coin might have been created by the same team that is behind BALD, as a cheeky way to allow the Base trend to create realizable value for those who get in early.
Could HAIRY price explosion match the 40,000x gain of BALD?
That seems to be working. Returns on HAIRY are looking good, in the early price action, as the 37x gains made in this alpha group show:
HAIRY, at the time of writing, is priced at $000.45.
BALD is thought to be so named as a nod to Coinbase CEO Brian Armstrong, who is bald.
Although little is known about BALD's creators, blockchain sleuths have noticed that its creators seem to be associated with Coinbase. 
This is surmised to be the case because the deployer of the BALD token contract is associated with an address that contains half of the current supply of cbETH supply. 
cbETH is the Base version of a staked asset, like stETH. It allows the value tied up in the staked asset to be traded on secondary markets.
According to DEXTools data, BALD contract verification is yet to be detected, but the coin does have a DEXTscore of 65/99.
Similarly, the HAIRY contract is also reported on DEXTools as not having its contract verification detected. However, in both cases, this likely speaks to the newness of the coins.
Although DEXTools says a liquidity lock has not been detected, the liquidity is indeed locked, as etherscan data confirms:
https://etherscan.io/tx/0x9487041c2b26643b826080029bef75ab47eaa51b06042fc3e9aaee1319e0e407
Total liquidity in HAIRY is modest at $71k, unlike the huge sum of $36 million for BALD. 
However, HAIRY only has a market cap of $328k, making it an ultra-low cap token with a lengthy runway for an even bigger price explosion ahead.
Liquidity locked on HAIRY as price jumps as much as 8,000%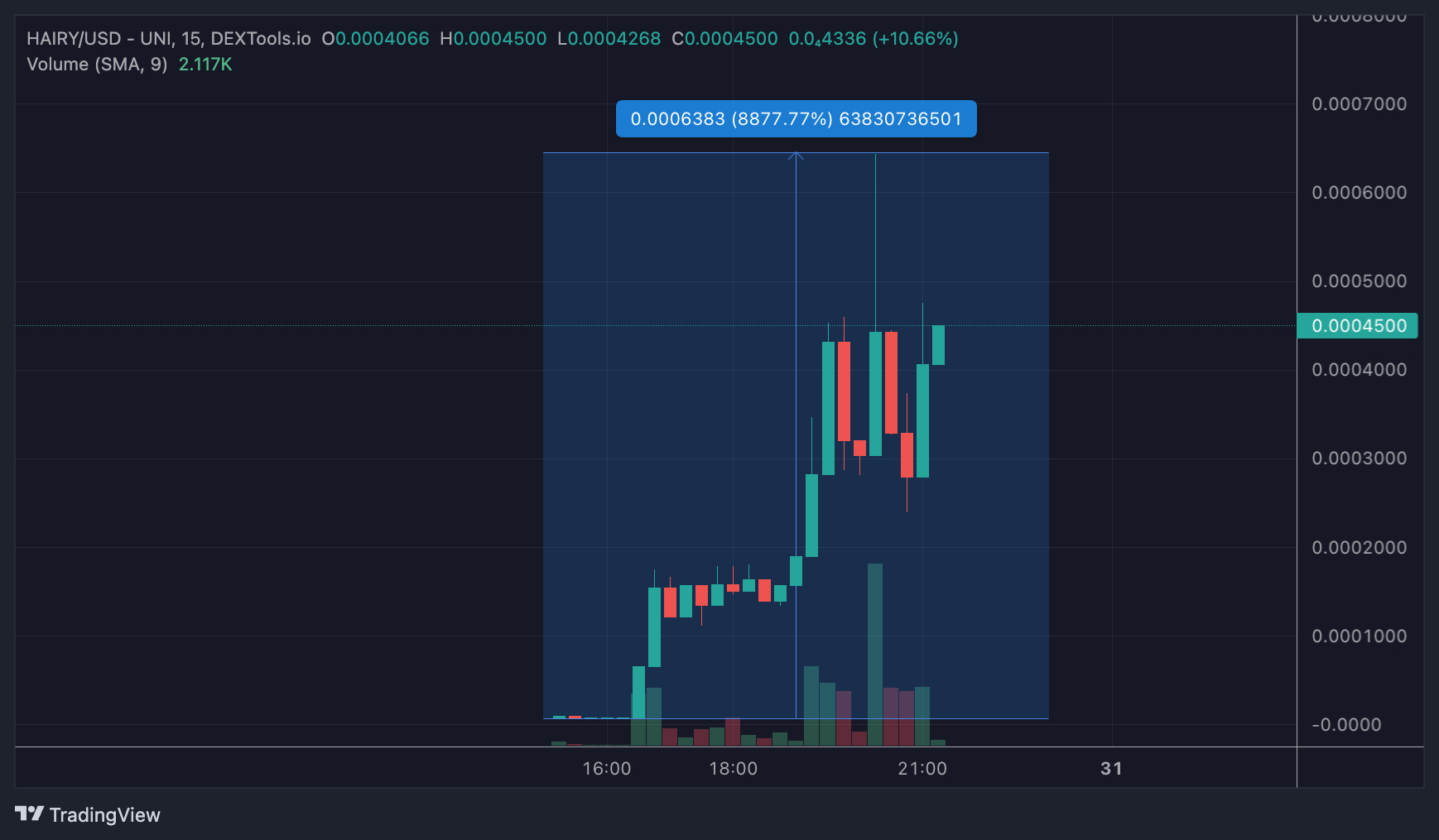 HAIRY has so far traded as high as $0.0006471 for a return north of 8,000%. 
Trading volume on BALD has reached $91 million in the past 24 hours, and the coin has pulled back from its day's high of $0.087. but early investors are still sitting on gigantic gains. 
BALD is currently priced at $0.0676 and trades on the LeetSwap decentralized exchange, although it can only be bought and not sold at this time because of its one-way bridge.
By contrast, HAIRY is an ERC20 token, meaning it runs on the fully established and functioning Ethereum blockchain.
BALD methodical devs may be sending HAIRY to the moon 
The developers behind HAIRY, if they are connected to BALD, are taking what looks like a slow-burn approach.
HAIRY still has a very low DEXTscore of 1/99, which is largely because it hasn't provided any links to web and social properties. There's no token description either. 
But none of that is stopping buyers from continuing to push up the price of HAIRY.
It could be that they are working methodically behind the scenes with alpha groups and influencers to get the coin noticed.
If you are looking for a highly speculative quick-fire play in the crypto markets right now, then HAIRY is worth a look. 
And if BALD continues its run and HAIRY proves to be a trusty companion coin, then the latter might be a coin you want to keep in your portfolio for the foreseeable future.