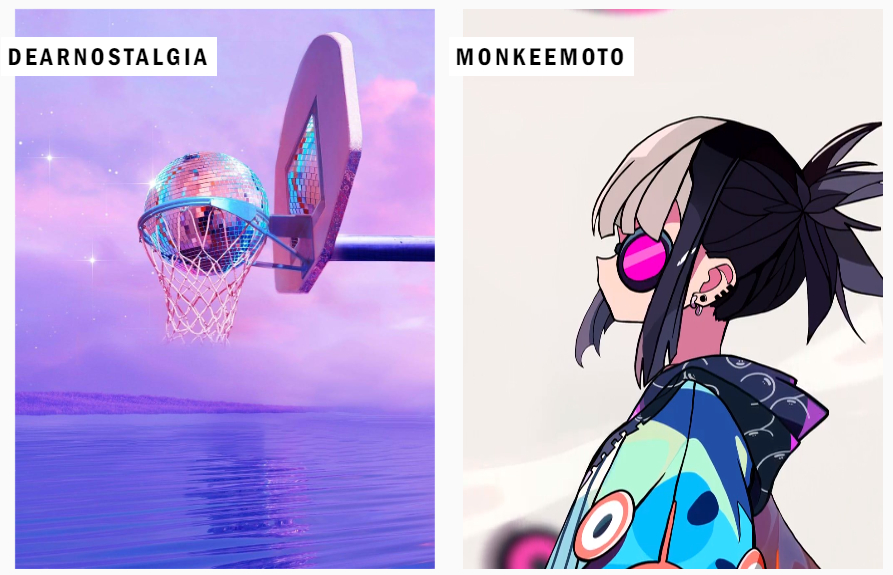 Adidas /// Studio has announced its very own residency program for "Web3-powered" digital artists. 
Also known as the Three Stripes Studio, the streetwear giant stated that the debut 'RESIDENCY by adidas' program is "poised to welcome a diverse array of digital artists hailing from across the globe."
The program's aim is to foster creativity and innovation, as well as to provide a "creative pathway" for digital artists to connect with the brand and the community of collectors.
This, it said, will be a one-of-a-kind opportunity to showcase artists, and also enable them to engage in collaborations in both the digital and physical realms.
The company introduced Tokyo-based Moto (aka MonkeeMoto) and Lebanese artist Adra Kandil (aka DearNostalgia) – a duo "hand selected" by the studio.
Open and Limited Edition Art
Three Stripes Studio partnered with NFT Now for The Gateway's third iteration at Korean Blockchain Week that begins on Seprember 7 in Seoul. 
Per Adidas /// Studio,
"With the artists' freshly crafted pieces, RESIDENCY kicks off with adidas' premiere Limited Edition and Open Edition NFT art sale.
Two open edition pieces are titled 'Seoul' and 'Creatives', and two limited edition artworks are 'Soul Searching /// Youth Is Your Privilege' and 'Hype'.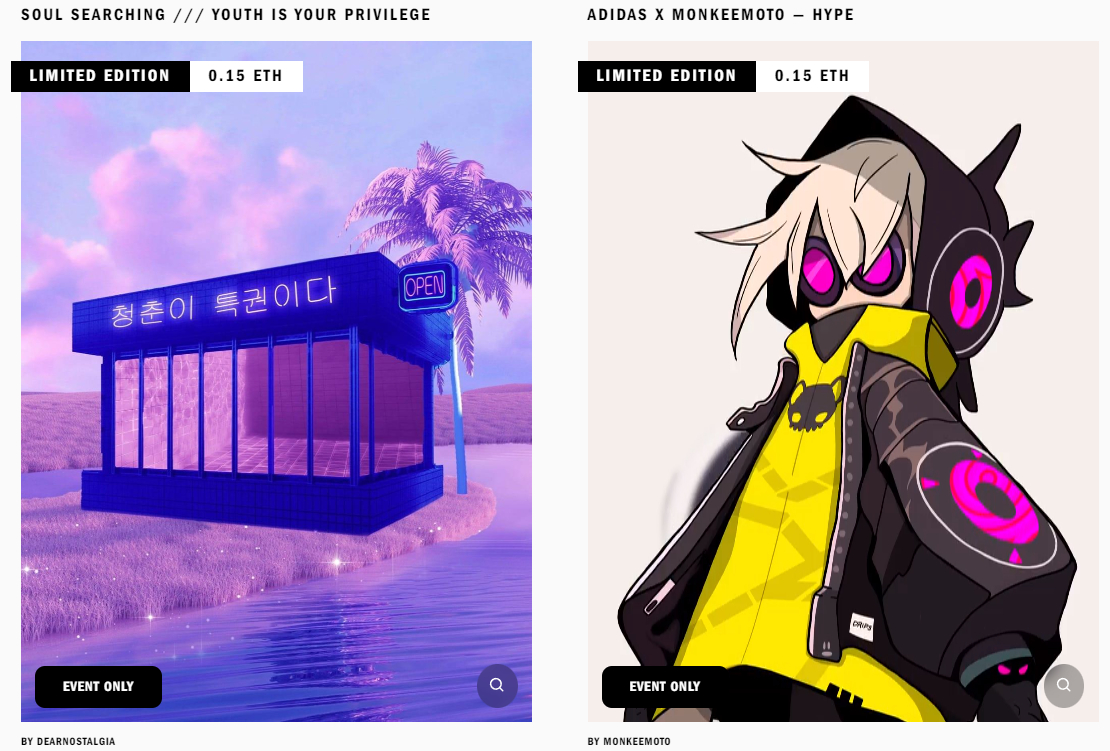 The open edition pieces will be available for all at ETH 0.03.
The limited edition will consist of 100 pieces per artist and an exclusive hoodie available only to the launch event attendees. The package will priced at ETH 0.15. 
Both editions can be bought via Manifold with ETH or a credit card, starting Wednesday, September 6. 
Tickets to the event are free. Holder of an ALTS by adidas NFT can register for a free VIP ticket that gives holders access to the VIP opening event on September 6 and entry to the 2-day Gateway event.
This isn't Adidas' first NFT ride. In December 2021, it dropped its NFT collection "Into the Metaverse", with 30,000 pieces, in partnership with Yuga Labs, Punks Comic, and Gmoney, a pseudonymous NFT influencer. 
This turned out to be a propelling force, as it encouraged the company to continue building its brand in Web3.
In April 2023, it launched a new NFT project dubbed ALTS. It allowed "Into the Metaverse" holders to burn the original NFTs in exchange for new Adidas profile pictures (PFP) tied to the narrative campaign. 
And in August this year, Adidas Originals and BAPE revealed "the highly limited Forum 84 BAPE Low Triple-White sneaker."  Supported by the Adidas /// Studio (Three Stripes Studio), and in partnership with the crypto payments infrastructure provider Moonpay, the limited number of sneakers were auctioned off and paired with an NFT version.
____
Learn more: 
– Here's the 'Metaverse-Ready Sneakers and Collectibles' Creator Nike Acquired
– Luxury Fashion House Dior Embraces Ethereum for New Line of Men's Sneakers
– NFTs Created by 99-Year-Old Artist Vera Molnár Sold for $1.2 Million
– Art for Everyone: Museums and Galleries Embrace Digital Art and AI at Christie's Summit