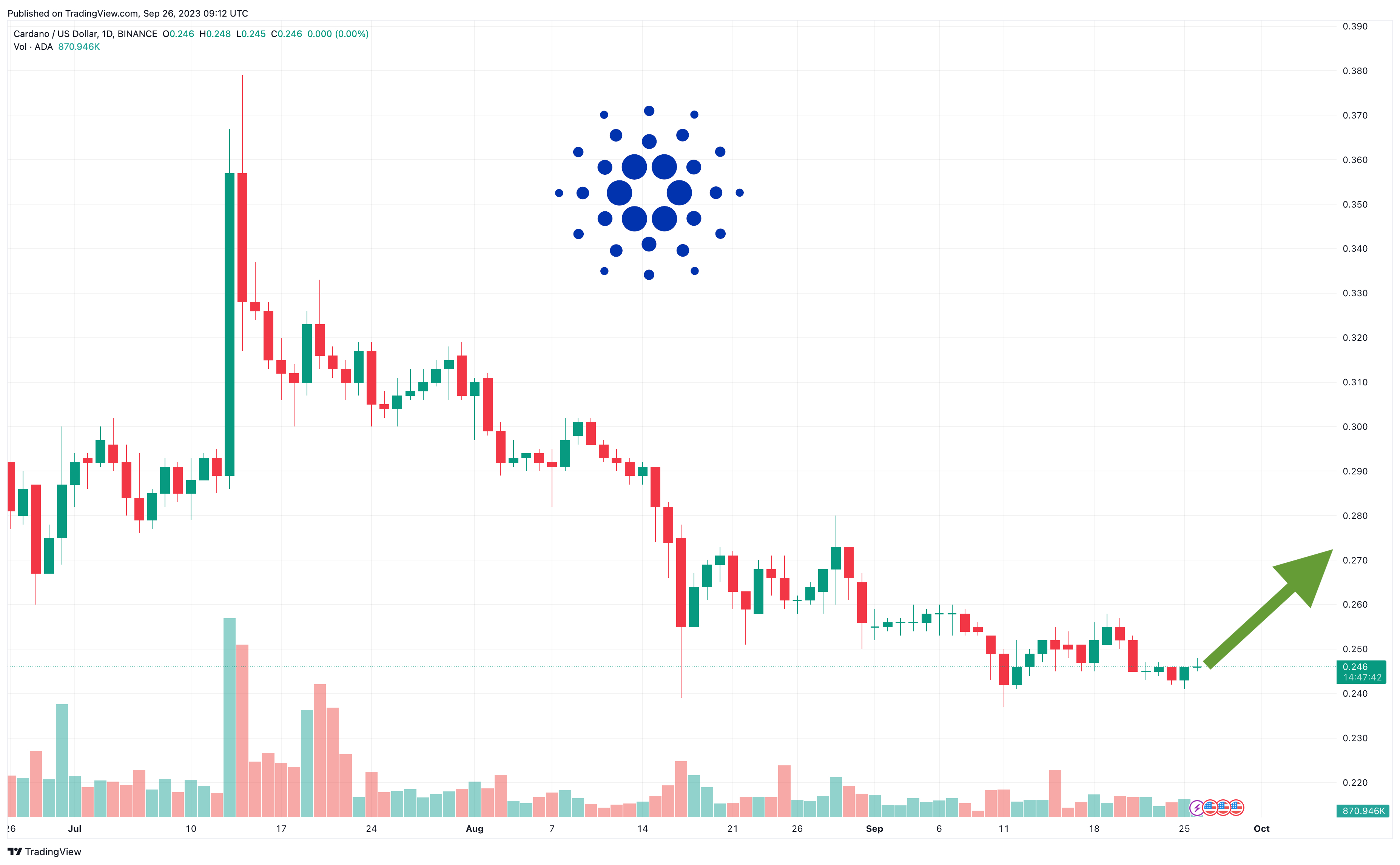 The Cardano price has risen by 0.5% in the past 24 hours, reaching $0.246018 as the cryptocurrency market as a whole makes a similarly modest move today.
ADA is now down by 2.5% in the past week and by 6.5% in the last 30 days, while the altcoin is also down by 1.5% since the beginning of the year, in contrast to numerous other major tokens (e.g. BTC, ETH, XRP).
Yet ADA's underwhelming performance over the past few months puts it in a discounted position, from which it could rise strongly in the coming weeks, particularly if wider market conditions become more bullish.
Cardano Price Prediction: ADA Jumps 0.5% – How High Can This Coin Go?
ADA's indicators are certainly in a position where the altcoin should enjoy a recovery rally, with its relative strength index (purple) having been below 50 since the beginning of August.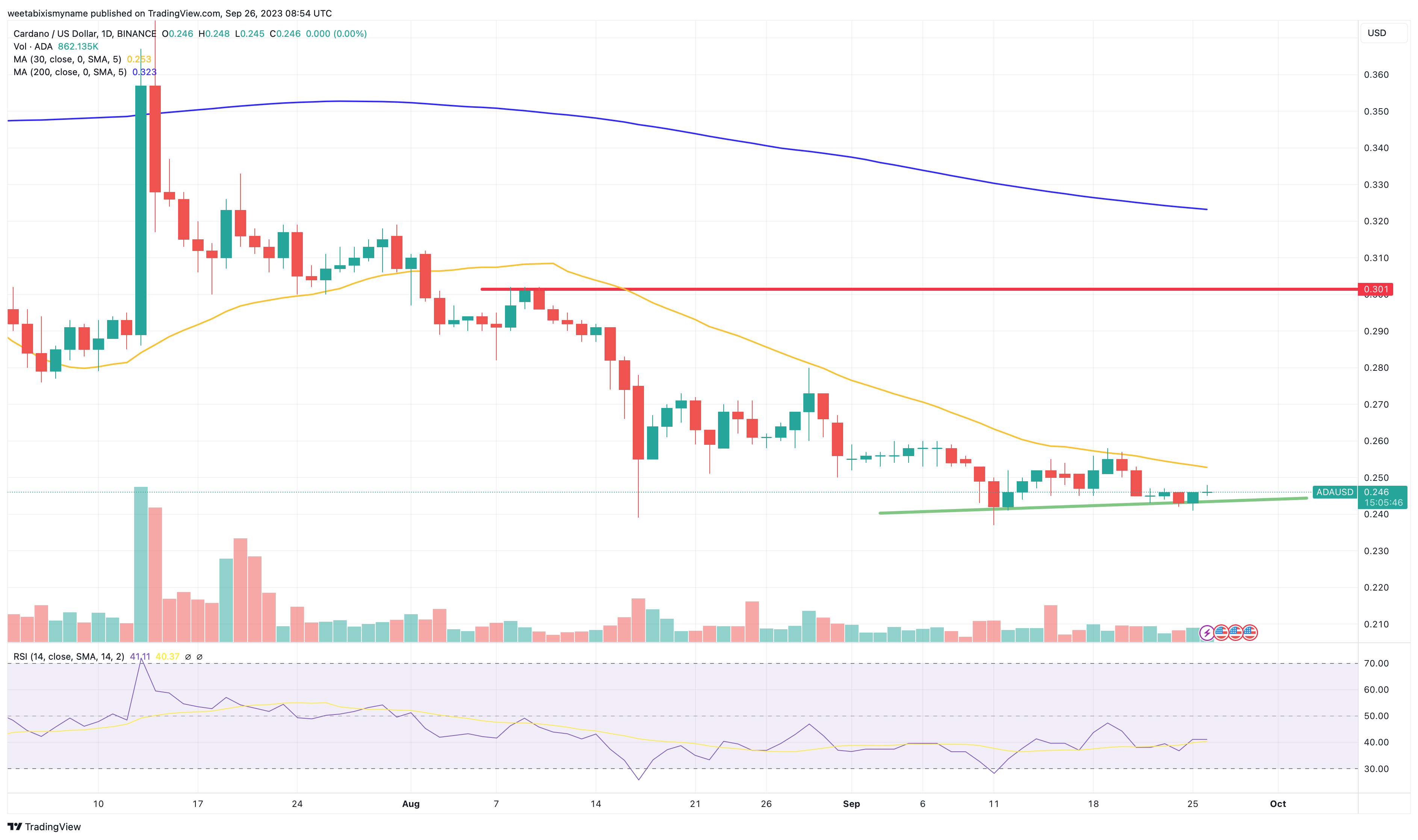 This is a long time for an asset to have been depressed, with ADA's 30-day moving average (yellow) also having remained substantially below its 200-day average (blue) for several months.
And with the coin's price also having been below both averages since August, it really does seem as though it's time for a rebound.
It's also worth mentioning that ADA's support level (green) has stabilized in recent weeks, something which suggests that the coin has bottomed out and is ready to mount a recovery.
It certainly hasn't been ADA's own fault that its price has declined in recent weeks, with the market remaining subdued as a result of widespread investor negativity, which has been brought on by a mix of macroeconomic fears (e.g. China's slowing economy), a possible US government shutdown, and relatively high interest rates.
However, ADA's fundamentals remain as strong as they have ever been, with the coin benefitting from the steady growth and development of Cardano as a layer-one blockchain network.
Indeed, Cardano's total value locked in has risen by 196% since the beginning of the year, and given that ADA's price has actually declined, this TVL rise must have come from an actual growth in usage and adoption.
Latest figures from InputOutput Hong Kong indicate that more than 140 projects have now been successfully launched on Cardano, with over 1,200 projects in the process of development.
This points to substantial future growth for the blockchain network, which is likely to continue rising up the TVL-based rankings, becoming one of the biggest layer ones in crypto.
By extension, ADA's price will sooner or later catch up with Cardano's growth, with the altcoin on course to reach $0.30 in the next few weeks, and to return to $0.40 by the end of the year.
Faster Growth With Newer Alts
ADA is arguably one of the most fundamentally sound altcoins in the market, yet it's growth from here on out may be gradual, with traders potentially better off looking at newer alts if they want quicker above-average gains.
Traders may be particularly interested in presale tokens, which can occasionally rally big when they list on trading platforms for the first time.
It's likely that something like this will happen with Bitcoin BSC (BTCBSC), new a BNB Chain-based cryptocurrency that has raised in excess of $5.2 million since opening its sale at the start of this month.
As its name suggests, BTCBSC offers a BNB Chain-based version of Bitcoin, with the new token also having a hard cap of 21 million tokens.
This should make Bitcoin BSC deflationary in the long run, much like the original Bitcoin, yet what separates the newer coin from its namesake is the fact that its holders can stake it.
This means that it could be doubly profitable for investors, with around 71% of its supply being reserved for staking rewards.
The remaining 21% (6.125 million BTCBSC) is being reserved for the presale, which makes the new altcoin available at a low price of $0.99, a level Bitcoin itself reached in 2011.
New buyers can join the sale by heading over to the official Bitcoin BSC website and connecting their software wallets.
Once its sale closes in the next few weeks, Bitcoin BSC will list on BNB Smart Chain DEX, with other trading platforms set to follow suit soon after, helping the token rally big.
Visit Bitcoin BSC Now
Disclaimer: Crypto is a high-risk asset class. This article is provided for informational purposes and does not constitute investment advice. You could lose all of your capital.